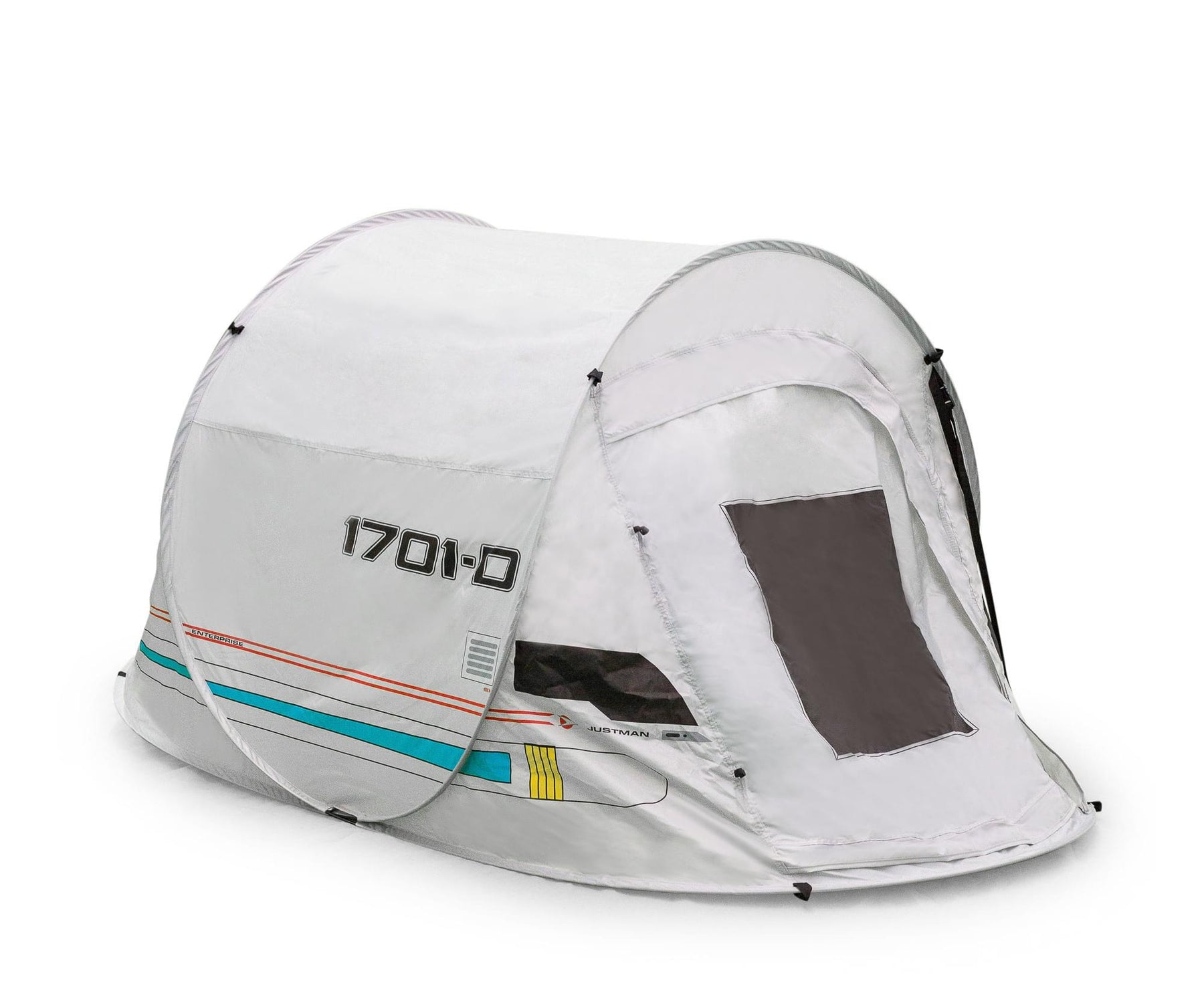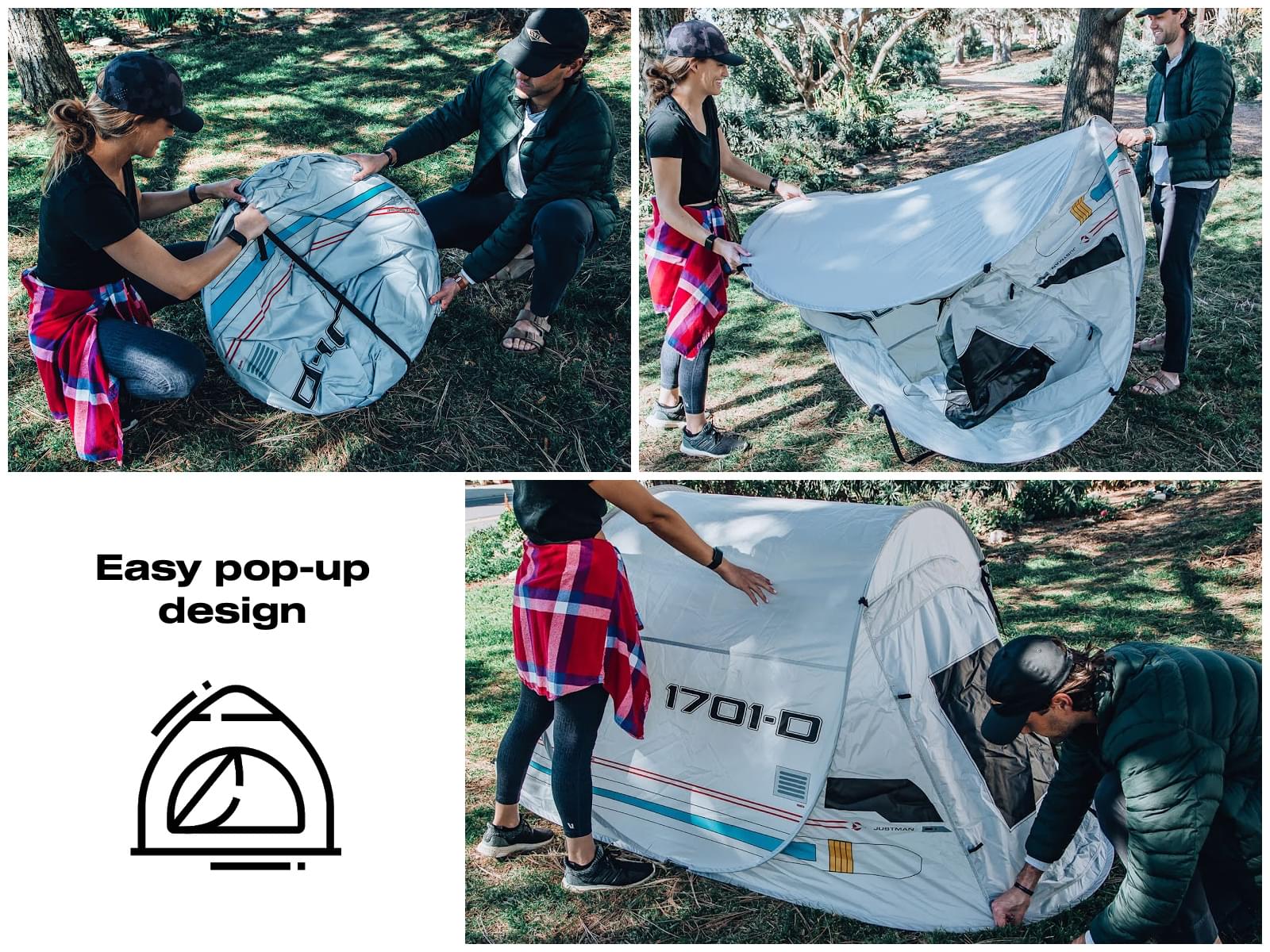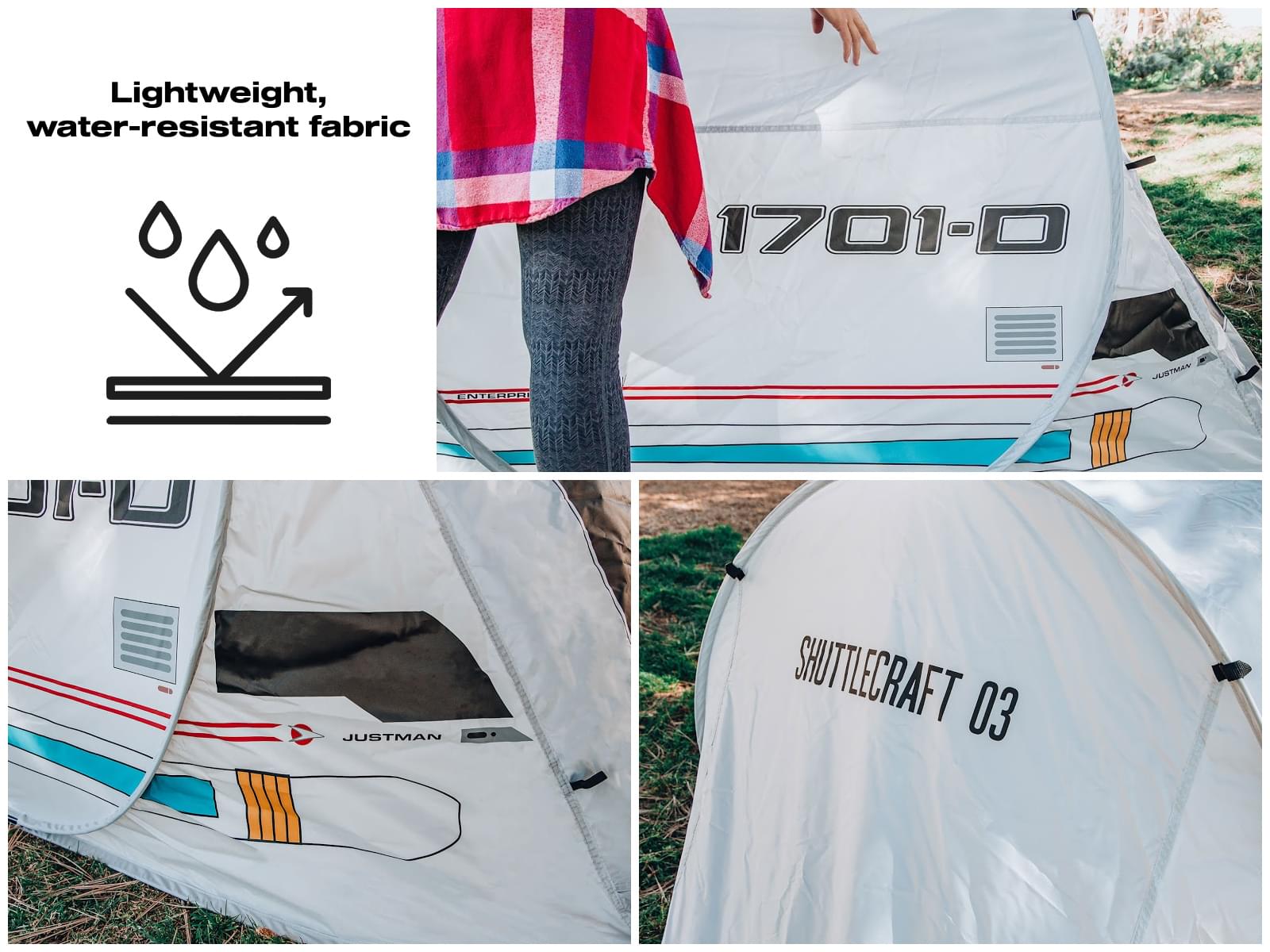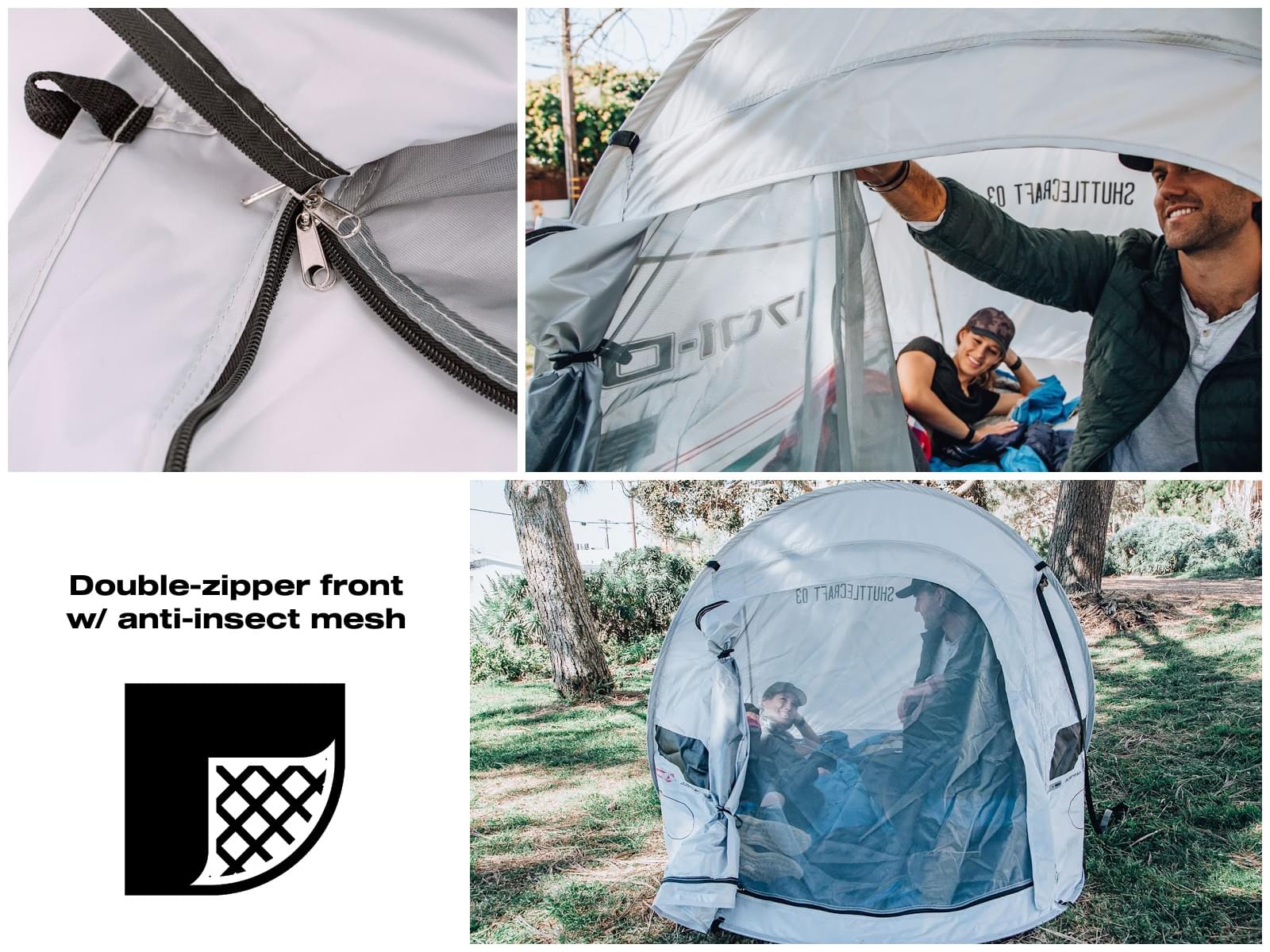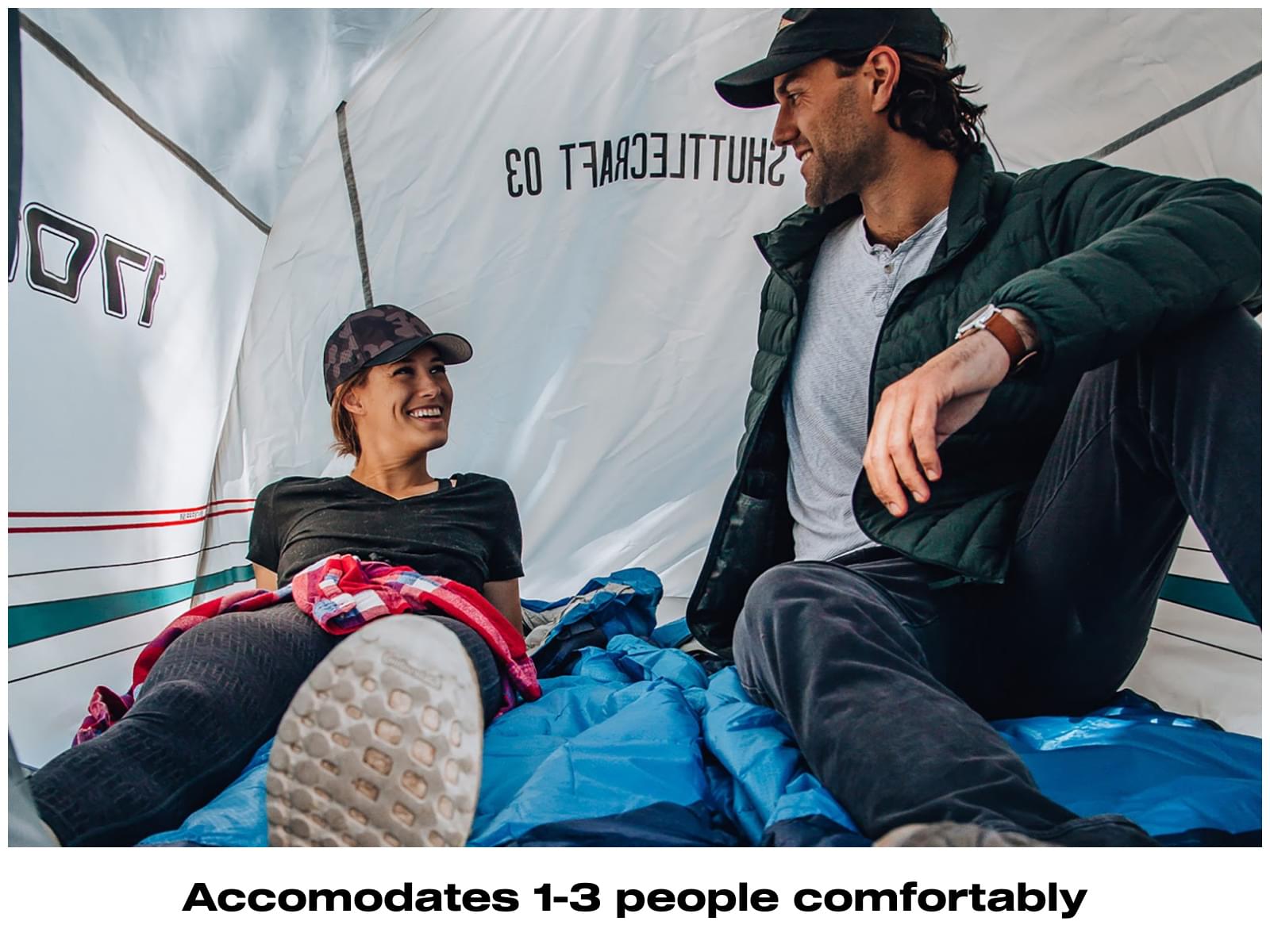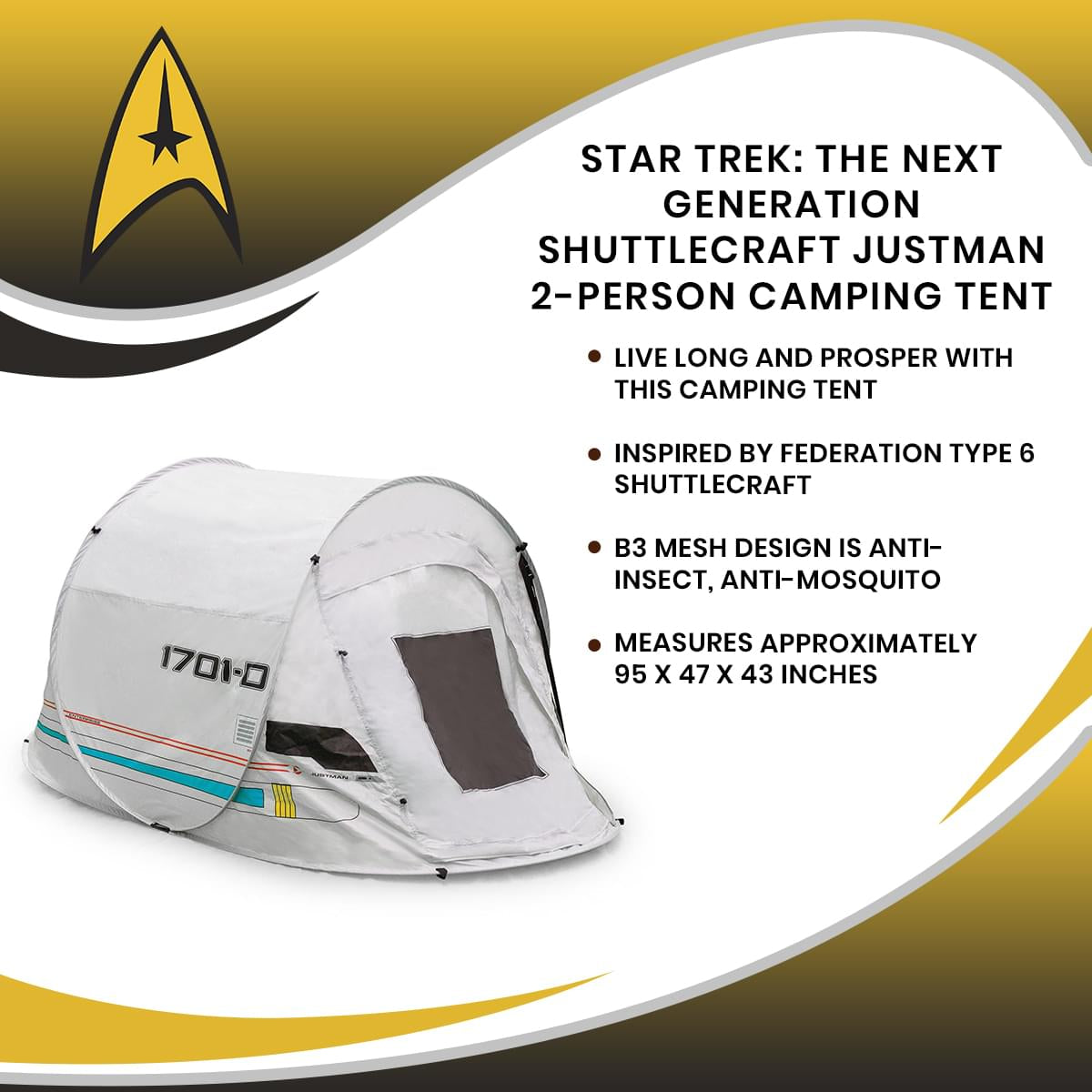 Star Trek: The Next Generation Shuttlecraft Justman 2-Person Camping Tent
To Boldly Go: This heavy duty camping tent is shaped like a Federation Type 6 shuttlecraft from Star Trek: The Next Generation. Perfect for exploring the universe, the spacious size of this vessel can accommodate 2-3 people.
Starfleet-Approved Construction: Made from 210D polyester with PU 3000 coating, this pop-up canopy tent has a breathable, waterproof design. The woven fabric on the flooring is ultra-durable to resist harsh conditions.
Keep Alien Pests Away: Enjoy your outdoor adventures with minimal interruptions and disturbances. The canopy tent's B3 mesh fabric will help to give you a full night's sleep uninterrupted by pesky alien intruders.
Easy Assembly: The streamlined setup process of this pop-up tent only requires 4 ground nails (included). Use the convenient carry bag to transport this canopy tent for missions. Measures approximately 95 x 47 x 43 inches.
Makes A Great Gift: Camp out under the stars with this officially licensed Justman pop-up tent from Star Trek: The Next Generation. Excellent for outdoorsy Trekkies who are going to the final frontier or just their backyard.
LIVE LONG AND PROSPER

Do you ever look up at the stars and wonder... where is the U.S.S. Enterprise? We sure have! Stargaze all night long with this pop-up camping tent inspired by Star Trek: The Next Generation. The authentic design resembles a small-scale Federation Type 6 shuttlecraft, as seen attached to the Enterprise-D.
Now you can boldly go where no one has gone before right here on Earth. The durable construction is made to withstand harsh weather and conditions, including a B3 mesh design to help give you a full night uninterrupted by pesky intruders. This camping tent is perfect for your away mission to a local campground or an evening of stargazing right in your own backyard. You could even use this spacious tent to transform a Twin XL bedroom into a fabulous shuttle bay.
REACH THE FINAL FRONTIER WITH CAMPING ESSENTIALS
Built to comfortably sleep 2-3 people, this tent is easy to set up for all of your outdoor adventures. The convenient pop-up design means no assembly is required, so Trekkies can enjoy a hassle-free experience. The camping tent features a portable design and comes complete with a carrying bag for storage. Easily pack it up for your intergalactic missions across the cosmos.
Note: Metaphasic shielding function not guaranteed.
CARE INSTRUCTIONS
Easy assembly
Unfold pop-up tent
Secure with 4 ground nails (included)