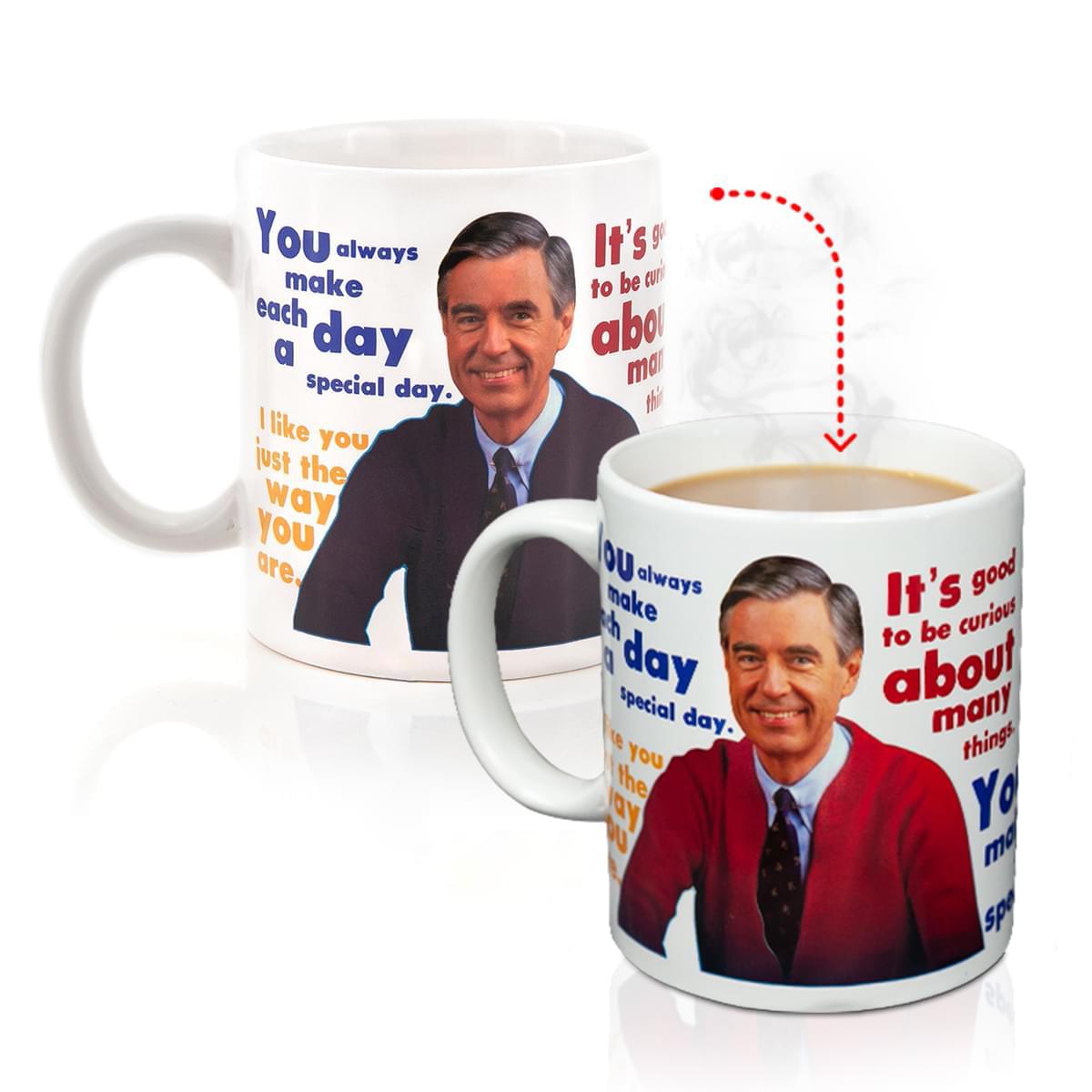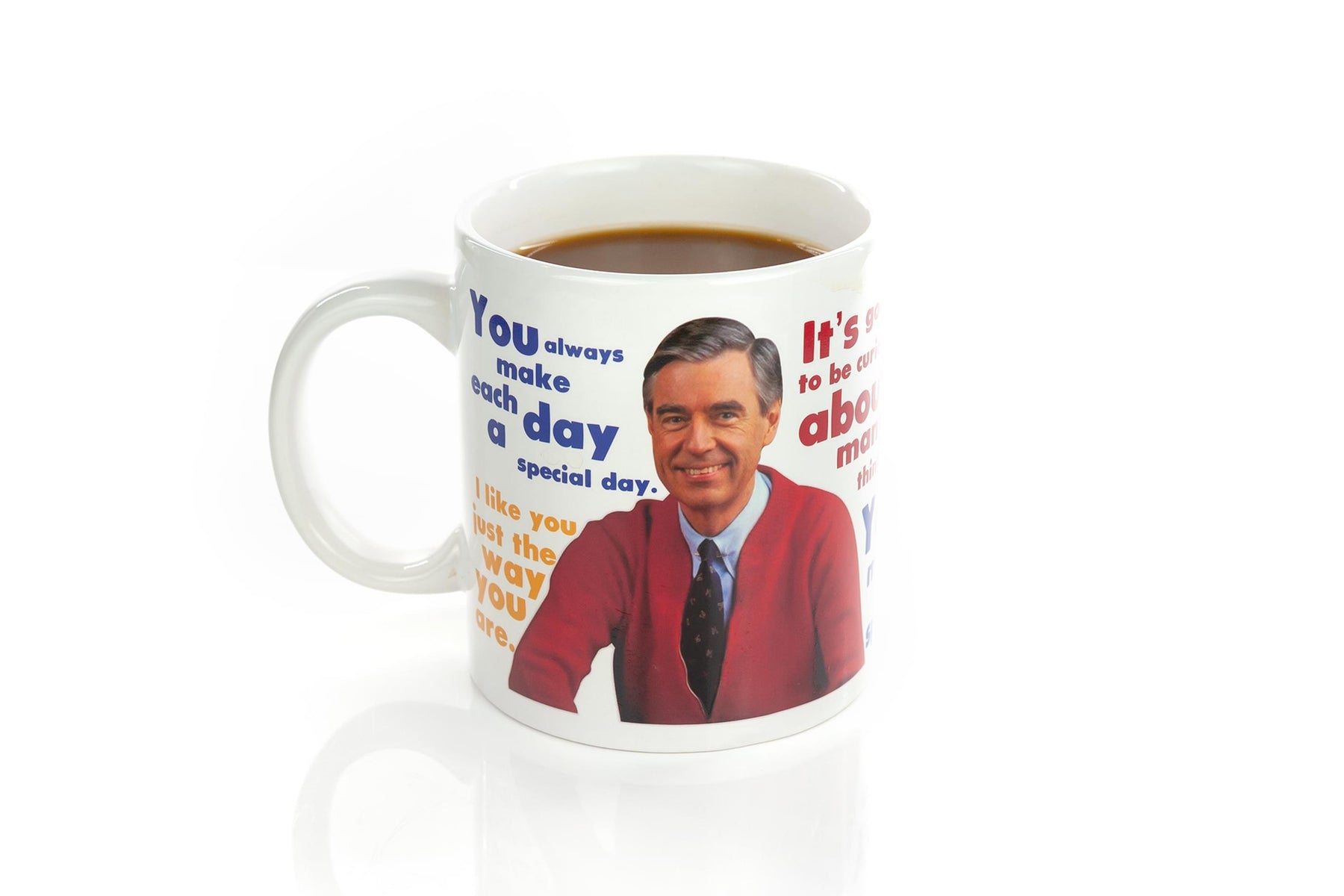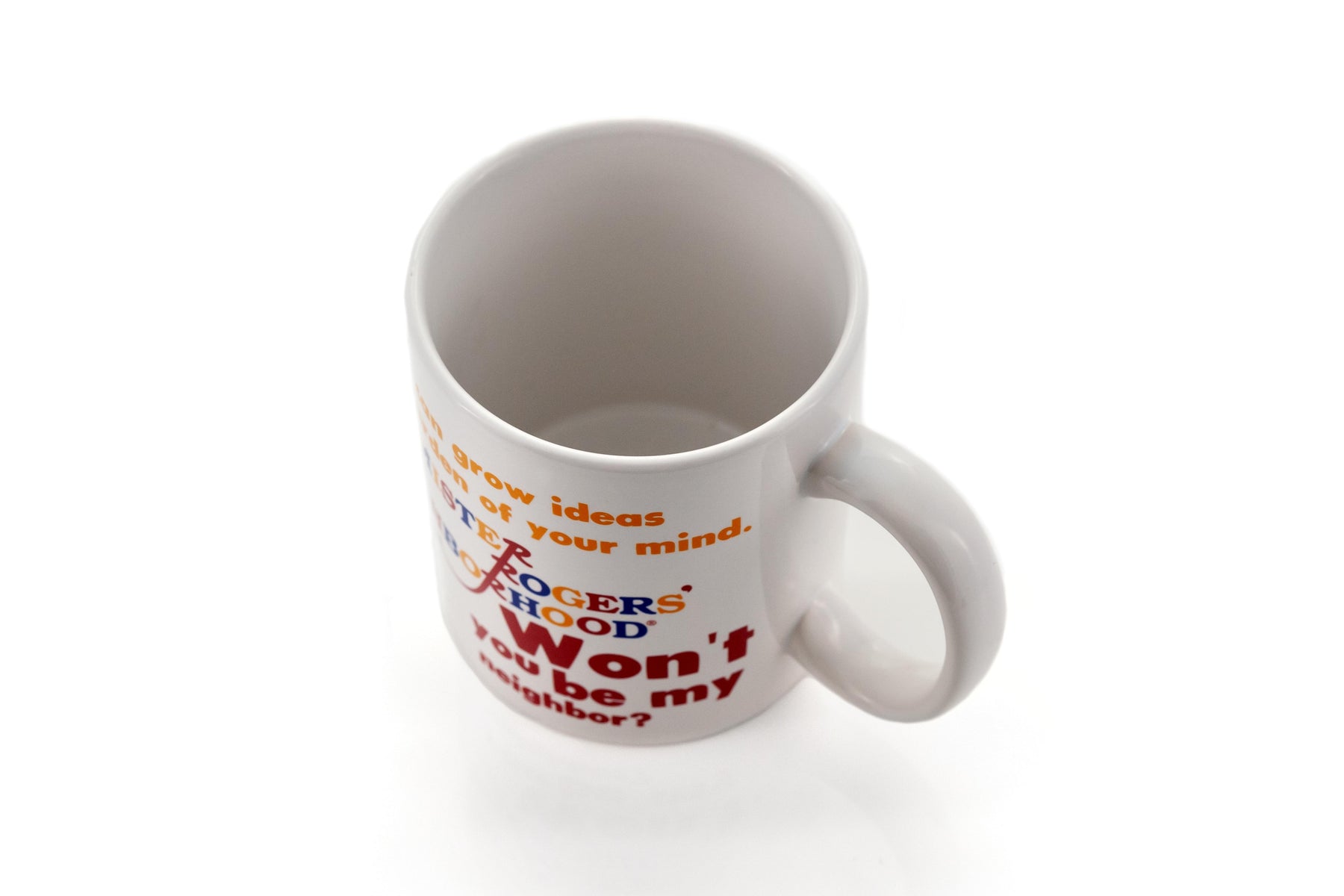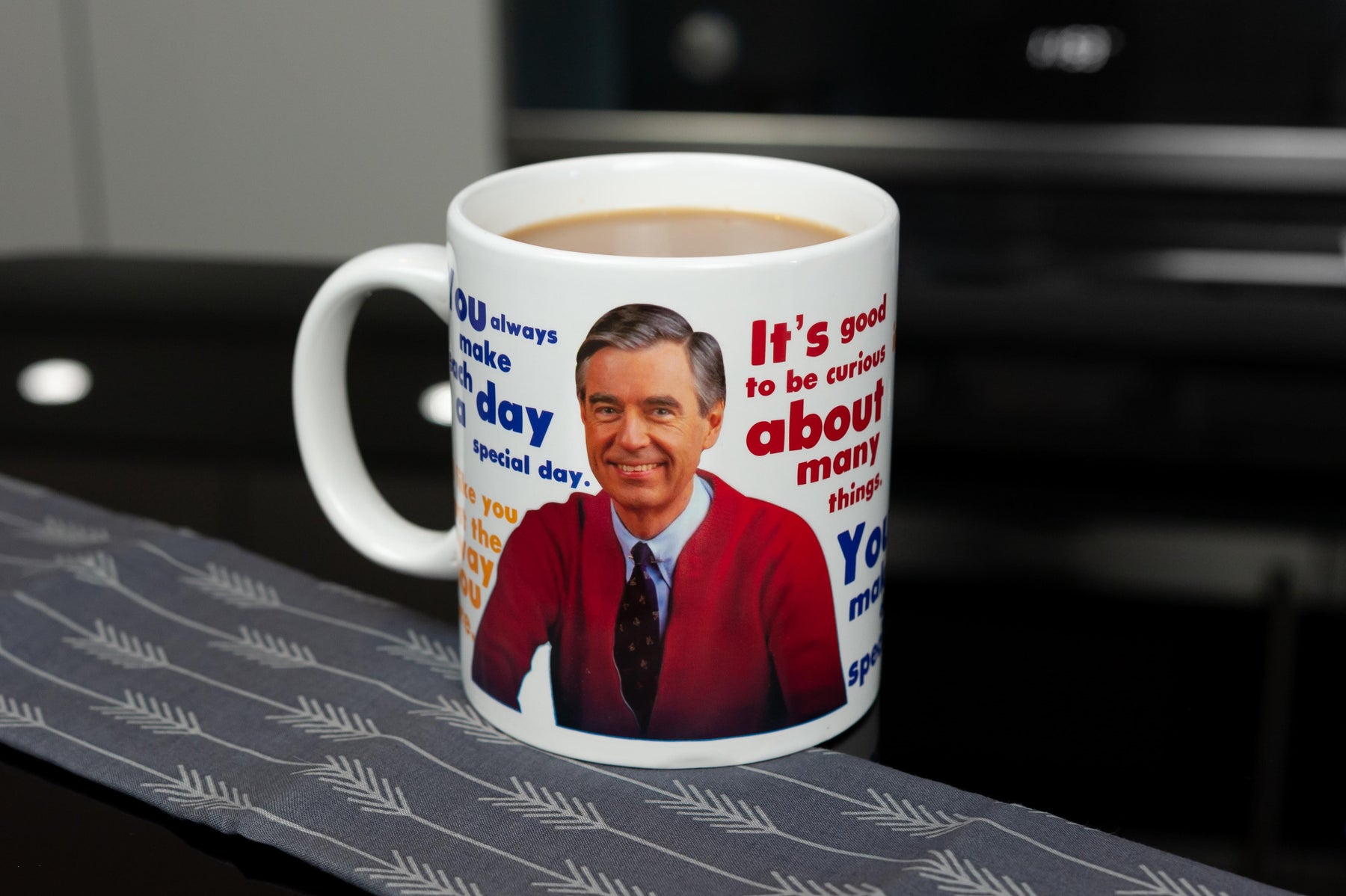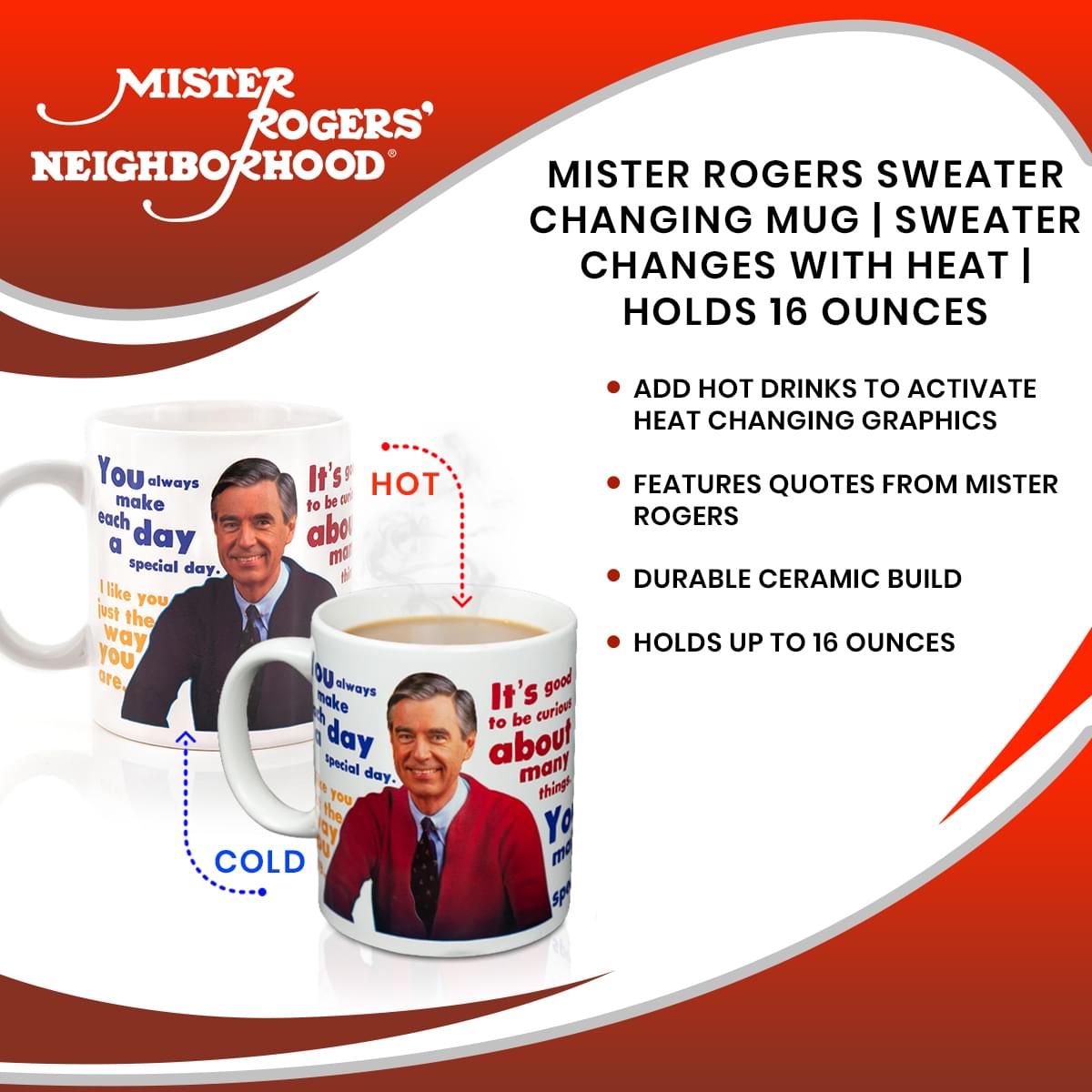 Mister Rogers Sweater Changing Mug | Sweater Changes With Heat | Holds 16 Ounces
IT'S A BEAUTIFUL DAY FOR A COFFEE MUG: Hello there, neighbor. If you're looking for a wonderful coffee mug to add to your collection, we'd like to invite you to consider this Mister Rogers themed coffee cup!
MISTER ROGERS CHANGES INTO HIS CARDIGAN: Pictured wearing a blazer, fans will remember that Mister Rogers always changes into his sweater at the start of each episode. By adding a hot drink to your mug, Mister Rogers' coat will change into a red cardigan!
CRAFTED BY A NEIGHBOR FOR A NEIGHBOR: Designed with high quality BPA-free ceramic, this Mister Rogers themed mug is build to hold up to 16 ounces of your preferred beverage. This mug is not microwave safe.
NEVER STOP LEARNING FROM MISTER ROGERS: Loaded with quotes and special sayings from Mister Rogers' Neighborhood, this mug is designed to refresh, inspire, and uplift anyone who chooses to drink from it.
A COLLECTIBLE MUG & PERFECT GIFT: A unique mug such as this will make a perfect addition to anyone's collection! Grab a Mister Rogers coffee mug for yourself and gift one to the neighbor who needs it most in your life.
HELLO THERE, NEIGHBOR
If you're looking for the most wholesome coffee mug on the planet, well this mug may just be a contender. Featuring the legendary Mister Rogers, this mug offers users some powerful quotes, phrases, and uniquely Mister Rogers' Neighborhood designs that encourage, uplift, and inspire us to be better neighbors towards one another. Pictured in his blazer as if he was just getting home for the day, you can watch the blazer change into a cardigan once you add heat to the mug via a warm drink!
LOADED WITH NOSTALGIA
Fans who grew up with Mister Rogers will love having this mug among their collection of favorite drinkware. The quotes and sayings pictured on the mug will have fans gushing at the wholesome memories and lessons that they hold so dear in regards to Mister Rogers. A wonderful and unique collectible, this mug will make a perfect addition to your collection or a thoughtful gift to the Mister Rogers fan in your life. Take a trip down memory lane and grab this Mister Rogers cup today!