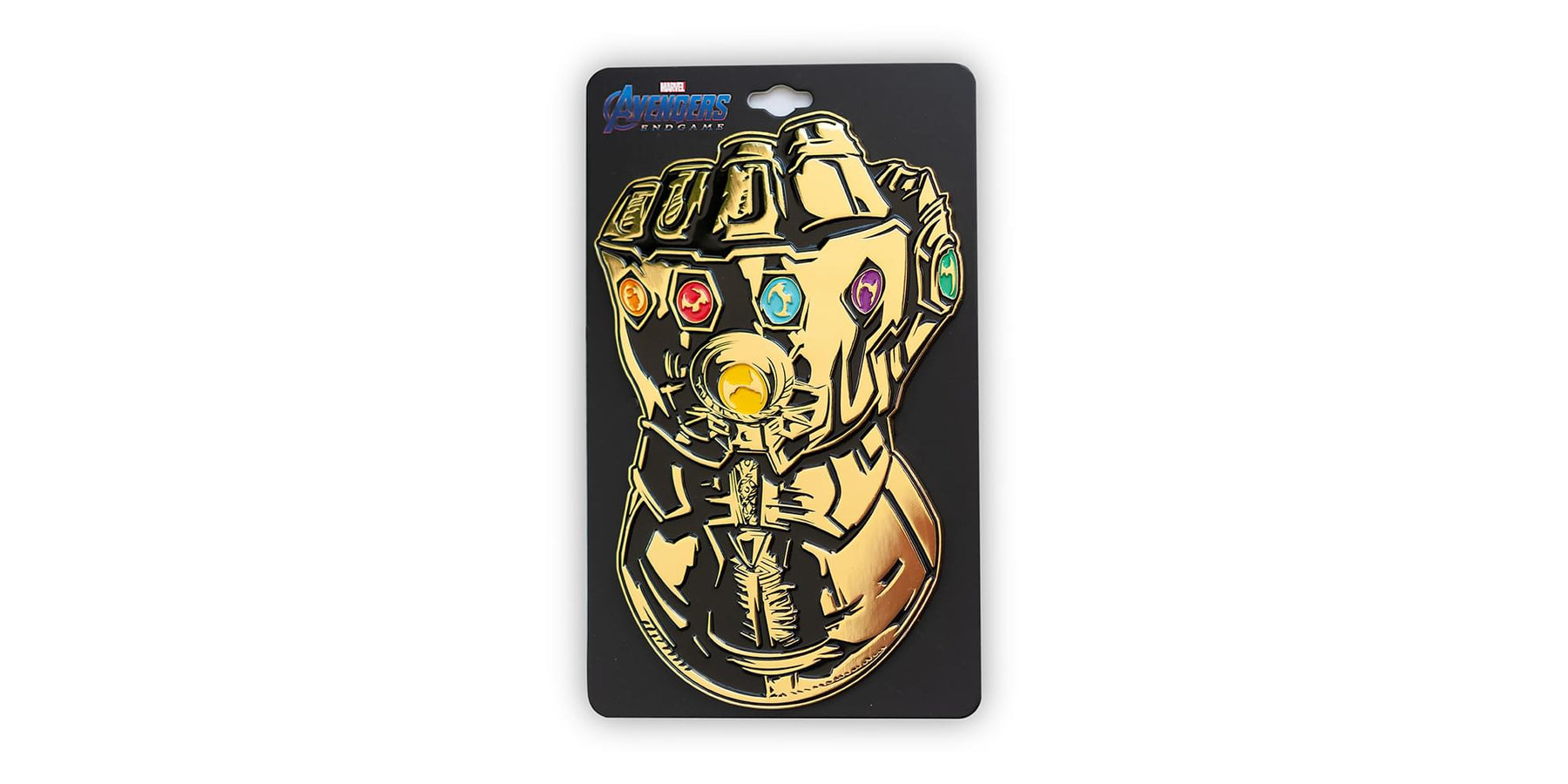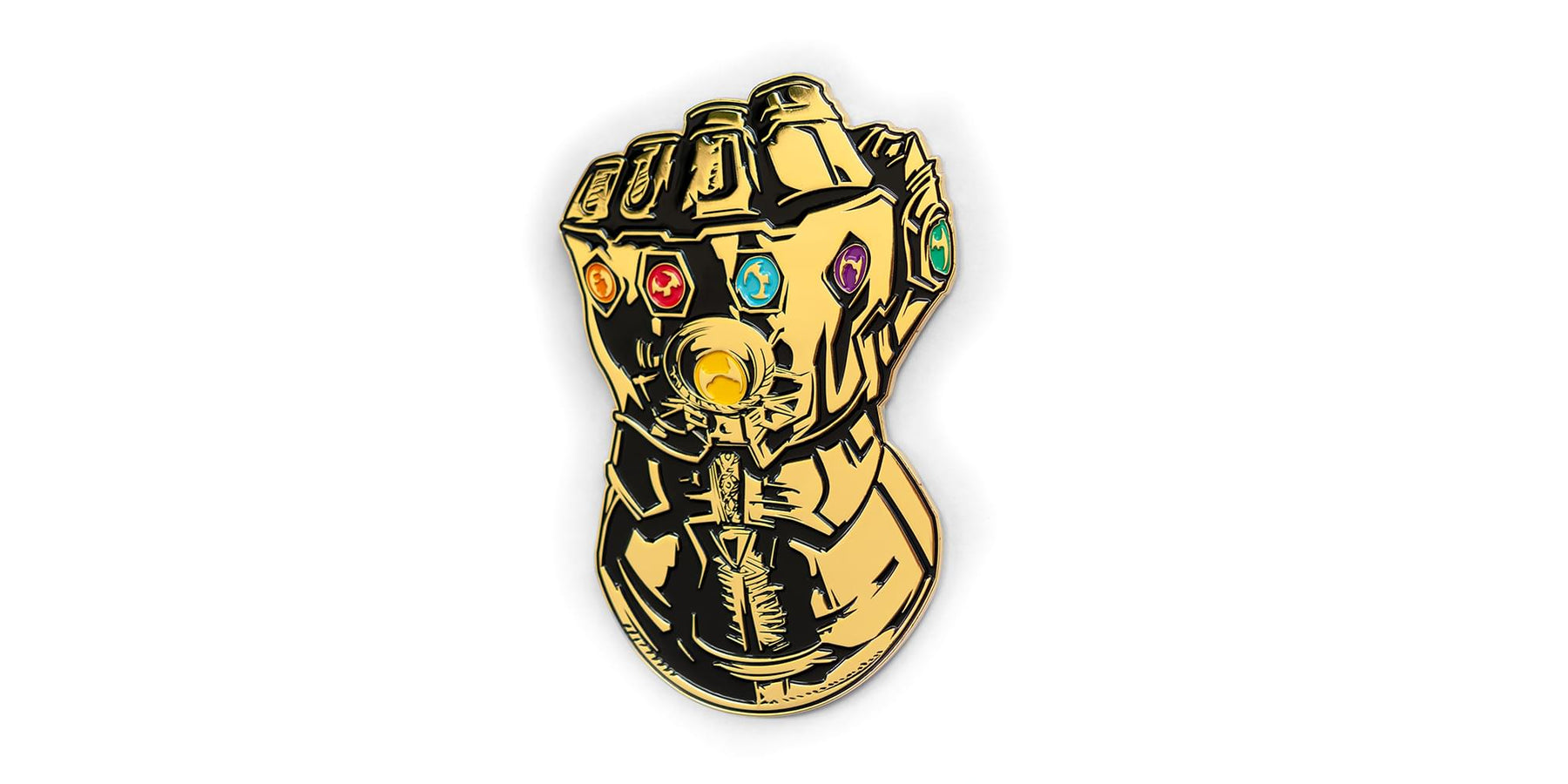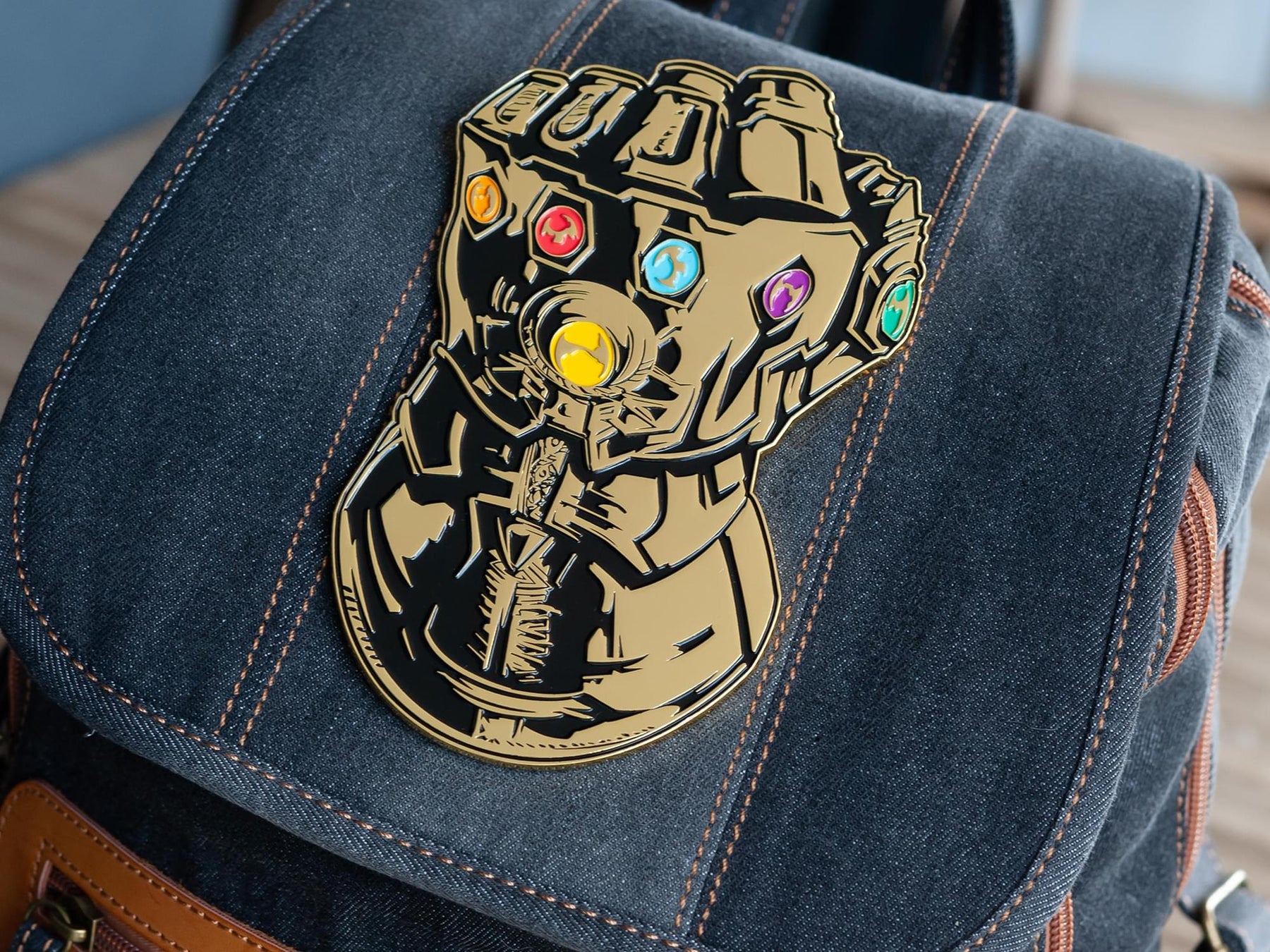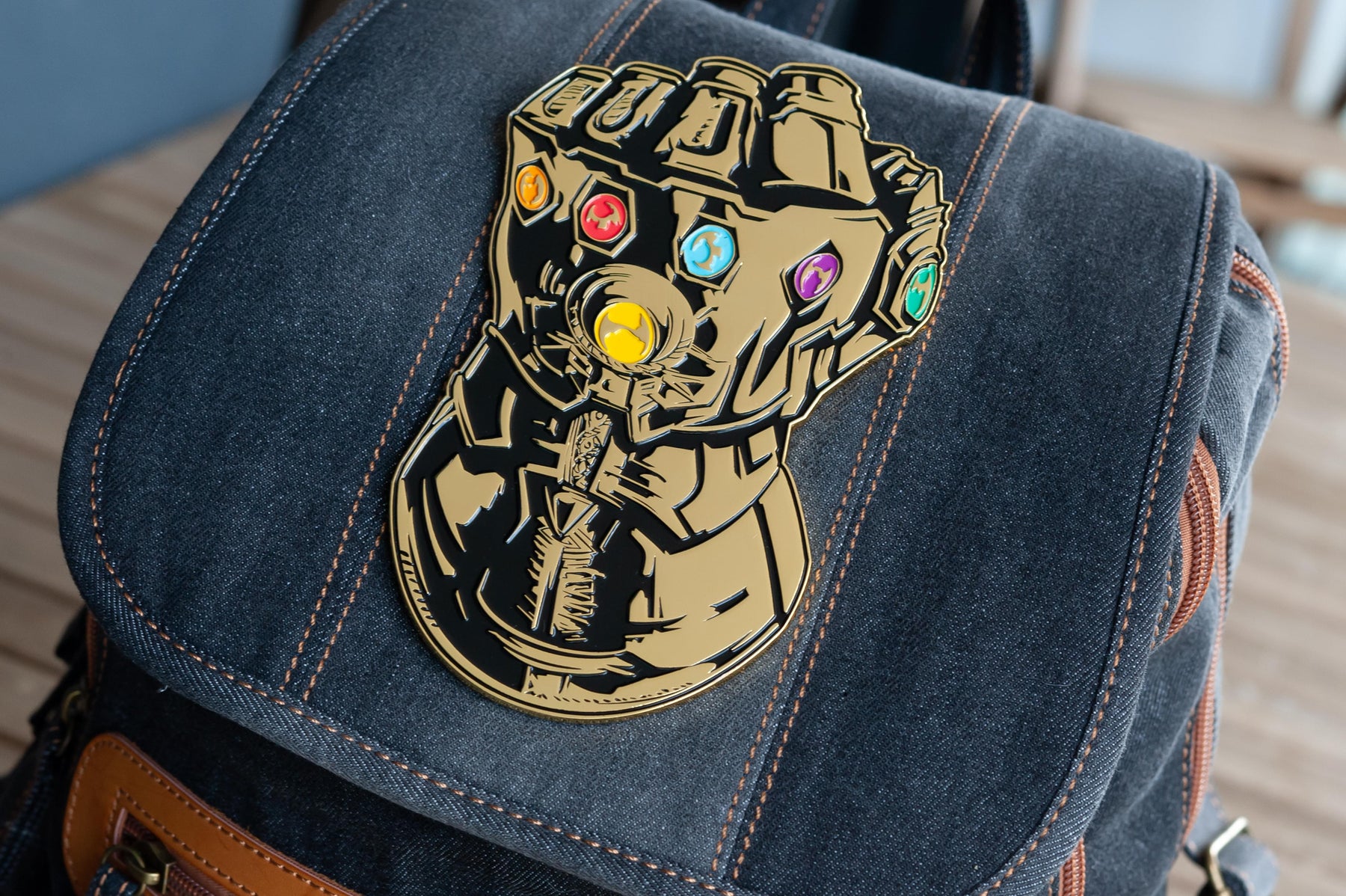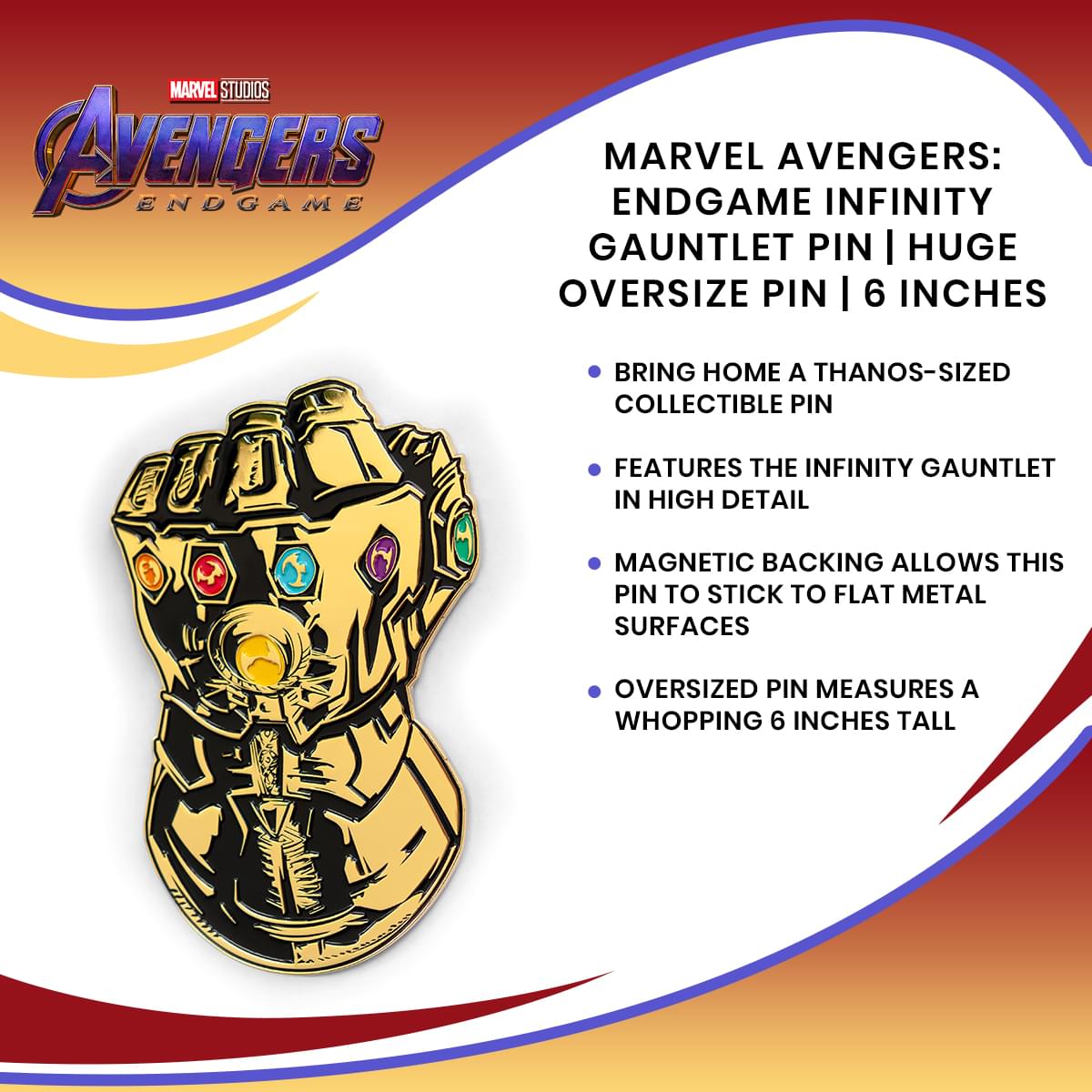 Marvel Avengers: Endgame Infinity Gauntlet Pin | Huge Oversize Pin | 6 Inches
MAKE A BIG STATEMENT WITH YOUR COLLECTION: Fans of Marvel's Avengers: Endgame and the Infinity Wars saga will look forward to adding this large Infinity Gauntlet to their collection of unique Avengers treasures!
A TITAN OF A PIN: The Mad Titan makes a big impression on anyone who happens to survive an encounter with him. As Thanos completes his collection of the Infinity Stones, he places them in his large gauntlet to harness their power. Take home this oversized 6-inch gauntlet for yourself!
CRAFTED FROM THANOS-WORTHY MATERIALS: Measuring 6-inches, this large pin is created from a durable metal and given a lustrous enamel coat. With fine details as well, this pin features a magnetic backing allowing it to stick to any flat metal surface!
BALANCE YOUR PIN COLLECTION WITH THE INFINITY GAUNTLET: A perfect addition to any collection, Marvel fans will enjoy displaying their pin proudly on their jackets, backpacks, hats, and more! Wear your love for the Mad Titan everywhere!
EXCLUSIVE MARVEL COLLECTIBLE PIN: Make an impression on your friends, family, and yourself with this oversized collectible Infinity Gauntlet pin! Officially licensed, this pin is destined to be the focal point of any Marvel pin collection!
A MUST-HAVE PIN FOR ANY MARVEL COLLECTION

As the epic battle with Thanos concludes, the climax between the Avengers and the Mad Titan has fans at the edge of their seats. This pin is an oversized homage to the power that is the Infinity Stones. Thanos uses this Infinity Gauntlet to wield the power of the stones in a manner of his choosing. He proves the power by snapping his fingers and erasing half the life of the known universe. A force to be reckoned with, the Infinity Gauntlet is the absolute strongest piece of the Infinity Saga. As such, it's only fitting to create an oversized pin as a memento. Take home this large 6-inch pin for your collections today!
ENHANCE YOUR COLLECTION AT THE SNAP OF YOUR FINGERS
Recent years have proved that Marvel is a household name. Whether you're a fan of the toys, comics, games, or the movies, Marvel usually has something that anyone can enjoy. For the die-hard fans, this collectible pin is a perfect way to sum up all of the appreciation and fandom that one could have for the Marvel universe. Show your massive love for the Avengers Infinity Saga by adding this large pin to your collection!