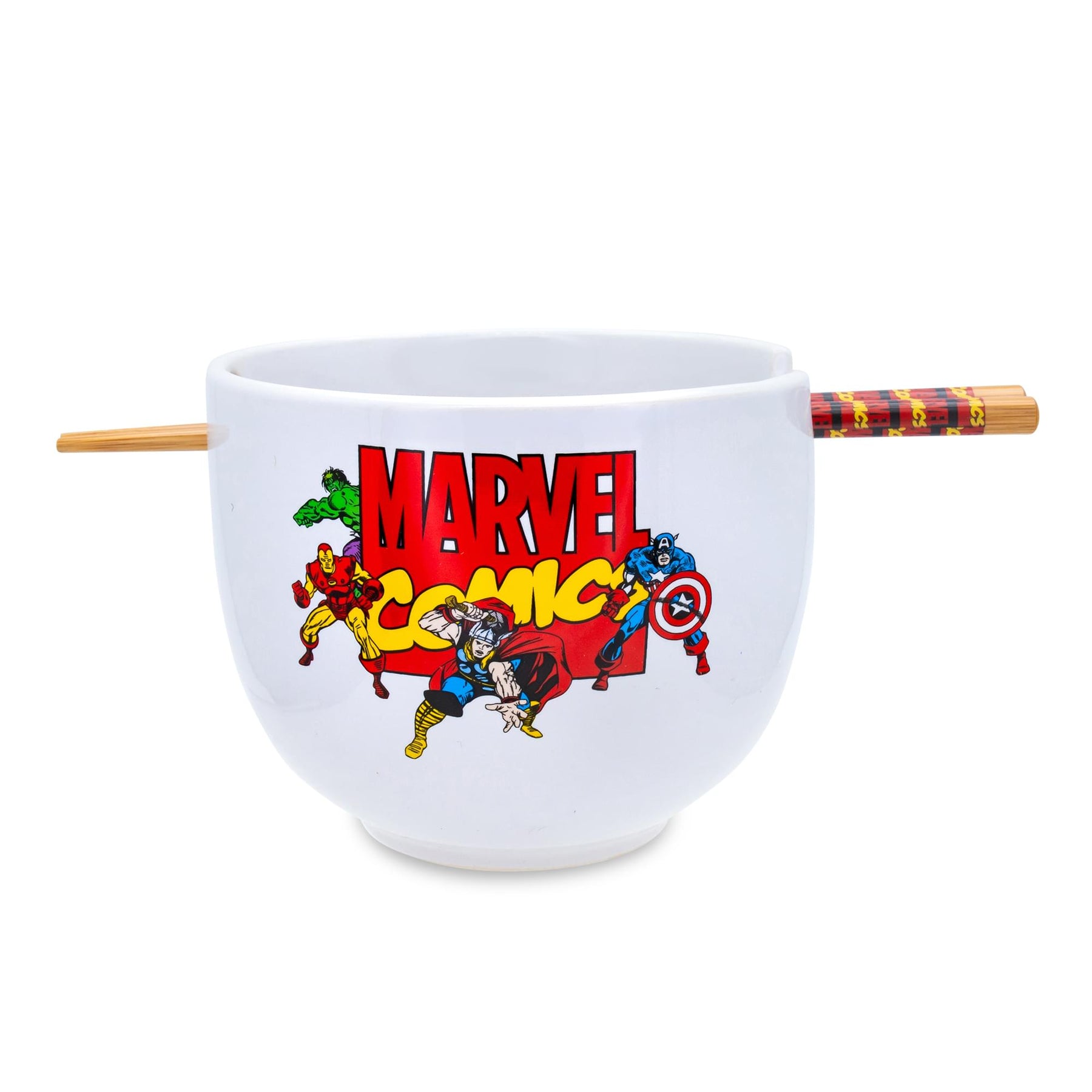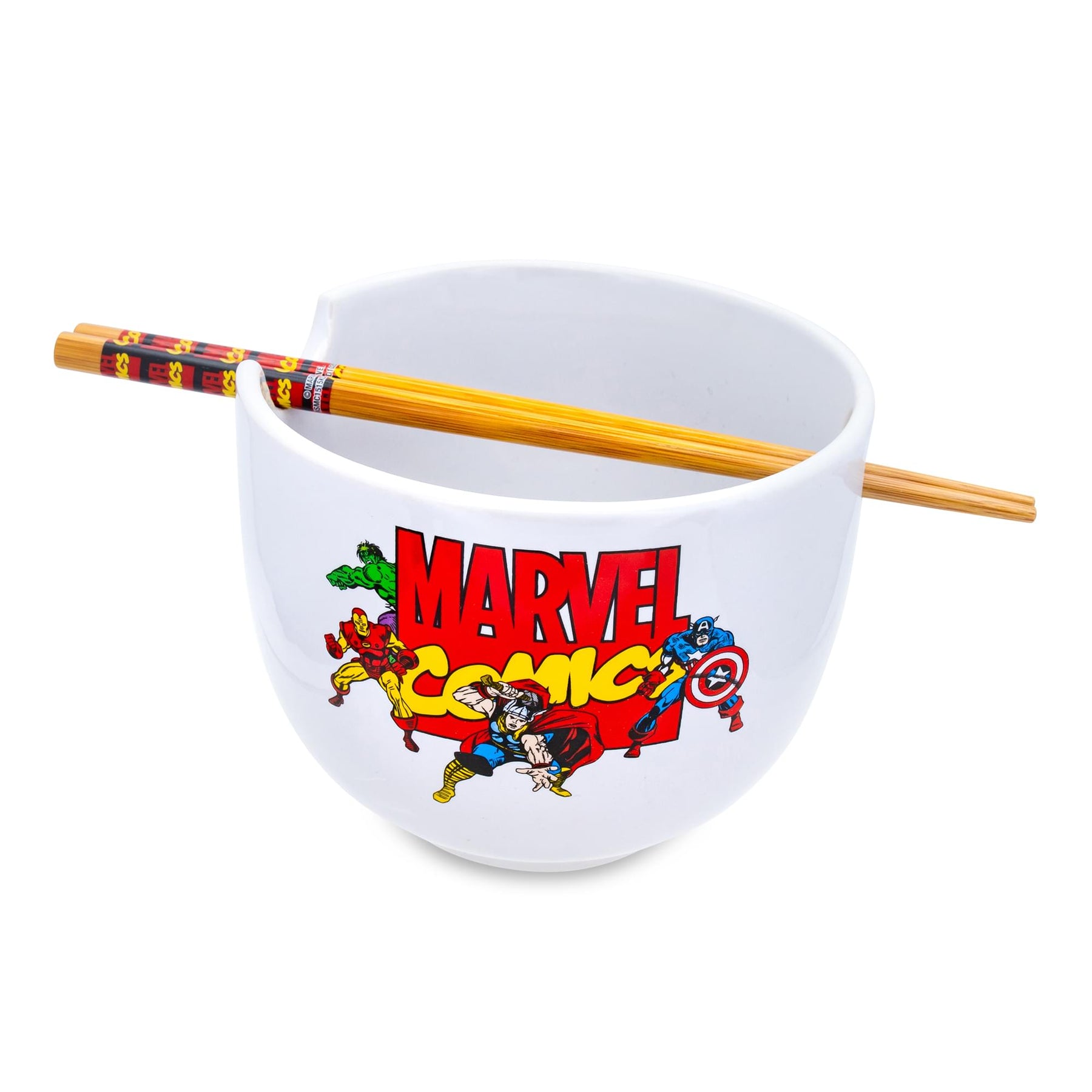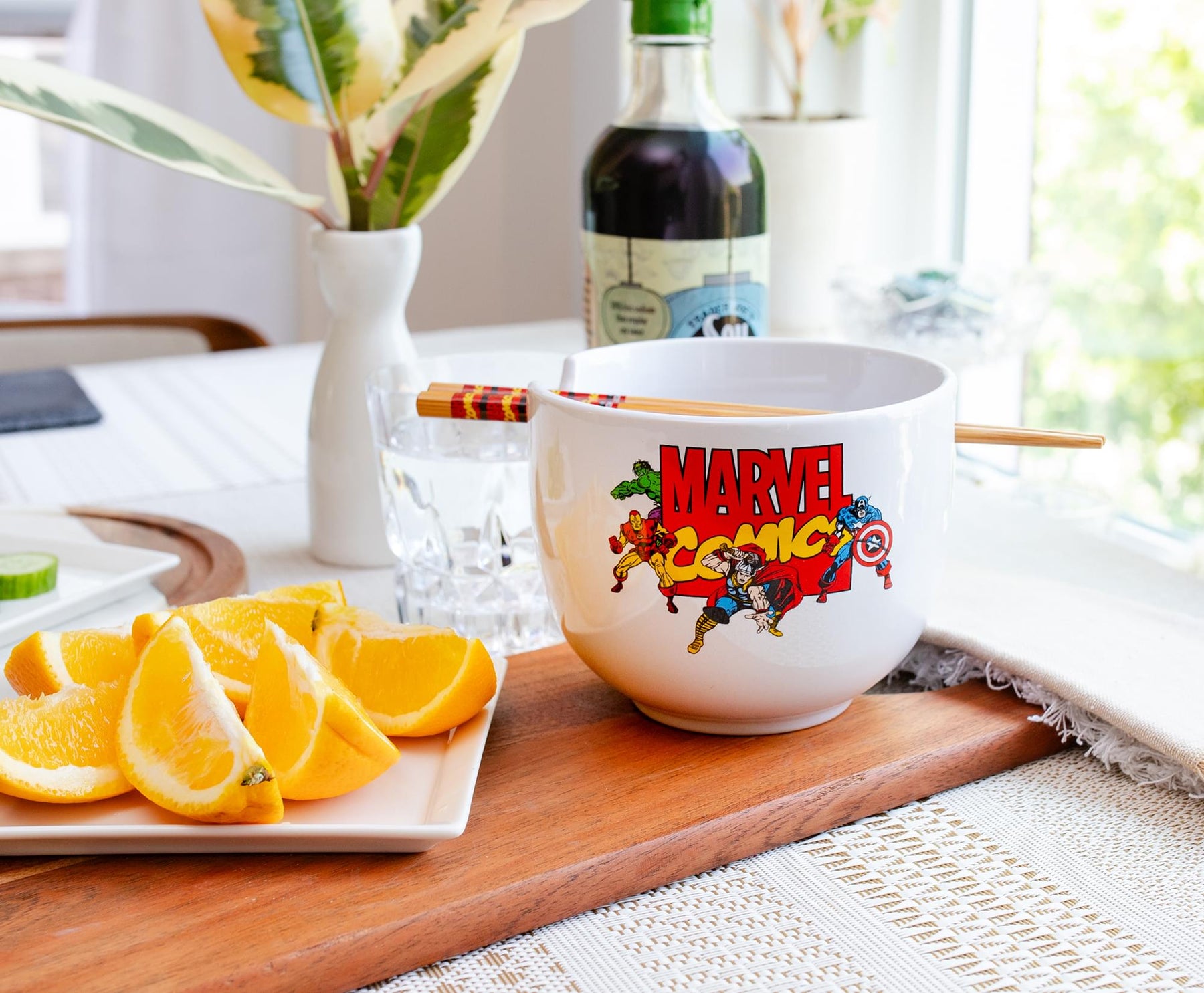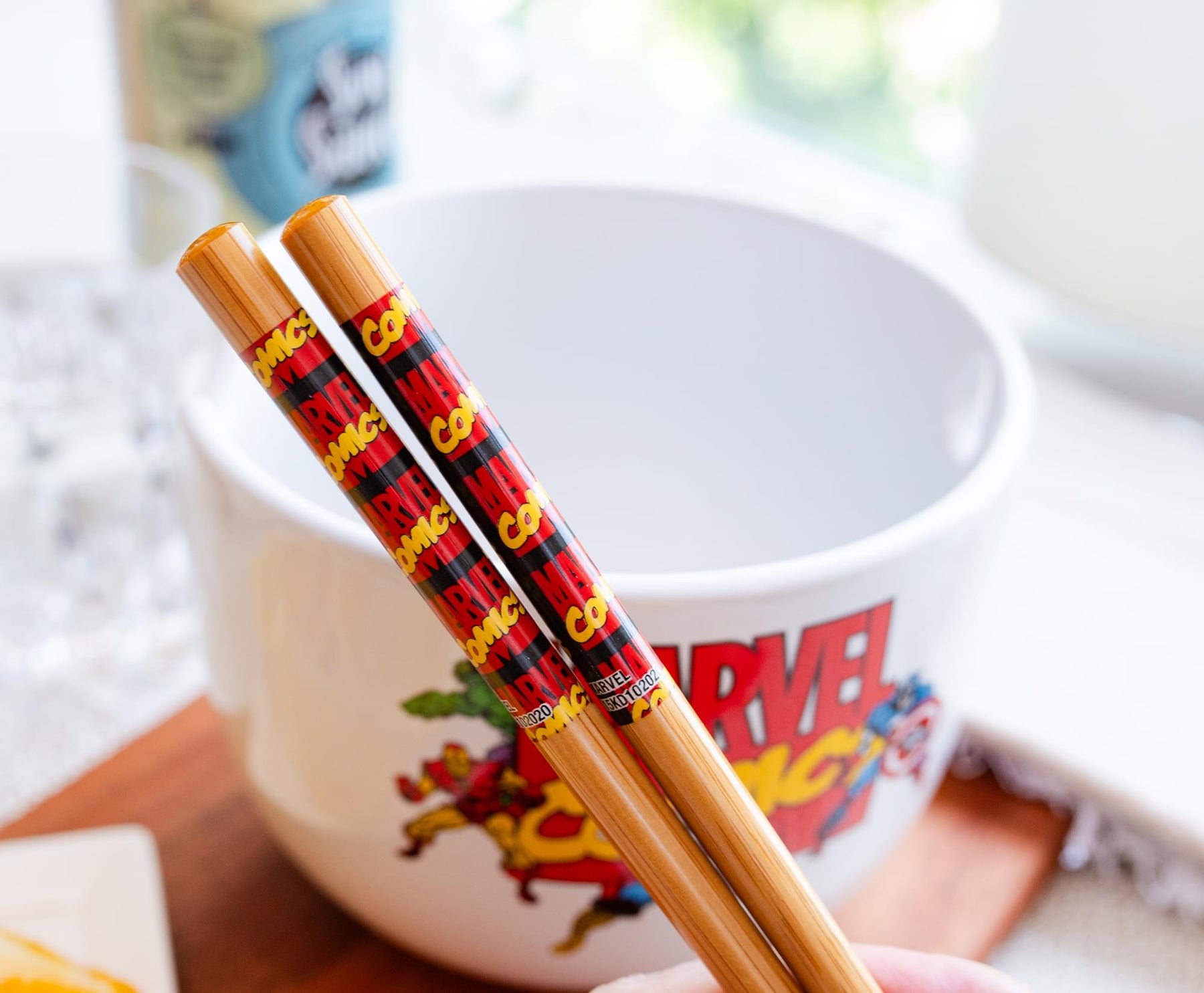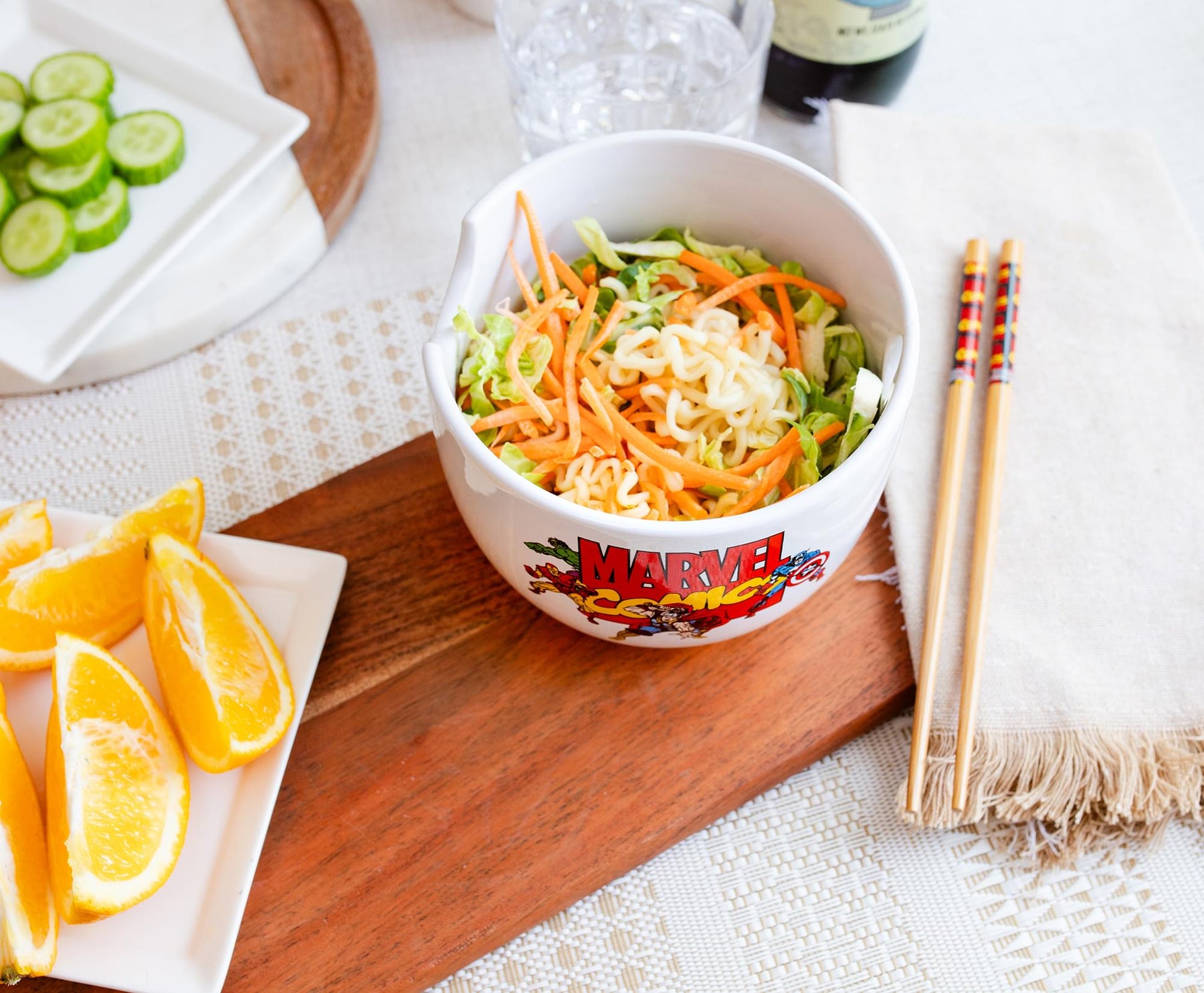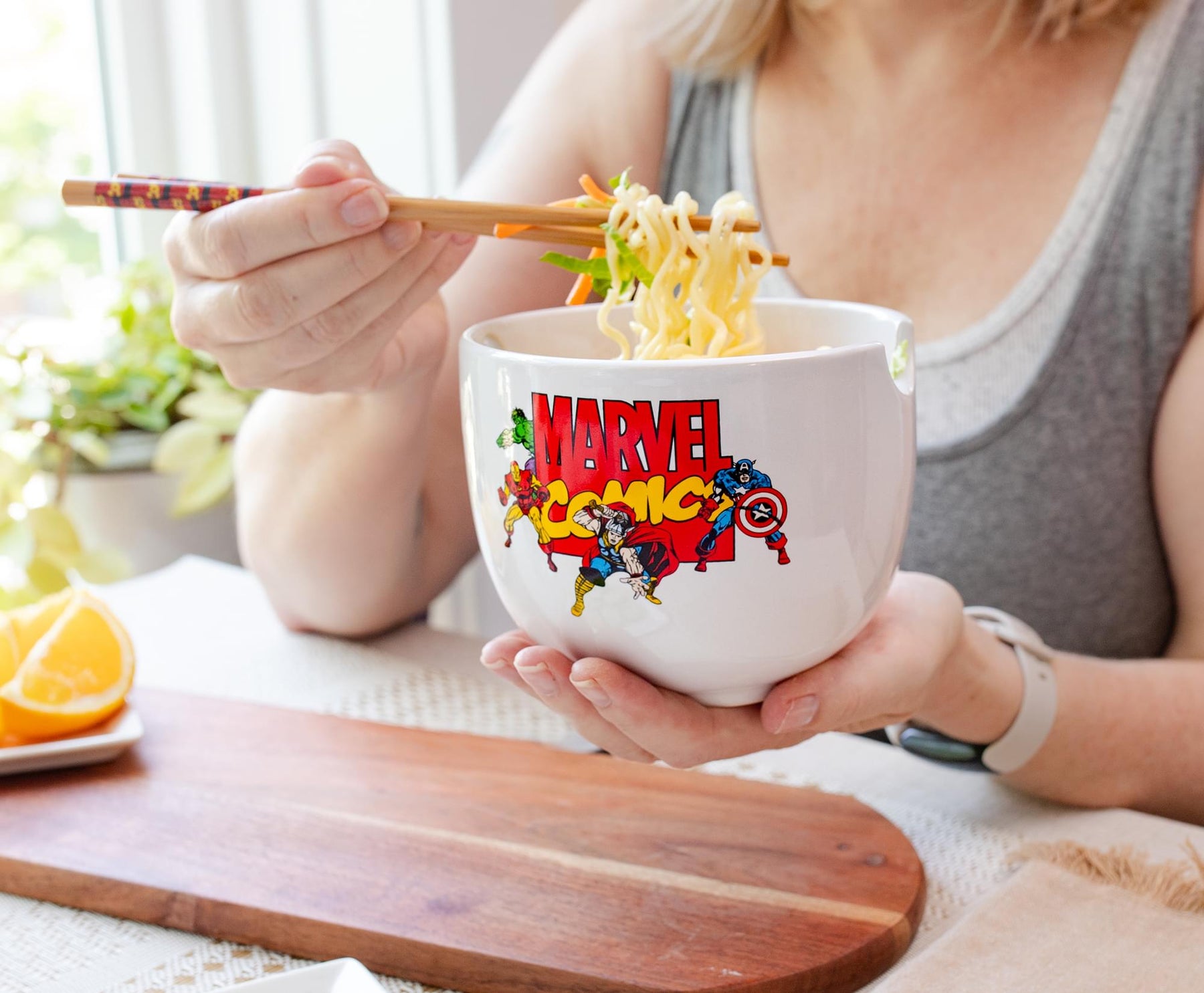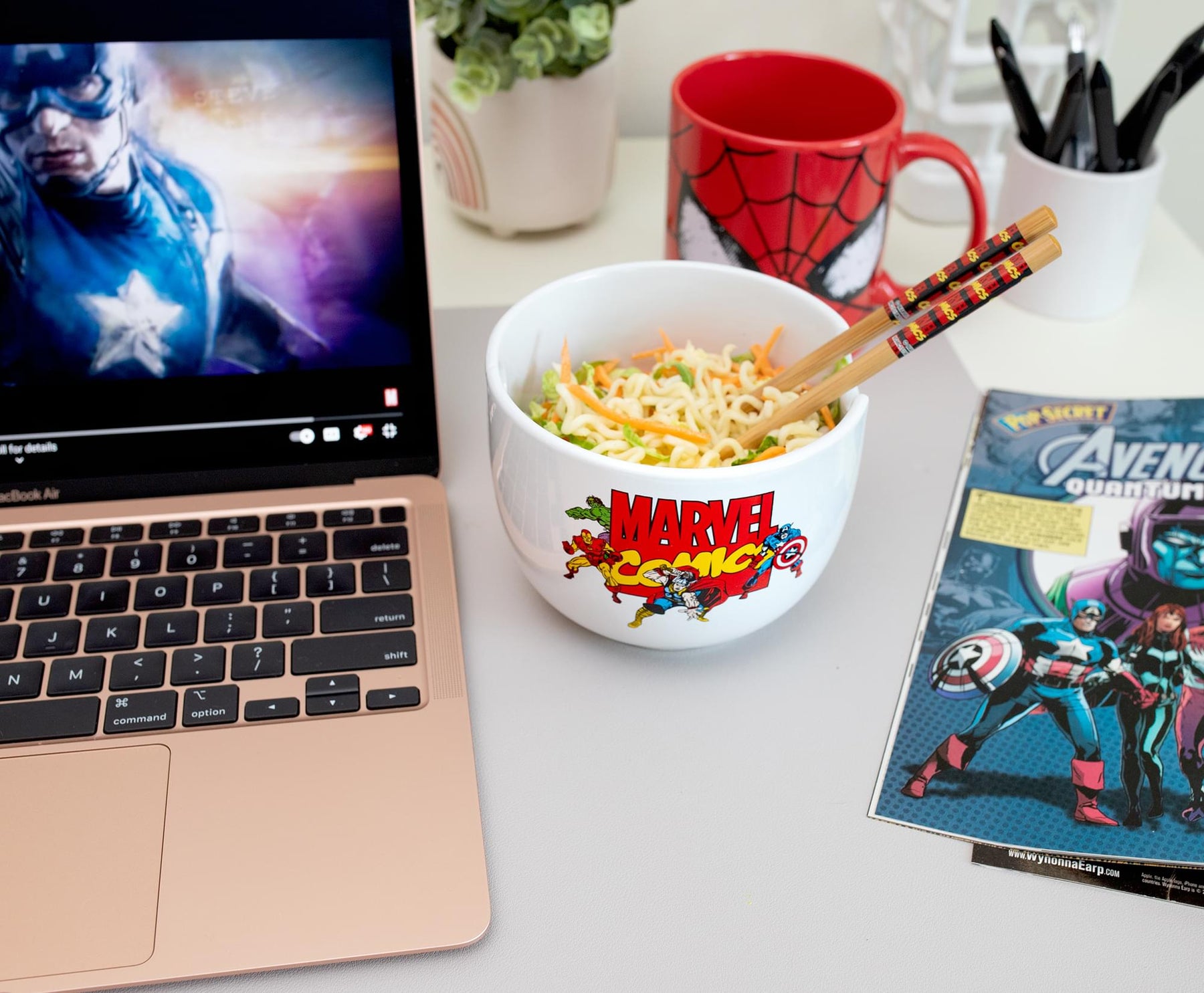 Marvel Comics The Avengers 20-Ounce Ramen Bowl and Chopstick Set
MAKE MINE MARVEL: Fresh from the Earth-616 comes this heroic ramen bowl and chopstick set from Marvel Comics. Even when the Masters of Evil have conquered the globe, you'll still be able to enjoy a great meal.
GREETINGS, TRUE BELIEVERS: Leaping from the printed page come the iconic superheroes of Marvel Comics. Alongside the iconic logo, you'll find the classic versions of Hulk, Thor, Iron Man, and chronically late Captain America.
DESIGNED WITH MR. STARK'S EXPERTISE: This set comes with a pair of reusable wooden chopsticks to help you fill up on your favorite dishes. The ramen bowl even has built-in notches for conveniently resting your branded chopsticks.
BUILT TOUGH AS A HULK: This BPA-free ceramic bowl can withstand all manner of multiversal chaos. No need to call Damage Control about that clean up, either. Easy to maintain, it's suitable for both dishwasher and microwave.
OFFICIAL MARVEL COLLECTIBLE: Dig into all those back issues with this officially licensed ramen dinnerware set, as brought to you from enduring world of Marvel Comics.
THE UNIVERSE STILL NEEDS HEROES
Before they became household names and dominated the movie box office, the origins stories of Tony Stark, Steve Rogers, Bruce Banner, and Thor were first told in monthly periodicals, single issues of comic books written and illustrated by an amazing array of talented individuals. But these simple pieces of paper weren't enough to contain these future Avengers. They made the leap to cartoons, video games, the silver screen, and now even action-packed dinnerware sets.
Tell the world you know your nerd roots with this Marvel Comics Ramen Bowl and Chopstick Set.
THE WORLD'S GREATEST COMIC MAGAZINES
Let some of the mightiest heroes in the world help you defeat the ultimate enemy: your hunger.
This ceramic dinnerware set comes with a ramen bowl emblazoned with the timeless logo of Marvel Comics and some of its more famous heroes. The set also includes a pair of branded chopsticks and a convenient notch in which to store them. It's no suitcase armor, but it's still pretty cool.
Travel back to the Golden Age of heroes with this officially licensed dinnerware from Marvel Comics.
© 2022 MARVEL
CARE INSTRUCTIONS
Easy care
Top-rack dishwasher safe
Microwave safe
Read All About It on Our Blog
Trending Geek