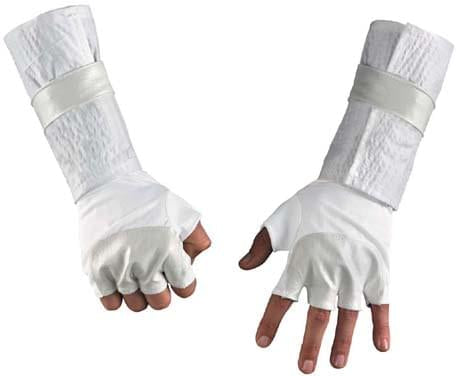 GI Joe Movie Storm Shadow Gloves Deluxe Child Costume Accessory
One size fits most children.
Includes one pair of fingerless design gloves.
Made from Polyester material construction.
Great gift and collector's items for fans of the franchise!
Officially licensed G.I. Joe costume accessory.
Inspired by comic books, GI Joe: The Rise of Cobra is a popular military science fiction movie featuring a team of strong characters. The G.I. Joe character Storm Shadow is best known for his role as the Cobra Commander's ninja bodyguard, and his long dark past with Snake Eyes. The Hashbros G.I. Joe Movie Deluxe Storm Shadow Gloves are a one size children's gloves item that you need to purchase to complete your child's Deluxe G.I. Joe Storm Shadow Costume. These all white gloves cover your wrists all the way up to your palms leaving your fingers exposed. There is no question that every Storm Shadow needs these cool gloves!