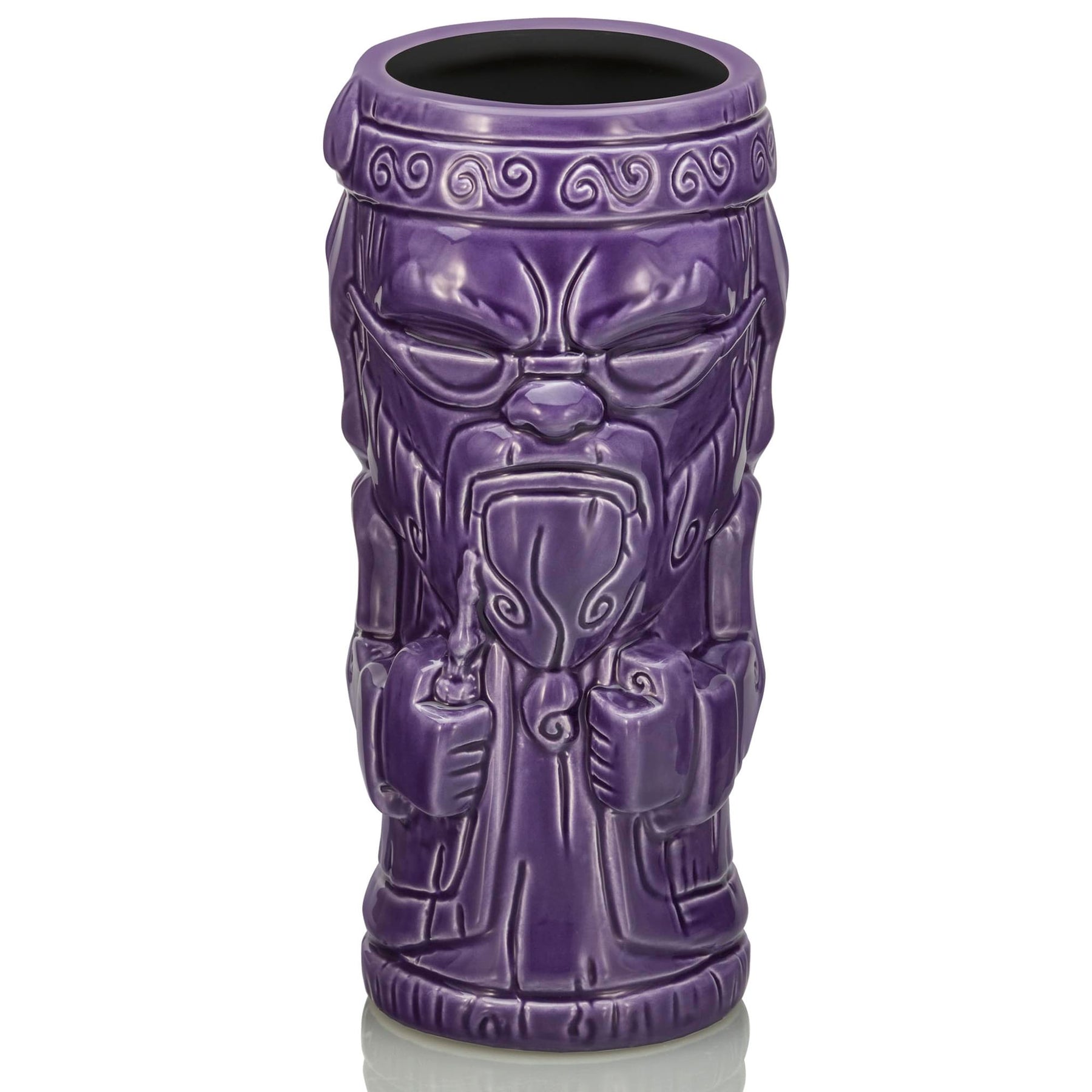 Geeki Tikis Harry Potter Dumbledore Ceramic Mug | Holds 18 Ounces
DUMBLEDORE GOES TIKI: Experience the enchantment of the Wizarding World with this Geeki Tikis mug featuring the legendary wizard Dumbledore. Cast a refreshing spell on your day with Hogwarts' headmaster to guide the way.
A BELOVED HOGWARTS HEADMASTER: Sculpted in his iconic robes, this purple figural tumbler features a tropical reimagining of Dumbledore. With a wave of his wand, the powerful wizard will imbue every beverage with a sense of wonder.
SHARE A SPELLBINDING SIP: Enjoy a drink with the greatest wizard of modern times with this figural mug in hand. This large tumbler generously holds approximately 18 ounces of your preferred magical beverage of choice.
IMBUED WITH MAGICAL QUALITY: Measuring approximately 7 inches tall, this BPA-free ceramic mug can be enjoyed anywhere from Godric's Hollow to Hogwarts. Easy to maintain, it's suitable for microwave and top-rack dishwasher.
OFFICIAL GEEKI TIKIS COLLECTIBLE: Find magic in every day moments with this officially licensed Geeki Tikis mug featuring Dumbledore. Every sip brings the enchantment of the Wizarding World to witches, wizards, and muggles alike.
A TROPICAL TWIST ON YOUR FAVORITE HEAD WIZARD
With a single wave of your wand, you'll be whisked away to a tropical paradise with this Geeki Tikis mug inspired by the Wizarding World of Harry Potter.
Conjuring up a mighty spell, the powerful wizard Dumbledore is depicted on this mug with an enchanting tropical design. Magically sculpted with hand-painted details, this prestigious purple figural mug will teach you what it's like to be a true witch or wizard with every spellbinding sip.
ENCHANTING DRINKWARE FOR POTTERHEADS
Ever-gracious, the great wizard Dumbledore can't wait to share in the wonders of magic, starting with this BPA-free ceramic tumbler. Perfect for enjoying a refreshment during wizarding class, from the comfort of home, or while relaxing in paradise. Wherever your magical adventures take you, trust that Hogwarts' headmaster will make every occasion feel truly enchanting.
Wizarding wonders await with this officially licensed Geeki Tikis x Harry Potter collectible.
CARE INSTRUCTIONS
Easy care
Top-rack dishwasher safe
Microwave safe