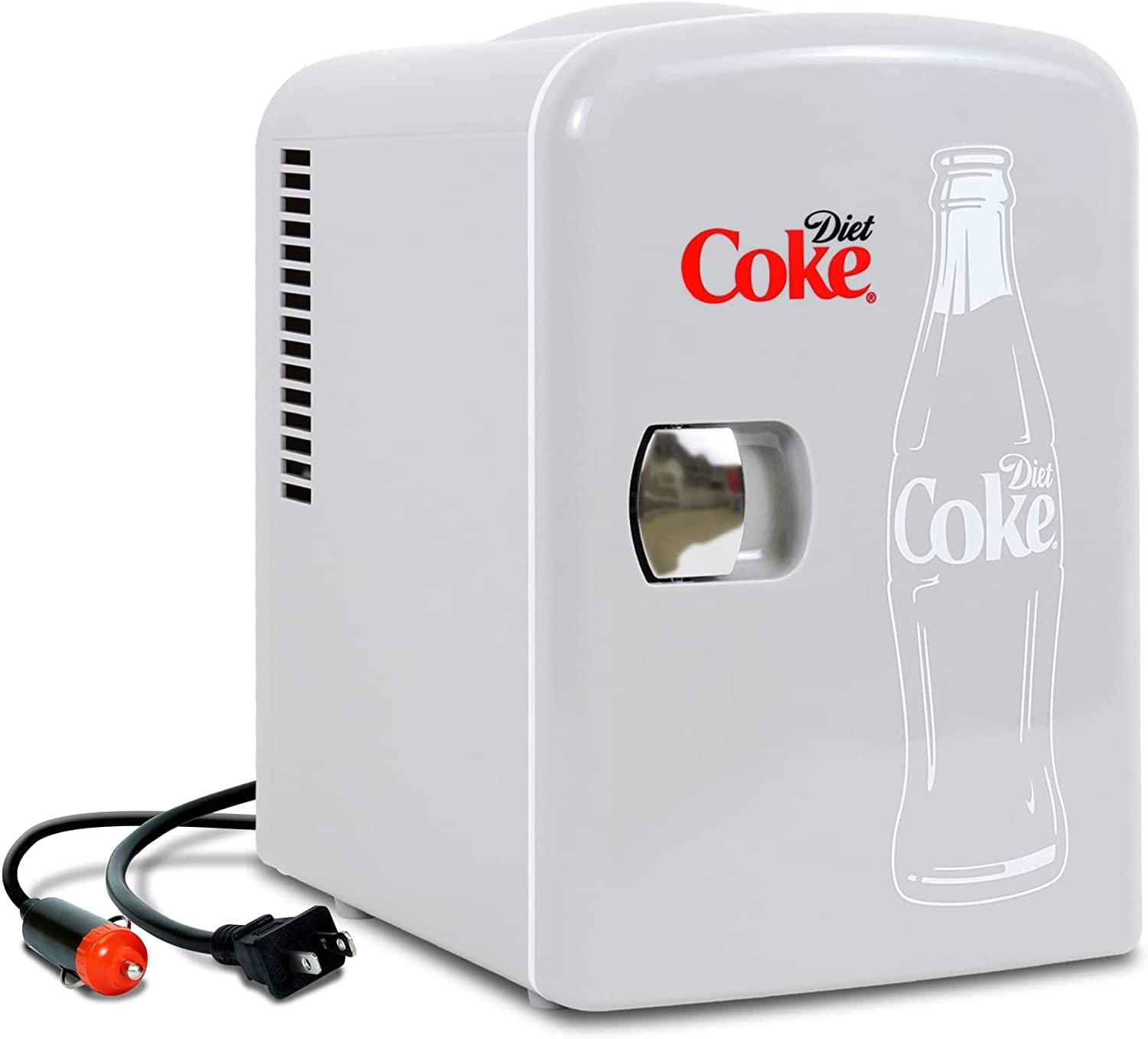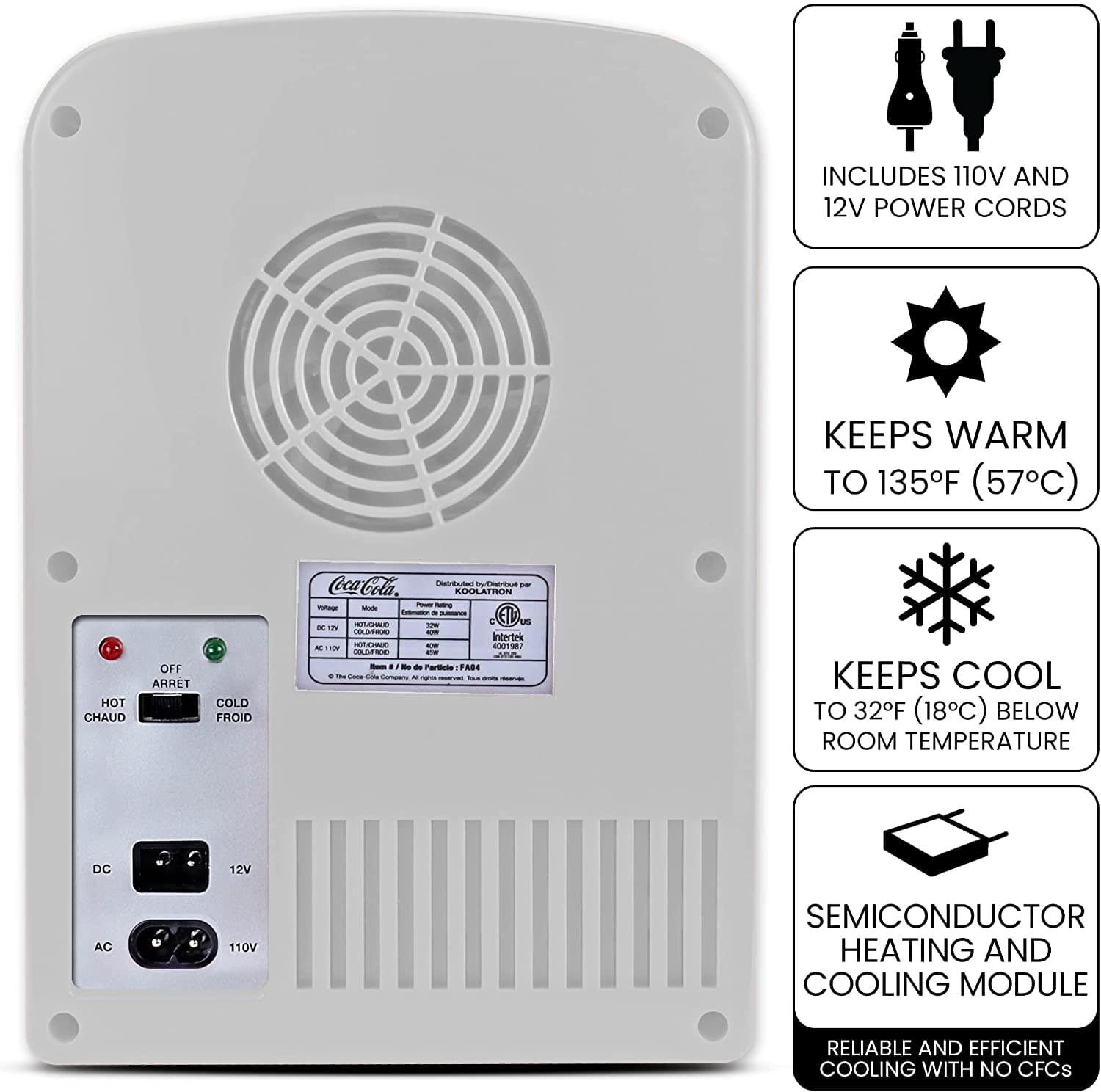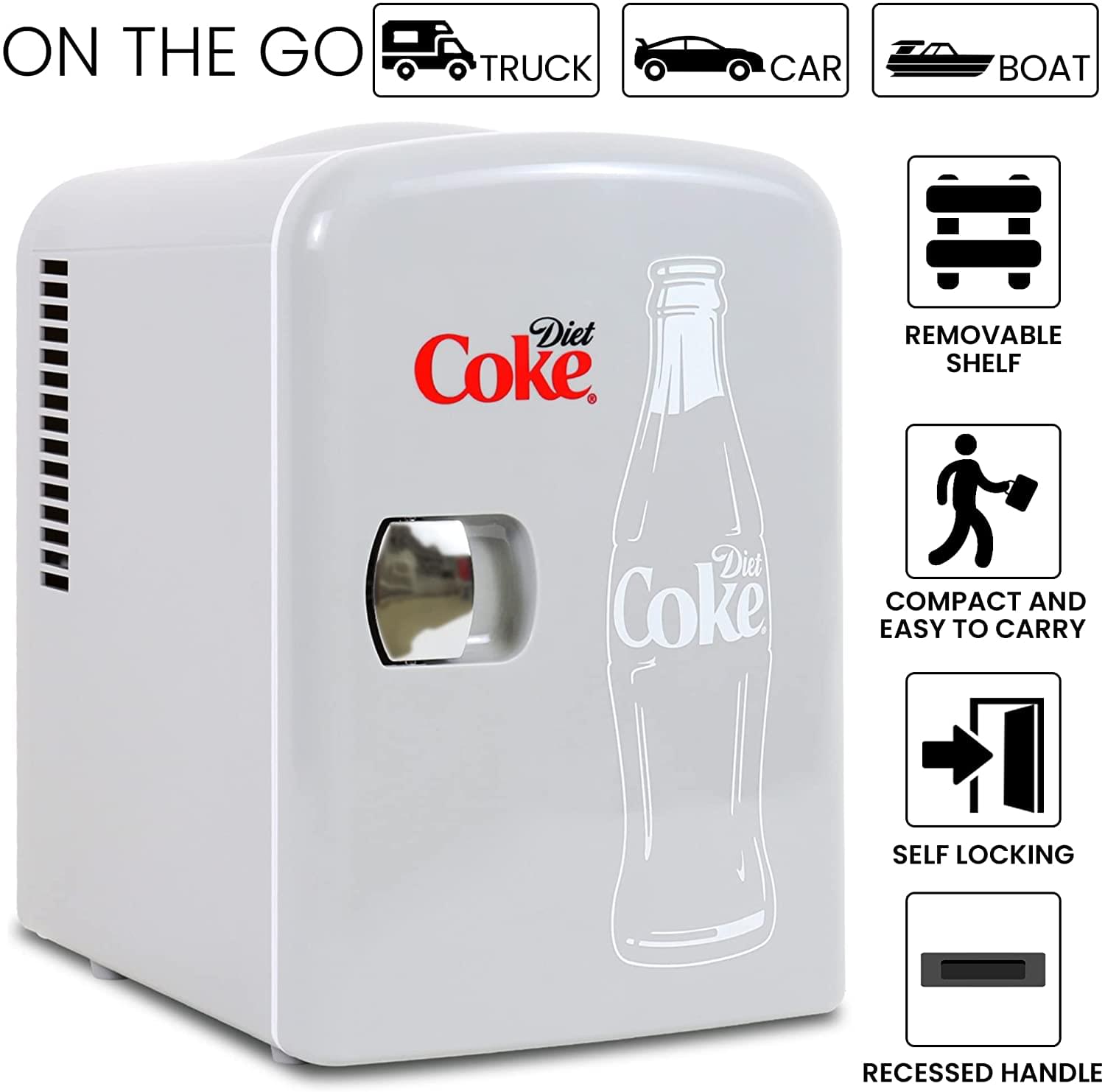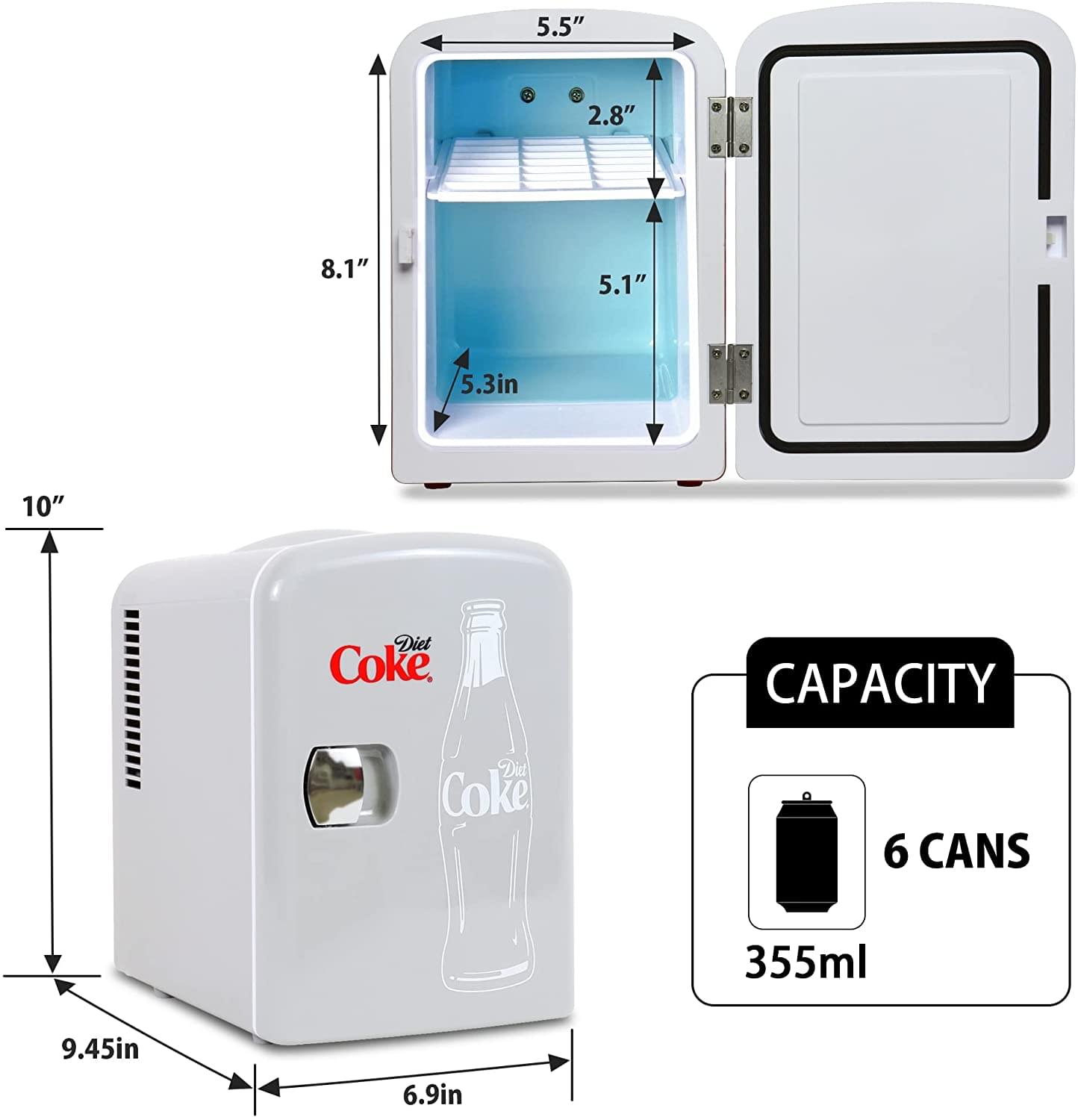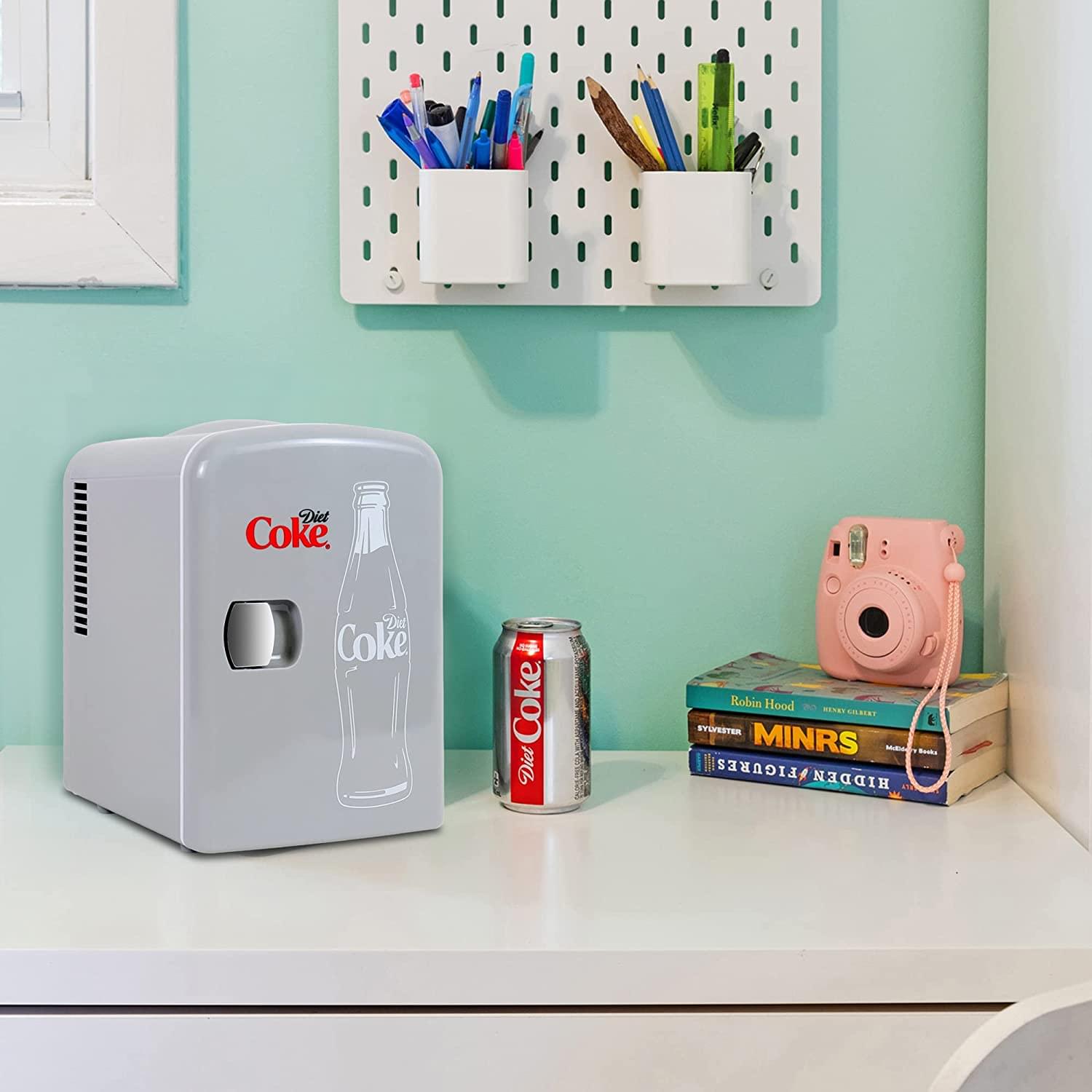 Diet Coke 4L Compact Personal Travel Fridge | Warmer/Cooler
THE ONE AND ONLY DIET COKE: This unique mini fridge features the iconic Diet Coke logo in eye-catching red against a sleek grey background.
COMPACT SIZE WITH 4L CAPACITY: Self-locking door handle. Personal cooler with removable shelf and inset carry handle holds 6 standard soft drink cans and fits easily on a desk or shelf; Dimensions 10 in (255mm) x 9.45 in (240mm) x 6.9 in (175mm). Capacity: 500ml x 4, 355ml x 6.
AC AND 12V DC CAPABLE: Compact portable mini fridge/warmer runs on DC and AC power and comes with both cords so you can use it at home or on the go; ideal for home, dorm, office, truck, trailer or RV. 12 Volt DC plug included. 110 Volt AC plug included.
WARMING AND COOLING FUNCTIONS: Semiconductor heating and colling module. Reliable and efficient cooling with no CFCs. Eco-friendly iceless technology efficiently cools to 32°F (18°C) below surrounding temperature or warms to 135°F (57°C) with no harmful chemicals or wasted energy.
UNIQUE GIFT IDEA: Portable design, eye-catching chrome accents, and classic Coca-Cola graphics make this travel cooler/warmer an ideal fun and functional gift for dads, students, teens, and more.
This unique portable mini fridge features the iconic Diet Coke design. With eye-catching artwork, a vibrant grey finish, and a traditional chrome handle, this piece is a must-have for fans and collectors. Efficient, reliable thermoelectric cooling and warming technology makes this 4L (4.2 qt) mini fridge/warmer the perfect desktop accessory for your home, office, or dorm room. It is AC and DC capable and comes with both cords so you can plug it into any standard household outlet or use it in your car, boat or RV.