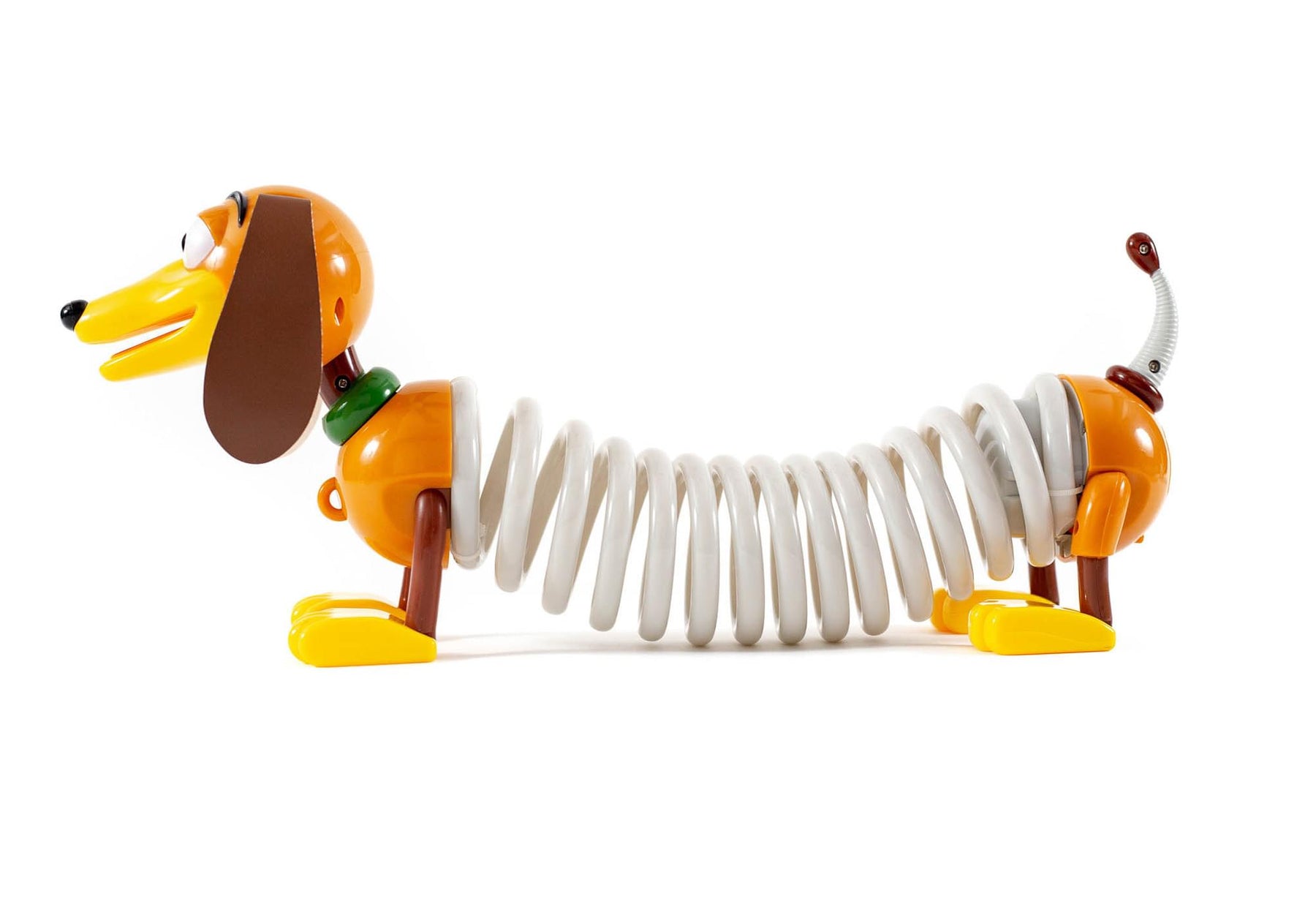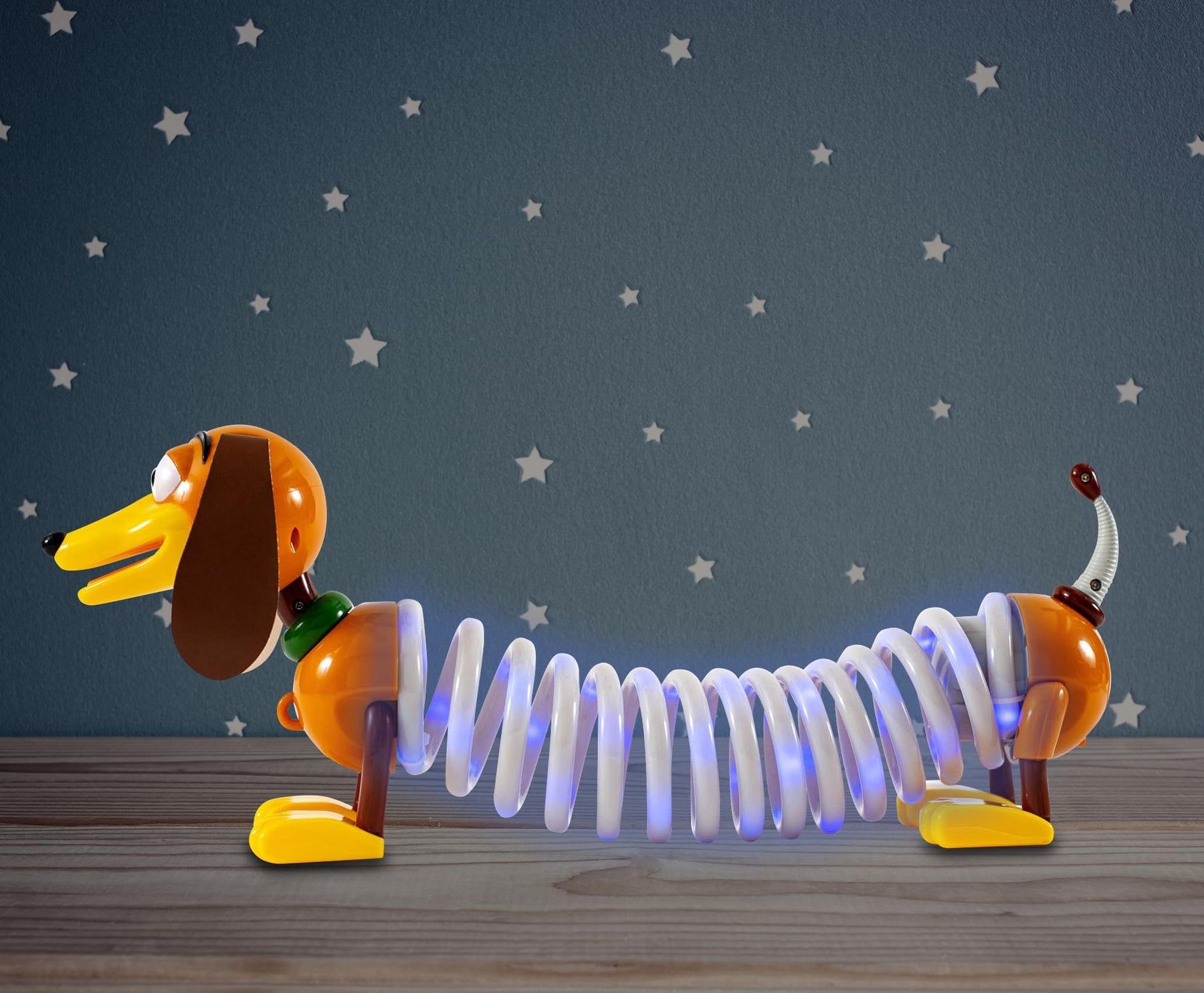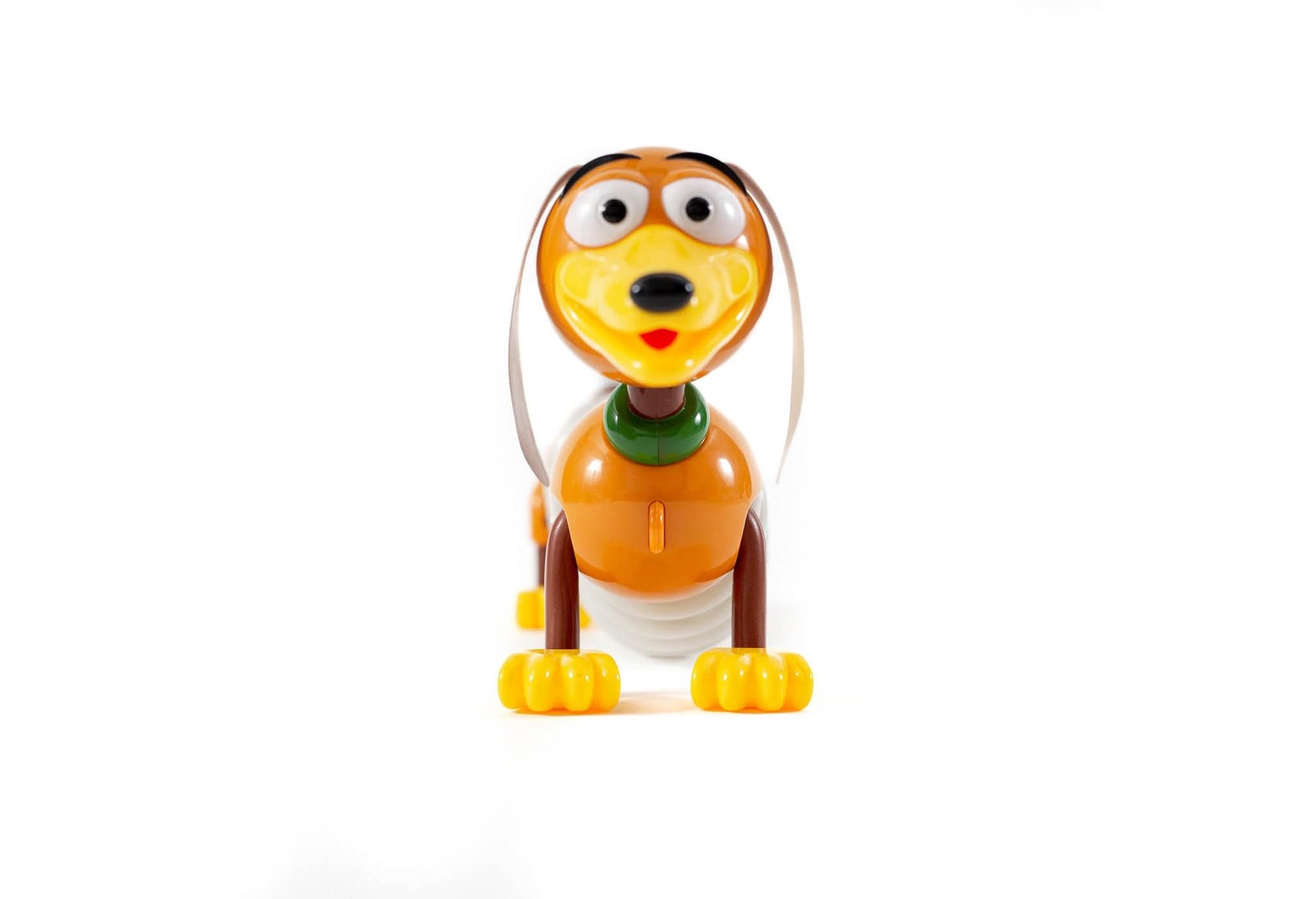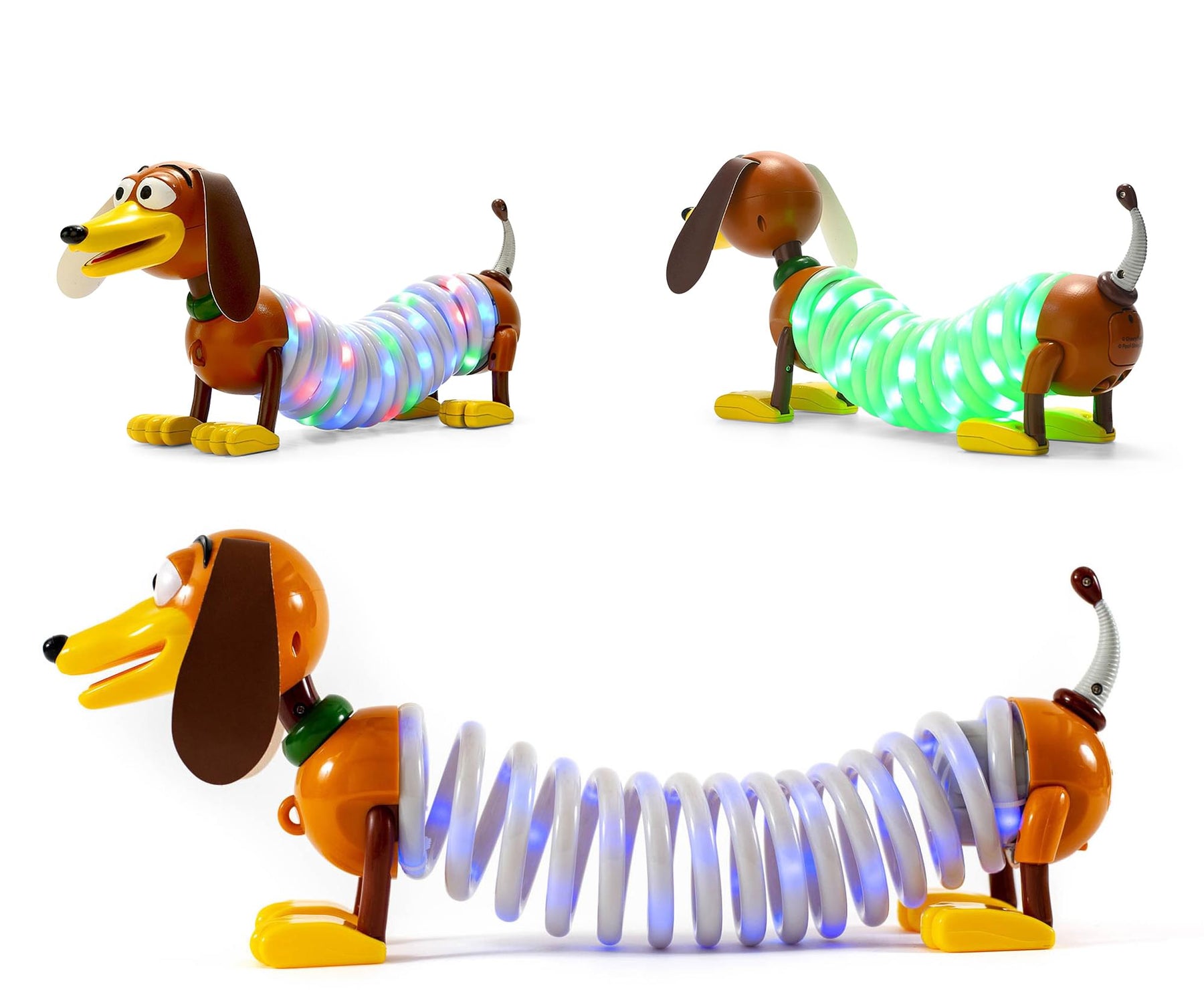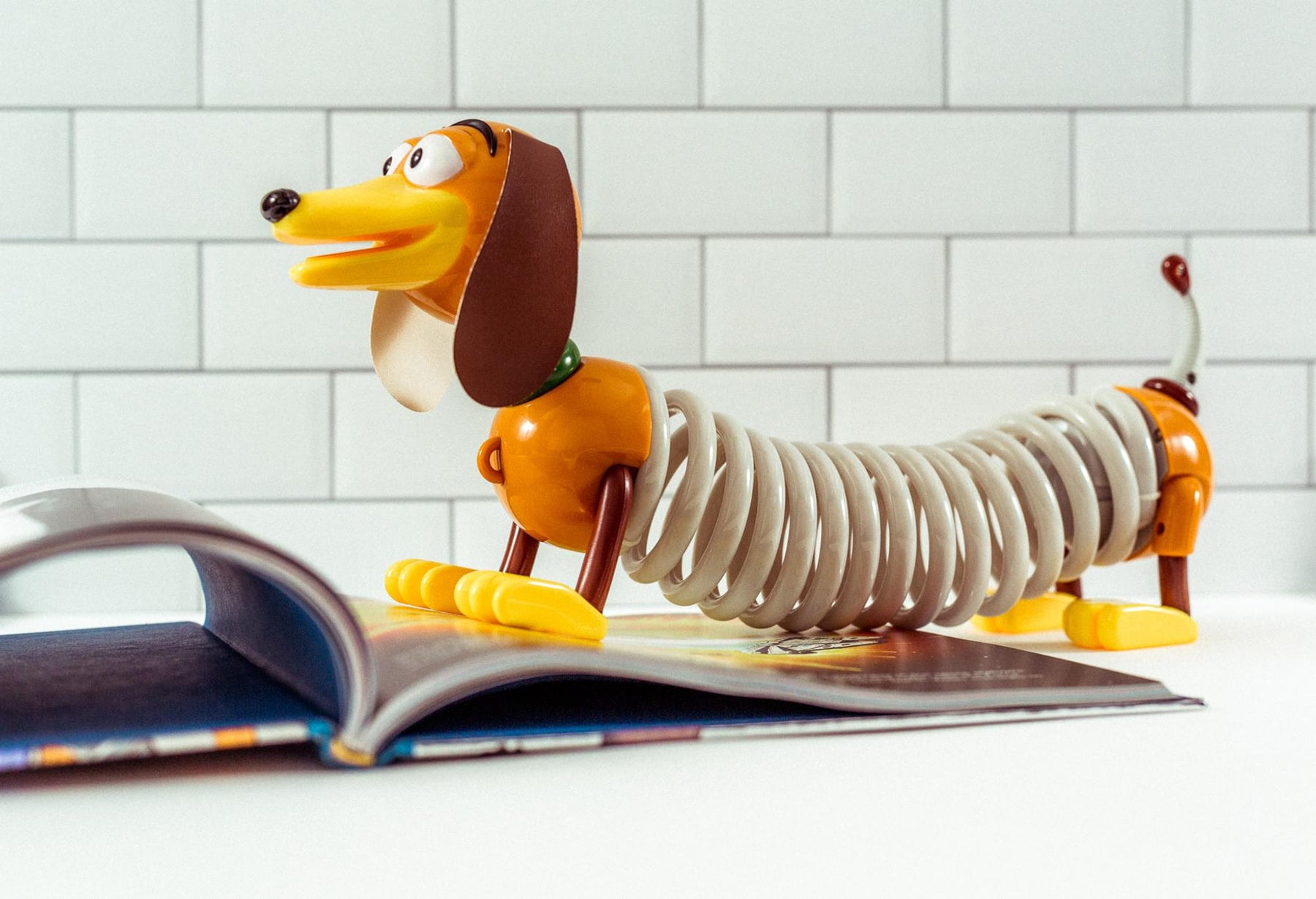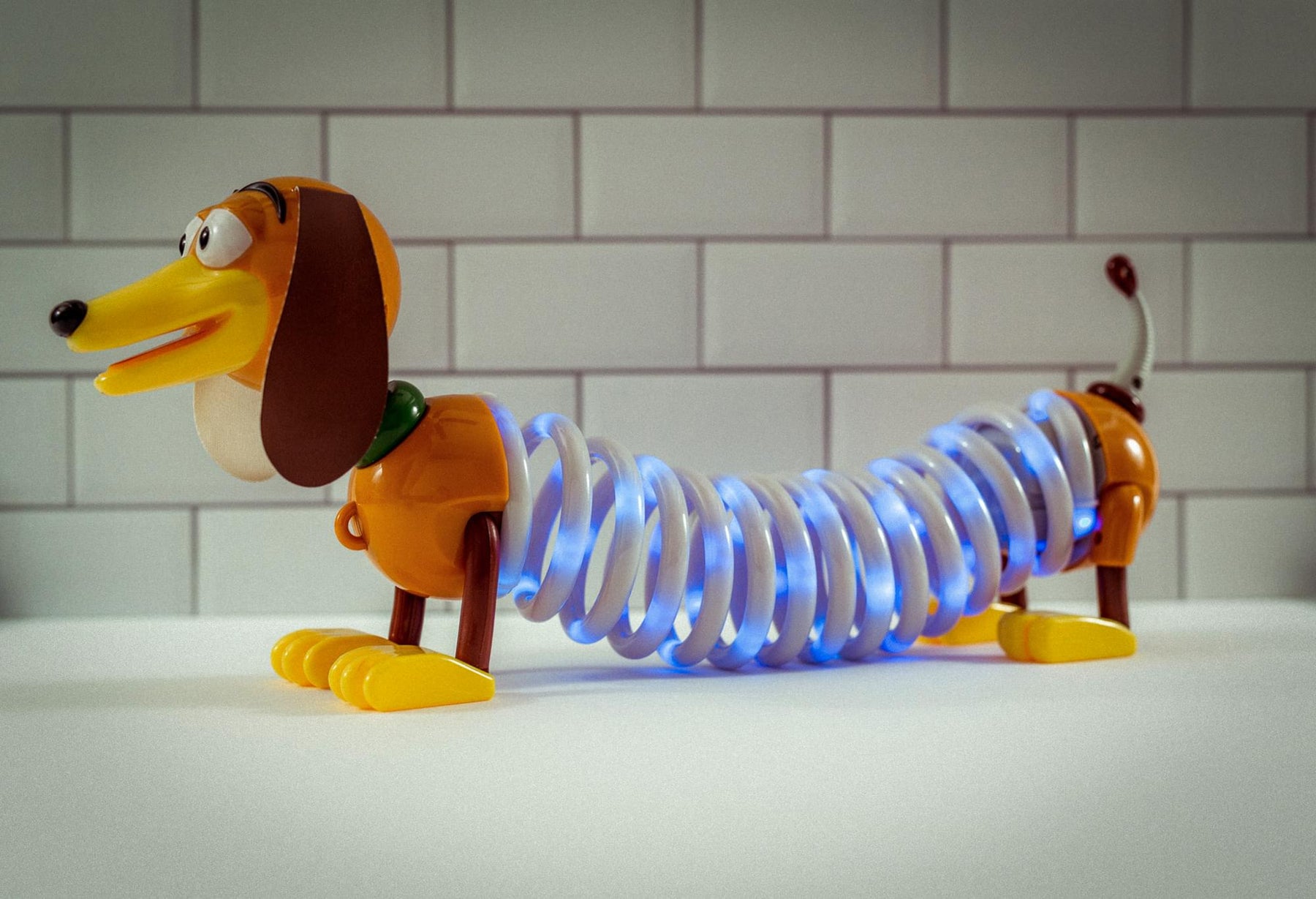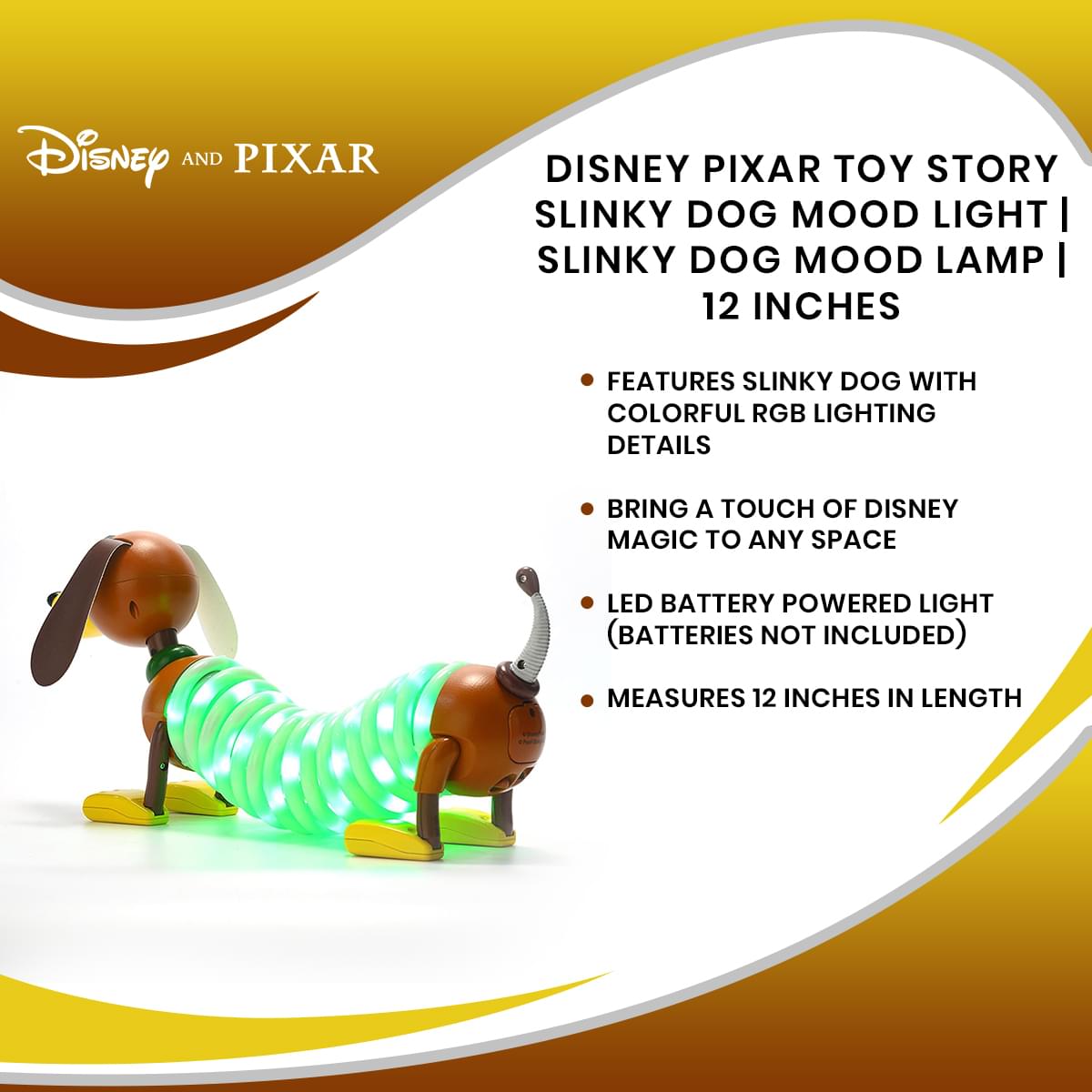 Disney Pixar Toy Story Slinky Dog Mood Light | Slinky Dog Mood Lamp | 12 Inches
SLINKY DOG CAN BRIGHTEN YOUR DAY: Disney Pixar's Toy Story introduces a plethora of unforgettable characters. Slinky Dog is a fan-favorite character and now he is here to brighten up your day in the form of this LED mood light! Enjoy a bright and vibrant Slinky Dog in your home!
SET THE MOOD AT THE TOUCH OF A BUTTON: This Slinky Dog mood lamp can add a touch of intensity as you watch your favorite Toy Story movies Simply touch the button at the top of the figure and the 5-pattern red, green, and blue LED mood lighting will fill whatever space it is in!
QUALITY LIGHTS MADE FOR A DURABLE SLINKY DOG TOY: This collectible 12-inch long LED mood light is perfect for any Toy Story fan! Designed with quality toy-tough materials, this mood lamp is a must-have! Running on 3 - AAA batteries (not included) your ideal mood lighting is just a click away!
A MUST-HAVE PIECE OF DISNEY FANDOM: Shine some light on your fandom and bring home this Toy Story Slinky Dog LED mood lamp! The perfect cross between home decor and novelty collectibles, this illuminating LED mood light is a must-have for Slinky Dog Toy Story fans!
OFFICIAL DISNEY COLLECTIBLE: Fans of Disney, Pixar, and Toy Story will simply love this LED mood light. From decorating your bookshelf to completing your desk decor, this officially licensed mood light LED lamp will add that special touch of Toy Story fandom you need.
WHERE FANDOM MEETS MOOD LIGHTING HOME DECOR
Straight from the Toy Story series, this LED mood lamp is the perfect bit of toy-magic any Disney Pixar fan could ask for! Take home the magic of this mood light for yourself and enjoy Toy Story like never before! Measuring 12 inches long, this Slinky Dog Toy Story mood light is the perfect size for placing a bit of your favorite movie on your desk or bookshelf! Decorate your home with subtle pops of mood lighting featuring Slinky Dog! Inside this brilliant LED mood light is a bright red, green, and blue LED light that will shine bright at the touch of a button! Set the mood for your next movie night with Slinky Dog at your side!
BASK IN THE LIGHT OF YOUR FAVORITE MOVIE
Ready to sit down and thoroughly enjoy your favorite movie scenes? What better way to set the mood for your night of enjoyment than with an LED mood light that depicts your favorite parts of the movie? This LED mood light is perfect for setting the mood for a movie night, accenting your bookshelves or desks with a piece of your favorite movie, or gifting to a friend that loves the movie just as much as you do! Designed to illuminate at just the touch of a button, this bit of accent mood lighting is a must-have for anyone who enjoys a simple-to-use whimsical treasure! Mood setting lights can add intensity to any space and when that mood light is being emitted from a piece of your favorite movie, you can bring your fandom to life!