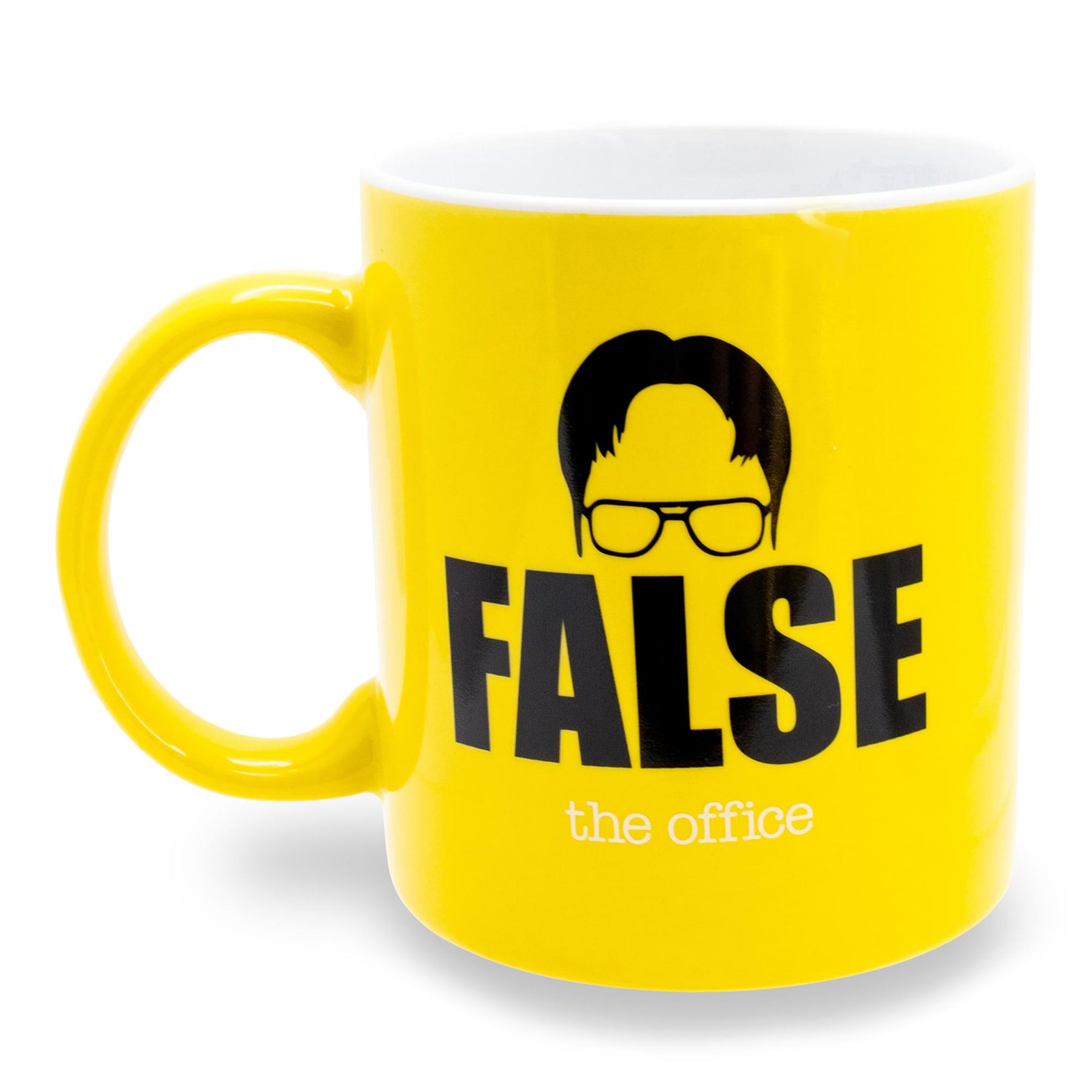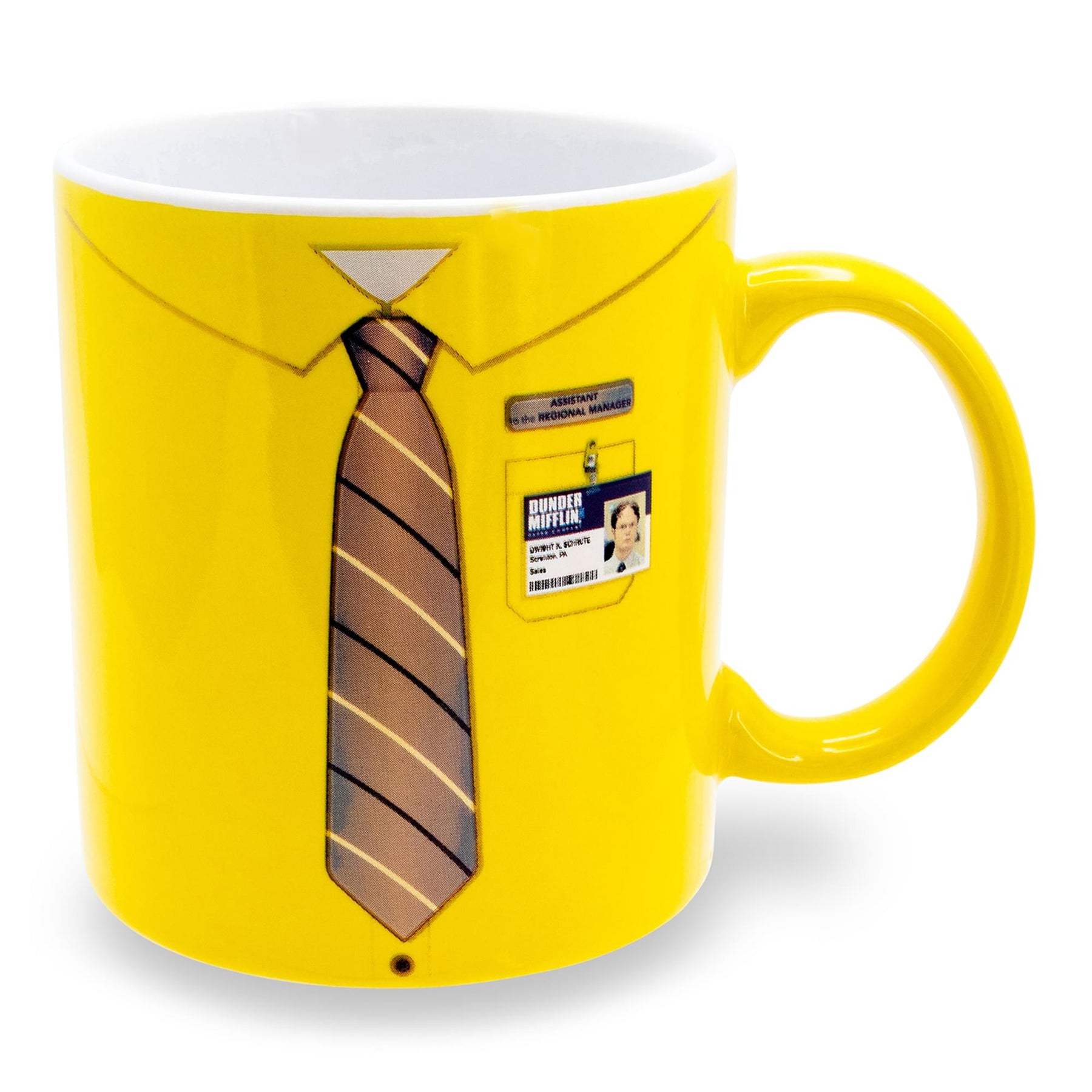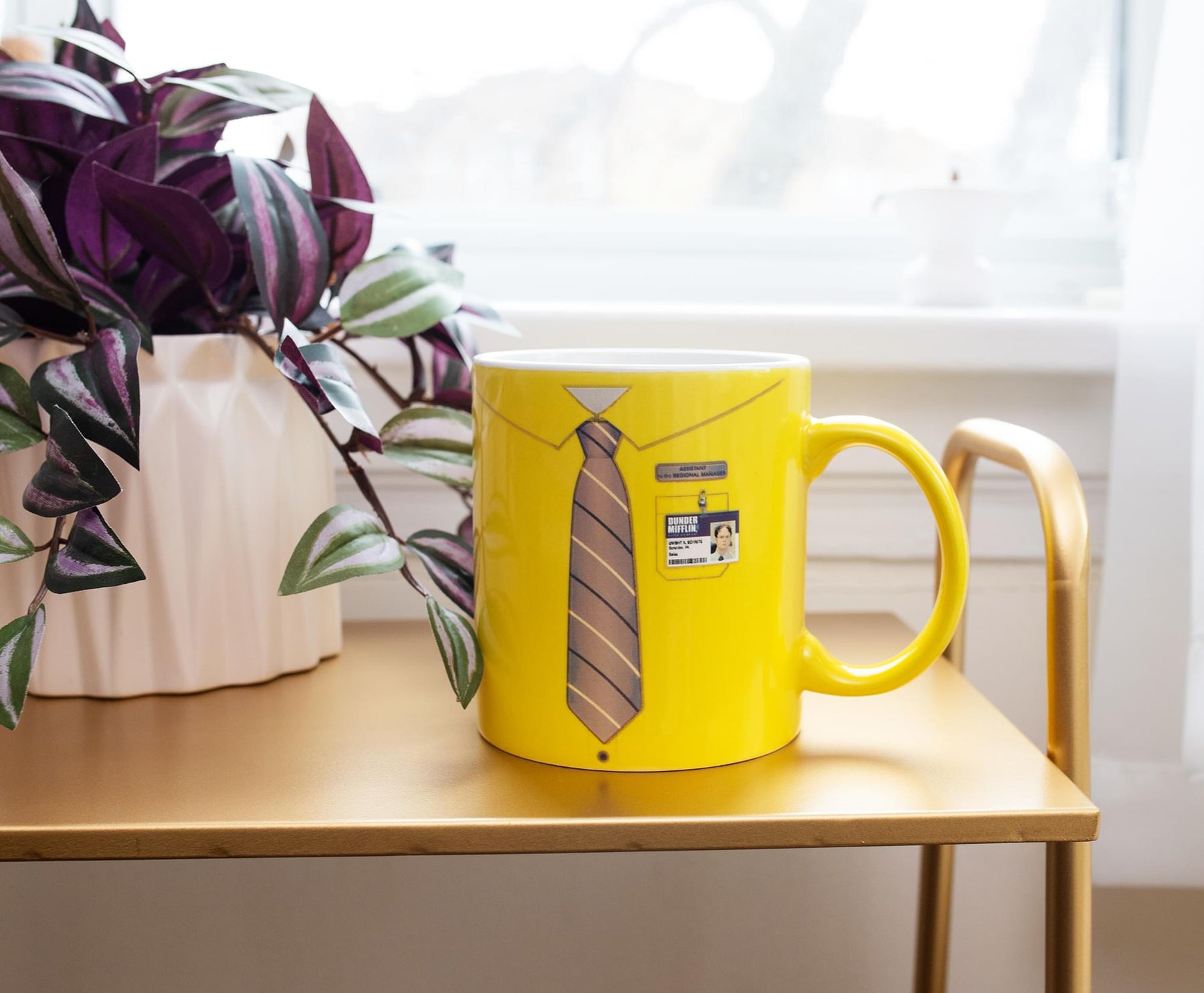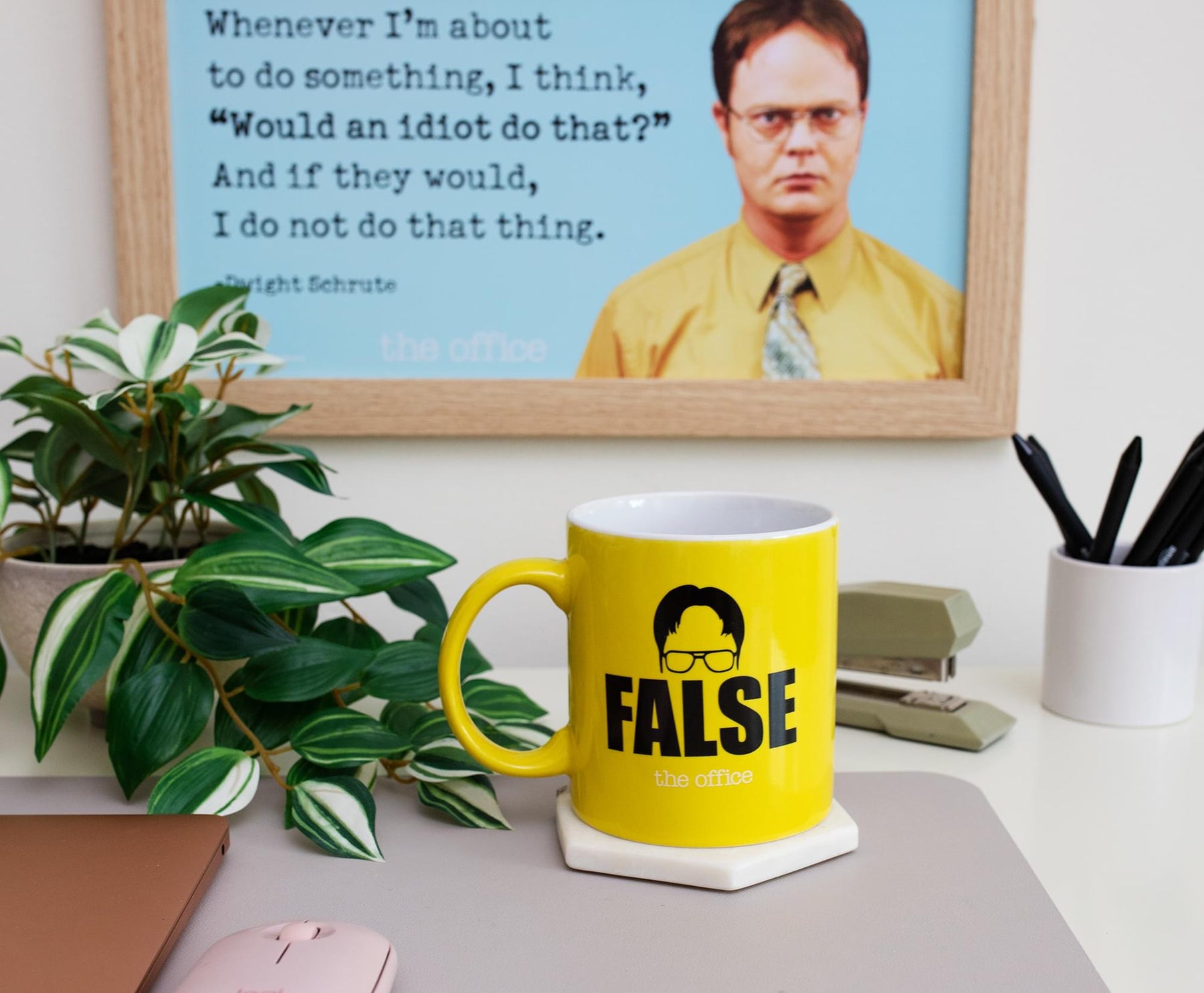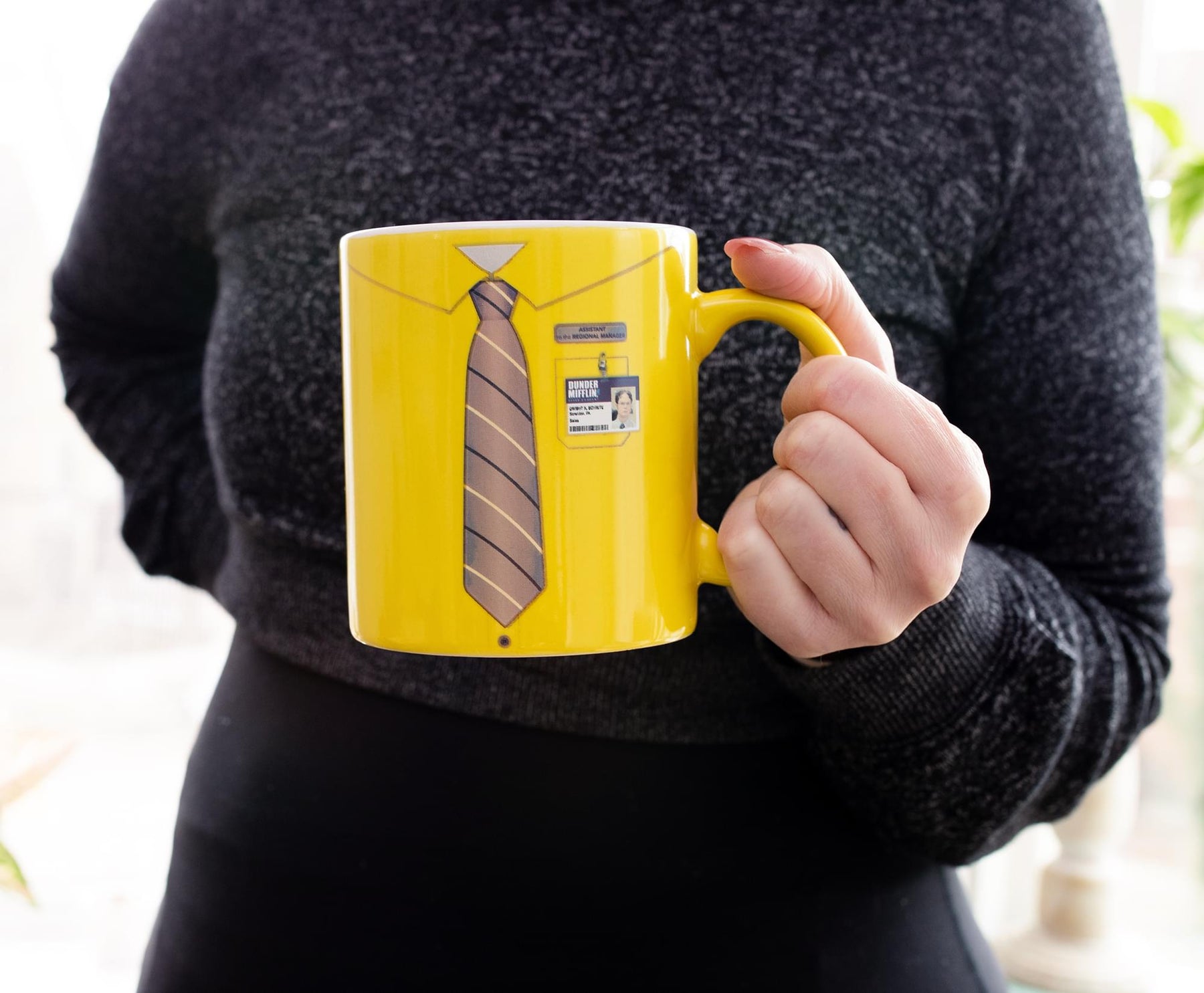 The Office Dwight Schrute Shirt Ceramic Mug | Holds 20 Ounces
A SCRANTON FAVORITE: If caffeine is a necessity in your life, then you'll want to keep this exclusive coffee mug handy at your office desk. Feel like part of the Dunder Mifflin team while enjoying a warm brew.
TAKE YOUR COFFEE BREAK: Bring the excitement of Dunder Mifflin to you with this mug. Looks just like Dwight Schrute's yellow work shirt. The back features the iconic catchphrase "False" below Dwight's silhouette.
DUNDER MIFFLIN APPROVED: This BPA-free ceramic mug is made for durable, long-lasting use to accompany all your workplace shenanigans. Easy to maintain, it's suitable for both microwave and top-rack dishwasher.
SHARE A DRINK WITH A COWORKER: Oversized mug holds 20 ounces of your favorite latte, cappuccino, or drip coffee. When you have a long day at the office, this mug is the perfect boost to get you through work.
OFFICIAL COLLECTIBLE: Everybody stay calm! When you're running low on energy, fill up on caffeine with this officially licensed coffee mug from The Office. A must-have for any member of the Dunder Mifflin crew.
JOIN THE DUNDER MIFFLIN CREW FOR COFFEE
Hire on Dwight Schrute for all your caffeine needs with this exclusive coffee mug inspired by The Office. Never underestimate what a paper salesman's determination and a shot of caffeine can accomplish. Resembles Dwight's yellow button-down shirt and tie, complete with his Dunder Mifflin nametag hanging from the pocket. The loyal Dunder Mifflin employee's familiar silhouette decorates the opposite side along with his infamous catchphrase.
ENDLESS CAFFEINE IN A CAFFEINATED WORLD
You drank too much coffee? FALSE. Let the Assistant to the Regional Manager supervise your caffeine intake. Whether you're just trying to survive the 9-to-5 workday or you're bingeing your favorite sitcom again, this ceramic coffee mug will make it feel like you just got promoted. Get down to business with this officially licensed collectible from The Office.
CARE INSTRUCTIONS
Easy care
Top-rack dishwasher safe
Microwave safe
Read All About It on Our Blog
Trending Geek