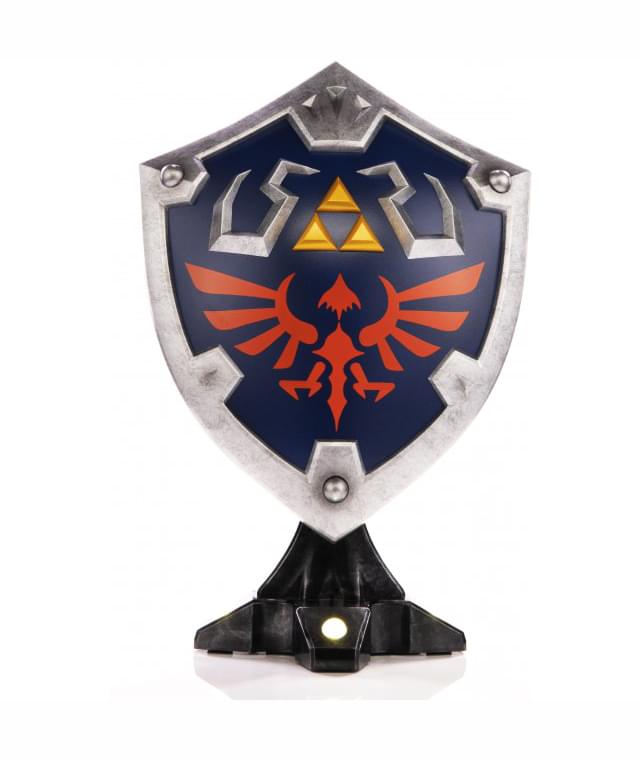 The Legend of Zelda Breath of the Wild Hylian Shield Statue | Collector Edition
BREATH OF THE WILD: First 4 Figures is proud to introduce their latest PVC collectible, the Hylian Shield from The Legend of Zelda: Breath of the Wild.
COLLECTIBLE SIZE: PVC statue stands approximately 11.5-inches tall - the perfect size for your office desk, home bookshelf and so much more!
DISPLAY READY: Hylian Shield attaches magnetically to the display stand it comes with.
FUN FEATURE: The Collector's Edition of this statue comes with bright LED functionality beneath the gold rivet details of the stand, giving the shield an even more majestic look!
GREAT GIFT IDEA: Purchase this statue for your own collection or gift it to the Zelda fan in your life!
The hero of Hyrule, Link, has tons of weapons, armor sets, and shields at his disposal when exploring the vast kingdom of Hyrule, but one of his most iconic pieces of equipment in the entire The Legend of Zelda series is the Hylian Shield. The blue front with silver borders, the Triforce symbol, and Hyrule's crest are staples in its classic design, and this particular statue was inspired by the design from The Legend of Zelda: Breath of the Wild.