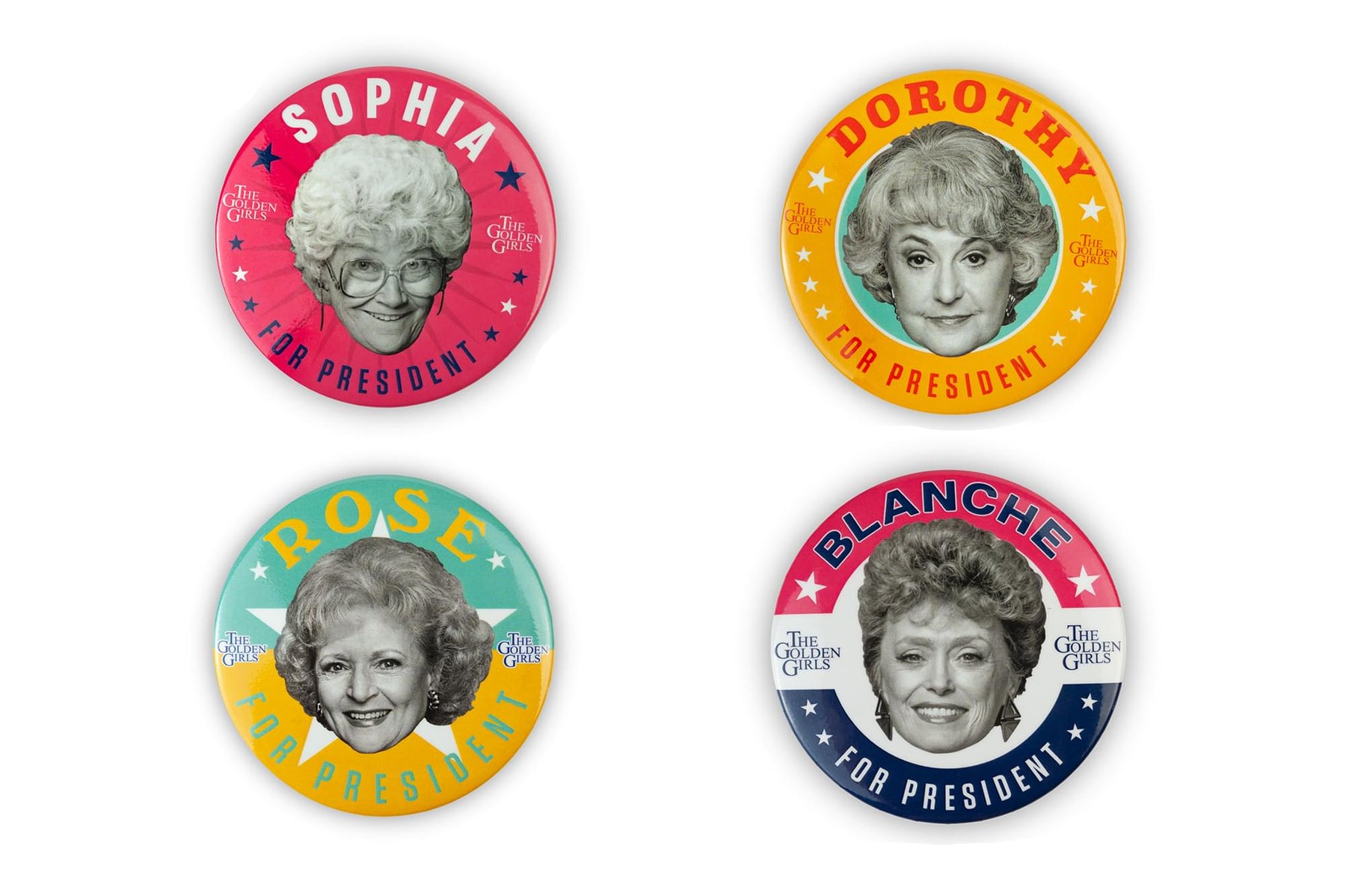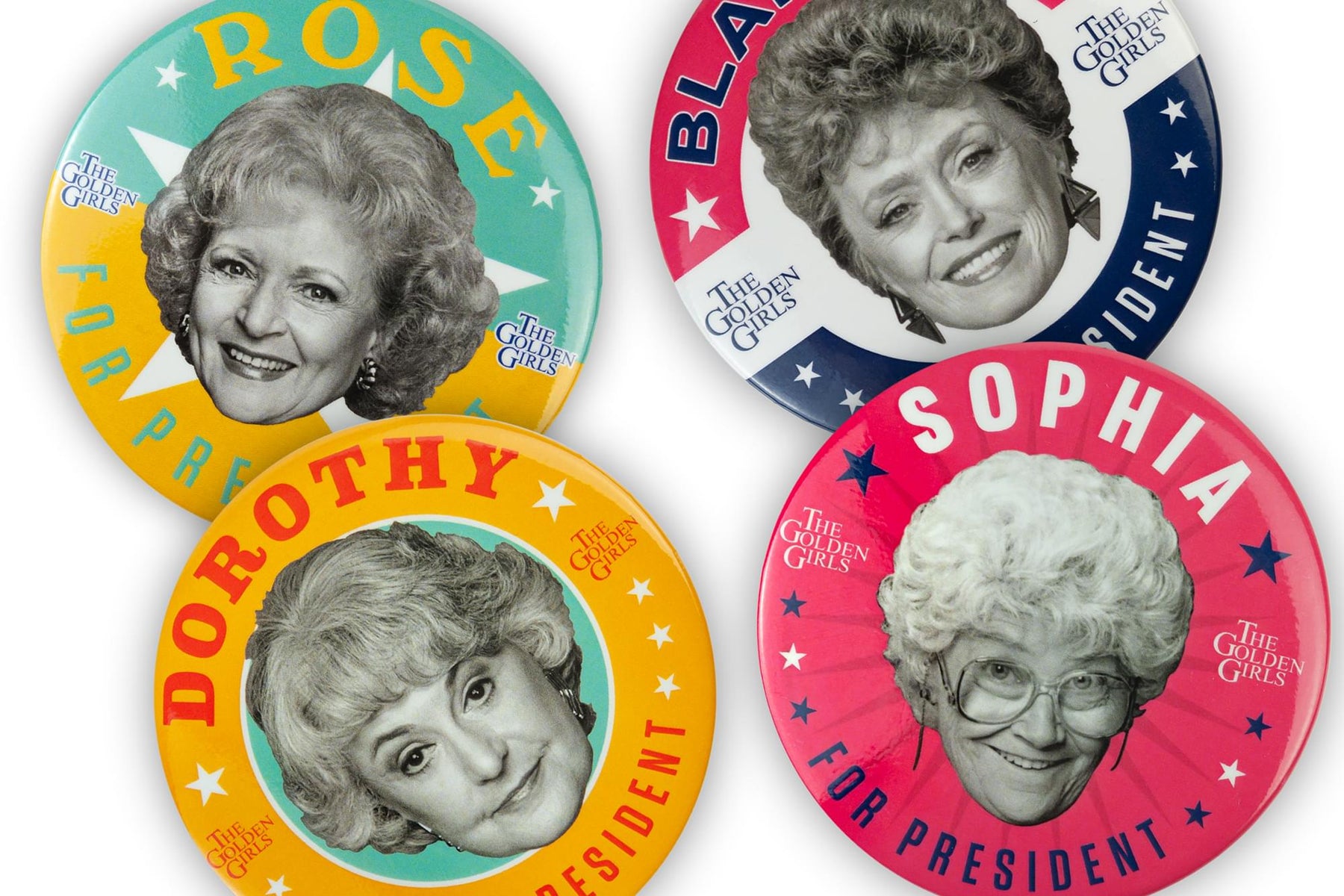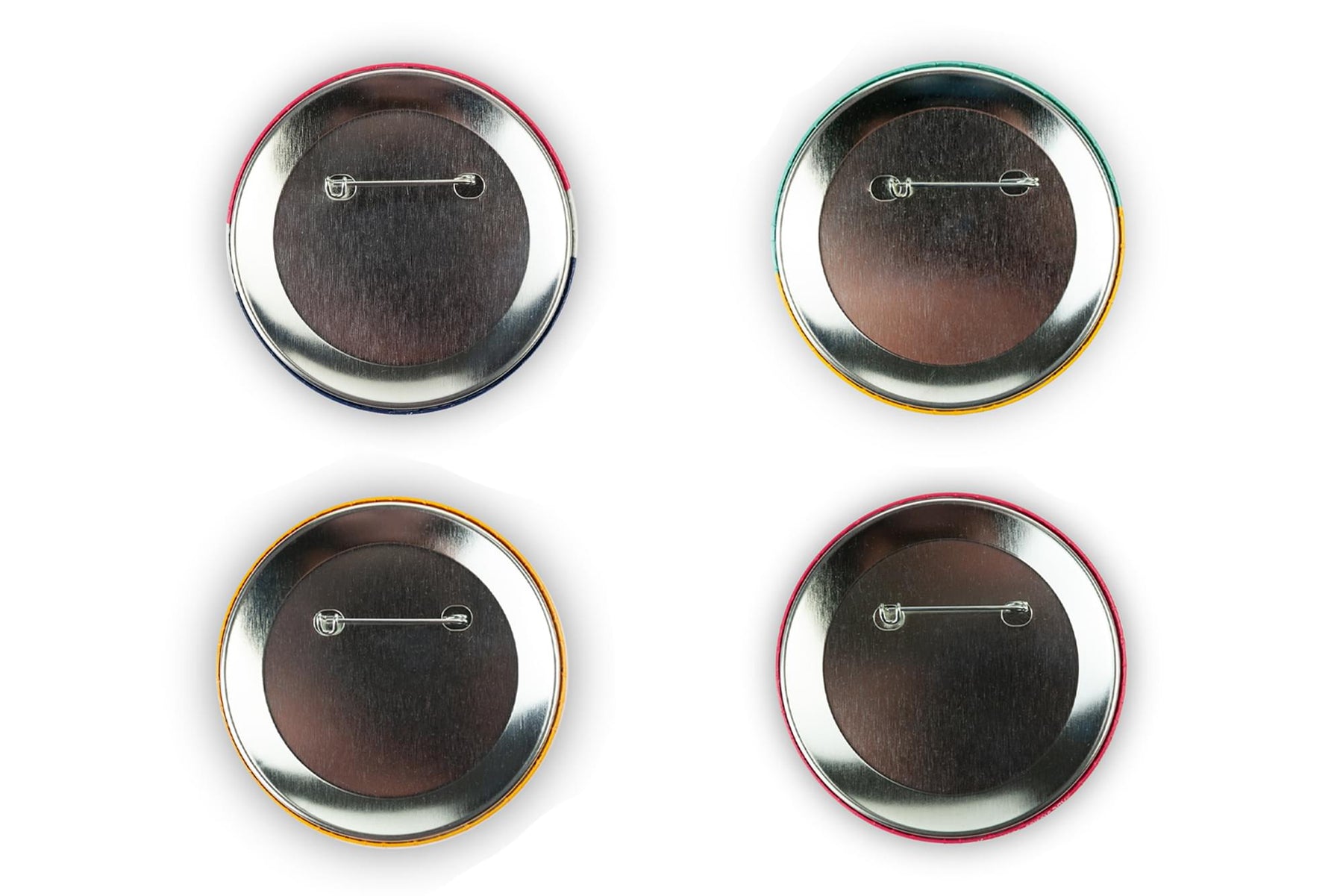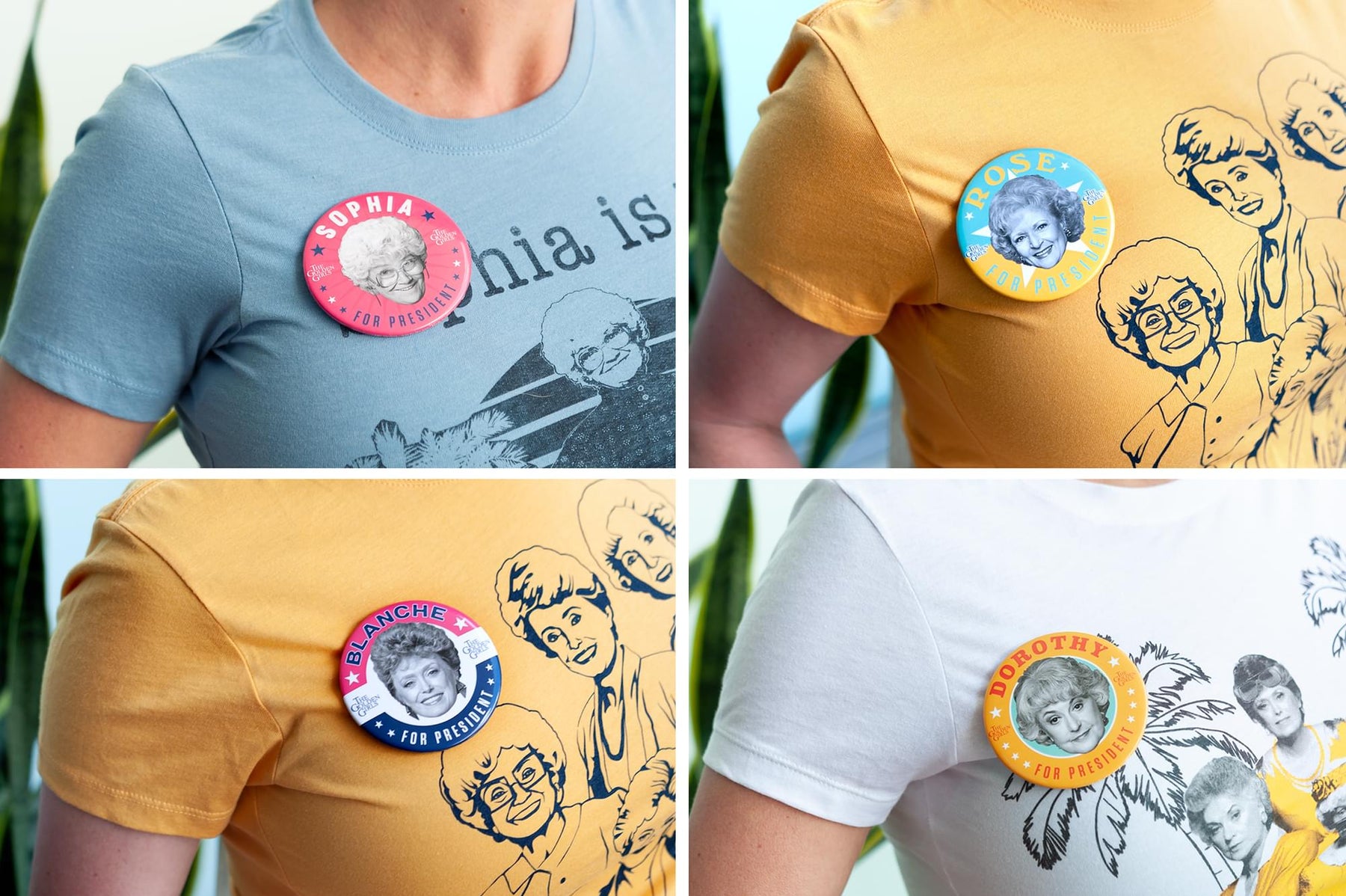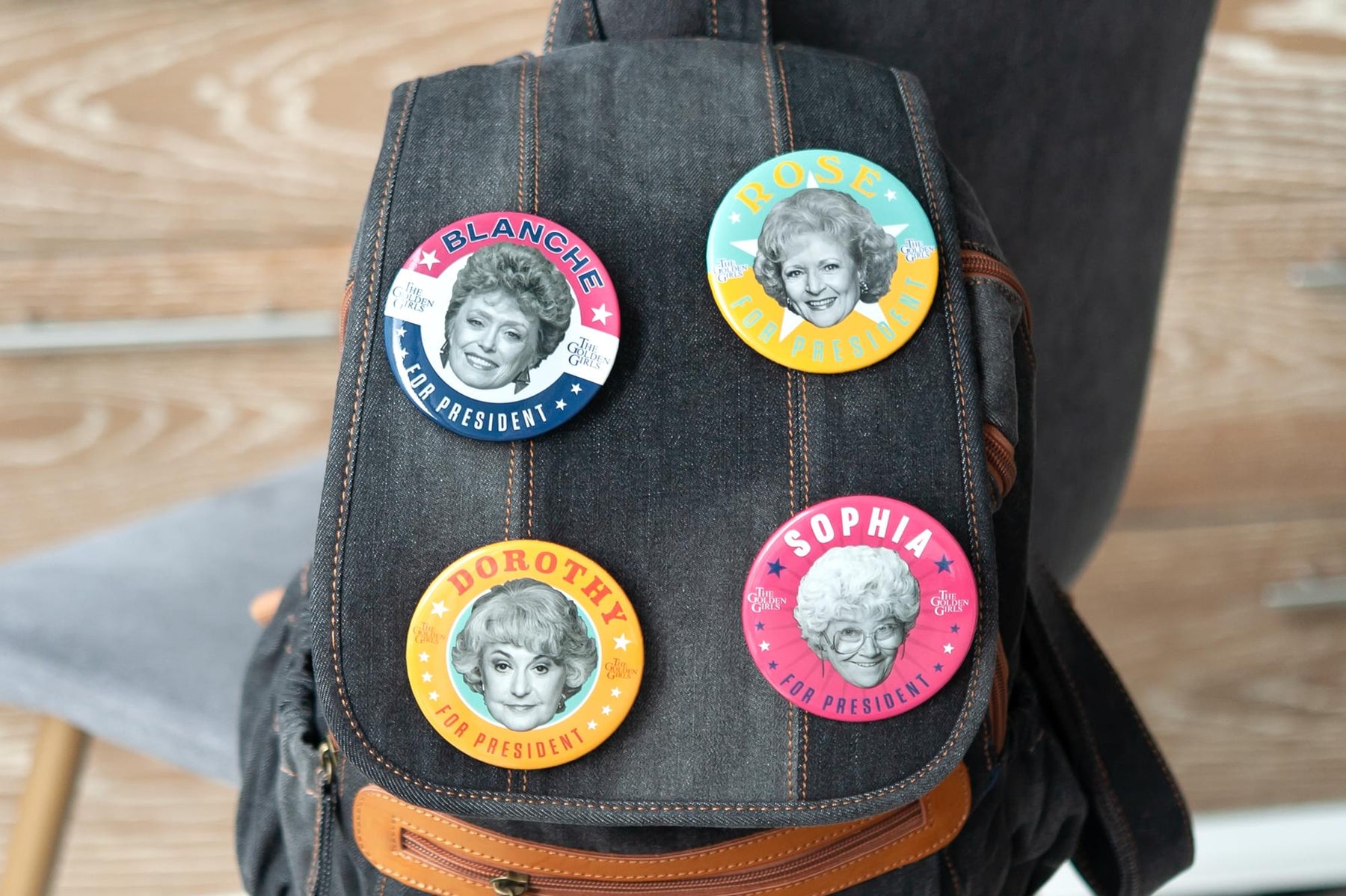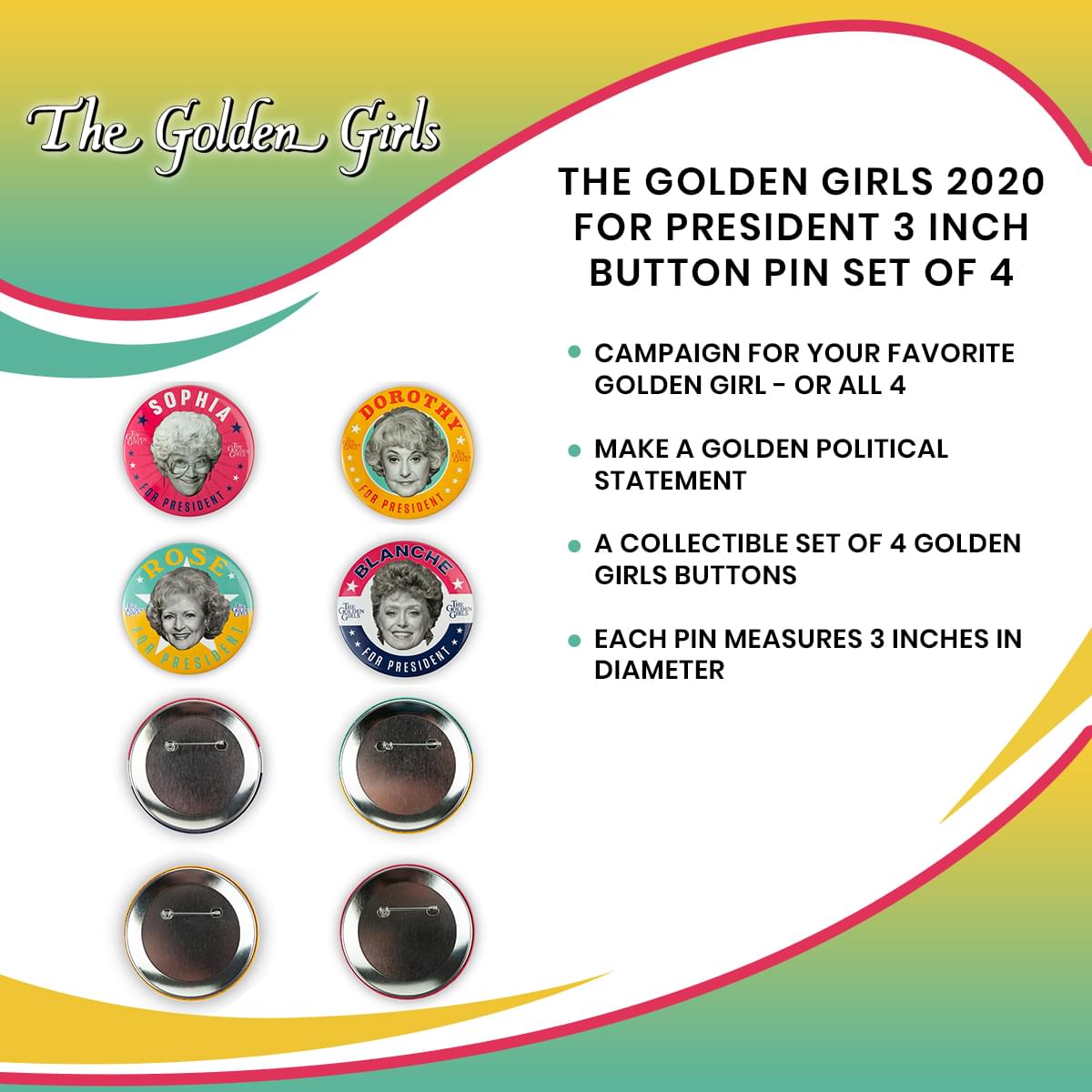 The Golden Girls 2020 For President 3 Inch Button Pin Set of 4
STAY CLASSY WITH THE GOLDEN GIRLS: Featuring all four of your favorite golden gals, these pins beautifully showcase your favorite cast members - now in their most iconic role yet! Wear these pins everywhere to support your new favorite presidential candidates!
STAY IN TOUCH WITH YOUR INNER GOLDEN GIRL: From sass and brass to sultry and class, the Golden Girls rock it better than anyone! Tap into your inner Golden Girl and make a powerful statement with this campaign pin collection. Throw on a new pin for whoever you connect with most that day!
THE GOLD STANDARD OF BUTTON PINS: Sized at 3 inches in diameter and featuring a secure metal pin backing, this button pin set makes a golden statement on any item you attach them to! Staying classy has never been easier!
ADD A TOUCH OF GOLD TO YOUR PIN COLLECTION: For collectors who enjoy unique button pins, this Golden Girls pin set is a great way to add a rich flair to your collections! Take home all four Golden Girls presidential pins for a golden collection that will never lose its shine!
OFFICIAL GOLDEN GIRLS CHARM: Make America gold again as your share your love of all things golden everywhere you go! This Golden Girls collection of pins is officially licensed and a perfect gift for any Golden Girls fan in your life!
CAST YOUR GOLDEN VOTE

If you've ever needed a spitfire of a presidential candidate, then look no further! Now you've got 4 ideal candidates and they're each here to run the race for your vote! Now you can campaign for your favorite queen of comedy by endorsing your candidate using this fashionable button pins! The perfect accessory for hats, backpacks, jackets, and more, these button pins are the ideal statement piece for any Golden Girls fan. Spread your love for the Golden Girls series and get put some Miami flair in the Whitehouse!

A MUST HAVE FOR FRIENDS AND FANS OF THE GOLDEN GIRLS

If you're tired of the same old song being played in politics then a little golden inspiration may just be what we all need. Add some style and flair to your person with this collectible Golden Girls presidential button pin collection! Not only will you have an impressive button pin set, but you'll also get daily inspiration to live your best life and take sass from no one as you blaze the campaign trail! This Golden Girls button collection is perfect for any fan of the show! Grab a set for yourself and for the Golden Girls fan in your life!