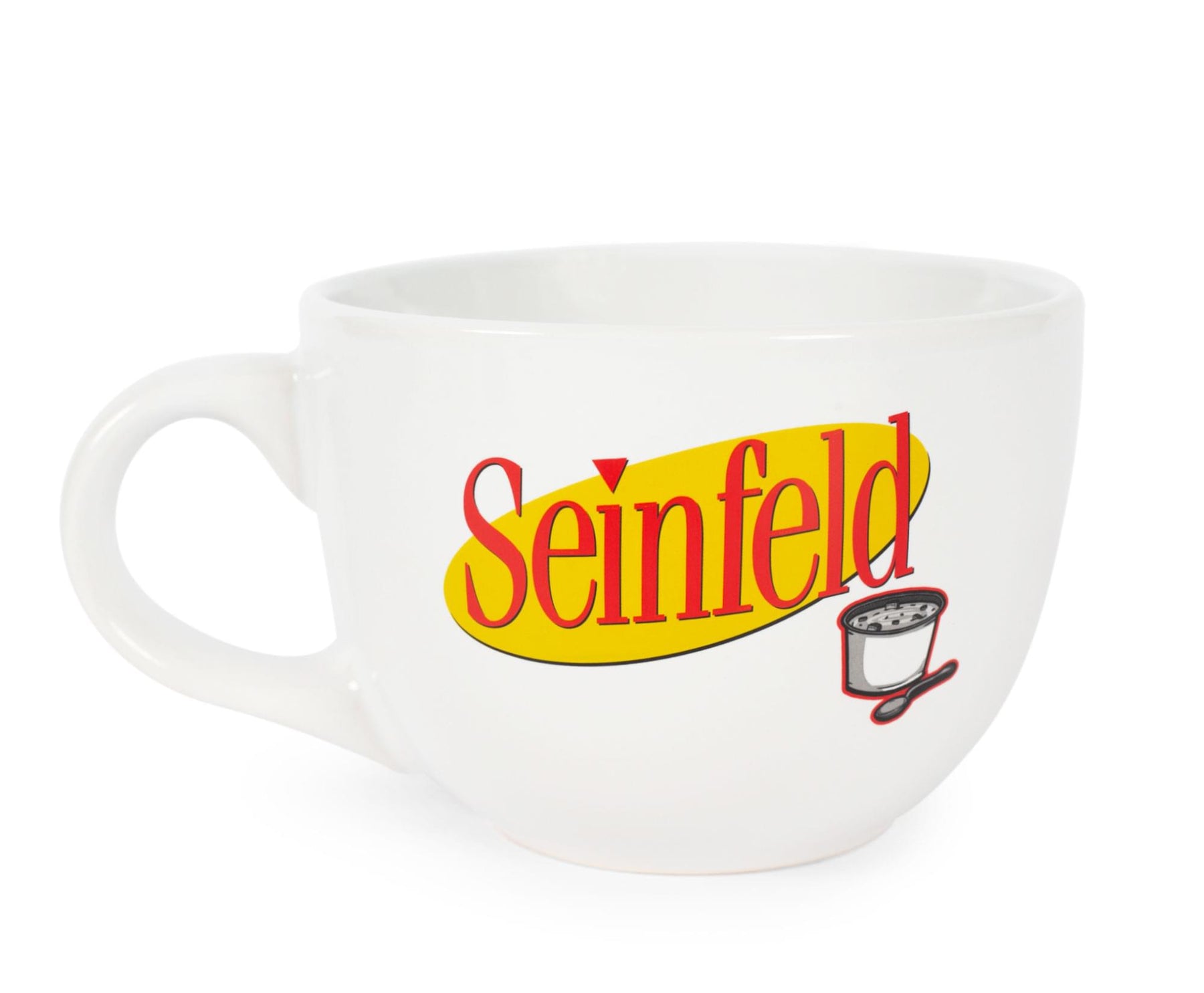 Seinfeld "No Soup For You" Ceramic Soup Mug | Holds 24 Ounces
FOLLOW YEGANEH'S PROTOCOL: When you're pushing your luck, at least you can still enjoy your favorite meal out of this collectible soup mug inspired by the hit sitcom Seinfeld. You won't even have to wait in line.
FOR THOSE WITH AN AFFINITY FOR SOUP: Obey the rules! Shift into soup mode with this fun mug featuring Yeganeh and his iconic catchphrase "No Soup For You!" Don't dawdle around for too long, or you might miss out.
FOR THOSE CRAVING A TASTE OF NYC: This ceramic mug holds 24 ounces of your favorite brews or soups. Whether you're trying to stay awake trying to remember someone's name or just enjoying another bowl of cereal, you'll always be ready.
GEORGE TESTED, ELAINE APPROVED: You won't need to follow any special instructions or rules to feel like this BPA-free ceramic mug is perfect for you. Easy to maintain, it's suitable for both dishwasher and microwave.
OFFICIAL SEINFELD COLLECTIBLE: Perk up your mornings with this officially licensed coffee mug from the hit comedy Seinfeld. You and your pals can have fun reminiscing over your favorite moments from the show over a warm brew.
THE SHOW ABOUT NOTHING
Didn't get your soup yet? Enjoy your next serving out of this Seinfeld soup mug.
Yeganeh's strict ordering policy is in full effect on this ceramic mug, featuring his infamous one-liner in shocking red next to his photo. In the mood for some crab bisque? Or perhaps you're craving a bowl of medium turkey chili? Whatever you plan on ordering, just don't push your luck asking for a slice of bread — take your soup and go. Stick to the rules or there will be "No Soup For You!"
FOR THOSE WITH AN AFFINITY FOR SOUP
Dish out all of Yeganeh's stolen recipes (courtesy of Elaine) with this oversized coffee mug. Rest assured, you'll definitely walk out of here with a bowl of soup. Keep it close to your heart, and far away from Newman.
Grab your next meal with officially licensed drinkware inspired by the hit comedy series Seinfeld.
CARE INSTRUCTIONS
Easy care
Dishwasher safe
Microwave safe