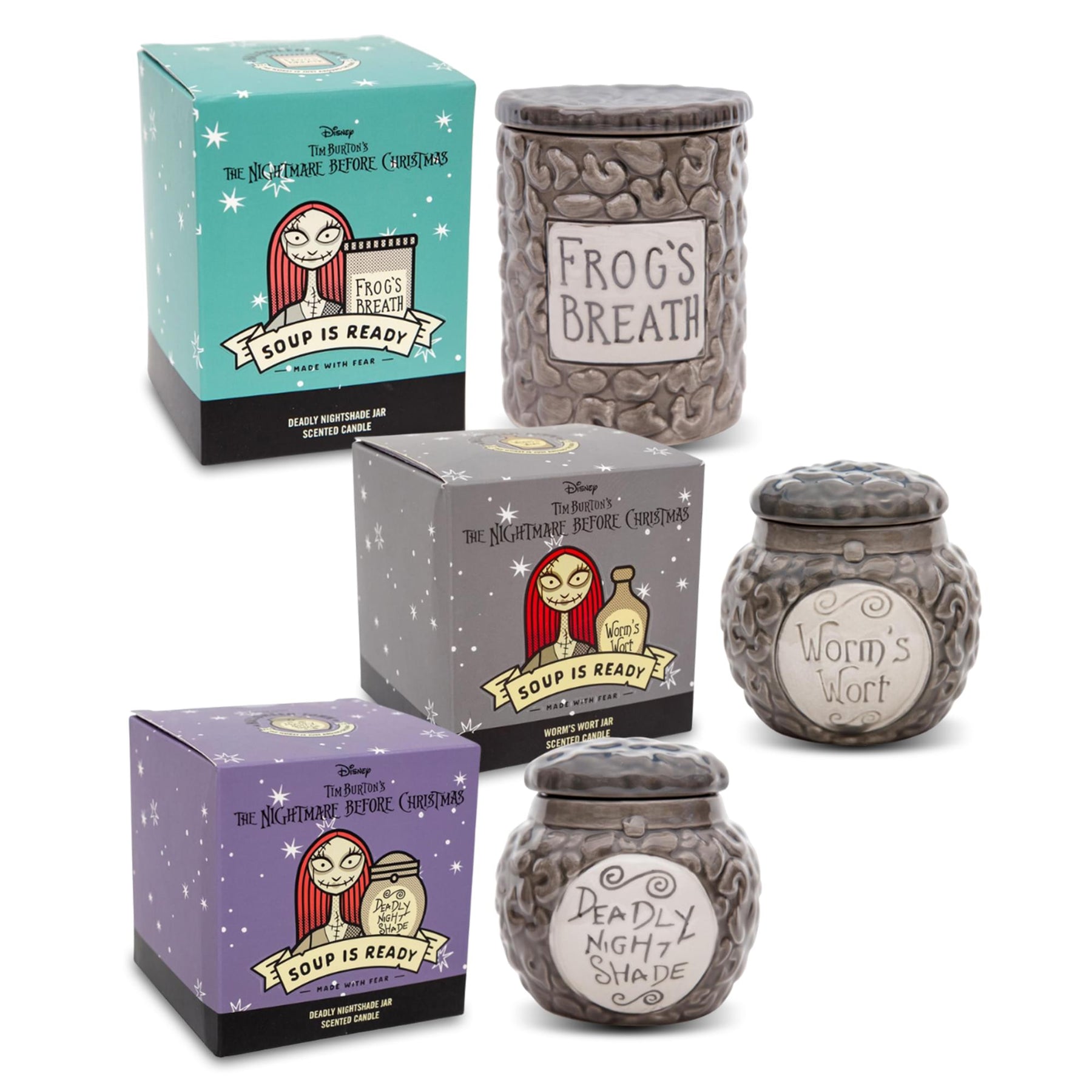 Nightmare Before Christmas Sally Jar 3-Piece Ceramic Candle Set
SOUP IS READY: 3-piece jar candle set inspired by Tim Burton's The Nightmare Before Christmas!
SALLY APPROVED: Embossed ceramic containers based on the design of Sally's herb jars. Set includes Frog's Breath, Deadly Nightshade, and Worm's Wort!
MADE WITH FEAR: Soy wax candles with cotton wick in a candle jar with a lid. Candles measure 3.6-3.7 inches tall with a 3.1-3.5 inch diameter.
GREAT GIFT IDEA: A cute and spooky decorative gift for a friend or yourself.
Let this Tim Burton's The Nightmare Before Christmas 3-Piece Jar Scented Candle Set strike fear into the hearts of all those who visit your home. Of course, these ceramic jar candles don't actually contain Deadly Nightshade, Frog's Breath, or Worm's Wort, but that'll be our secret. What these candles do contain is a lovely scented soy wax candle: Deadly Nightshade is scented with rich and dark blood mandarin, intoxicating night-blooming jasmine, and black rose on a base of spiced woods and vanilla; Frog's Breath smells cool and fresh with dewy green leaves, meadow lily, water flowers on a base of leather and tobacco; while Worm's Wort is scented with fresh notes of lemon and bergamot blend with black tea leaves, oakmoss, and cedarwood. Most things in Sally's kitchen may be made with fear, but these candles are made with love. Awwww.
Read All About It on Our Blog
Trending Geek