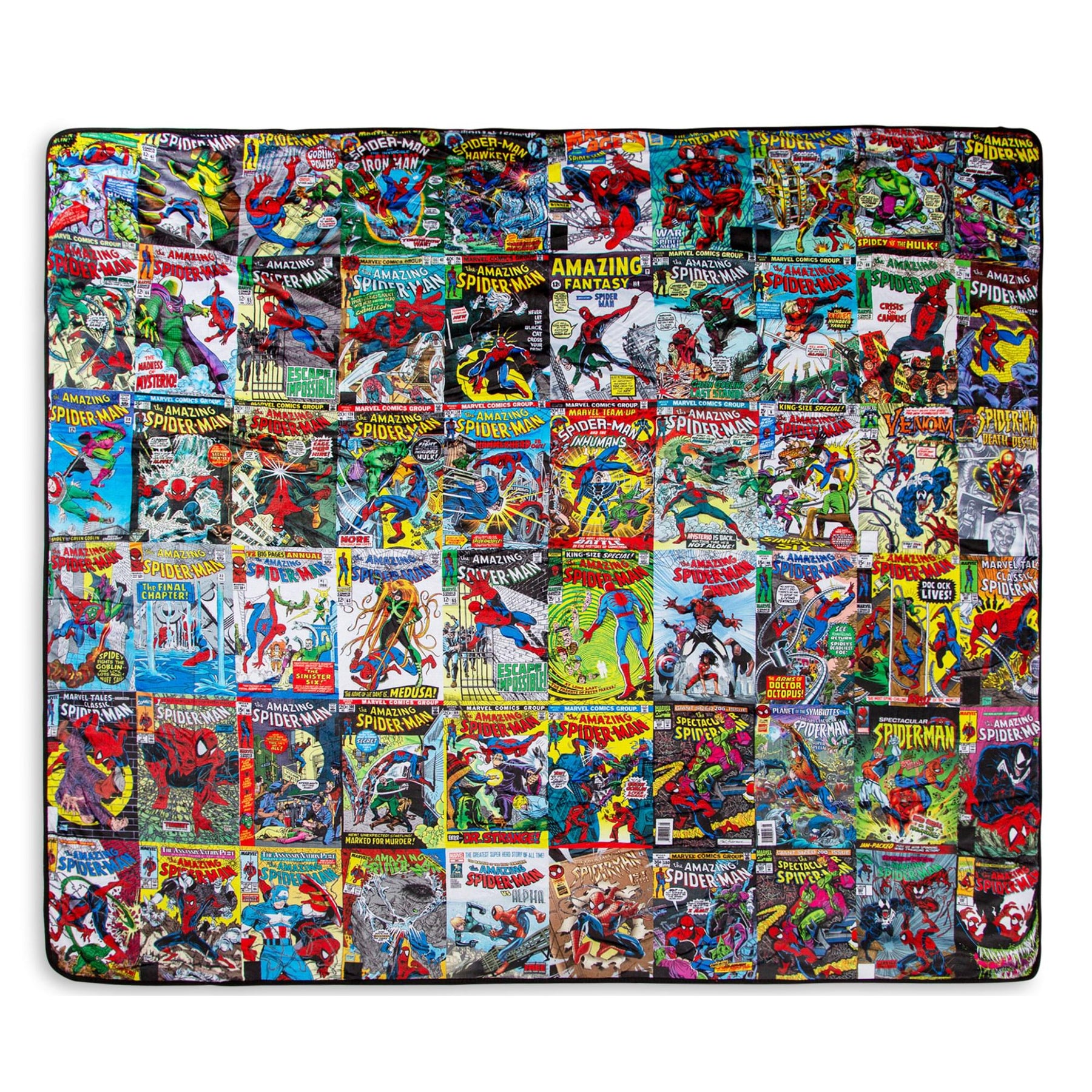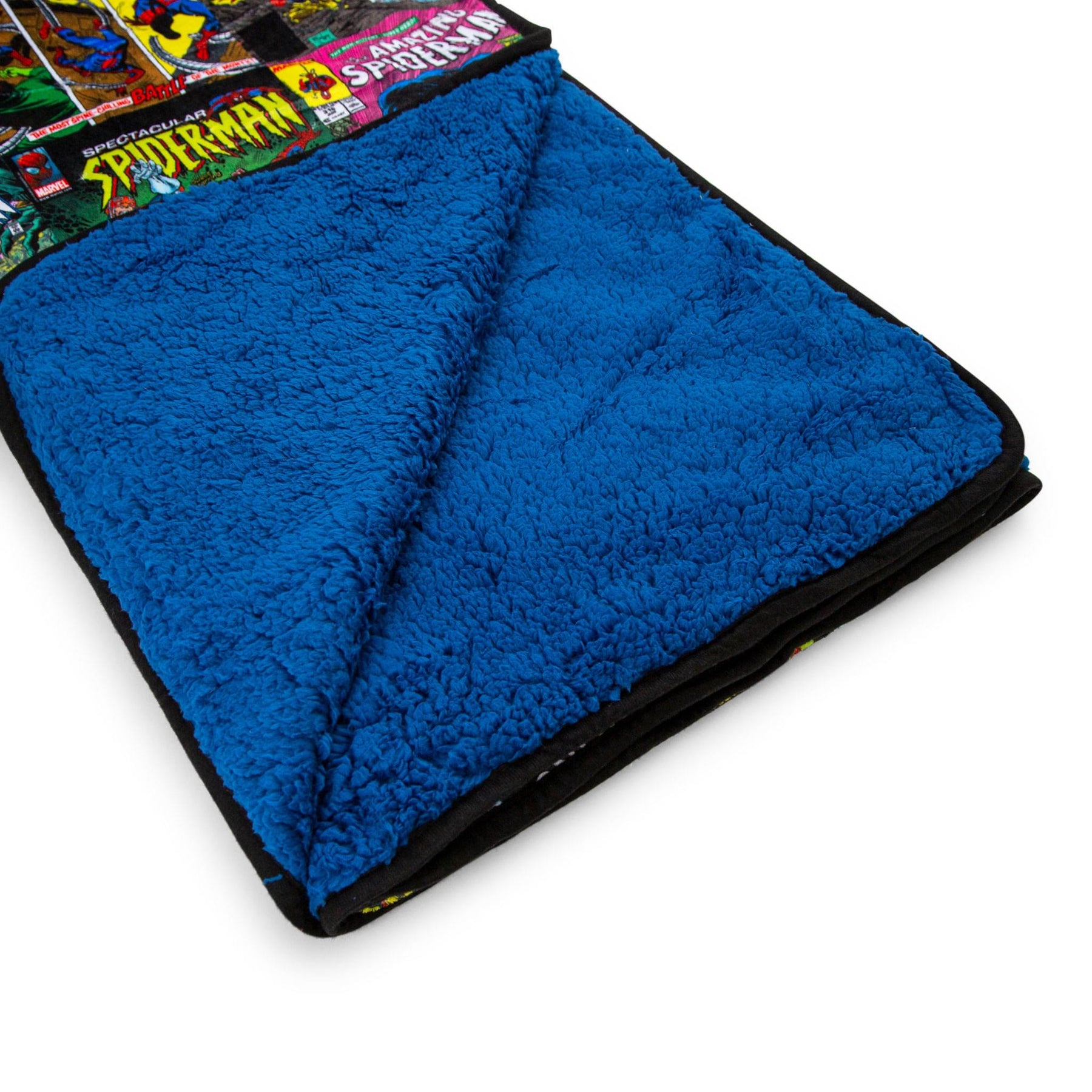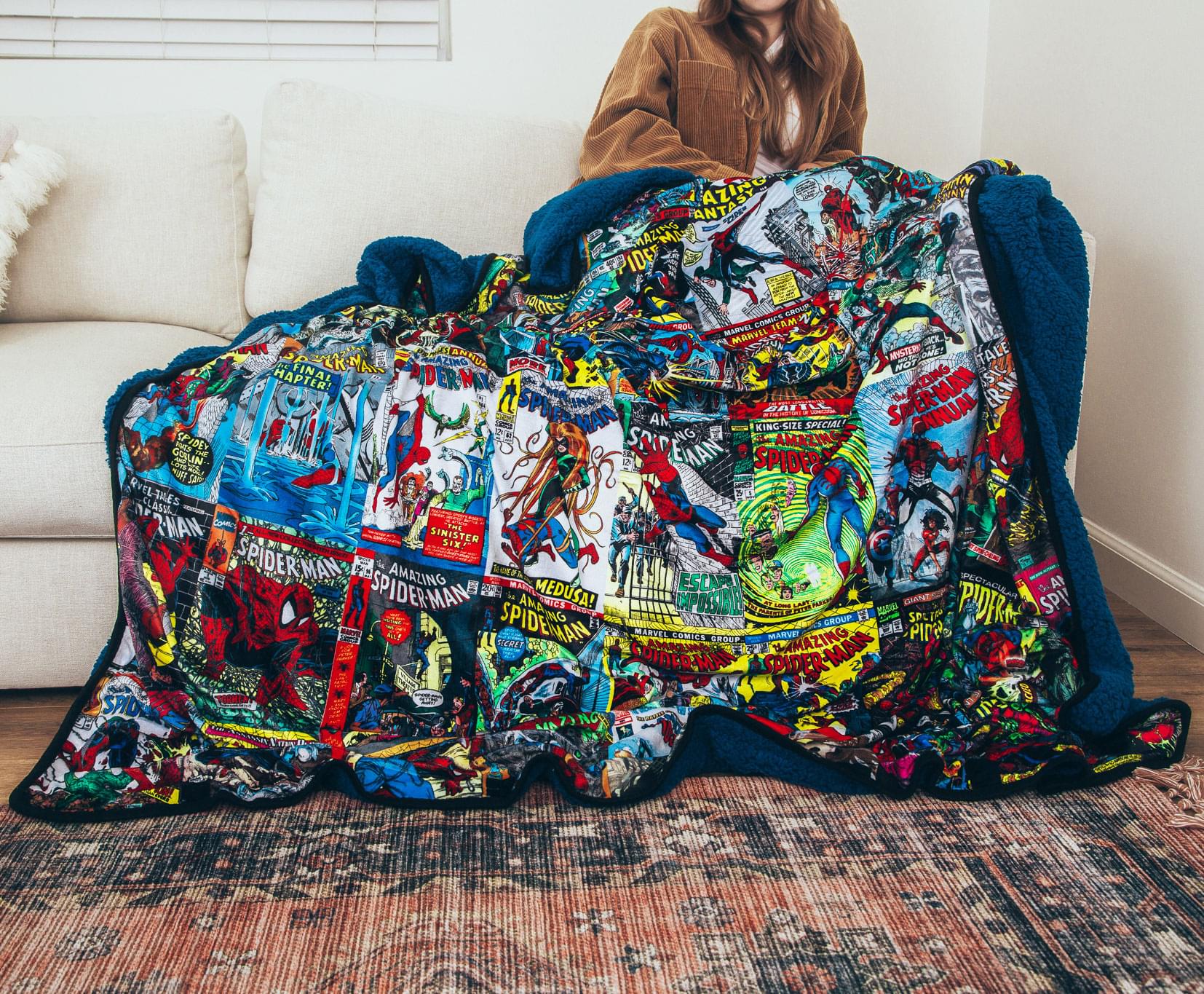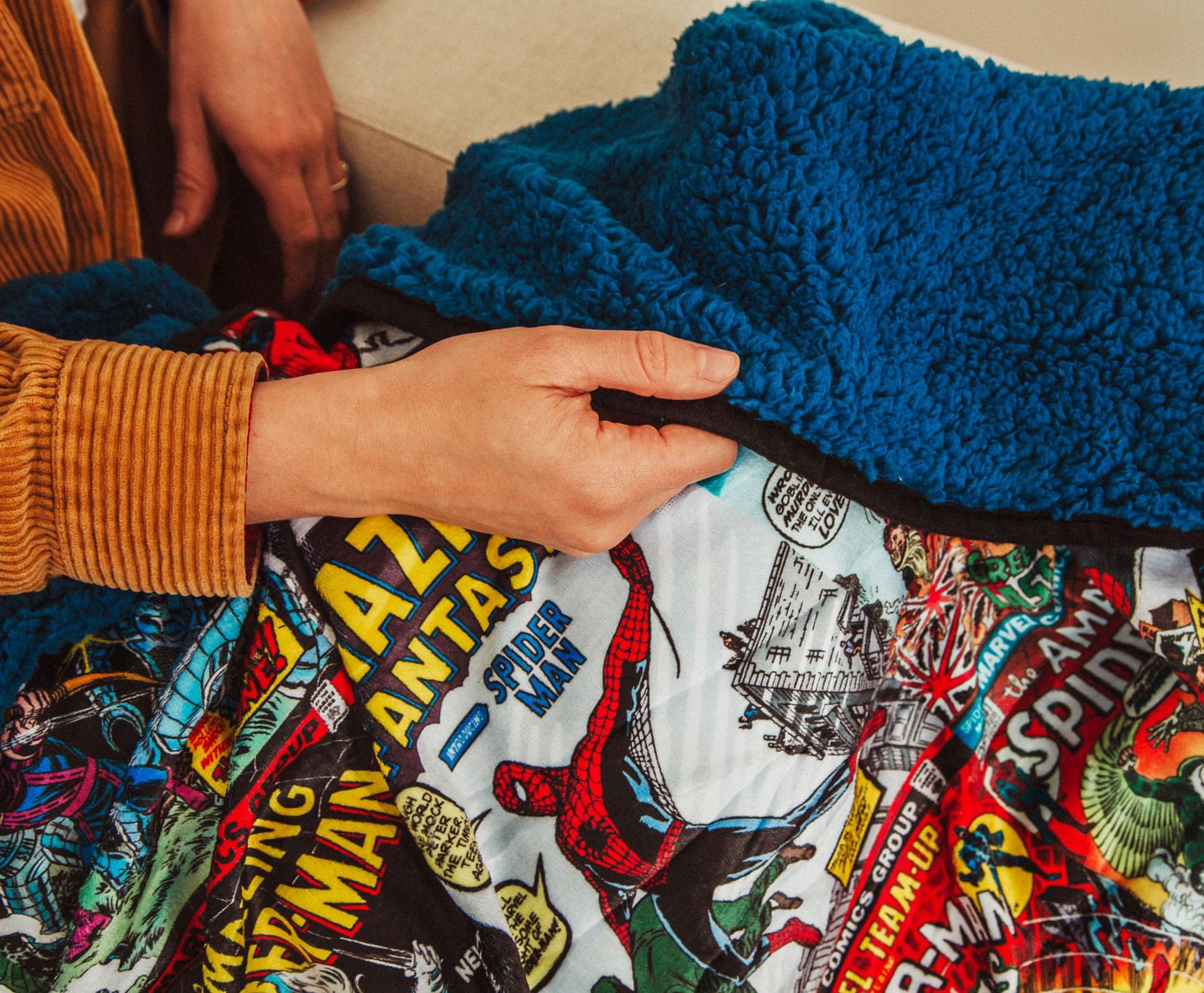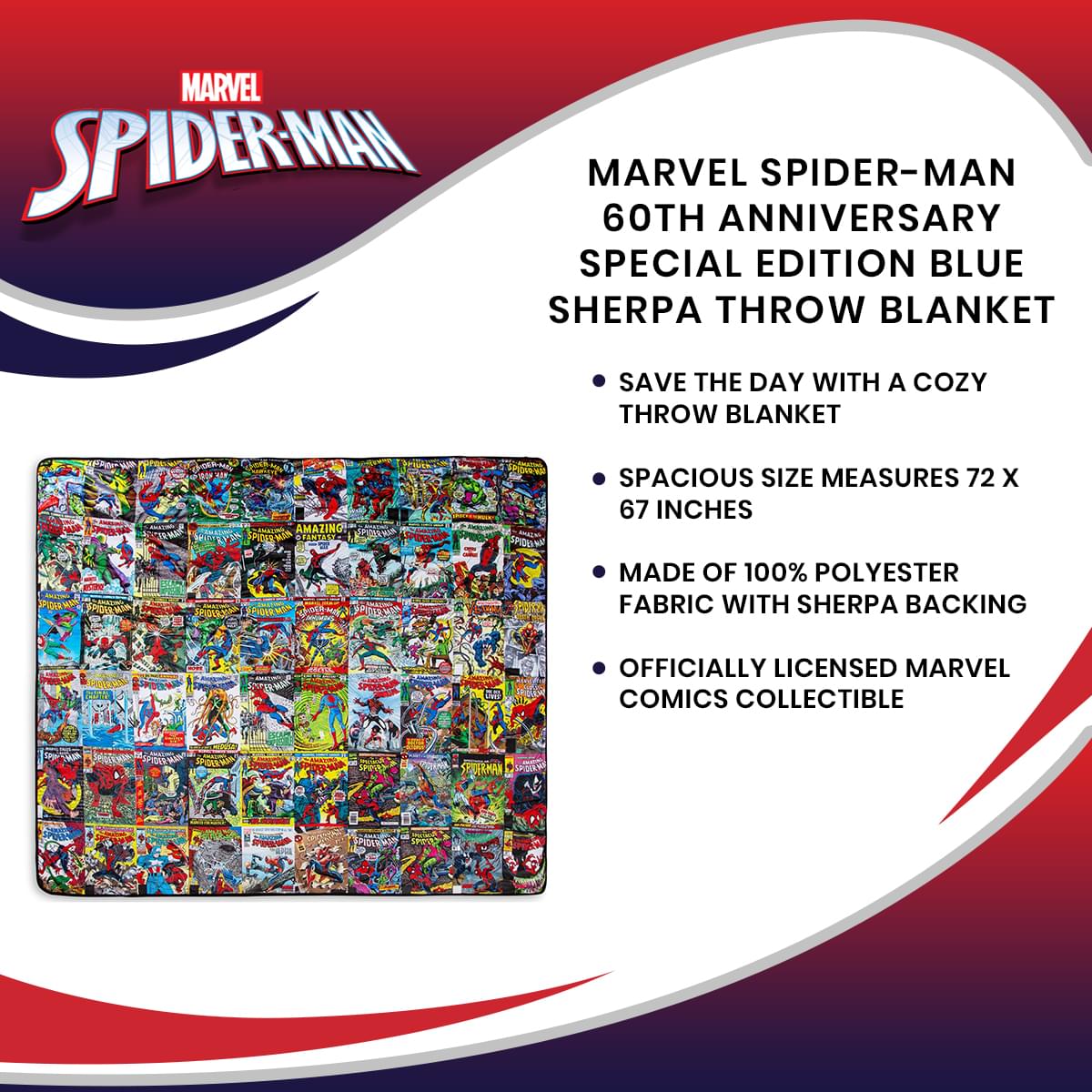 Marvel Spider-Man 60th Anniversary Special Edition Blue Sherpa Throw Blanket
SPIDEY SENSES TINGLING: Bring the friendly neighborhood Spider-Man along on your next cozy adventure with this exclusive throw cover. The wall-crawling hero will bring comfort to your space in the form of this Sherpa blanket.
CHANNEL YOUR INNER HERO: Features a collage of 60 different Marvel Comics covers. The classic titles are all issues from Spider-Man's main series, including his first appearance in the Amazing Fantasy #15 and many more faves.
KEEP WARM WHILE FIGHTING CRIME: Always watchful over the neighborhood, Spider-Man is here to protect you from the cold. Enjoy the cozy blanket while watching The Avengers movies or reading Marvel's The Amazing Spider-Man comics.
ENJOY WARM SNUGGLES ALL SEASON: Fans can enjoy relish in the comfort of their favorite web-slinger with this fleece blanket. This 100% polyester throw blanket features a soft blue Sherpa backing and measures a spacious 72 x 67 inches.
OFFICIAL MARVEL COLLECTIBLE: Swing right into comfort with this officially licensed Marvel Comics throw blanket featuring Peter Parker's Spider Man. A casual bedding essential that makes for a cozy home accent in any hero's space.
SAVE THE DAY WITH SPIDEY
THWIP into action with Marvel's famed wall-crawler. You deserve a little "me time" after a busy day of protecting the neighborhood. Snuggling up in this exclusive Spider-Man 60th Anniversary Special Edition Throw Blanket will leave your Spider-Senses tingling.
NAPTIME WITH YOUR FAVORITE WEB-SLINGER
This oversized fleece blanket pays tribute to Peter Park's long and decorated history in Marvel Comics as the original web-slinger. Spider-Man appears here in a series of classic comic book covers ready to web up any villain who disturbs your slumber. Fans will instantly recognize some of the most iconic issues from The Amazing Spider-Man, The Spectacular Spider-Man, and other popular titles to hit the shelves.
Relive all your favorite moments from the comics with a colorful collage of Spider-Man's many adventures. Complete with a luxurious blue Sherpa backing to add a touch of warmth to your secret lair. Makes a wonderful throw piece for couches, chairs, beds, and other spaces. Wherever you want to relax after a long day of superheroing. Swing into comfort with this officially licensed Marvel Comics collectible.
A WEB-SPINNING CHARACTER THEME
Features 60 classic issues from Marvel Comics' Spider-Man series:
Amazing Fantasy #15 (1962 first appearance)
Marvel Team-Up #9 (1973 featuring Iron Man)
The Amazing Spider-Man #316 (1989 featuring Venom)
Spider-Man: Torment #1 (1990)
The Spectacular Spider-Man #200 (1993 giant-sized anniversary issue)
And many, many more!
CARE INSTRUCTIONS
Machine wash with cold water is highly recommended.
Read All About It on Our Blog
Trending Geek