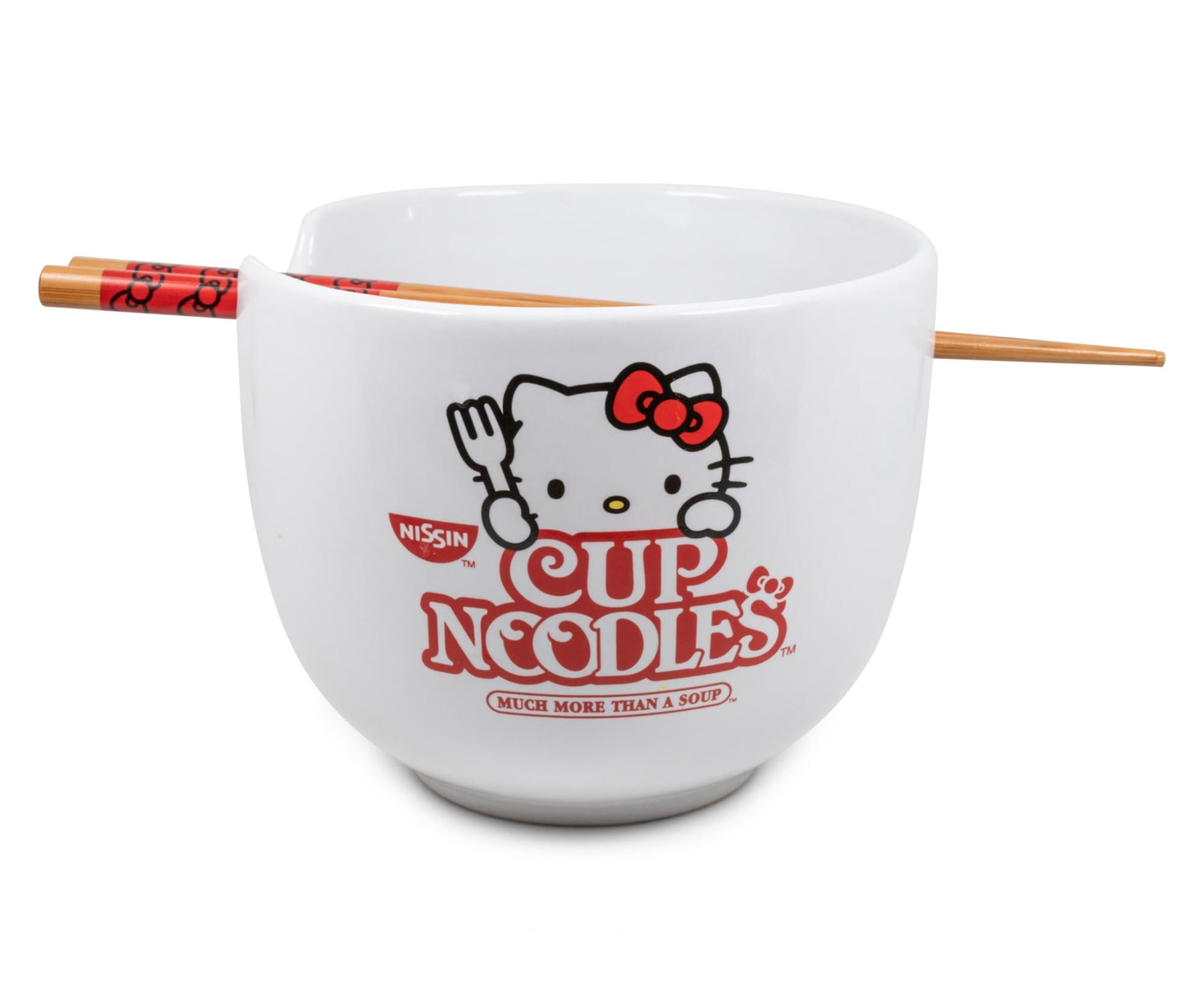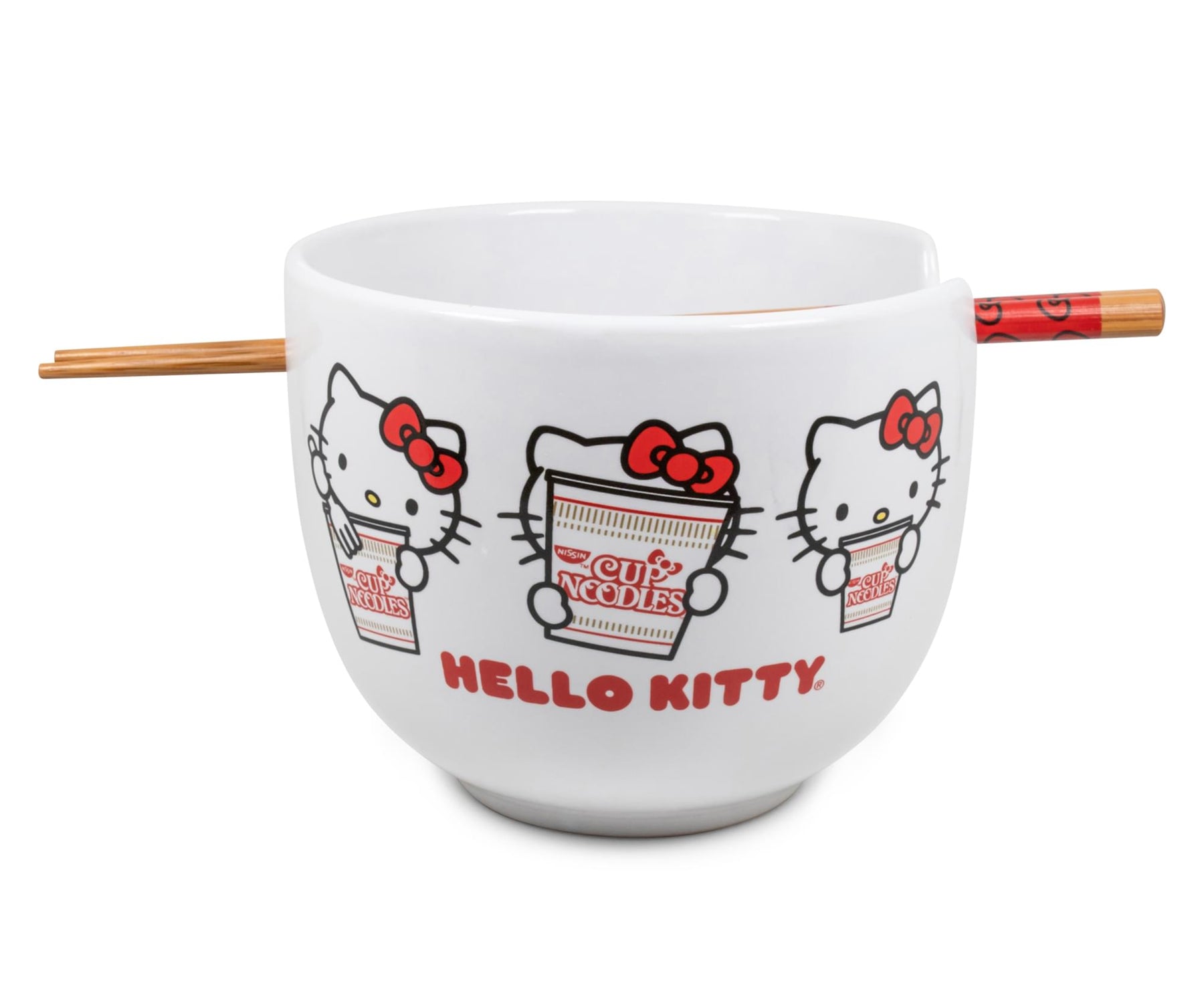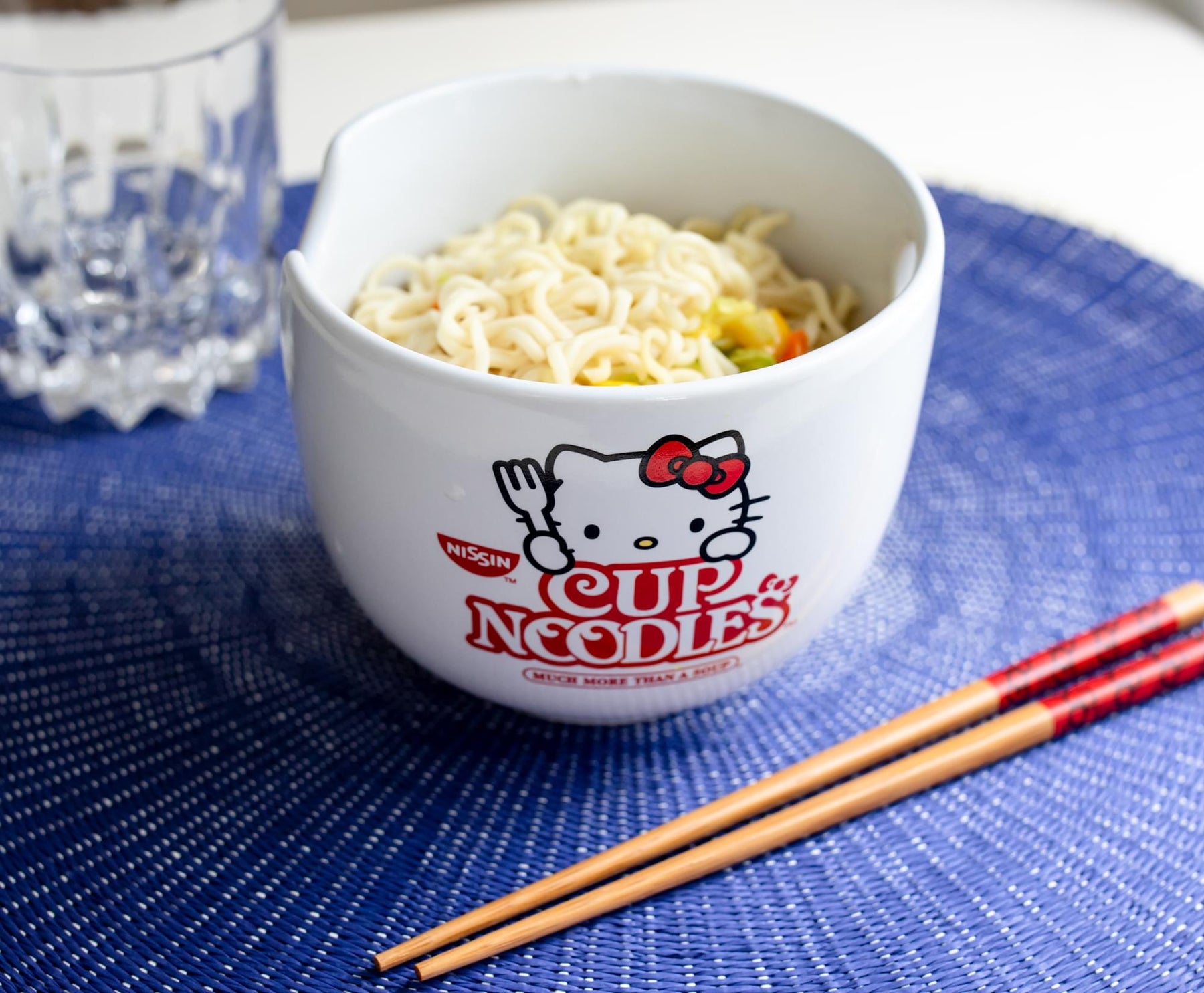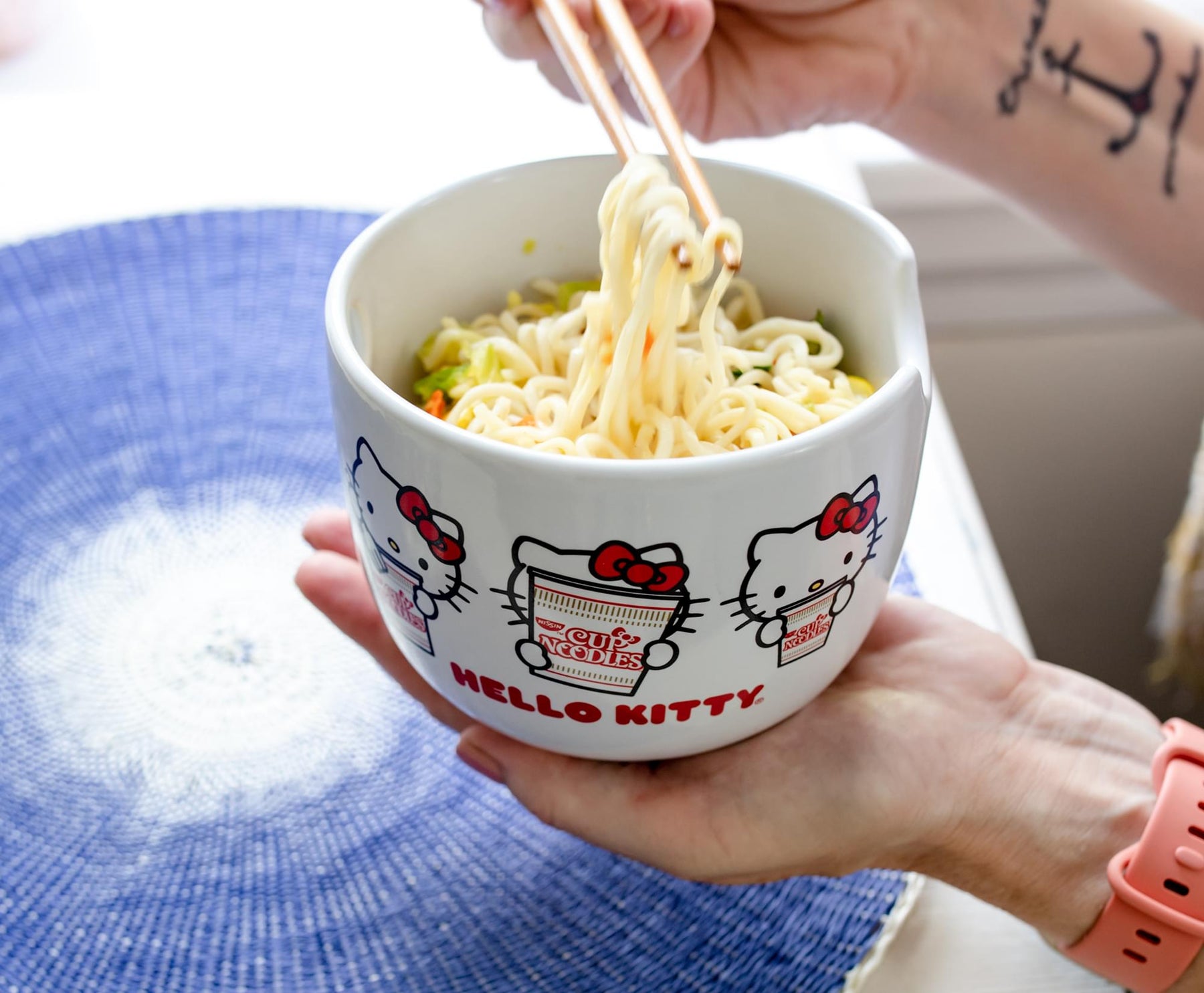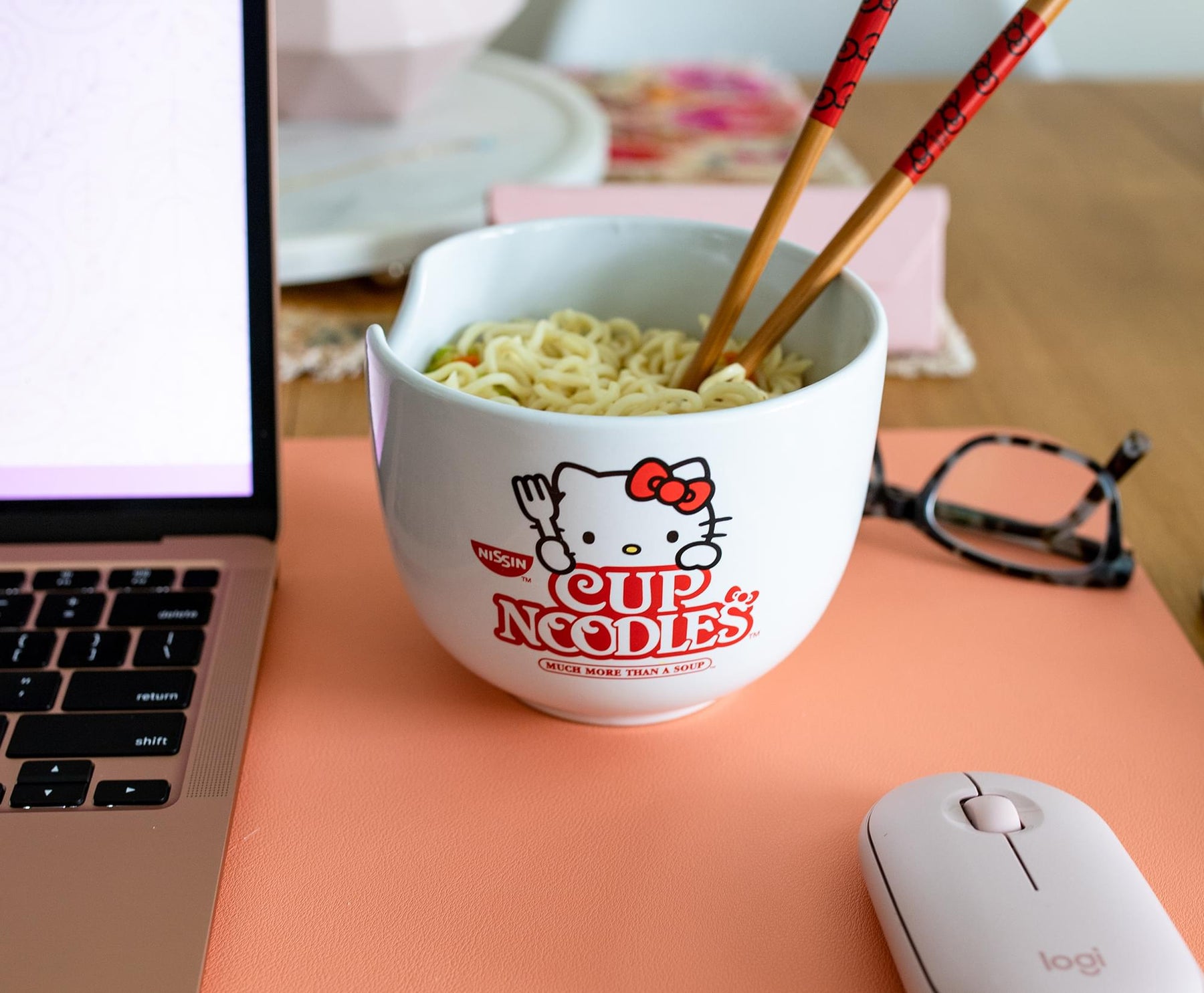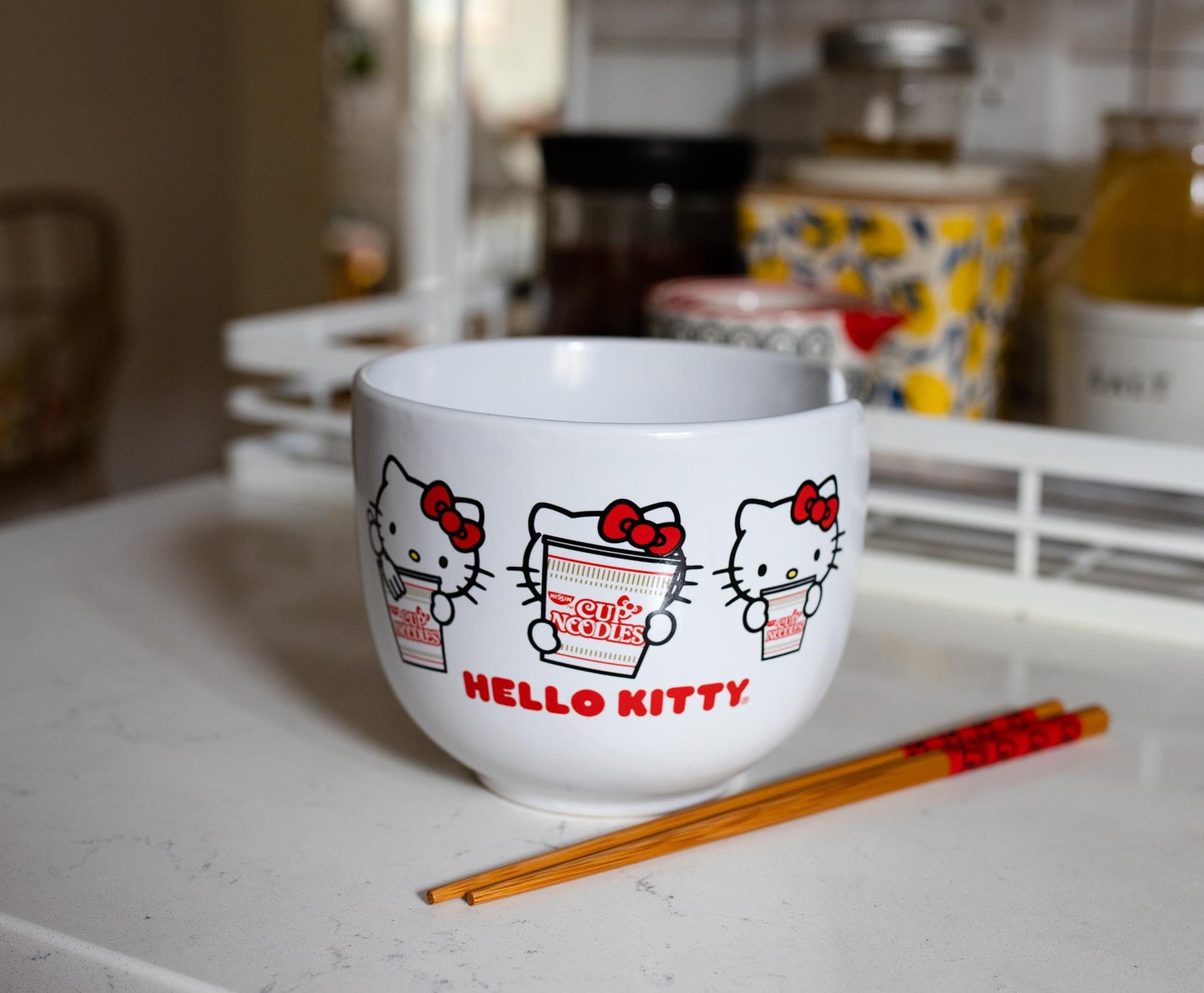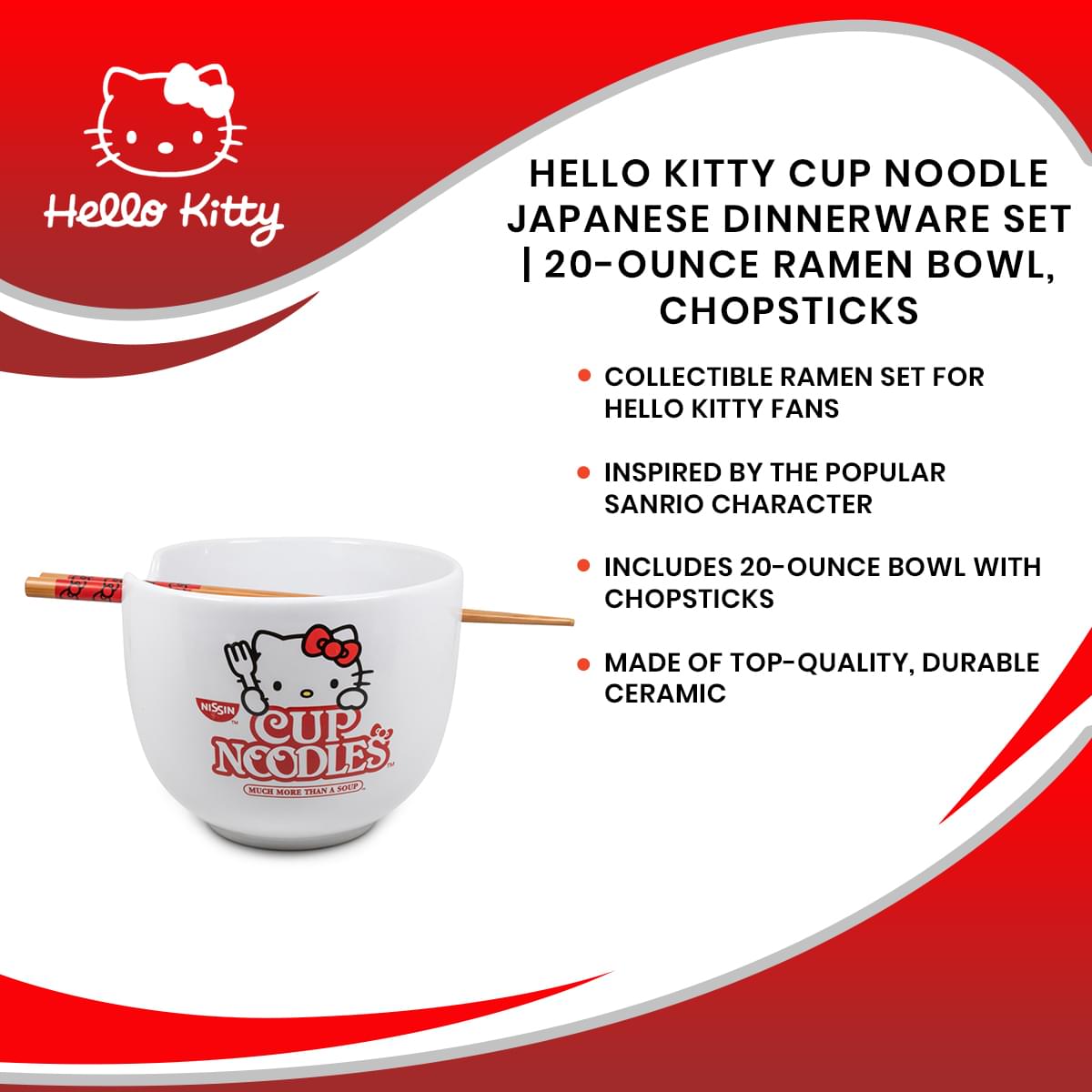 Hello Kitty Cup Noodle Japanese Dinnerware Set | 20-Ounce Ramen Bowl, Chopsticks
Trendsetting Dishware: Slurp down some yummy noodles with Hello Kitty to keep you company. Inspired by traditional Japanese dining, this charming ramen set is a must-have for any home kitchen collection.
Kawaii Design: Inspired by Sanrio's most popular icon, this collectible ramen set features an adorable Hello Kitty design. The graphic depicts Hello Kitty in different poses, along with the Nissin Cup Noodles logo.
What's Included: Ramen bowl holds approximately 20 fluid ounces of your favorite soup or noodle dishes. Comes complete with a pair of wooden chopsticks, including a built-in chopstick holder to place your utensils.
Hello Kitty Approved: Made of BPA-free ceramic, this Sanrio ramen dinnerware set is sturdy, safe, and perfect for everyday use. Easy to clean and maintain, this set is suitable for both microwave and top-rack dishwasher.
Makes A Great Gift: Give your kitchen tabletop an kawaii upgrade with this officially licensed Hello Kitty ramen dinnerware set. You can experience the flavors of Asian cuisine with this adorable collectible.
YOU CAN NEVER HAVE TOO MANY FRIENDS

Enjoy your meal with an extra side of cute with this Hello Kitty ramen dinnerware set. The kawaii character design is inspired by Sanrio's beloved Hello Kitty icon. Full of Sanriocore flavor, this collectible dinnerware set is sure to make every meal memorable (and adorable).
Hello Kitty knows that Nissin Cup Noodles is "much more than a soup." Ready to slurp up some instant ramen, she is depicted holding a fork on the frontside and holding Cup Noodles on the backside in different poses.
SANRIO HOME KITCHEN COLLECTION

Chow down on your favorite noodles, soups, and curries with the 20-ounce ramen bowl. Made of BPA-free ceramic that holds heat well, the ramen bowl features a convenient chopstick holder built into the design. The included wooden chopsticks make it a complete dish set, giving you the full Japanese-style dining experience.
Make every meal something to remember with this officially licensed Hello Kitty ramen set. Don't worry about sharing — Hello Kitty has her own Cup Noodles to enjoy!
CARE INSTRUCTIONS
Easy care
Microwave safe
Top-rack dishwasher safe