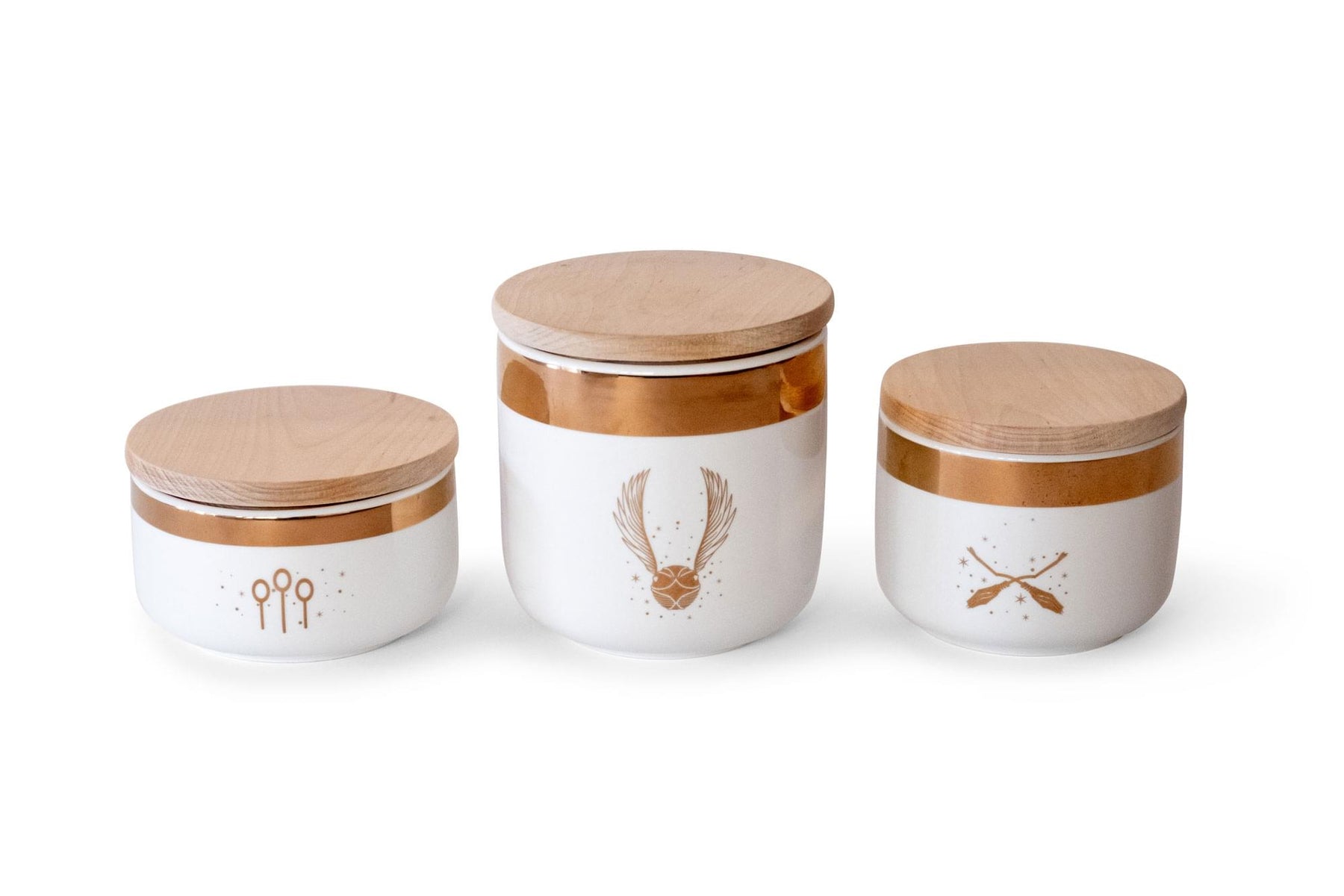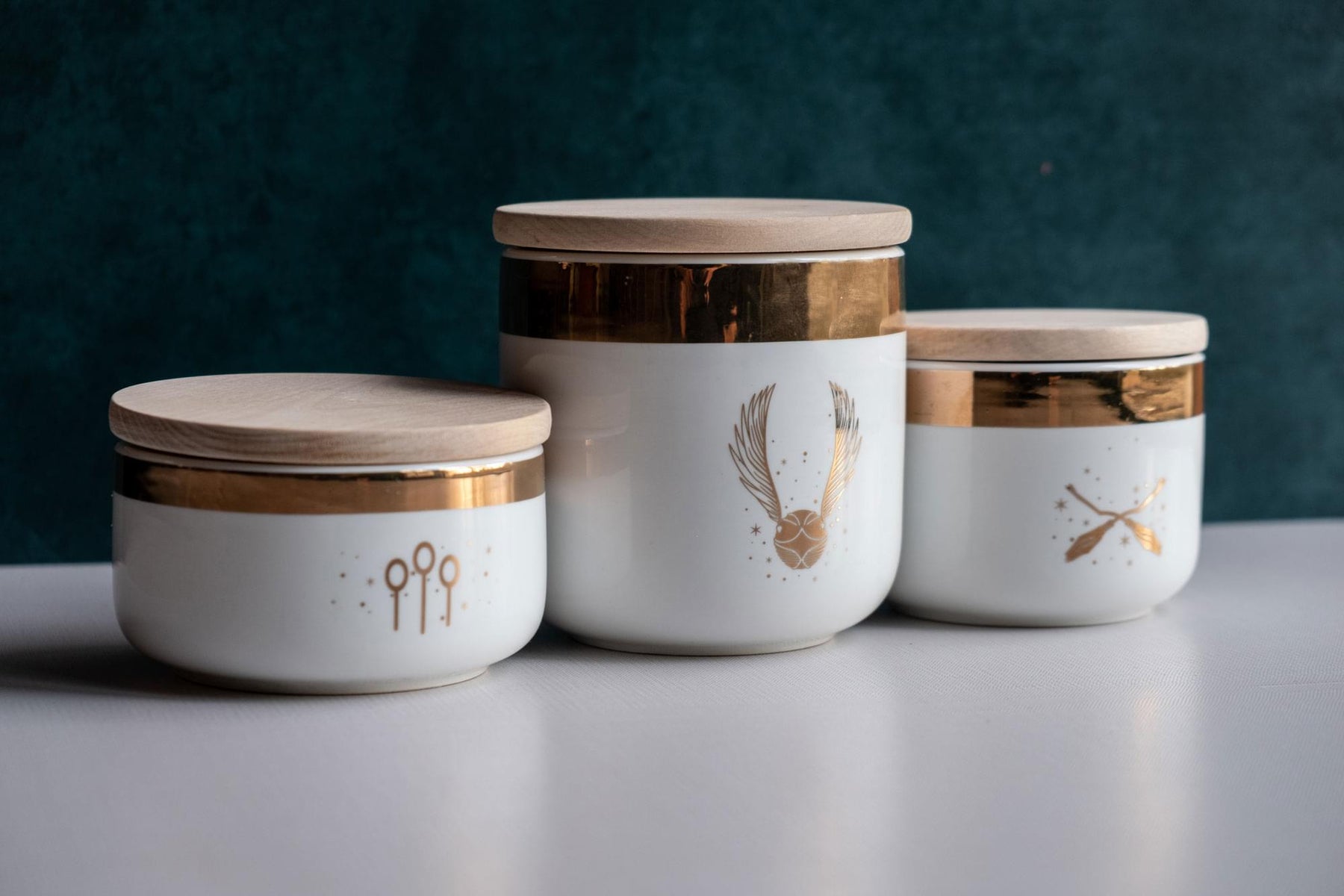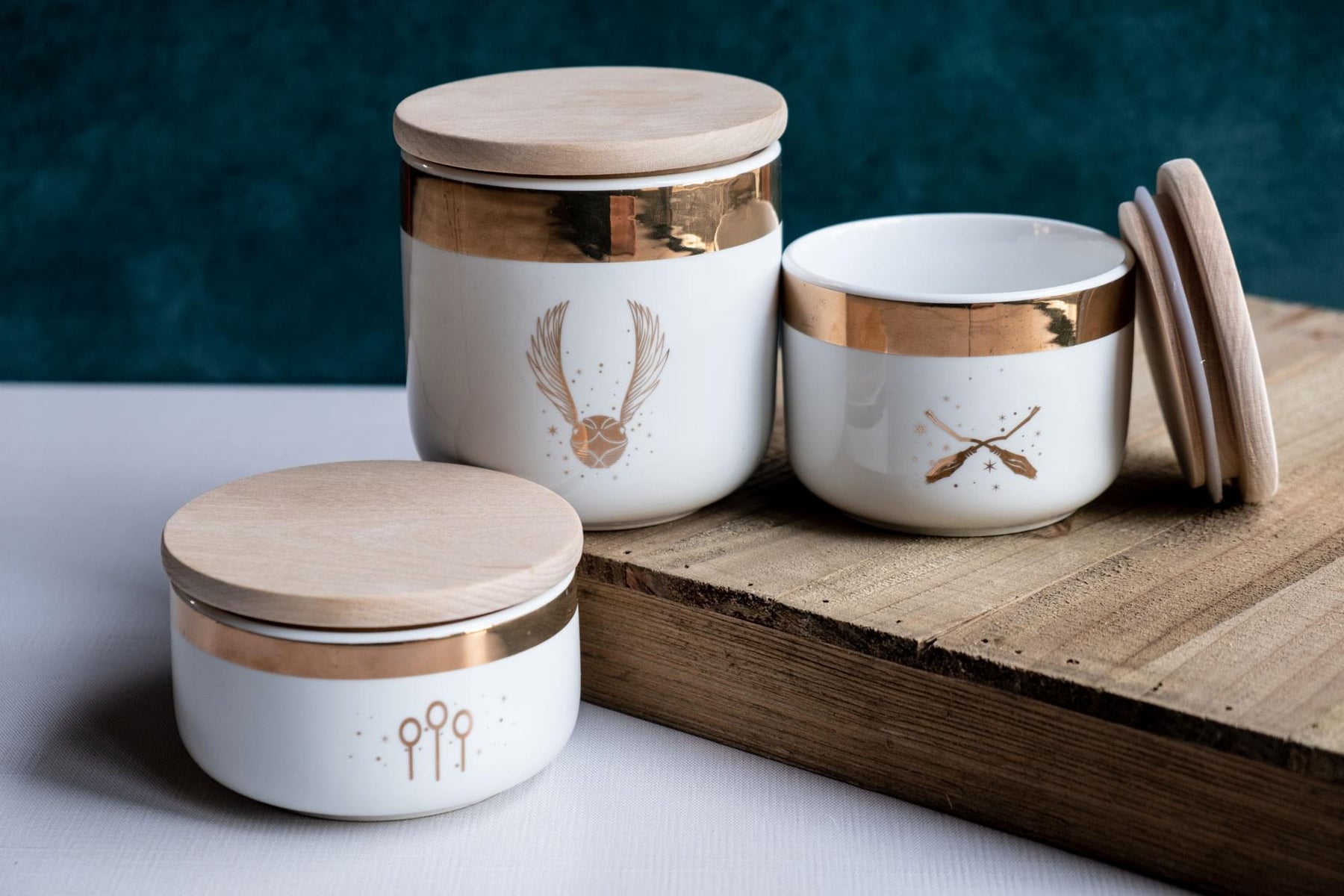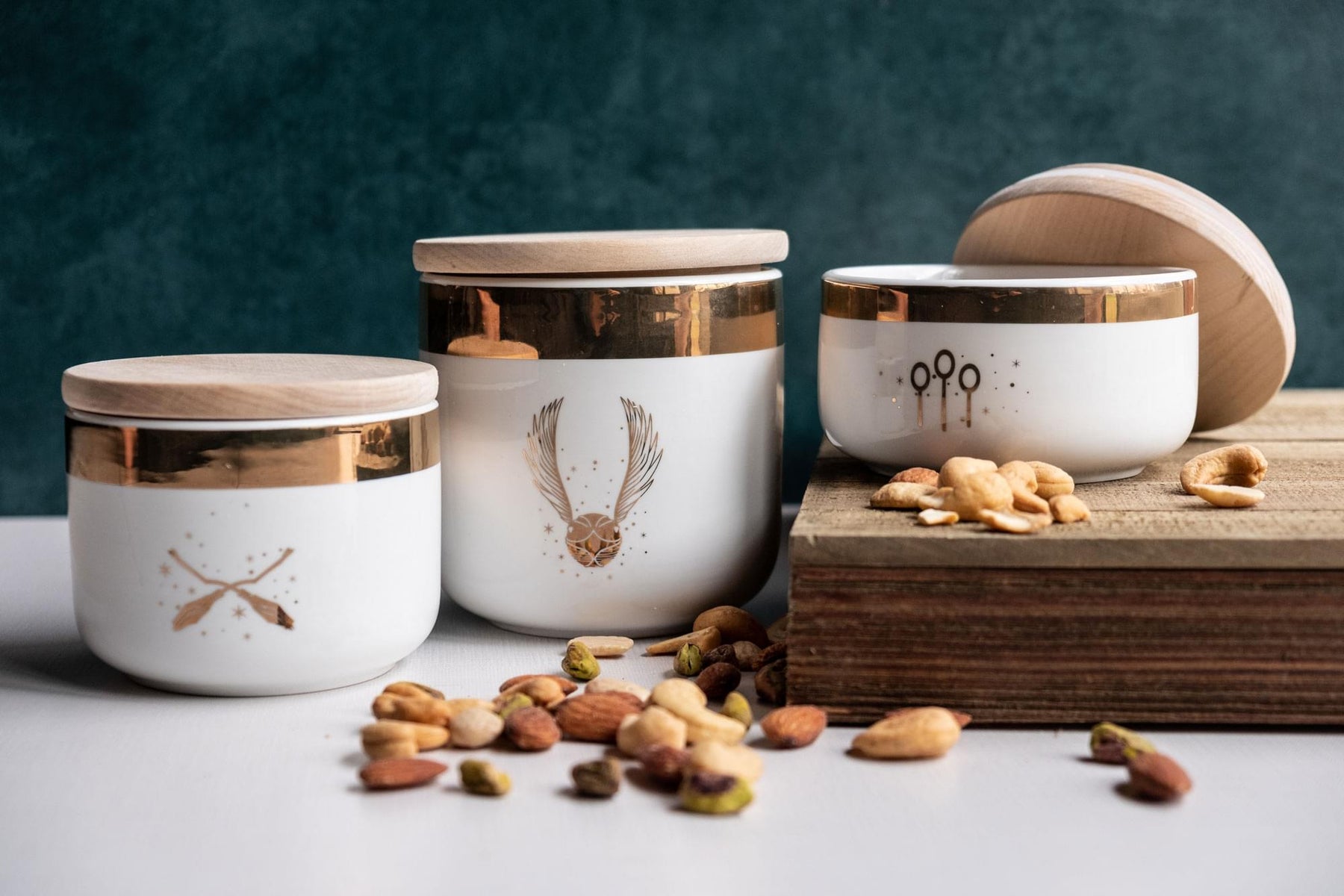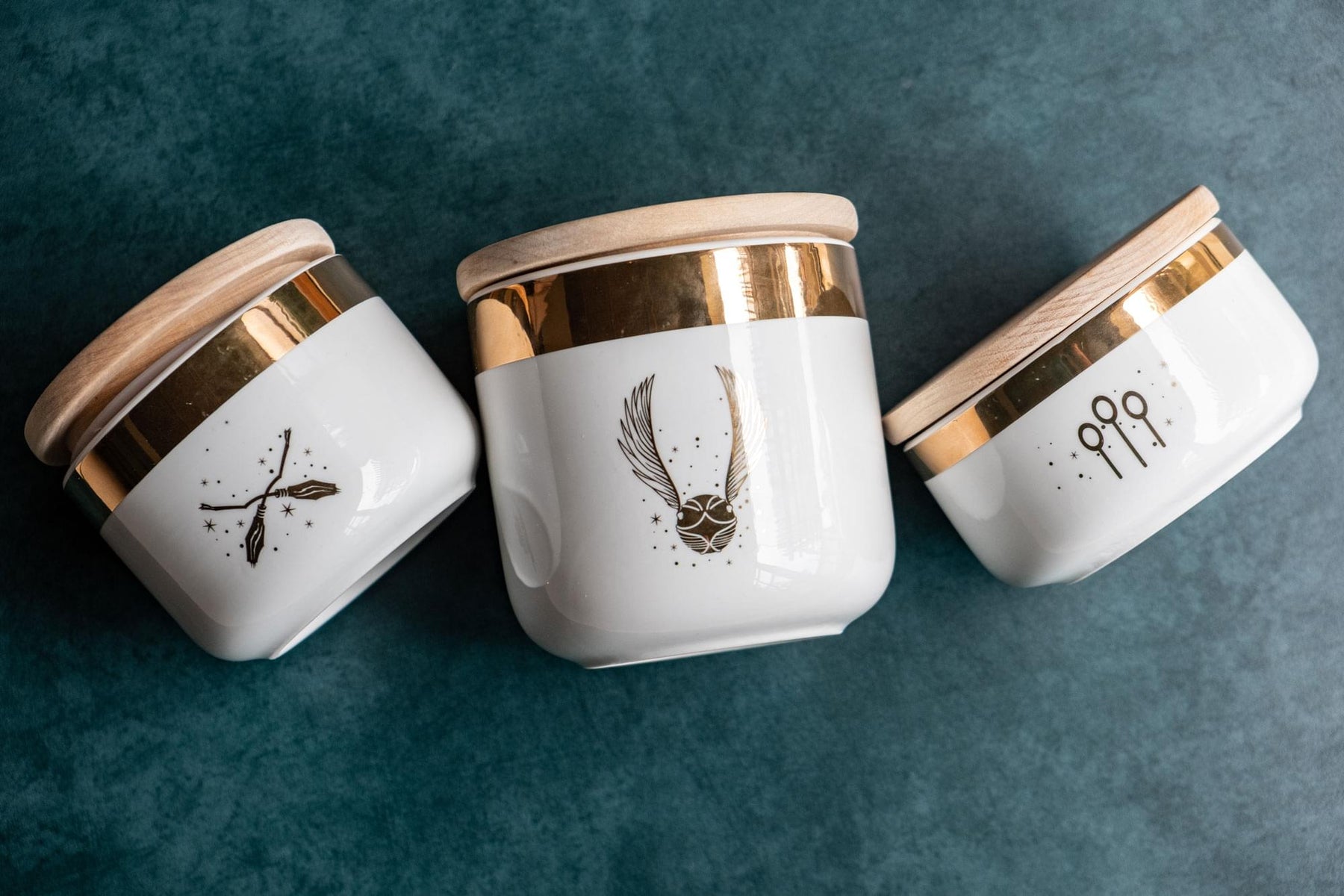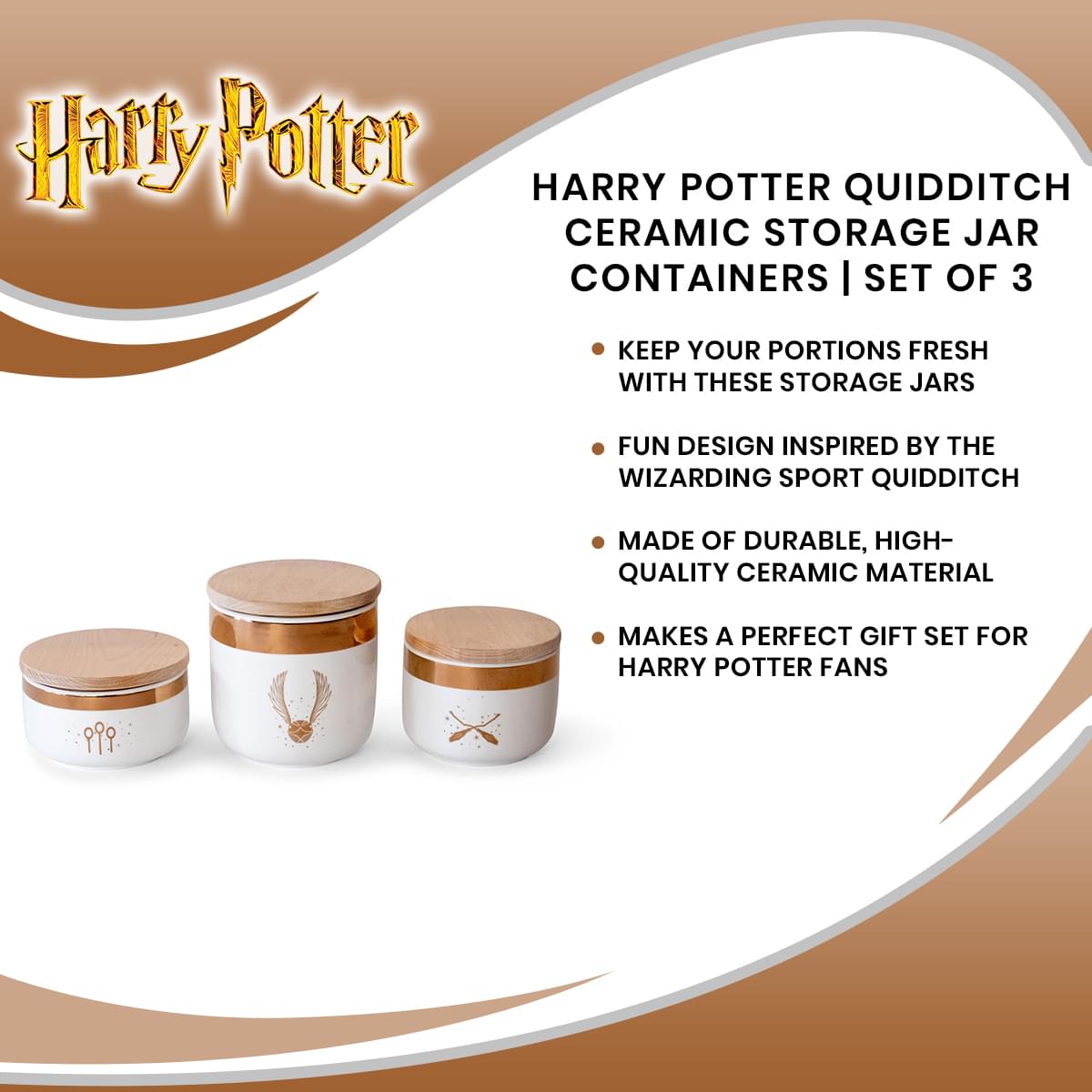 Harry Potter Quidditch Ceramic Storage Jar Containers | Set of 3
Magical Storage: Give your kitchen an enchanting upgrade with this Quidditch Storage Jar Set from the Wizarding World of Harry Potter. This set of 3 food containers offers extra storage for your kitchen space, so you can keep items easily organized.
Keep Your Potions Fresh: The airtight containers are perfect for storing a variety of items and ingredients, including cookies, candy, spice, flour, sugar, and more. The sealed wooden lids ensure your spices, treats, or skin care products stay fresh.
Generous Size: Each storage jar features a unique design inspired by Quidditch and varies in size. The Goal Hoops canister measures 4 x 3 inches; Brooms canister 4 x 3 inches; Golden Snitch canister 4 x 4.5 inches. (Measurements are approximate.)
Premium Construction: Made of durable, high-quality ceramic material. Perfect for Harry Potter fans, these Quidditch-inspired storage jars are ideal for everyday use to store common items. Hand-wash only. Not suitable for microwave or dishwasher.
Perfect Gift Set: Make a statement and personalize your kitchen space with this Quidditch Storage Jar Set. These enchanting food containers make a magical addition to any Harry Potter fan's houseware kitchen essentials and supplies.
KEEP YOUR POTIONS FRESH
Make your space more charming with this set of 3 Harry Potter Quidditch Ceramic Storage Jars. These small canisters with elegant gold detailing feature icons from the popular wizarding game of Quidditch. Each food container features a unique design on the front, including the goal hoops, the brooms, and the coveted Golden Snitch.
With flexible seals to keep contents just-so, these storage jars make a great addition to any kitchen space. Perfect for using as sugar and salt cellars, these premium-quality ceramic containers include sealed wooden lids to ensure your items always stay fresh. For wizards and witches, these enchanting storage jars are especially handy in your workshop to keep your potion-making ingredients fresh.
Give your kitchen an enchanting upgrade and personalize your space with this officially licensed Quidditch Storage Jar Set. This fandom-themed canister set also makes a unique and magical housewarming gift, birthday present, or wedding gift for friends and family who love Harry Potter.
CARE INSTRUCTIONS
Hand-wash only
Not microwave safe
Not dishwasher safe