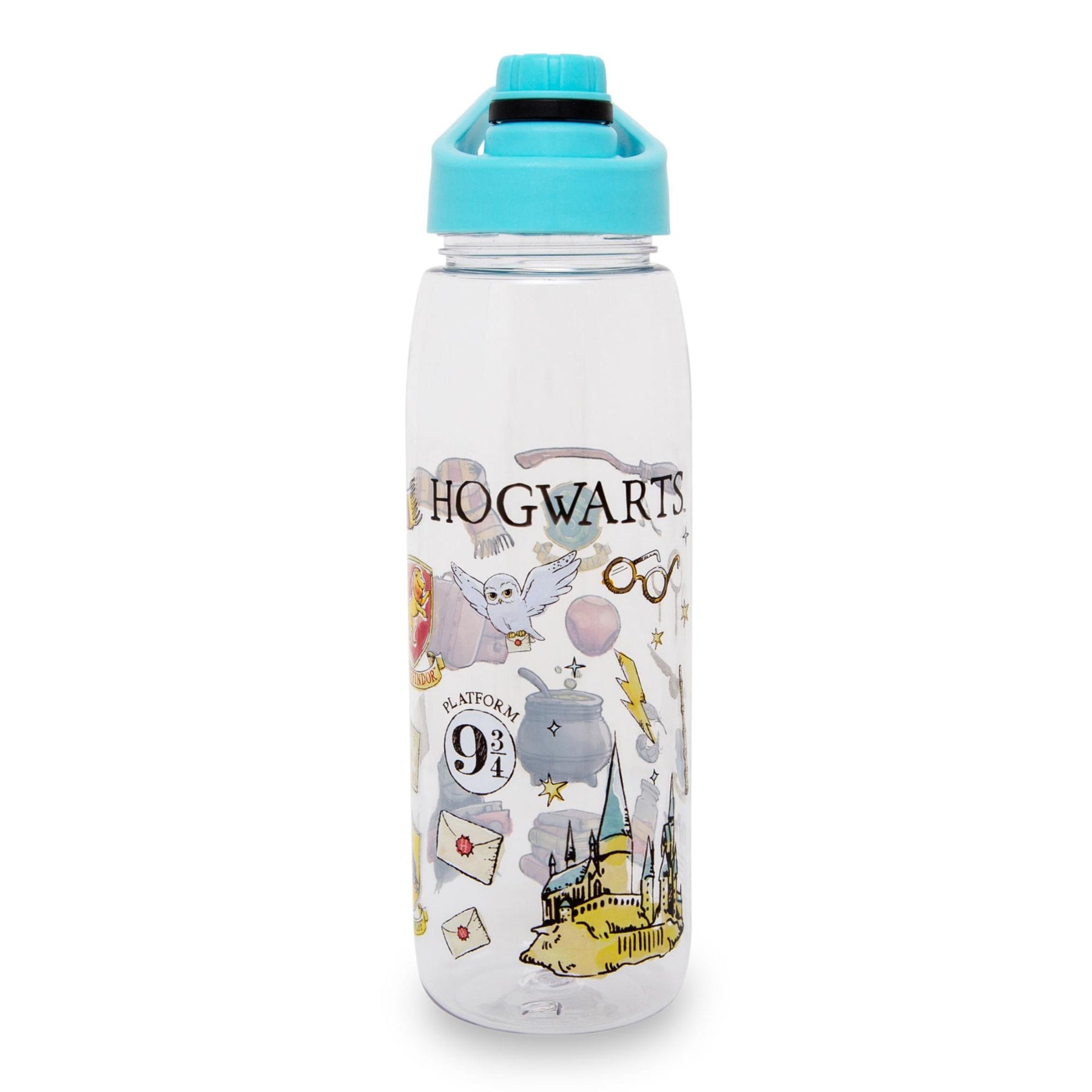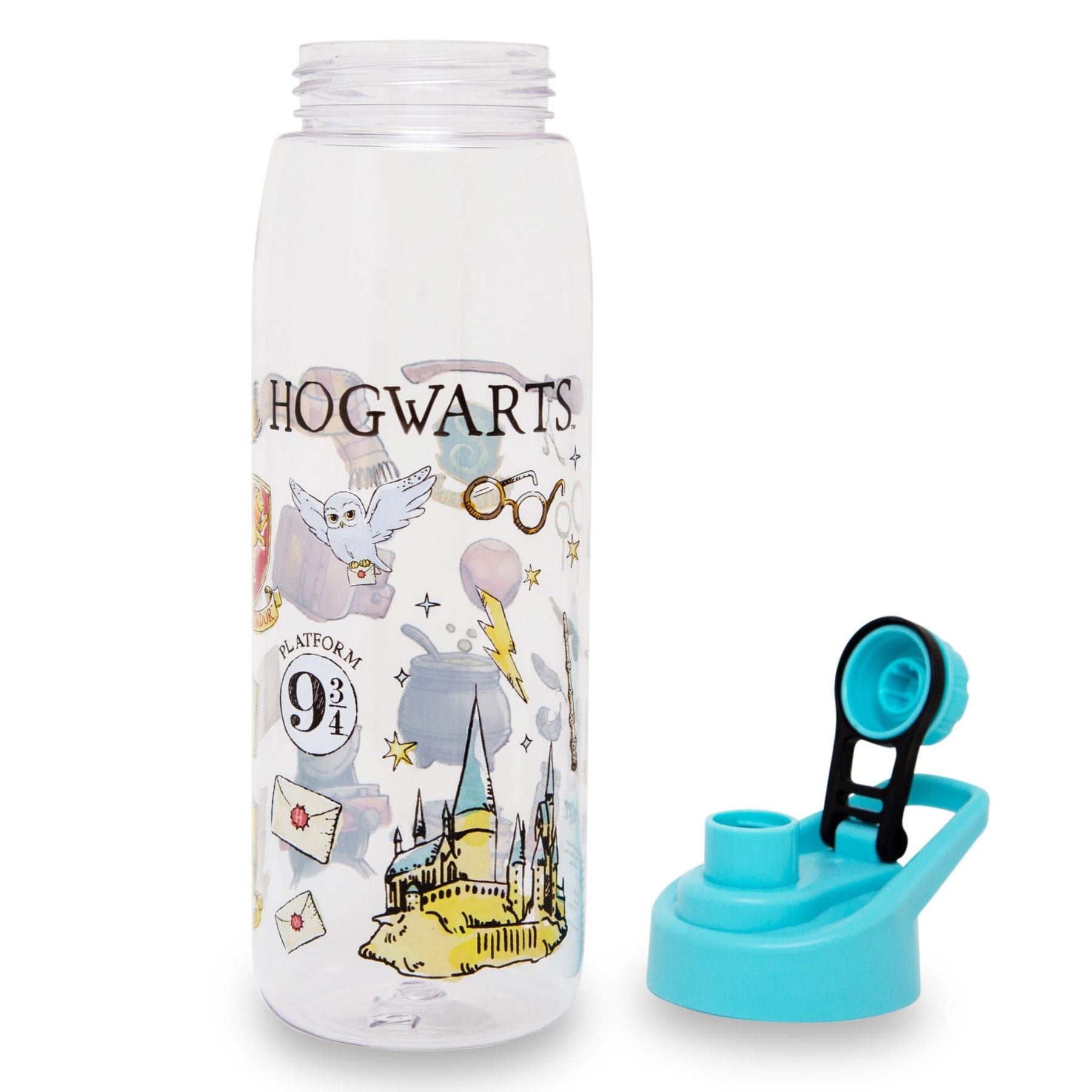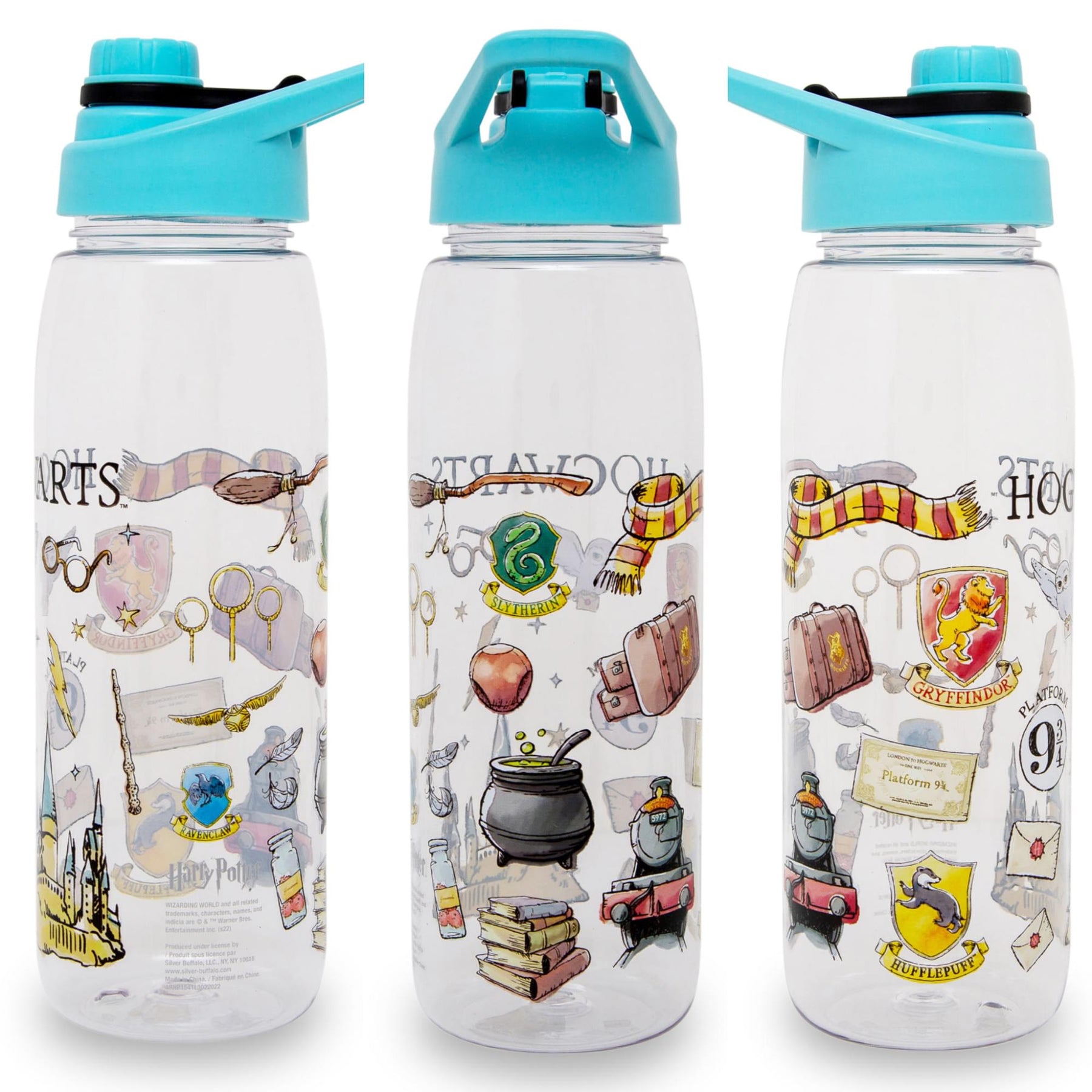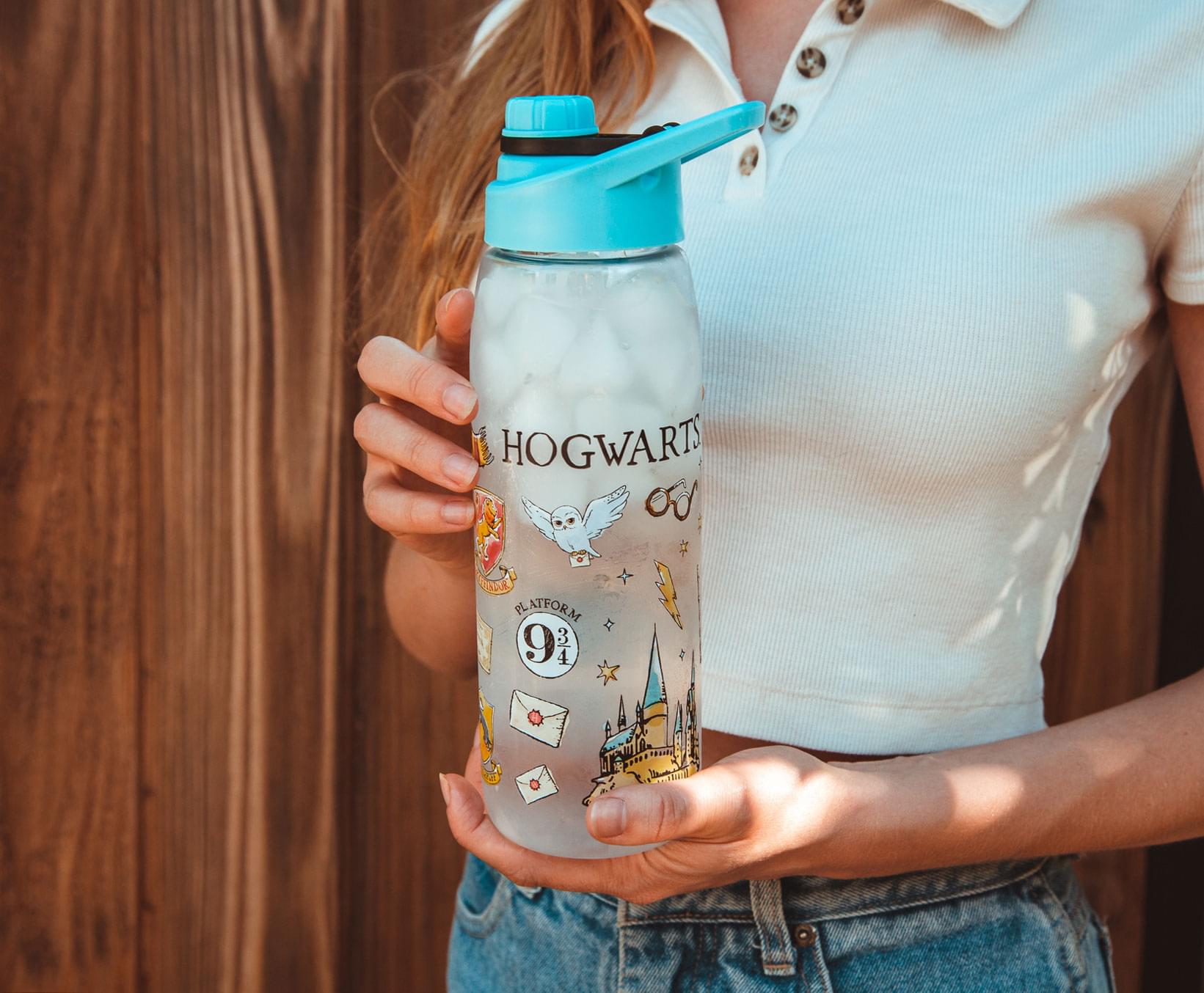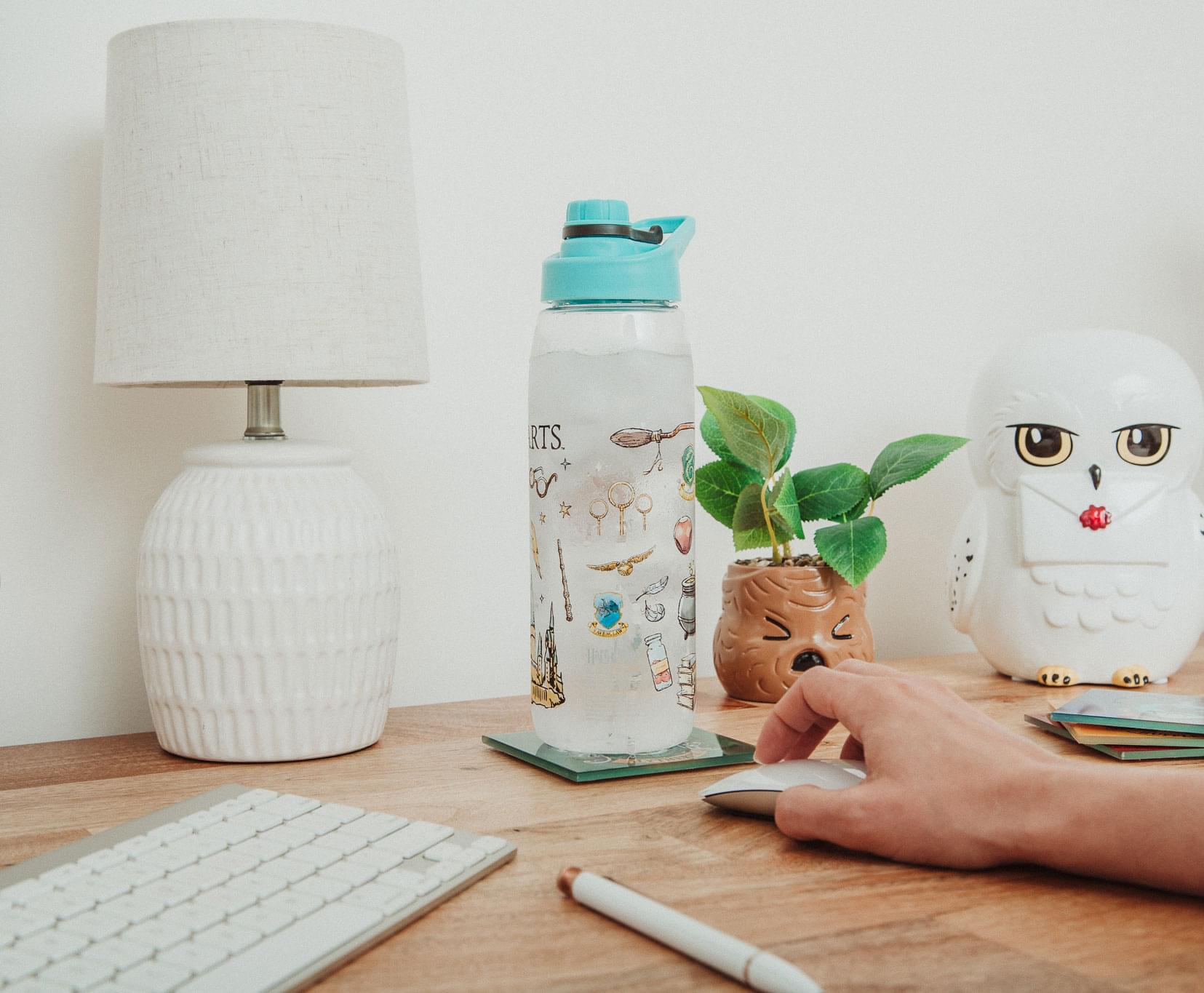 Harry Potter Hogwarts Destination Plastic Water Bottle With Twist Spout | Holds 28 Ounces
MAGIC ON THE MOVE: Celebrate Hogwarts while you're on the move. Whether you're commuting by floo powder, popping in via Portkey, or Apparating anywhere, this exclusive travel tumbler will be with you on every step of your magical journey.
GET BACK TO HOGWARTS: The cartoony art style shows many of the most memorable moments from the series, from the acceptance letter delivered by owl to a Nimbus 2000 broom to Platform 9 3/4. You might even notice a familiar pair of glasses...
EVERYTHING IS MAGI-COOL: Each colorful cup holds up to 28 ounces of your favorite drinks, anything from Butterbeer to Gigglewater. It'll keep you hydrated whether you're at Quidditch practice or studying for your O.W.L.s.
NO NEED FOR REPARO: This plastic bottle is constructed from unbreakable high-quality BPA-free Eastman Tritan plastic and is ready for wherever your magical journey takes you. Top-rack dishwasher safe; not microwave safe.
OFFICIAL WIZARDING WORLD KITCHENWARE: Every witch, wizard, and muggle will be spellbound by this officially licensed Hogwarts water bottle straight from the world of Harry Potter. Create a little magic of your own with this enchanted chalice.
BACK TO WITCHES AND WIZARDS AND MAGICAL BEASTS
So many of us have dreamed of attending Hogwarts. Now you can look back at the adventure that Harry Potter and his friends took, or imagine what your time there would have been like. This stunning sipper is covered with iconography from the stories. Here you'll find scarves in the red and gold, the engine of the Hogwarts Express, and the crests of all four Houses: Gryffindor, Hufflepuff, Ravenclaw, and Slytherin. And it's got all the Quidditch gear you could shake Quaffle at.
WE ARE PLEASED TO INFORM YOU THAT YOU HAVE BEEN ACCEPTED...
For those who dedicate themselves to the magical arts, there's no place more prestigious than the Hogwarts School of Witchcraft and Wizardry. Now you can show your love for this place of education, of mystery, and of magic. Whether you'd like to toast to another successful spell, potion, or magical secret uncovered, or just show it off to the folks from the Durmstrang Institute, this water bottle is ready. If you love the taste of Butterbeer or you're more into pumpkin juice, this plastic tumbler will give you a magical delight. You can bring the excitement of Hogwarts with you wherever you go with this officially licensed drinkware direct from the Wizarding World of Harry Potter.
CARE INSTRUCTIONS
Easy care
Not Microwave safe
Top-rack dishwasher safe
Read All About It on Our Blog
Trending Geek