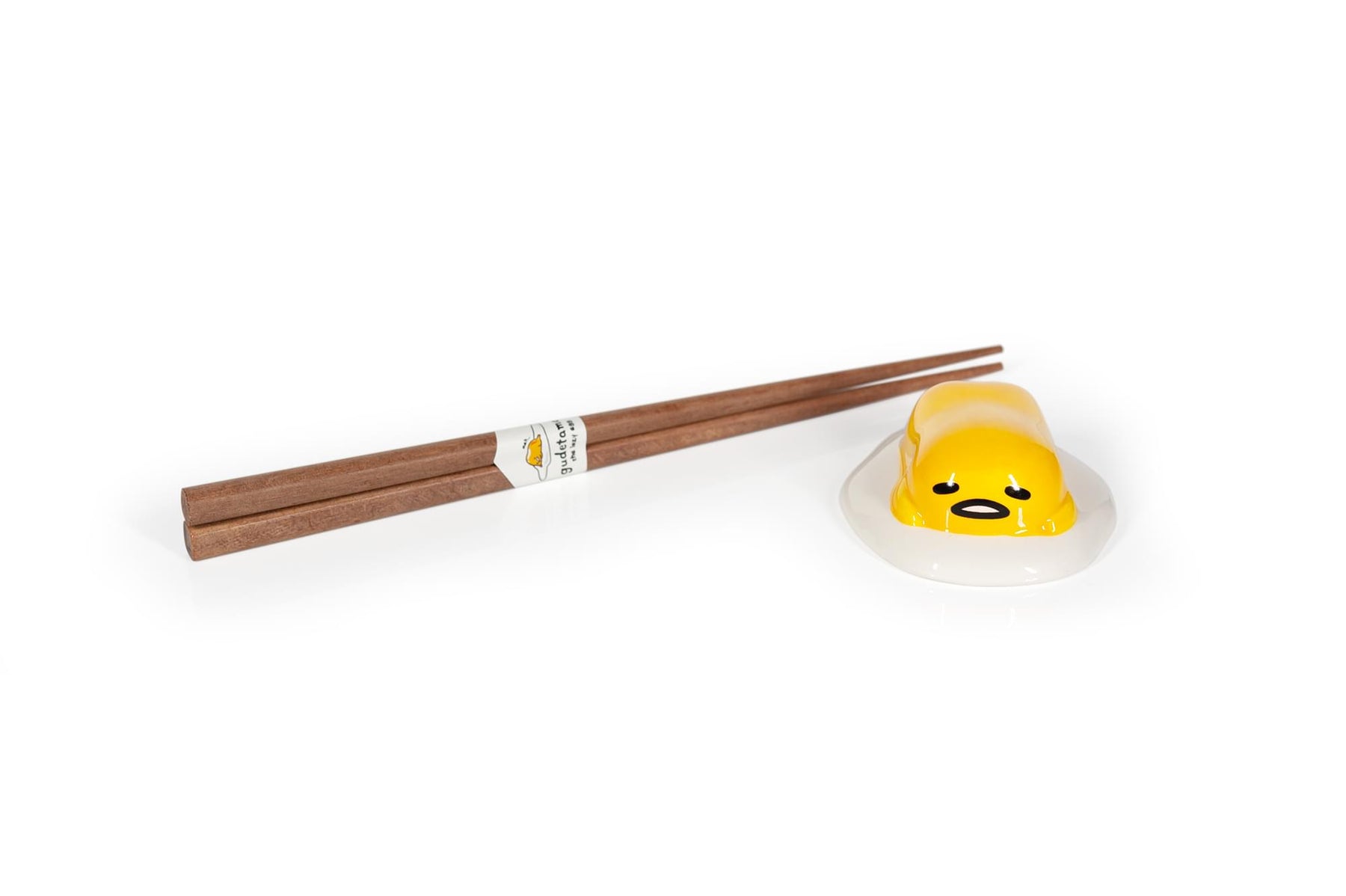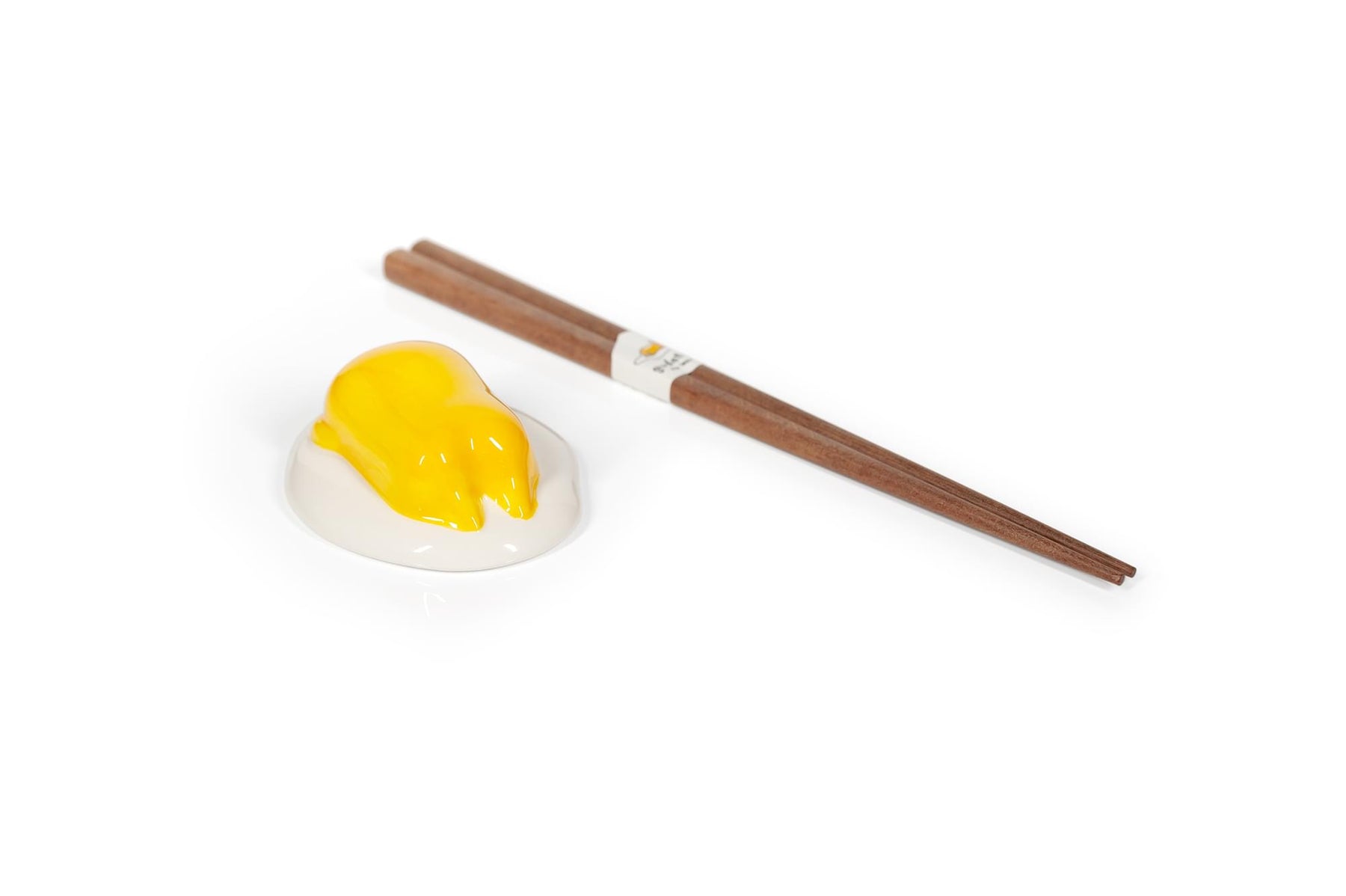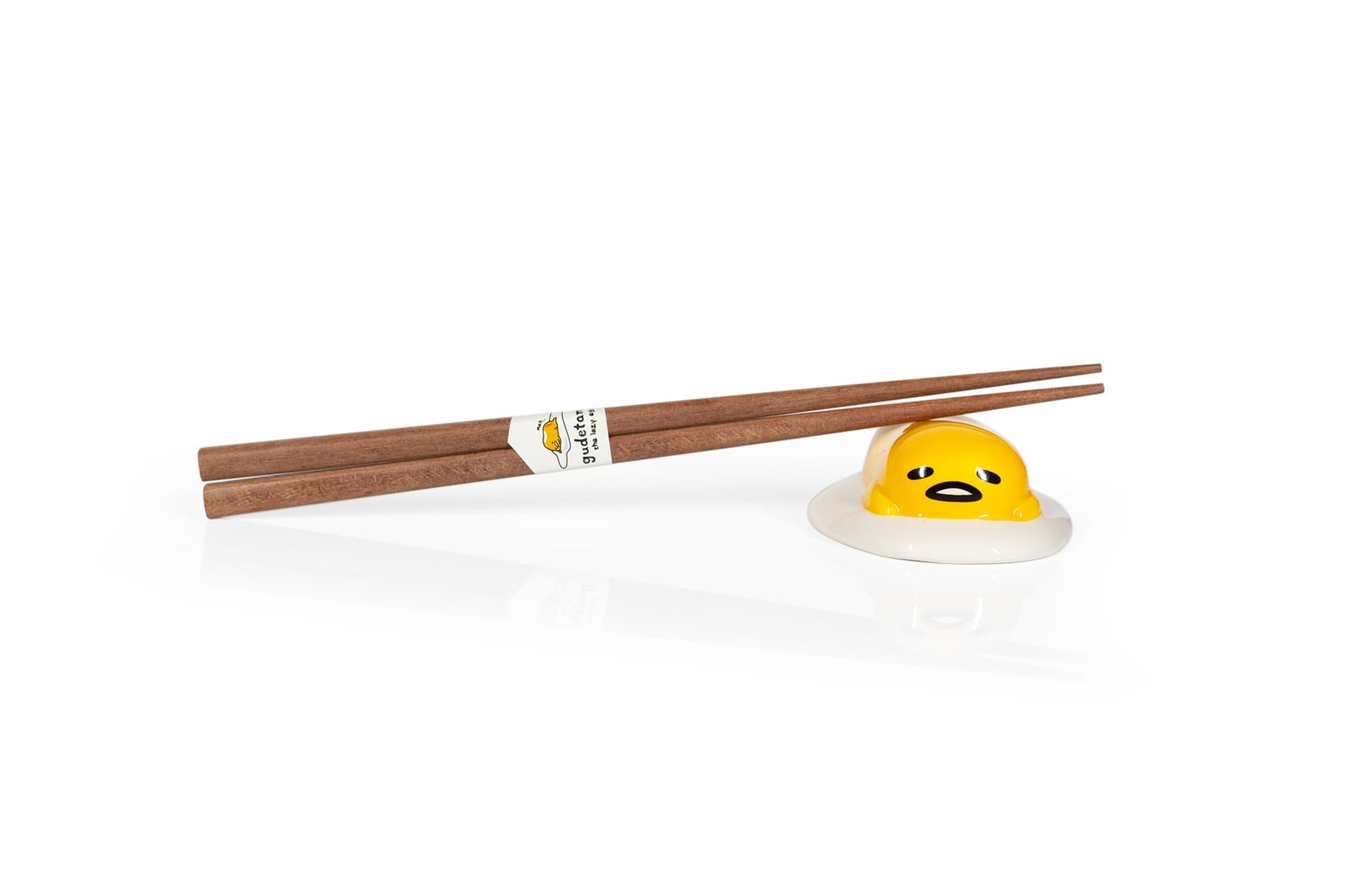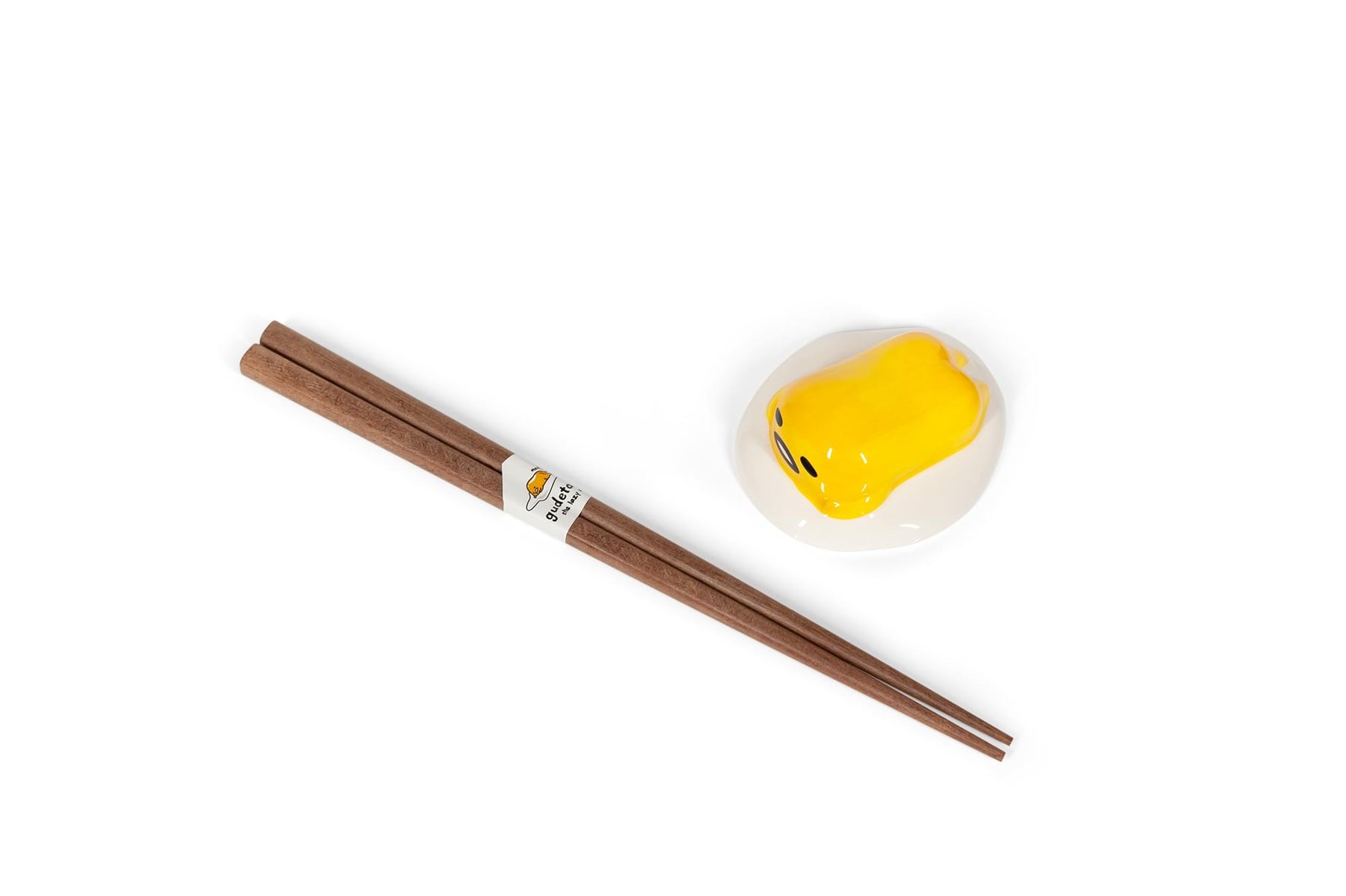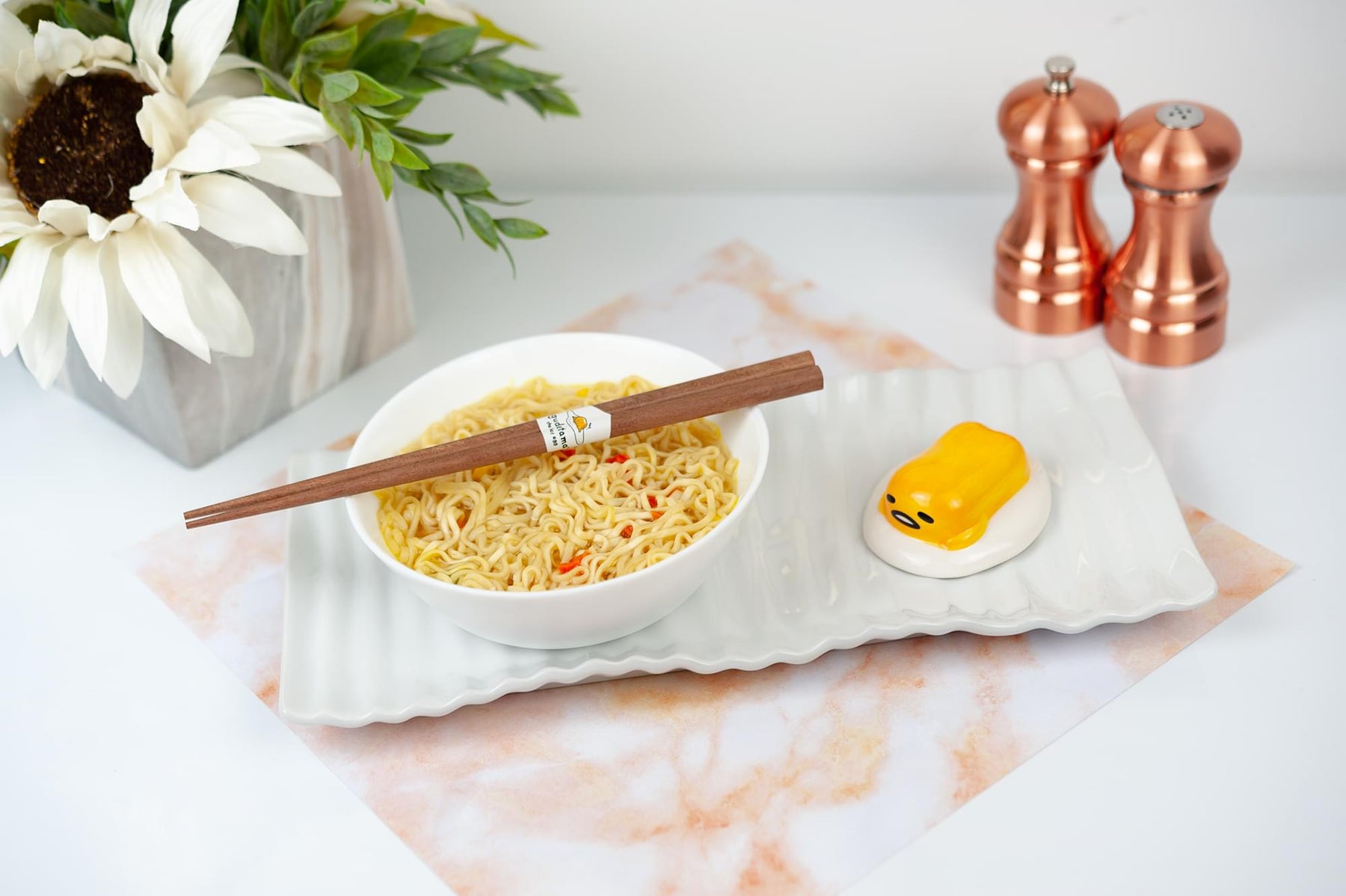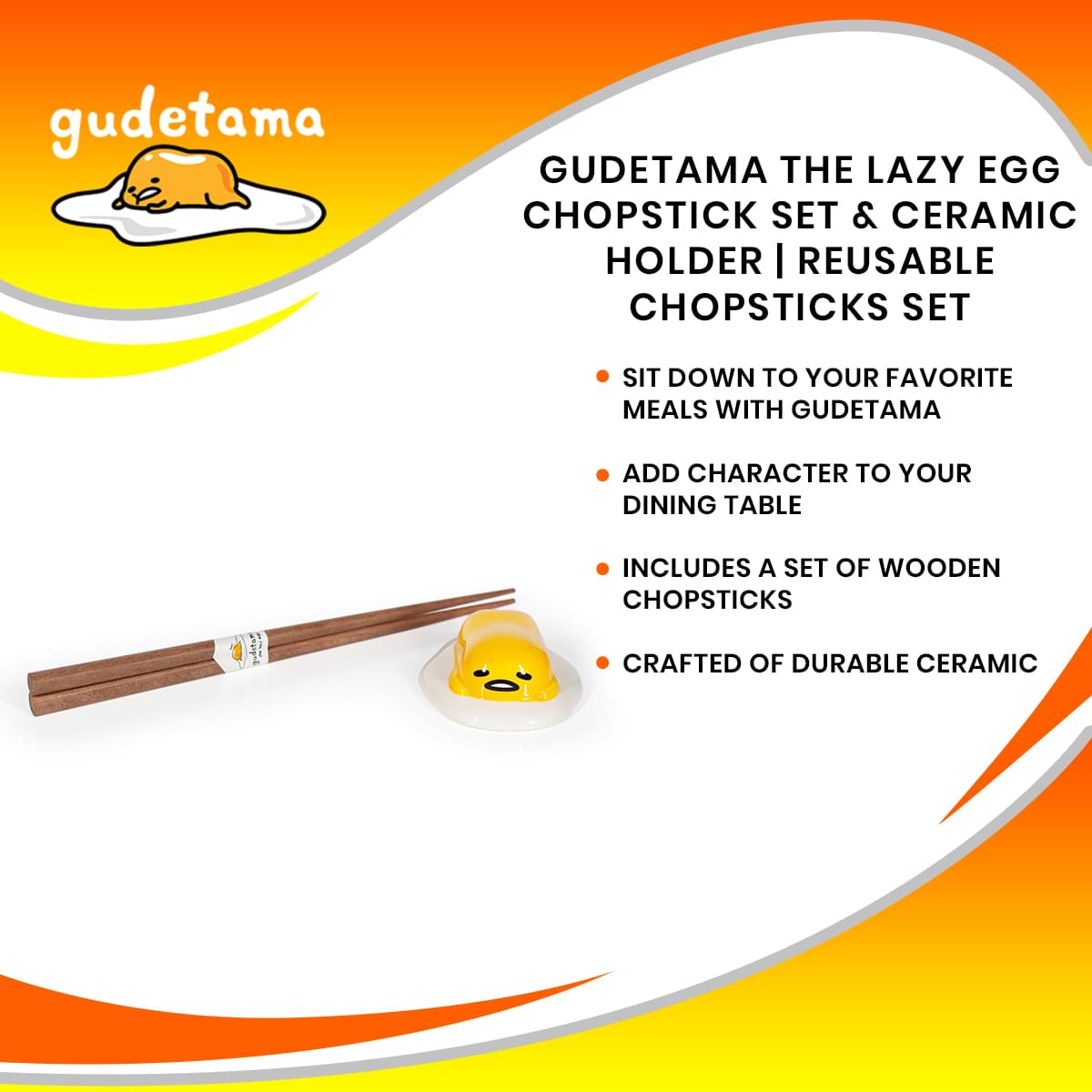 Gudetama The Lazy Egg Chopstick Set & Ceramic Holder | Reusable Chopsticks Set
GUDETAMA, MASTER OF LAZY & HOLDER OF CHOPSTICKS: The Lazy Egg has returned! Gudetama is the Sanrio-created fan-favorite character who is the laziest egg you could ever fathom! Now he's back to add extra cuteness to your noodle game!
BRING EXTRA CUTENESS TO THE TABLE: This Lazy Egg isn't good for much but with this specially designed chopstick set and holder, Gudetama can now be put to work displaying your new favorite form of dining ware! (Just don't tell him that he's actually working.)
CRACK OPEN YOUR FAVORITE SNACKS: Binge-watch your favorite Lazy Egg shorts with all your favorite snacks in tow! This set will make other Gudetama fans envious as you enjoy your noodles with the Lazy Egg by your side!
GUDETAMA GRADE DURABILITY: Constructed of quality Ceramic with a vibrant, hand-painted design, this little Lazy Egg and included wood chopstick set will fit right in with your Gudetama collection! Care for this adorable set by hand washing and keeping away from heat.
OFFICIAL LAZY EGG COLLECTIBLE: Fans of Sanrio will simply love this decorative chopstick holder set in their collection of Lazy Egg favorites! Display proudly and use it regularly because this little set is a must-have for any fan!
TRUST YOUR CHOPSTICKS WITH THE LAZIEST EGG ON EARTH
Gudetama is the lovable Sanrio character that takes the title of being the Lazy Egg. Gudetama often shows emotionless expressions and rarely does anything at all unless it directly benefits him in some way. This little egg has captivated viewers across the globe as his cuteness and absurdity gives him limitless entertainment capabilities. Gudetama is the perfect character for you to trust holding your chopsticks as he is surely not going anywhere anytime soon! Take home this chopstick and rest set today and brighten your dinner table with Gudetama! 
A GUDETAMA MUST-HAVE COLLECTIBLE
For fans of the Lazy Egg, Gudetama, this collectible chopstick rest is a wonderful addition to your collection of Gudetama favorites. Picture adding this beautifully crafted ceramic rest to your dinner table as you chow down on your favorite dish! Expand your world of wonderful lazy Gudetama figures that you currently own. The "meh" expression on his face completes this adorable little figure. Grab this lazy egg chopstick holder set for your collection of Gudetama favorites today!
Read All About It on Our Blog
Trending Geek