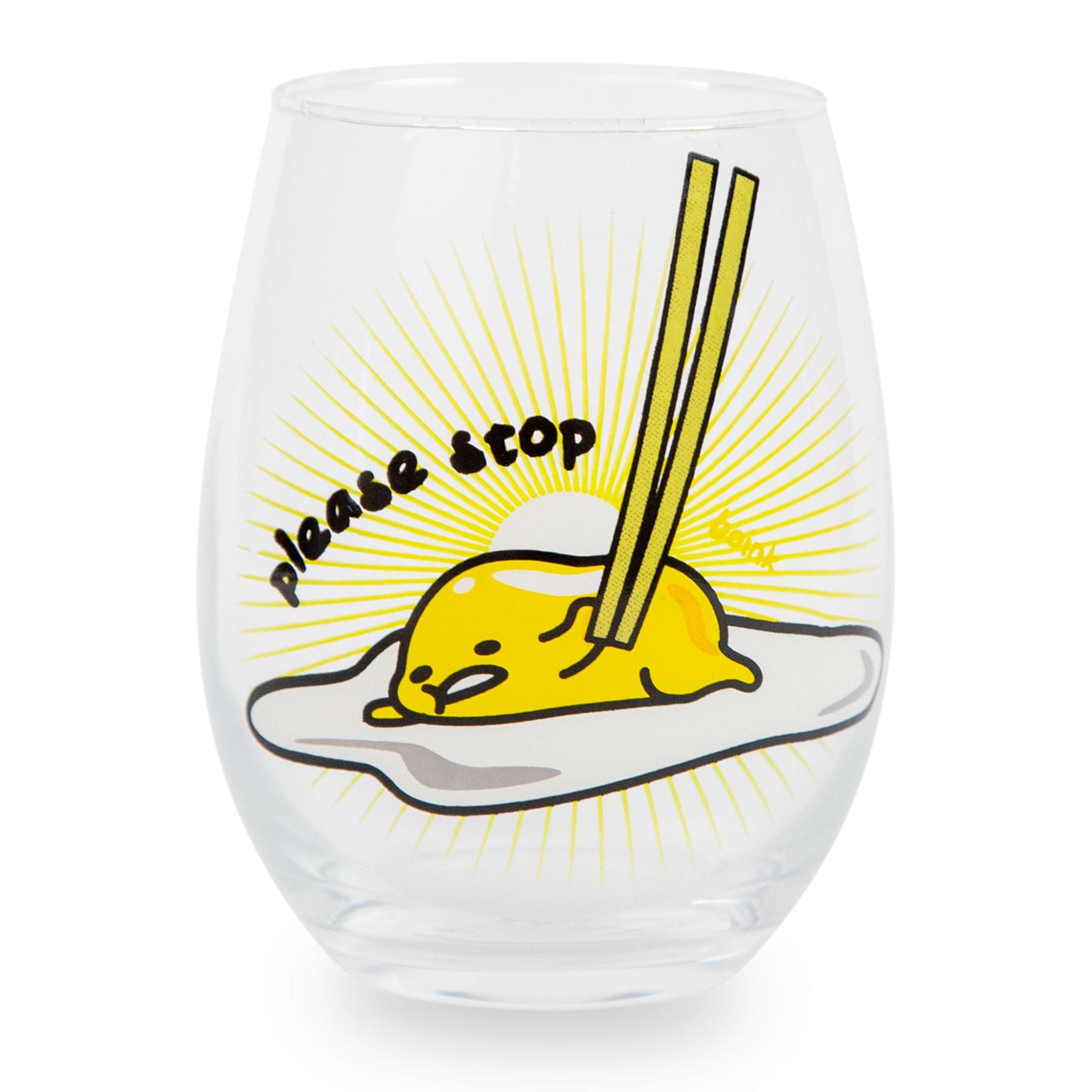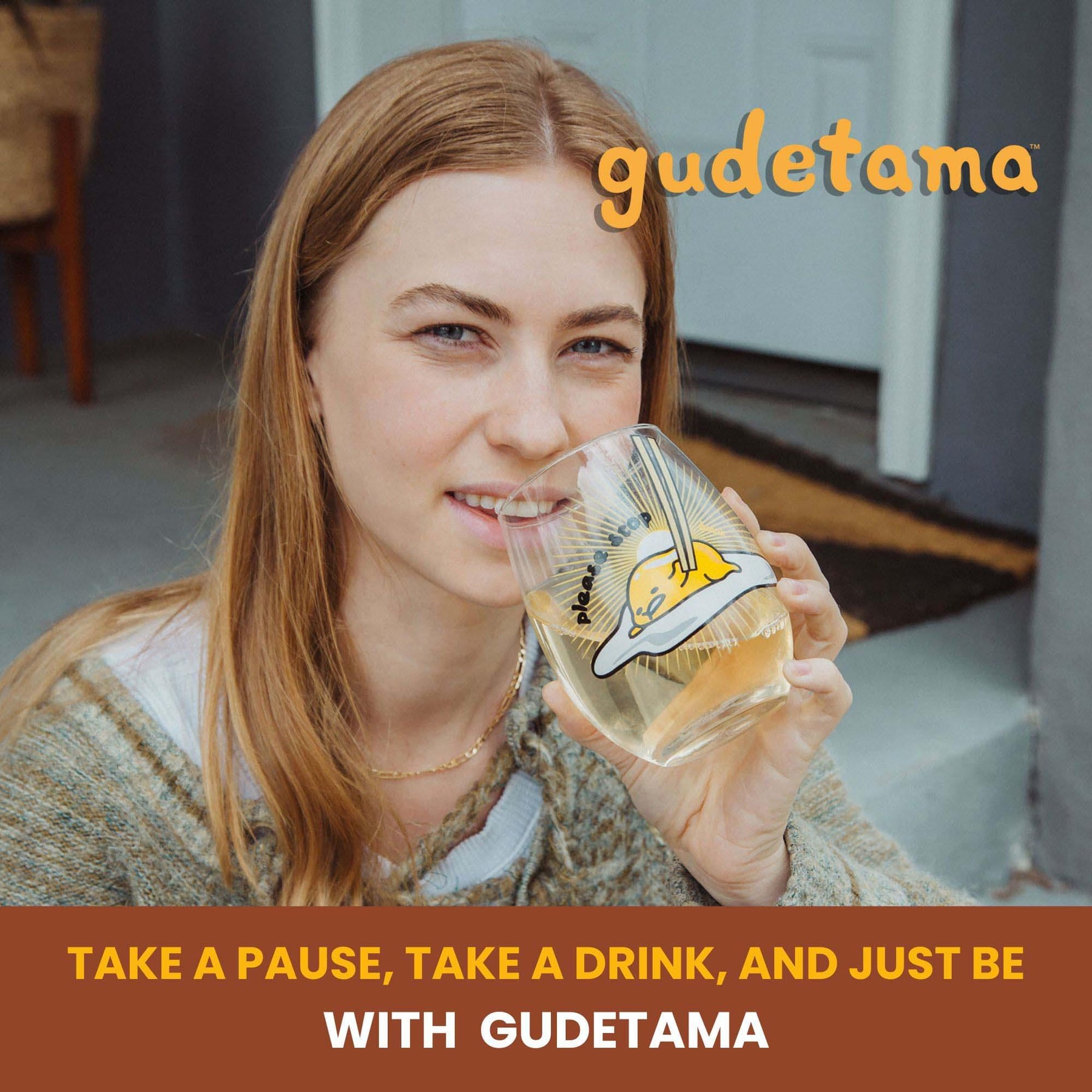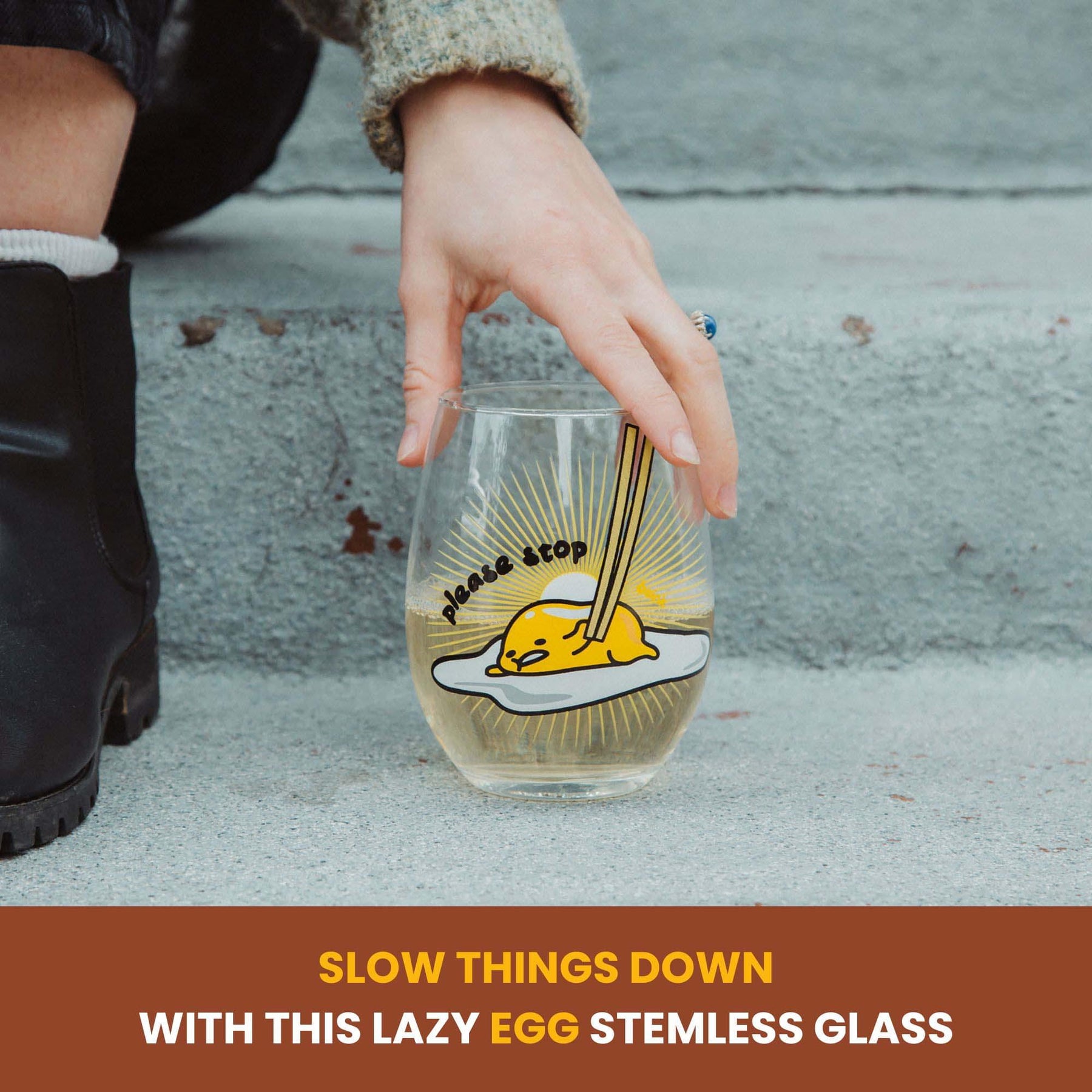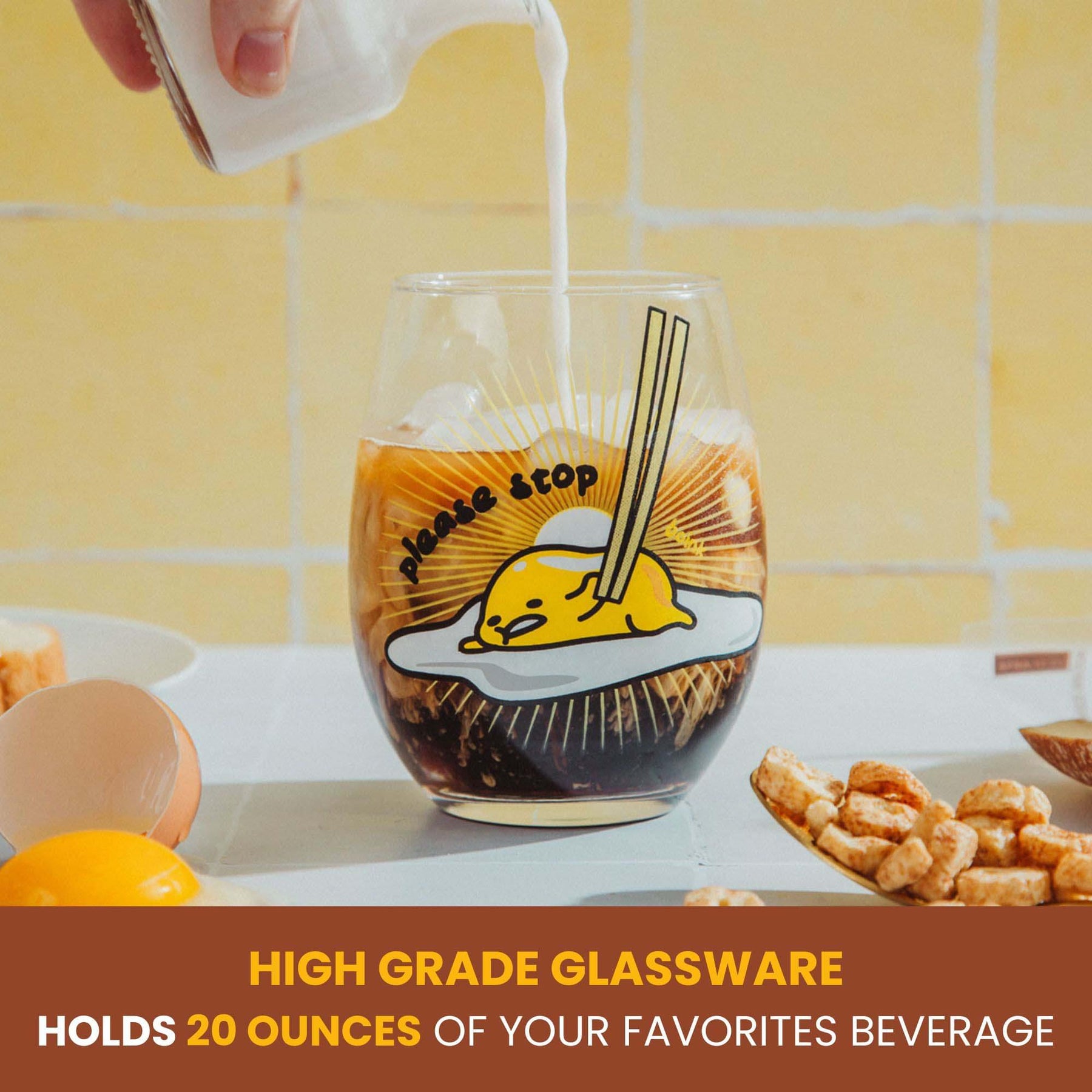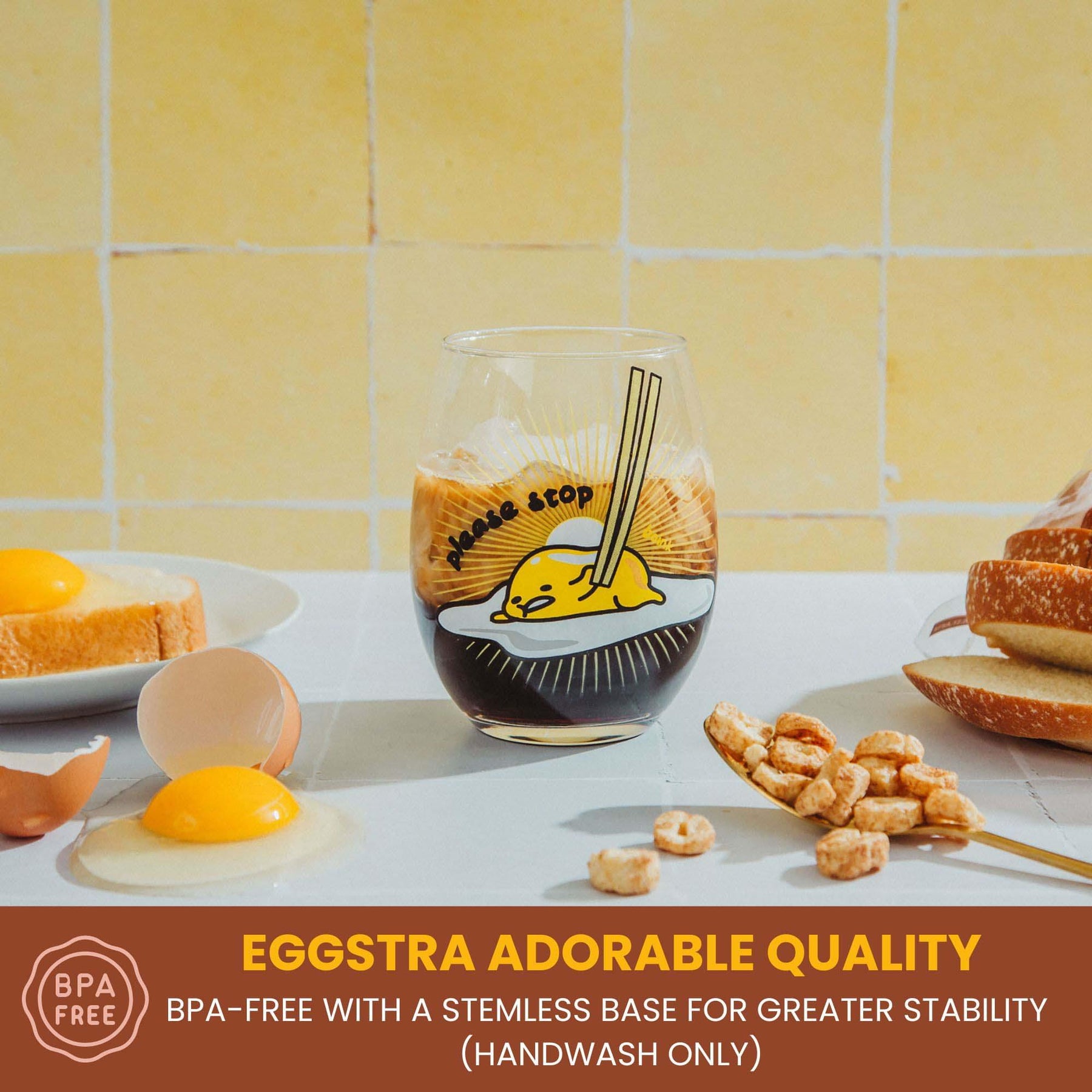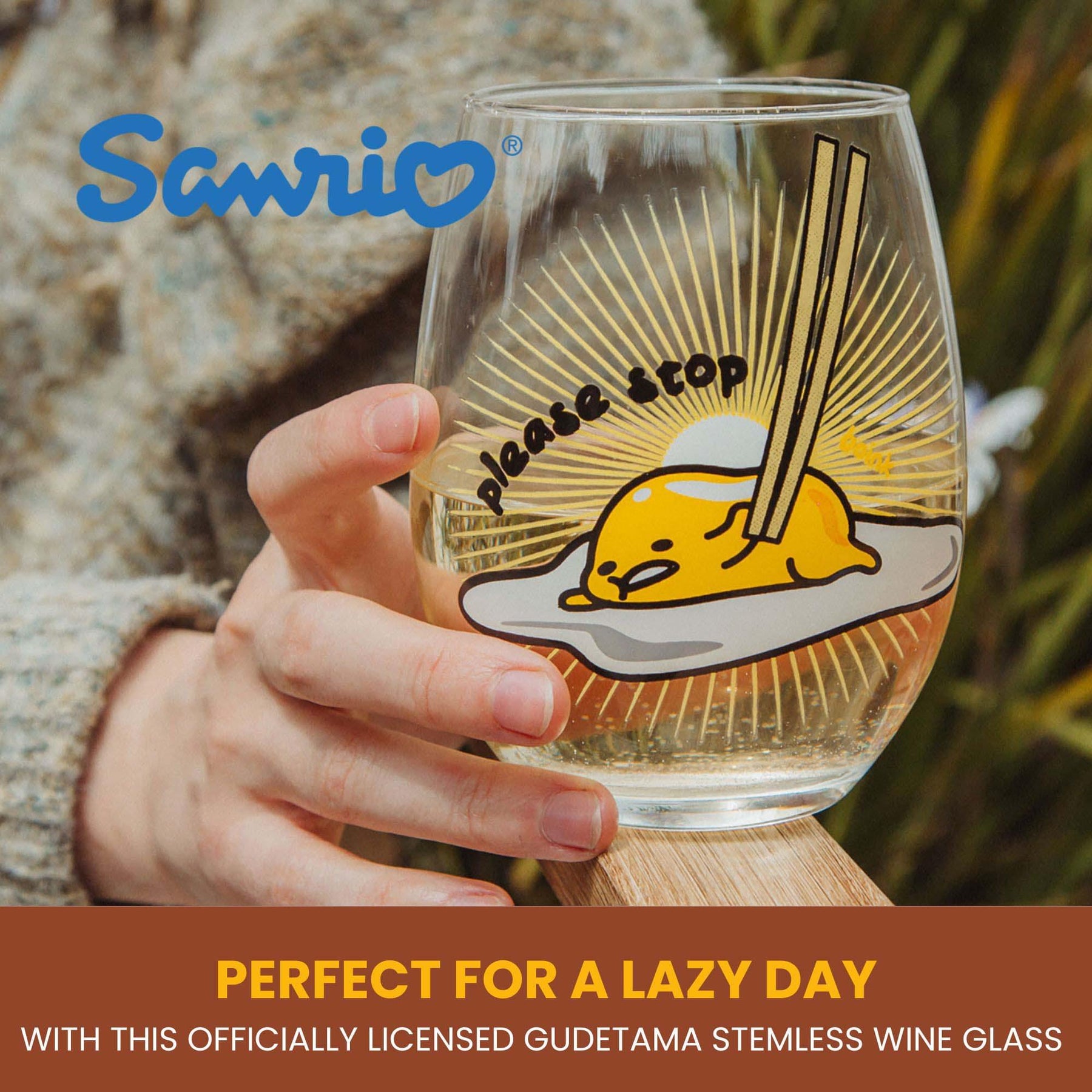 Sanrio Gudetama "Please Stop" Teardrop Stemless Wine Glass | Holds 20 Ounces
TAKE IT (OVER) EASY: When you've got nothing left in the tank, why not take a few moments for yourself with this stemless wine glass featuring that Lazy Egg, the permanently passive Gudetama. Take a pause, take a drink, and take the time to just be.
AN EGG-CELLENT LIKENESS: We've all that those moments when just can't be bothered. Gudetama understands. Sometimes, we all want to say "Please Stop" to another email, another call. Maybe what we all need is a sympathetic egg.
COULD WE JUST NOT?: Who wants the hassle of constantly having to refill your glass? This stemless wine mug holds up to 20 ounces of your favorite liquid refreshment, limiting the amount of times you'll need to walk over to get more.
EGGSTRA ADORABLE QUALITY: This BPA-free tumbler features a solid, heavy construction that is made with a stemless base for greater stability. For the best care, hand-wash only. Not suitable for dishwasher or microwave.
OFFICIAL SANRIO COLLECTIBLE: There are some days days when you just lack the motivation, when you can't be bothered. This officially licensed Gudetama stemless wine glass is there for those times. Perfect for when you just wanna have a lazy day.
IS YOUR WORK NOT ALL IT'S CRACKED UP TO BE?
Maybe it's time to slow things down and spend a day with a Lazy Egg using this stemless wine glass.
You know what it's like. The alarm goes off and you wish you could have just five more minutes of restful slumber. And if you're looking for someone to be lazy with, then you're in luck. Take five, heck, why not take 10, with this Gudetama wine glass. The teardrop design etched with an image of the notoriously Lazy Egg will be with you through all of life's "meh" moments.
WHEN YOU'RE FEELING SCRAMBLED, TAKE SOME TIME FOR YOURSELF
The apathetic yolk is featured laying on an egg white while someone is nudging with a pair of chopsticks. How rude.
Gudetama may be known as a notorious sleepyhead, but that doesn't mean this Lazy Egg isn't up to the task of hanging onto your favorite drink. Give yourself a few extra moments to relax with a beverage that'll help get you through even the slowest days.
Maybe it's time to let boredom take over with officially licensed drinkware from Sanrio.
CARE INSTRUCTIONS
Hand-wash only
Not dishwasher safe
Not microwave safe
Read All About It on Our Blog
Trending Geek