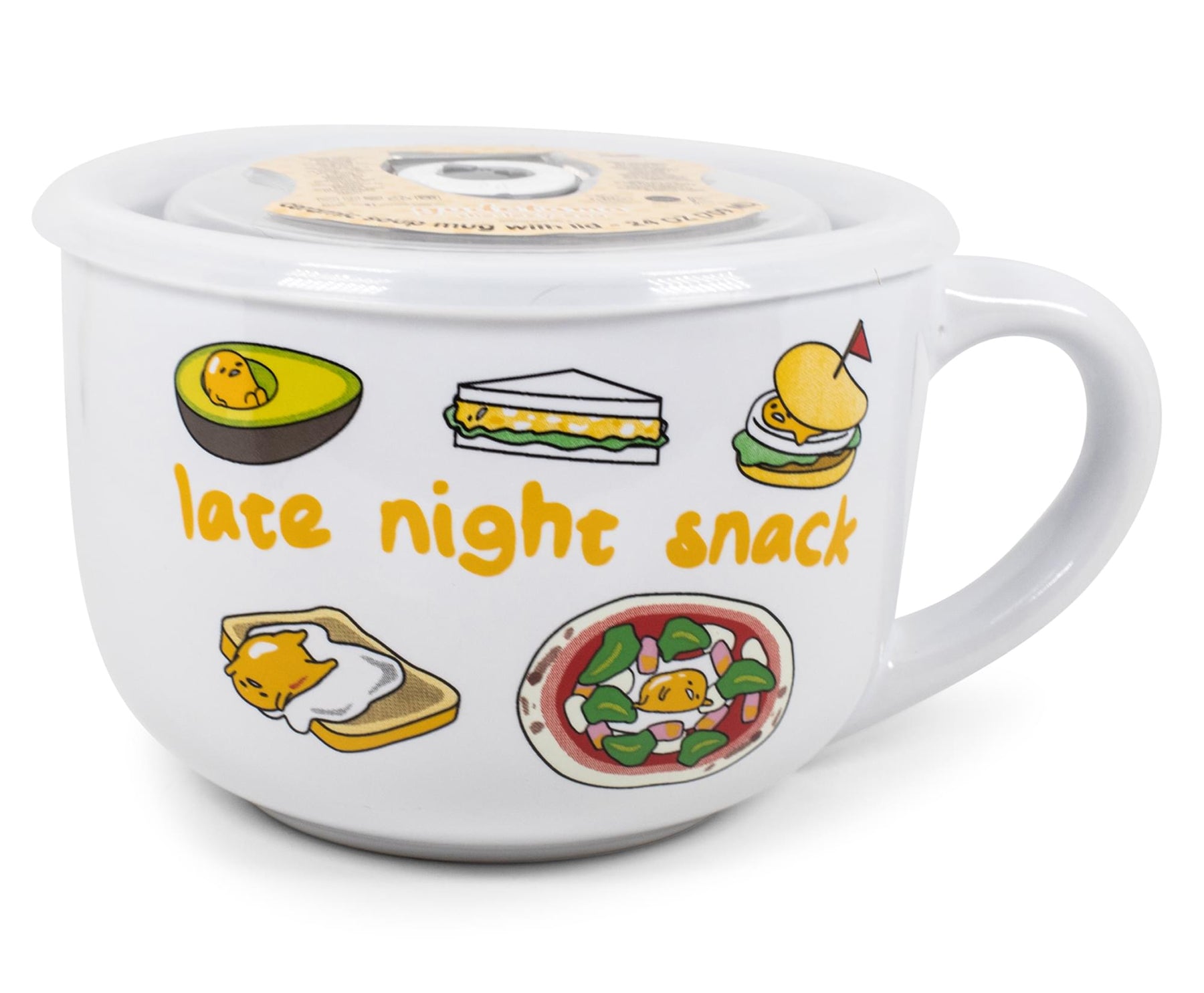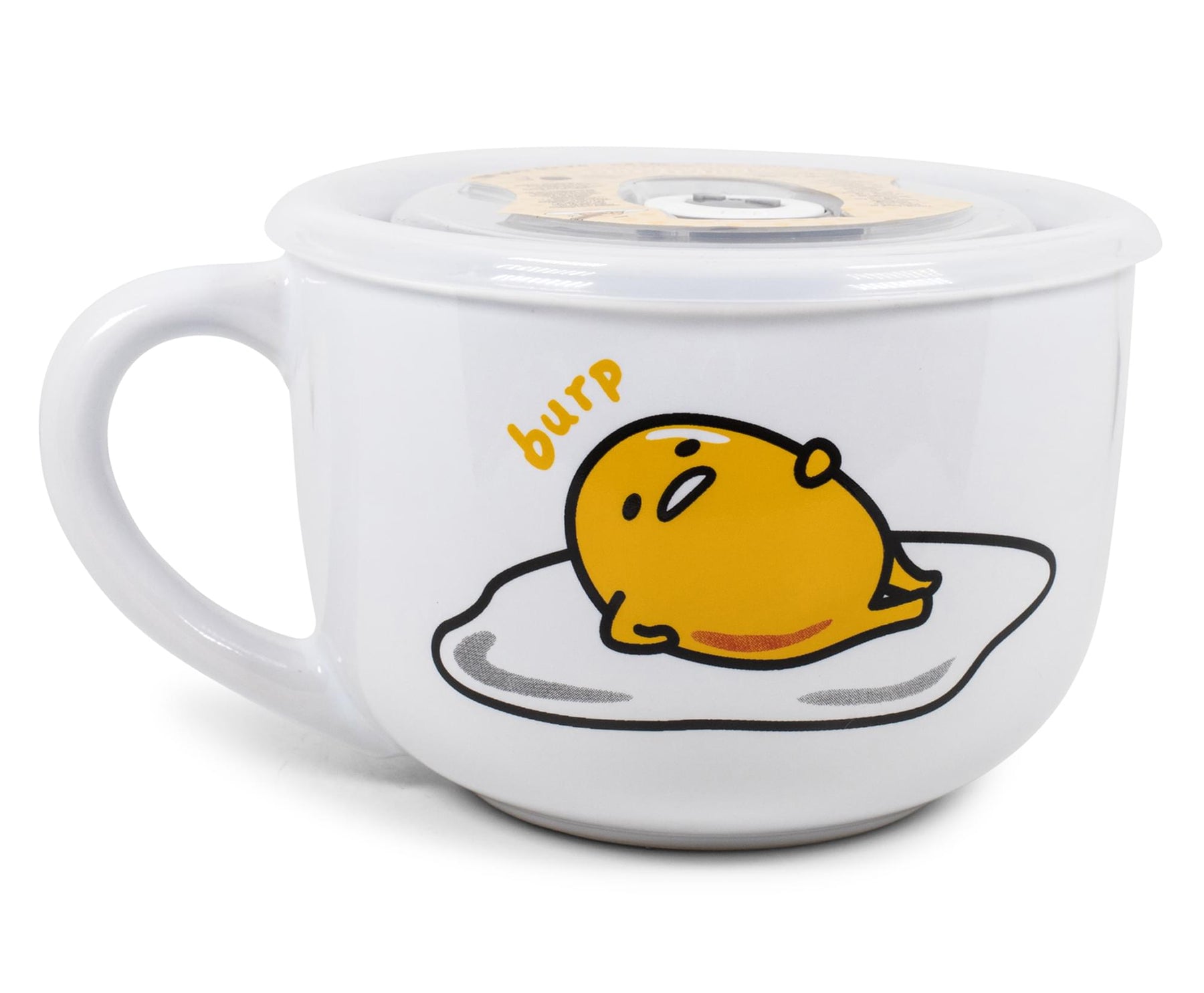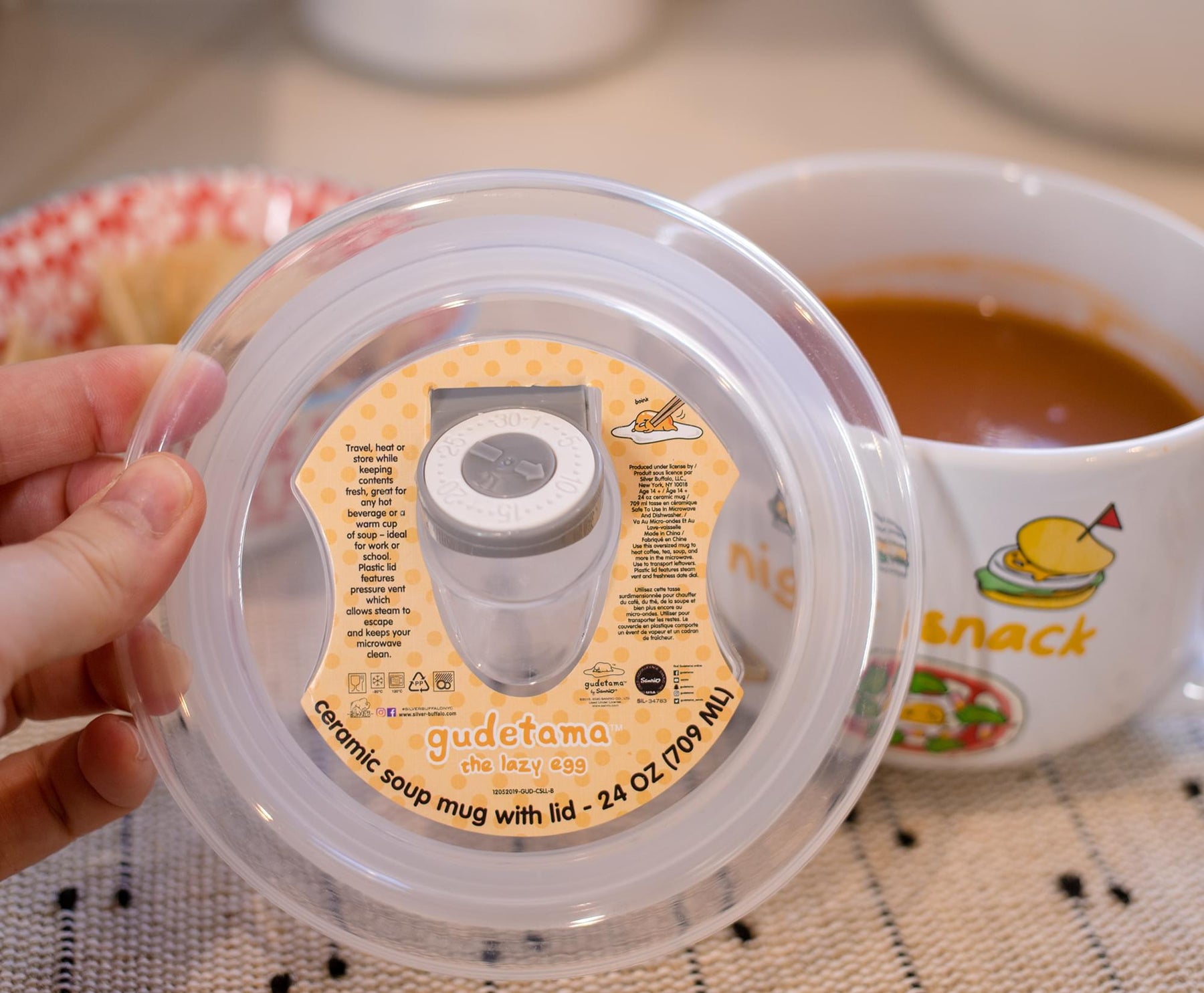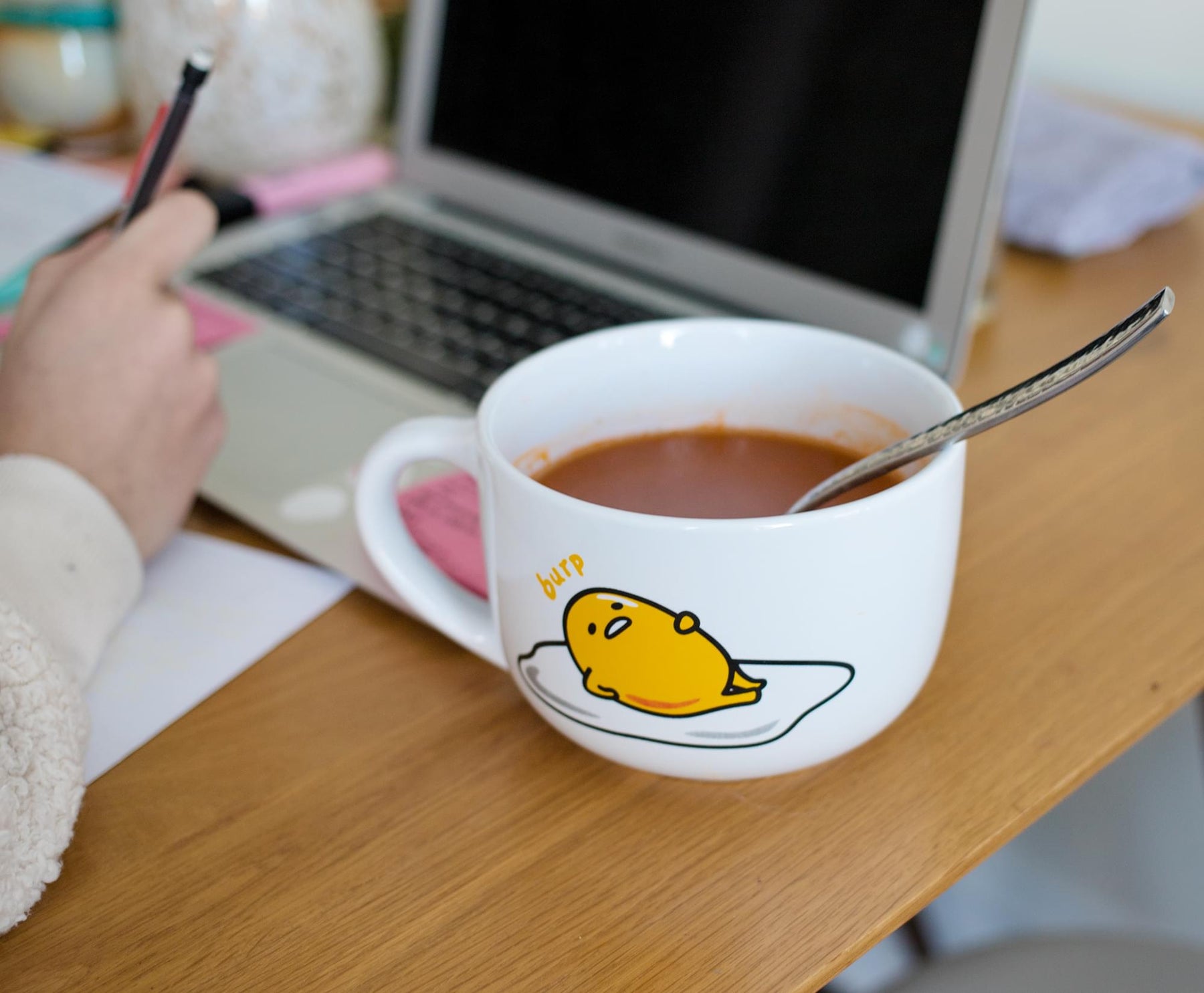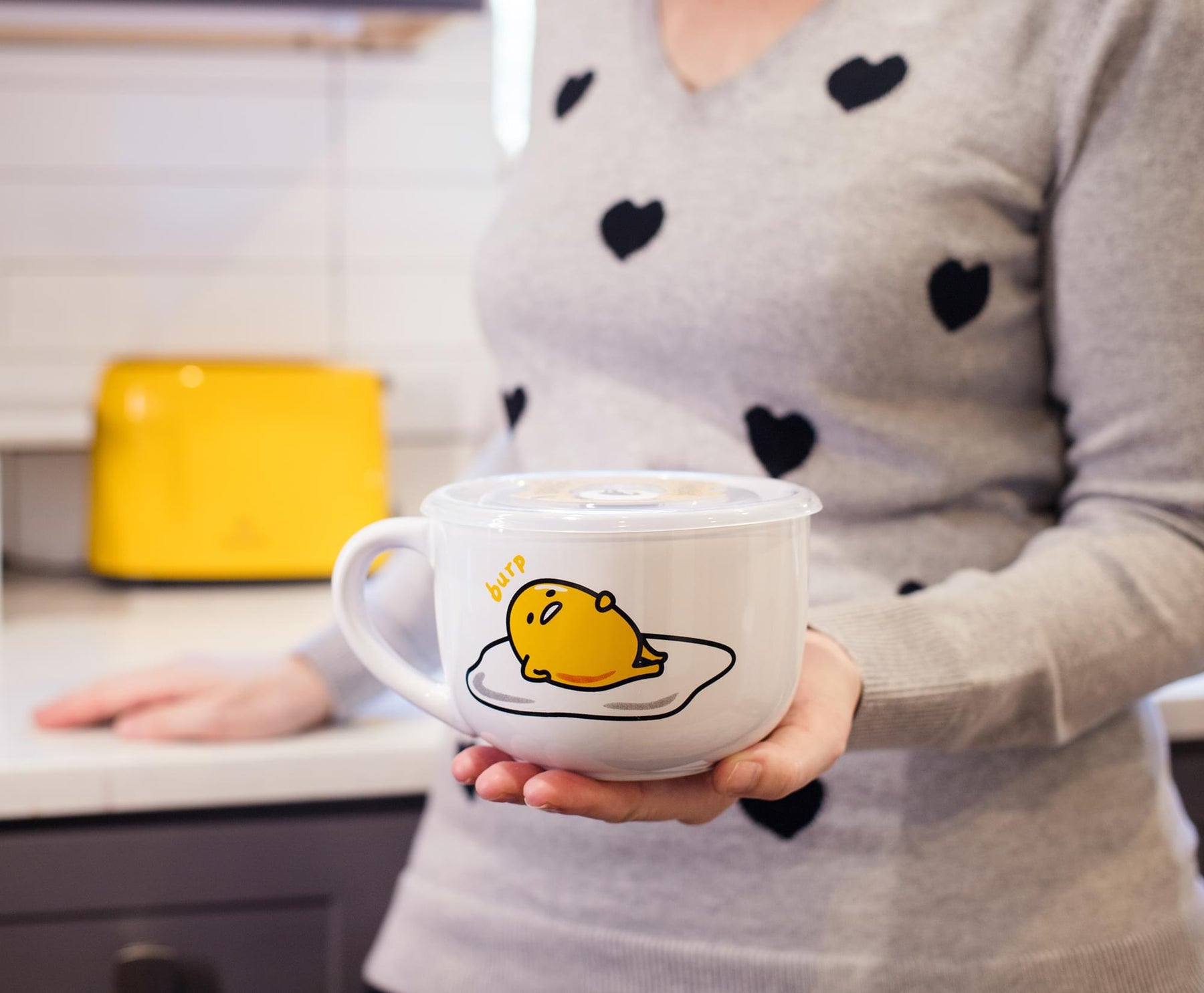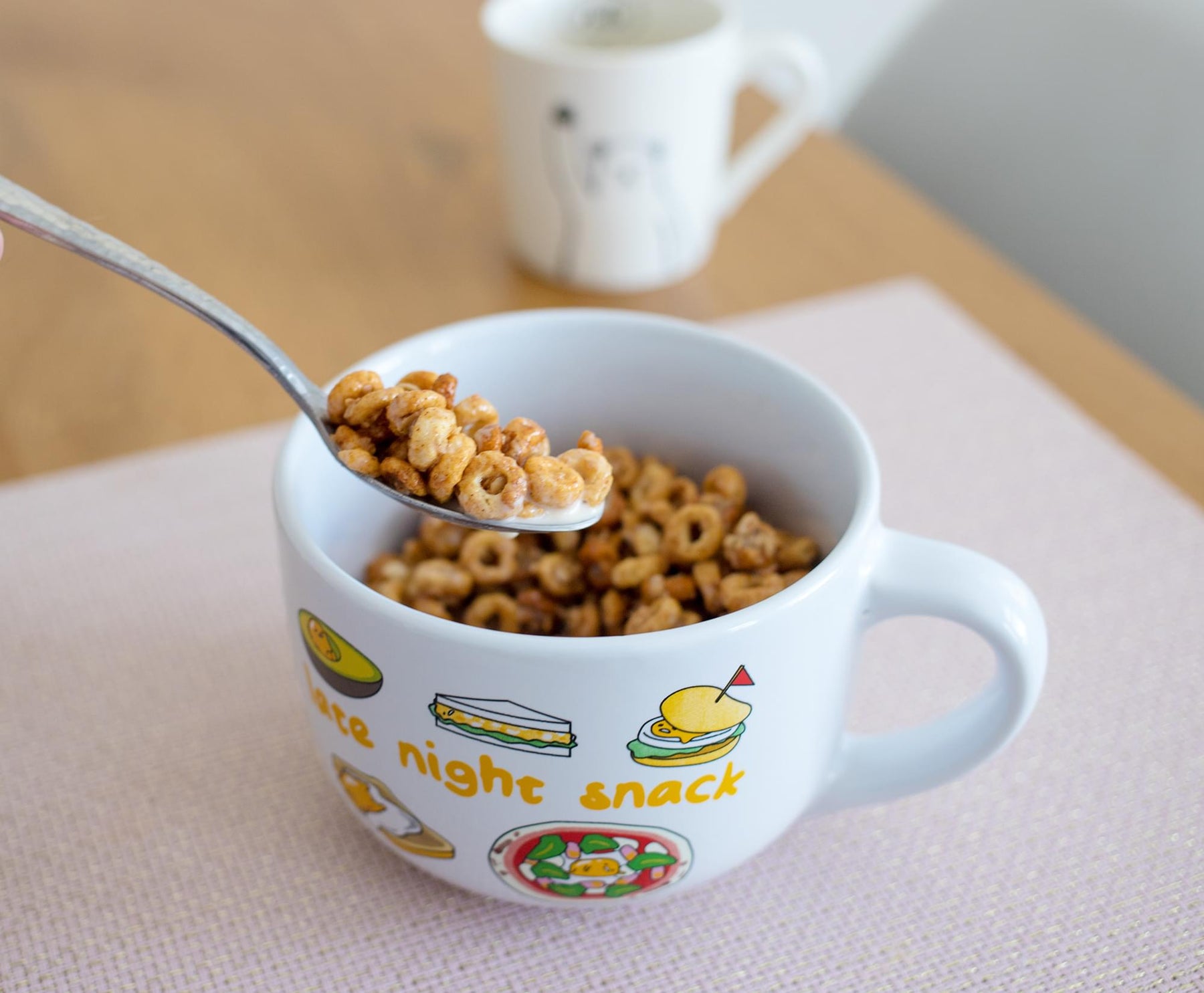 Sanrio Gudetama "Late Night Snack" Ceramic Soup Mug With Vented Lid | 24 Ounces
TIME TO WIND DOWN: You've had a long day, so why not take a moment and get a little lazy with Gudetama? This soup mug is perfect for any of your favorite "Late Night Snacks" as you take a few moments for yourself and relax.
AN EGG-CELLENT NIGHT: Need to make your comfort food even comfier? Gudetama can help with that. Our favorite Lazy Egg is depicted relaxing in a variety of tasty treats, from burgers to pizza, all in that low-energy style fans love.
EGGSTRA CUTE QUALITY: This BPA-free ceramic snack bowl is perfect for using on all of your laziest days. No need to worry about clean up, either. Easy to maintain, it's suitable for both microwave and dishwasher.
CHILL TIME IS NO YOLK: Enjoy up to 24 ounces of your favorite snacks and beverages with this mug-turned bowl. The lid has a built-in pressure vent for steam release, allowing you to save and store away food for later.
OFFICIAL SANRIO COLLECTIBLE: If there's one thing Gudetama knows, it's how to take it easy. Now you can learn from the best with this officially licensed soup mug. Take your time and have a snack with your favorite Lazy Egg.
SOMETIMES IT'S A LONG WAY BETWEEN DINNER AND BEDTIME
We've all been there. You've had dinner, but there's so much to do before crawling under the covers. You're tired, you're stressed, and worst of all, you're hungry. That's where Gudetama comes in. This Lazy Egg tells us it's ok to chill out for a bit with a "Late Night Snack" to keep you going. Treat yourself to something delicious with this soup mug.
And don't worry, Gudetama is way too lazy to try and steal any of your tasty treats.
NEED SOME FUEL FOR THE FIRE?
This white ceramic bowl has a convenient handle on the side for when you've got something hot inside. The vented lid will also help keep things from getting messy inside the microwave. No need to limit yourself. This large mug-turned-bowl is just as good for cold treats like ice cream or froyo.
But no matter what you pick, Gudetama is there. The adorable Lazy Egg is featured laying around in a whole menu of choices on one side and looking absolutely stuffed on the other. We should all be so lucky.
Enjoy a lazy evening with Gudetama using this officially licensed snack bowl from your friends at Sanrio.
CARE INSTRUCTIONS
Easy care
Top-rack dishwasher safe
Microwave safe