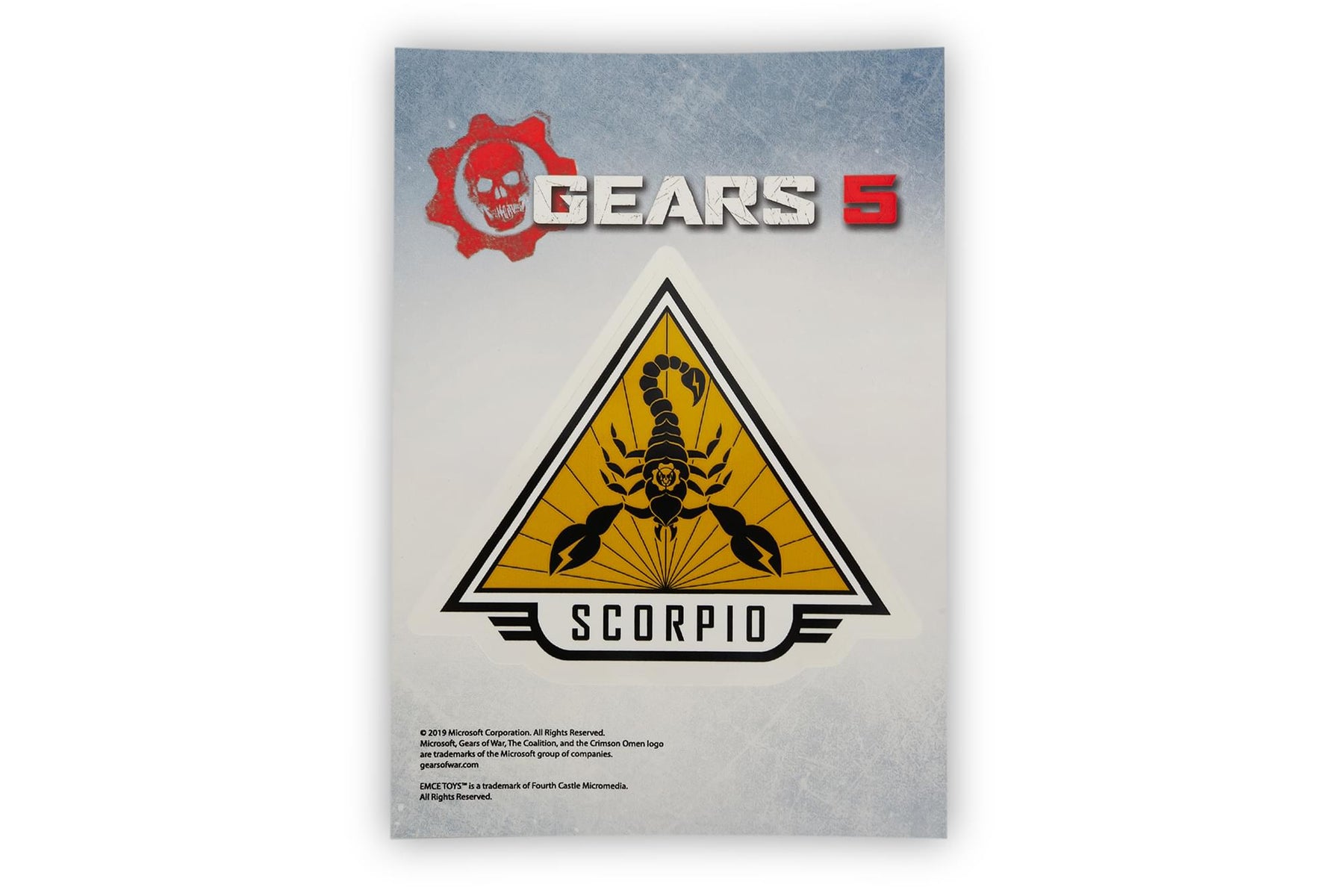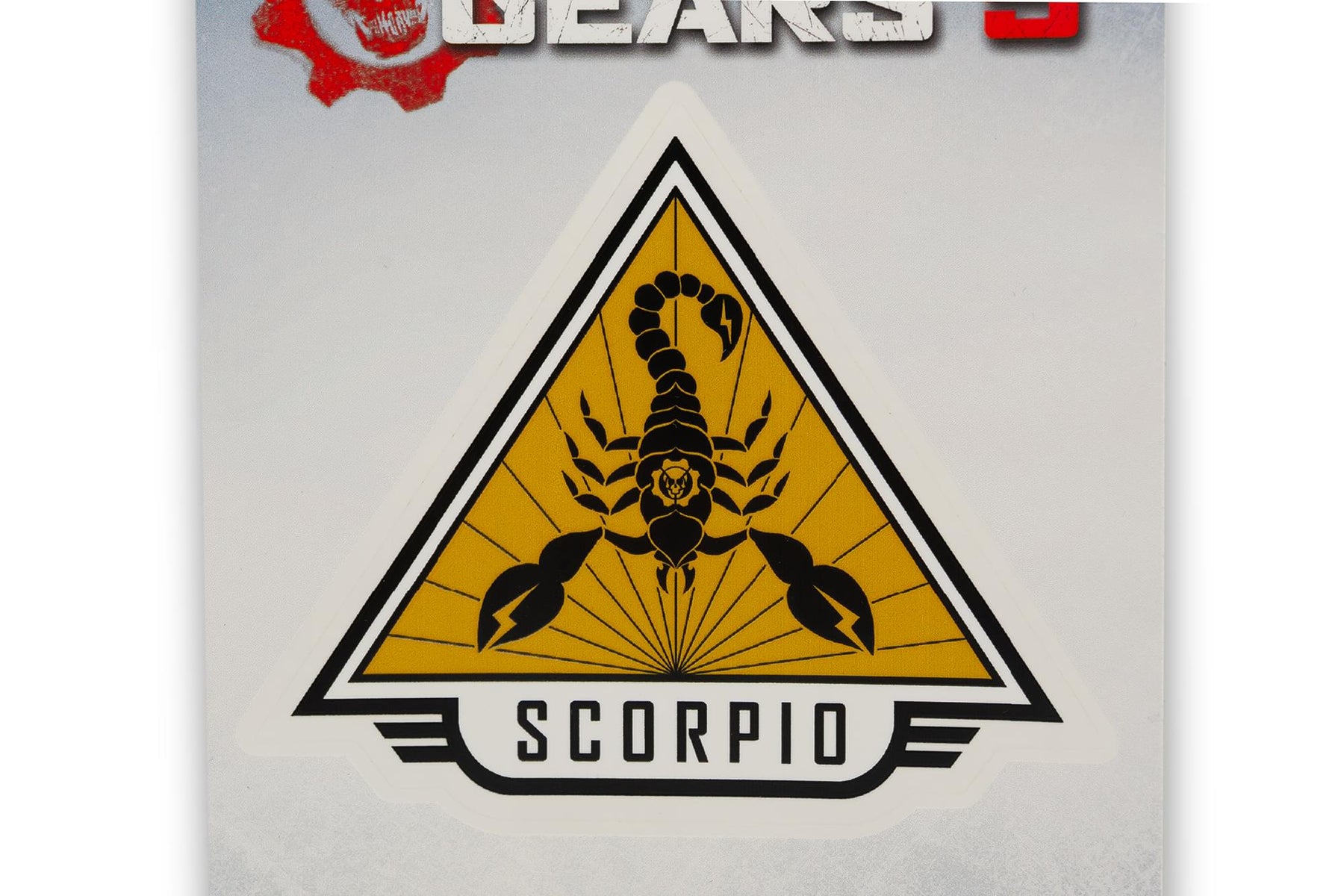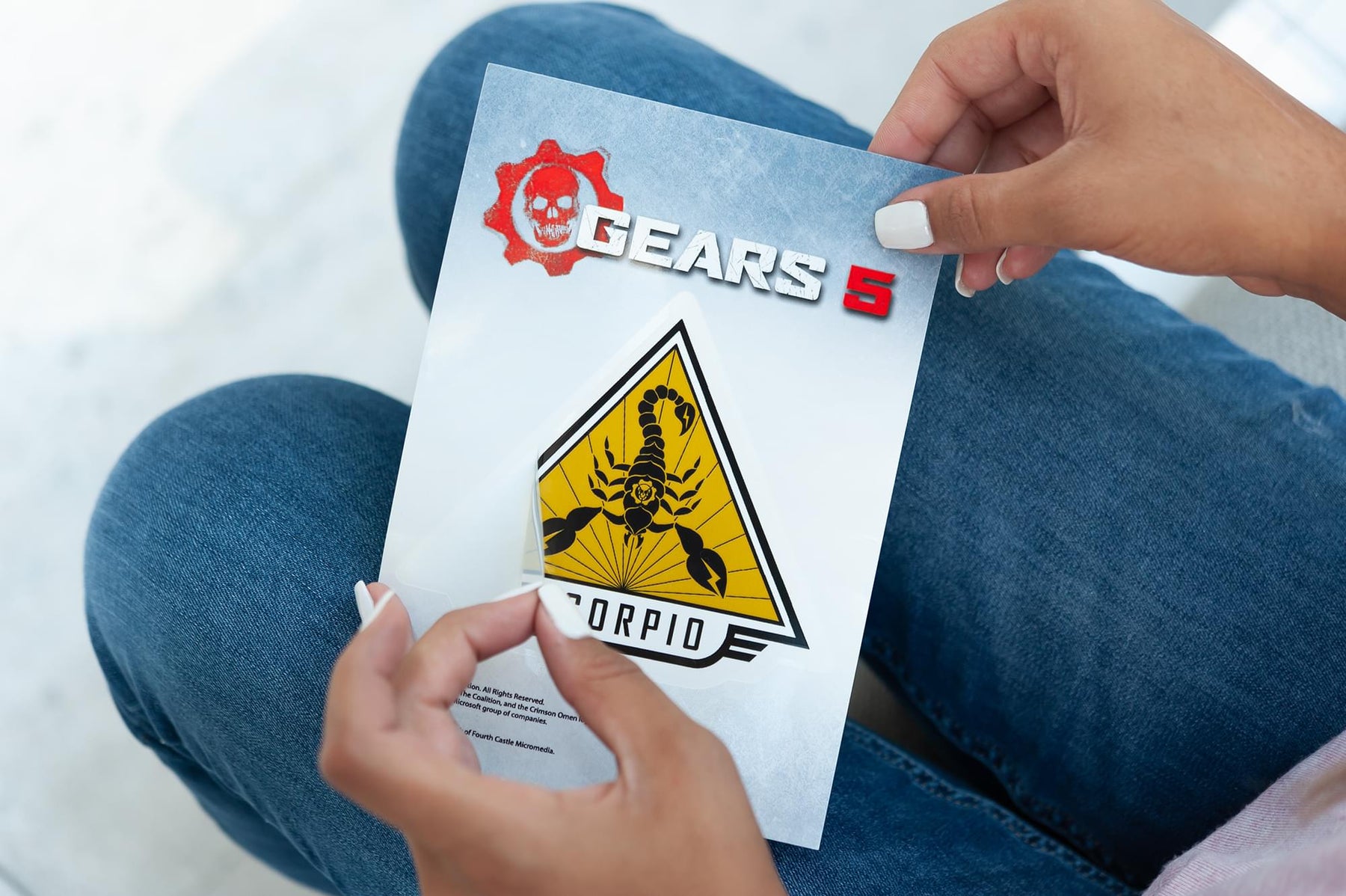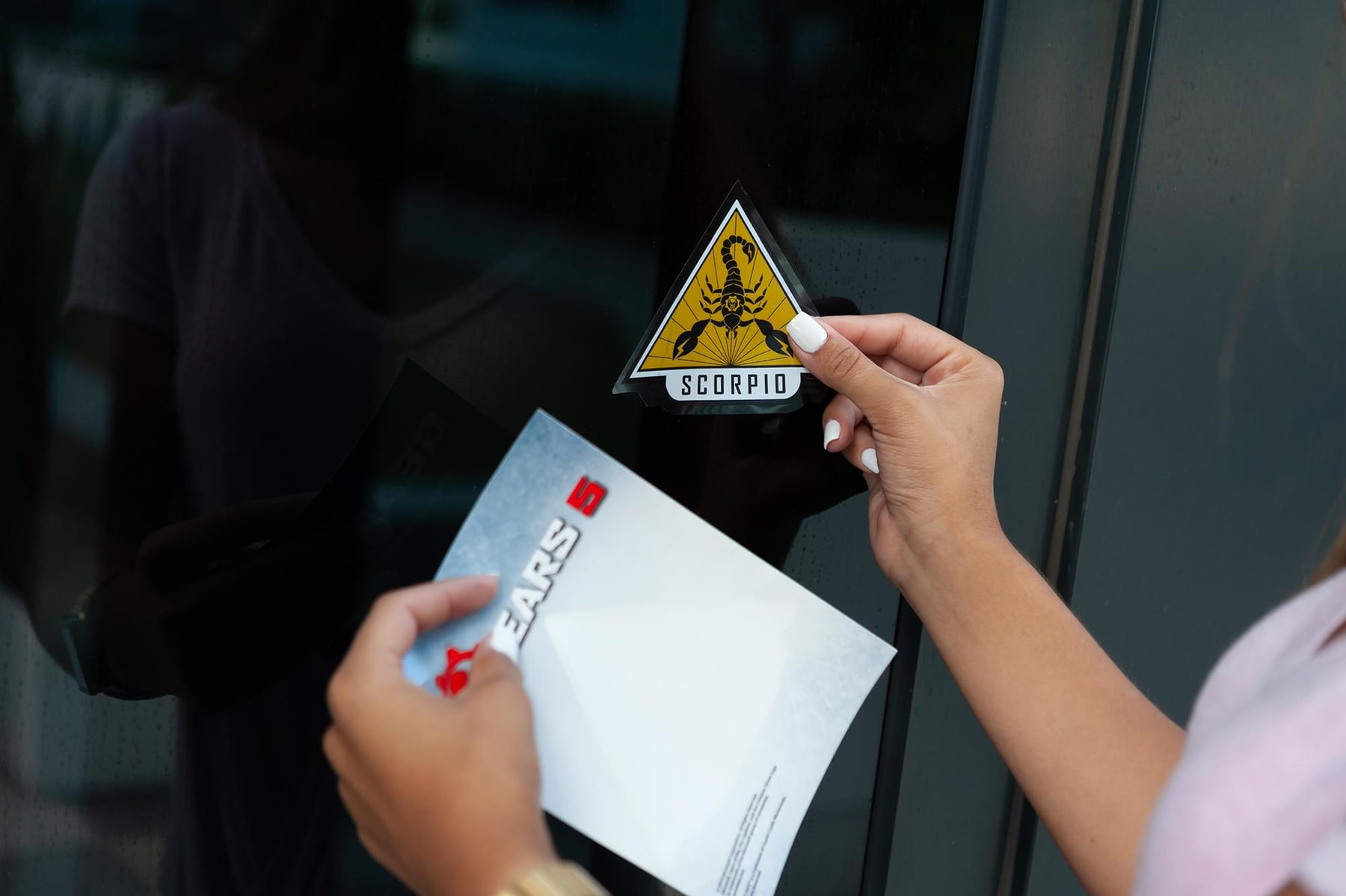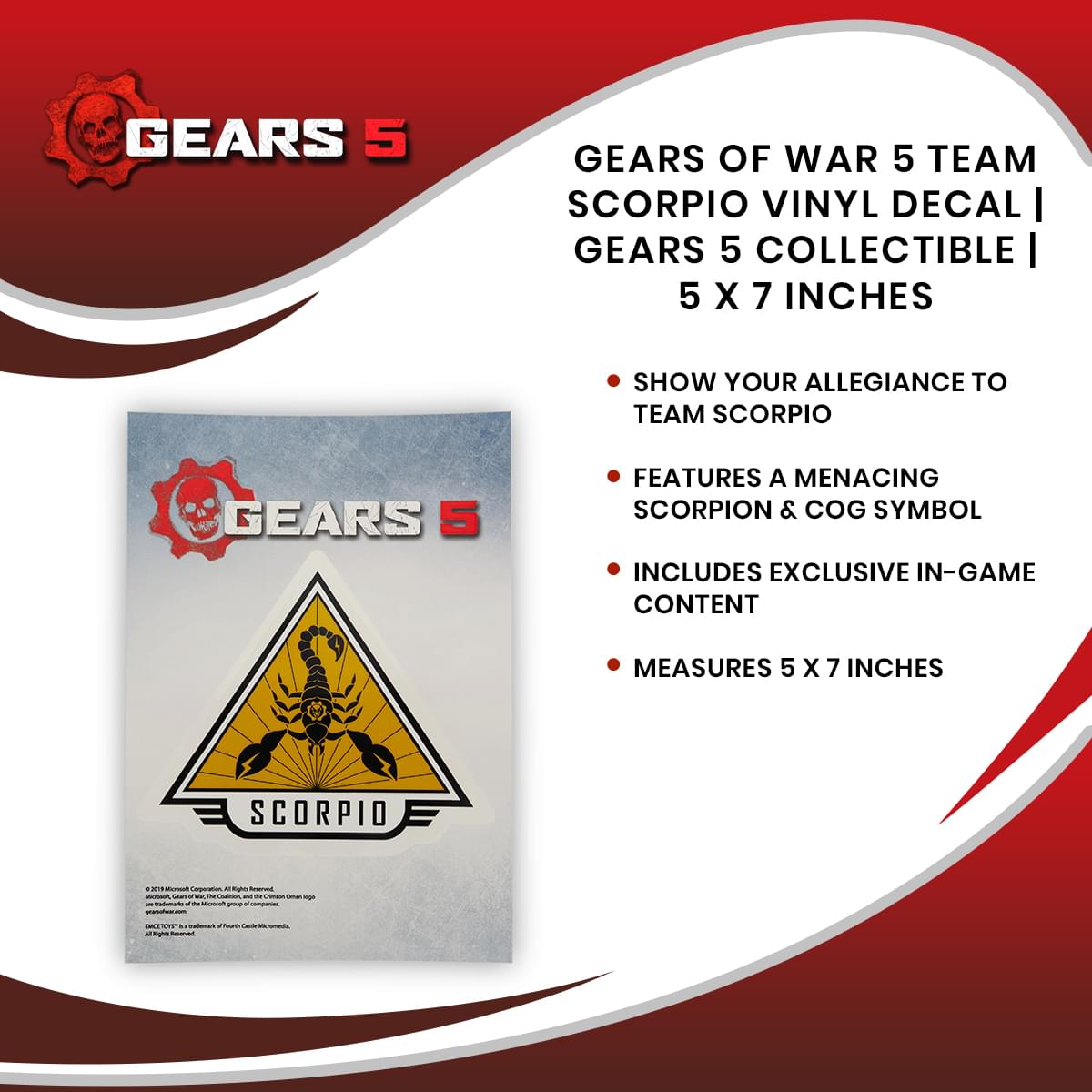 Gears of War 5 Team Scorpio Vinyl Decal | Gears 5 Collectible | 5 x 7 Inches
JOIN THE COALITION: The Swarm is taking over and the Coalition of Ordered Governments is taking new recruits. Show your solidarity and grab one of these Team Scorpio vinyl decals for your car, truck, locker or elsewhere today!
DIVE DEEP INTO THE HIVES: Team Scorpio is an elite squad of hivebusters who are sent to the heart of the Swarm. Armed with a Venom Bomb, this deadly force of Gears is tasked with detonating the bomb and getting out alive. This vinyl decal is their squad emblem.
BATTLE TESTED, COG APPROVED: Crafted from durable vinyl, this decal works beautifully when placed onto a glass surface. Showcase your love for Gears 5 and Team Scorpio with this 5 x 7-inch decal!
PROVE THAT YOU'RE BATTLE HARDENED: Team Scorpio faces some of the most rigorous tasks that any Gear would have to endure. This three man strike team specializes in destroying entire hives of the Swarm. With this symbol, you can share in their epic triumphs!
EXCLUSIVE GEARS 5 CONTENT: This amazing decal is the perfect addition to any Gears 5 fan. Not only do you get this epic banner, but on the backside, players will find exclusive in-game content that can be redeemed via their console!
IT'S TIME TO BUST SOME HIVES
As an elite squad for the Coalition of Ordered Governments (CoG), the Scorpio Team is charged with infiltrating and destroying Swarm hives with the use of a Venom Bomb. In the latest Gears of War installment, Team Scorpio is comprised of Jeremiah Keegan, Lahni Kaliso and Leslie Macallister. With their powerful weapons and armor, Team Scorpio quickly became a fan favorite. Now you can equip their scorpion emblem to your car, windows, lockers, and more!
BECOME PART OF THE COG
Gears 5 is set shortly after the events of Gears of War 4. The Swarm has started assaulting human occupied cities and settlements. With increasing dangers and threats, the CoG needs your support! Show your solidarity for the CoG and just how much of a bada** you are by equipping your vehicle with the emblem of Team Scorpio! Measuring 5 x 7 inches, this triangle-shaped insignia features a menacing scorpion and the CoG symbol. Fans of the Gears 5 epic video game will also enjoy some exclusive in-game content that is redeemable from the back of the vinyl decal card!
Read All About It on Our Blog
Trending Geek