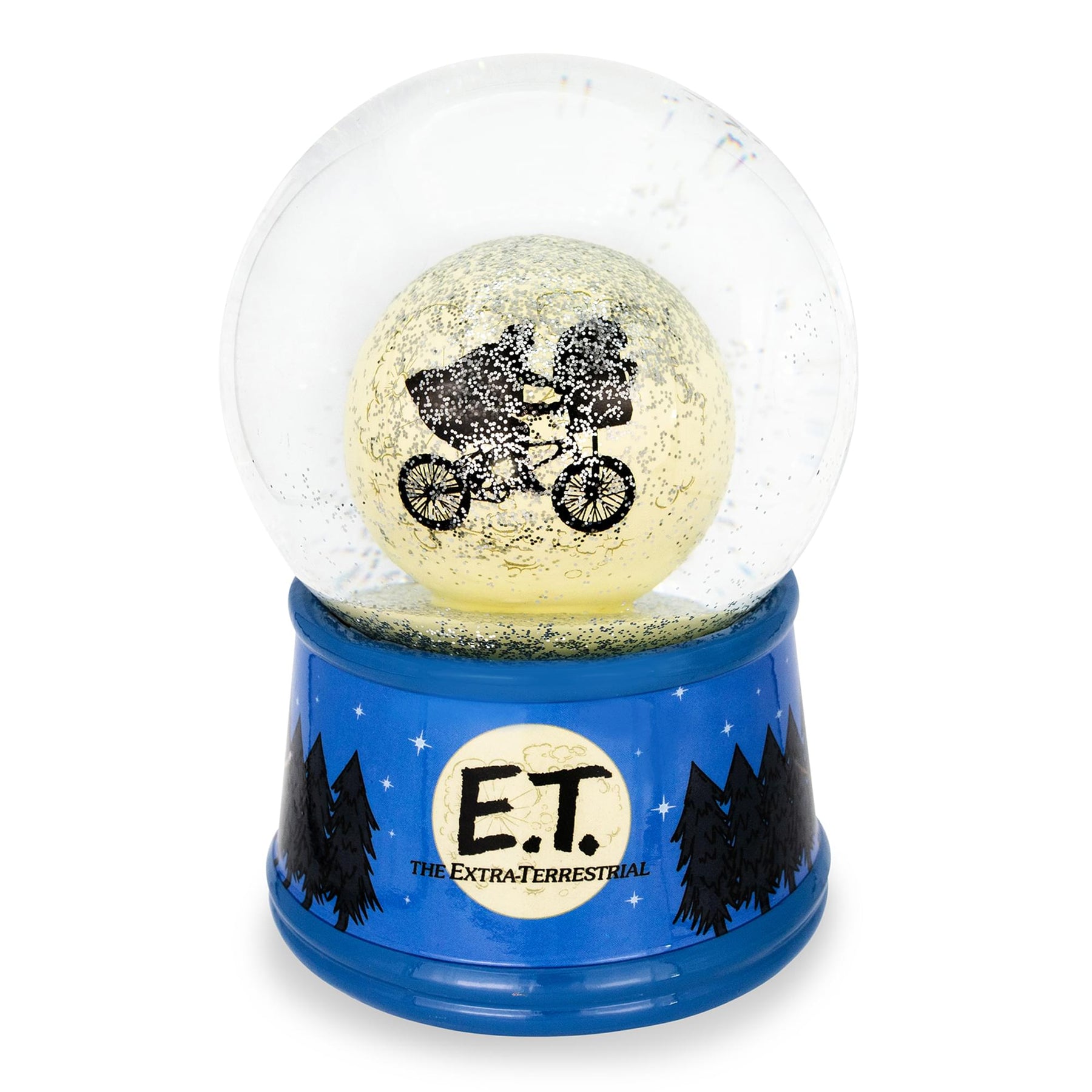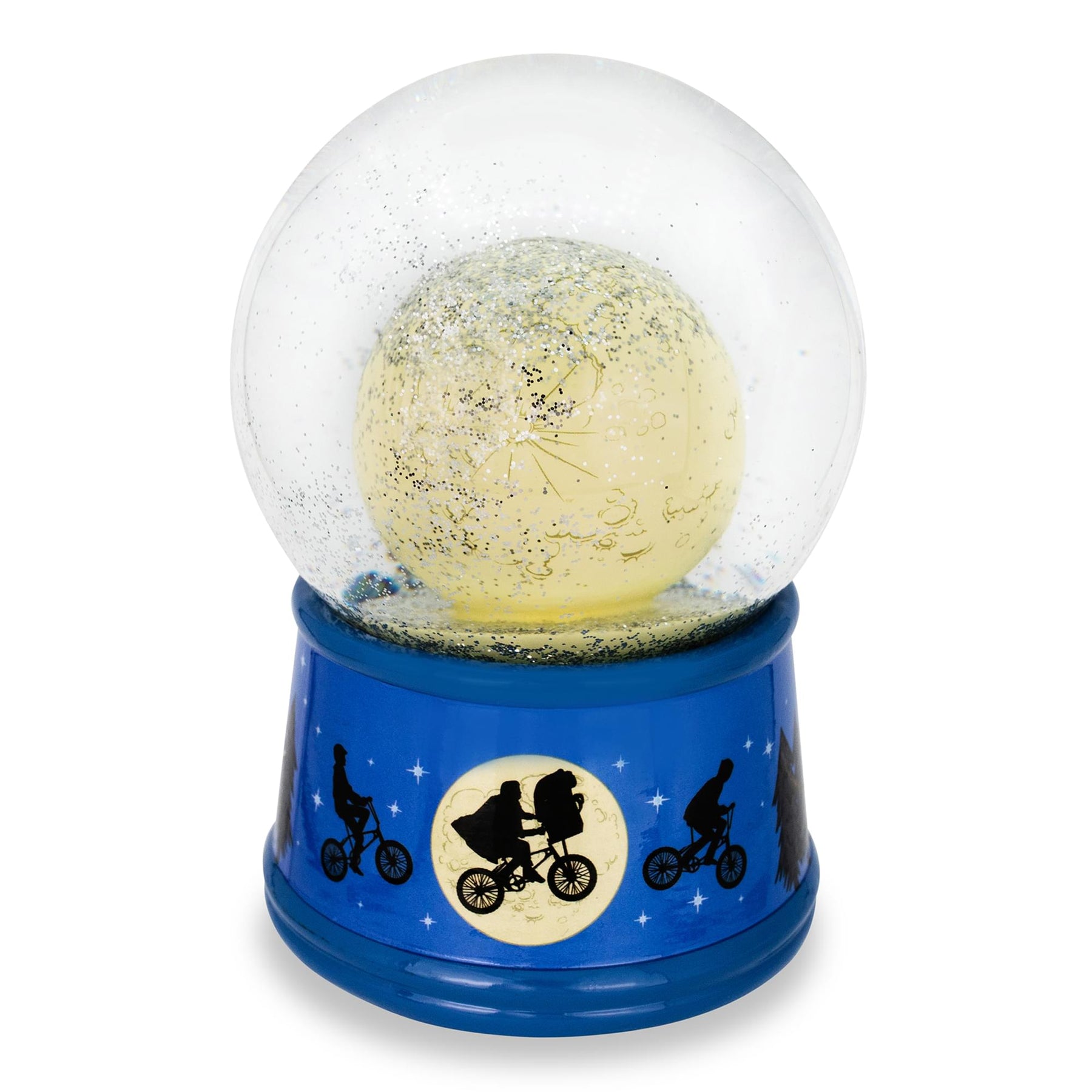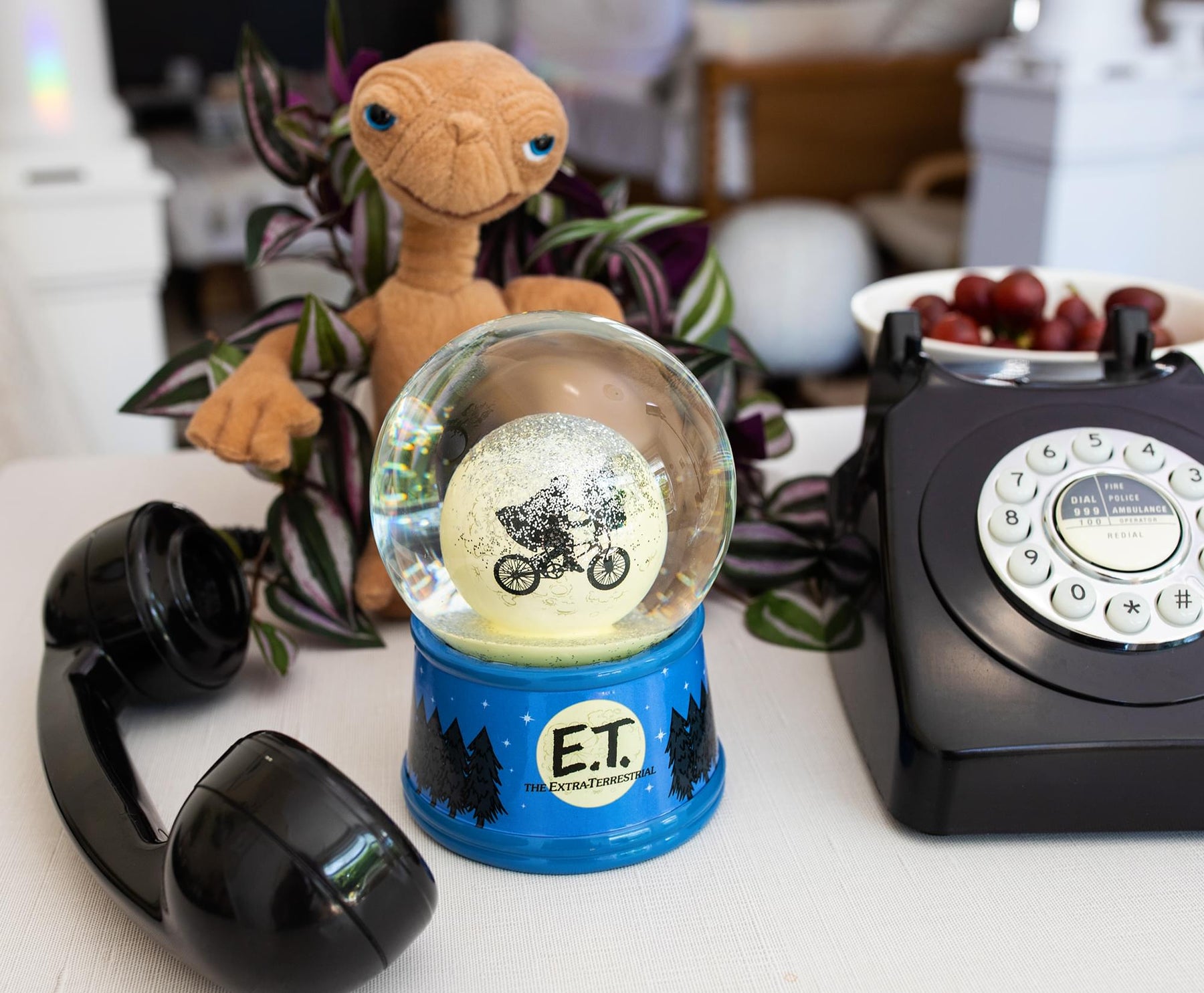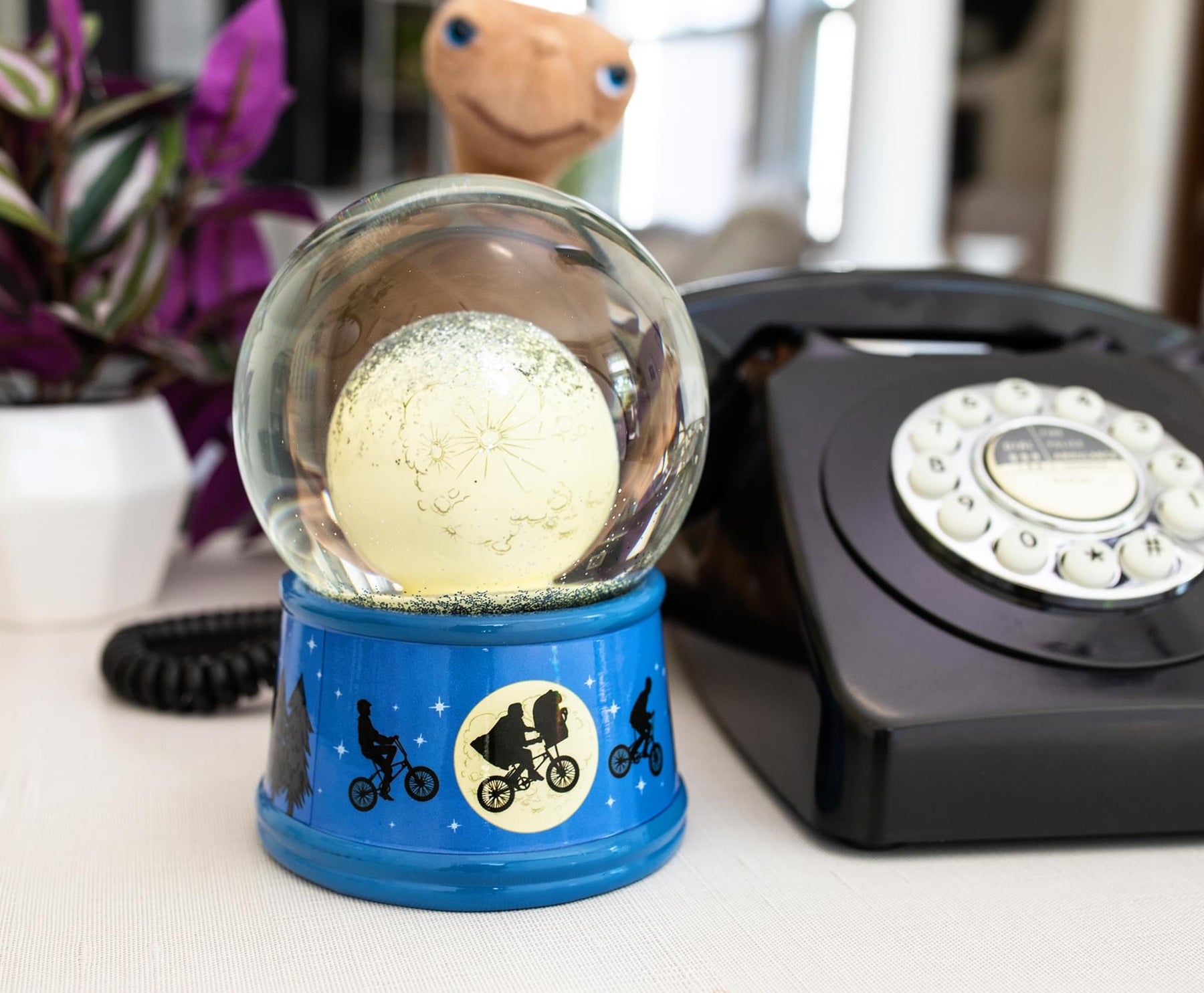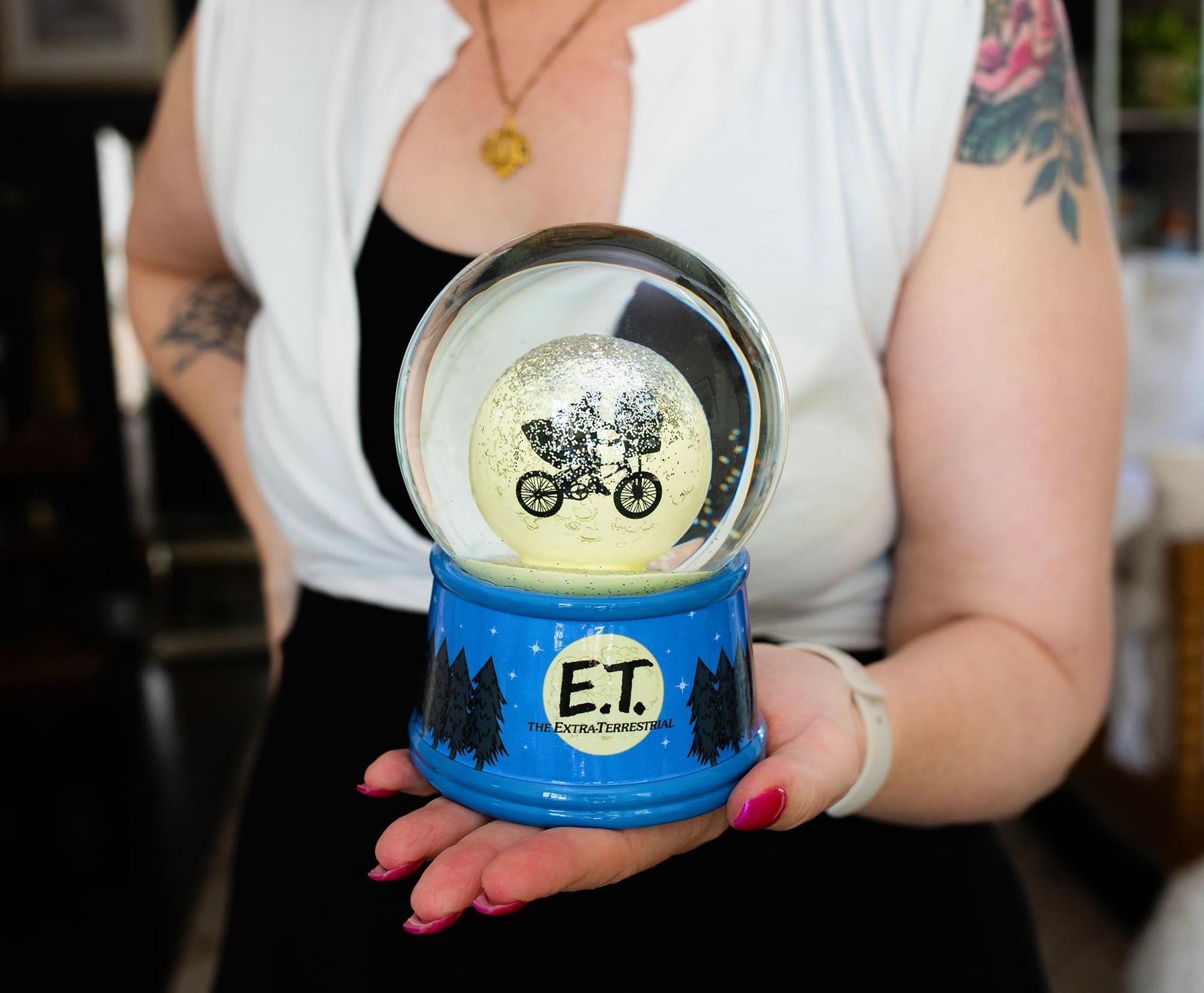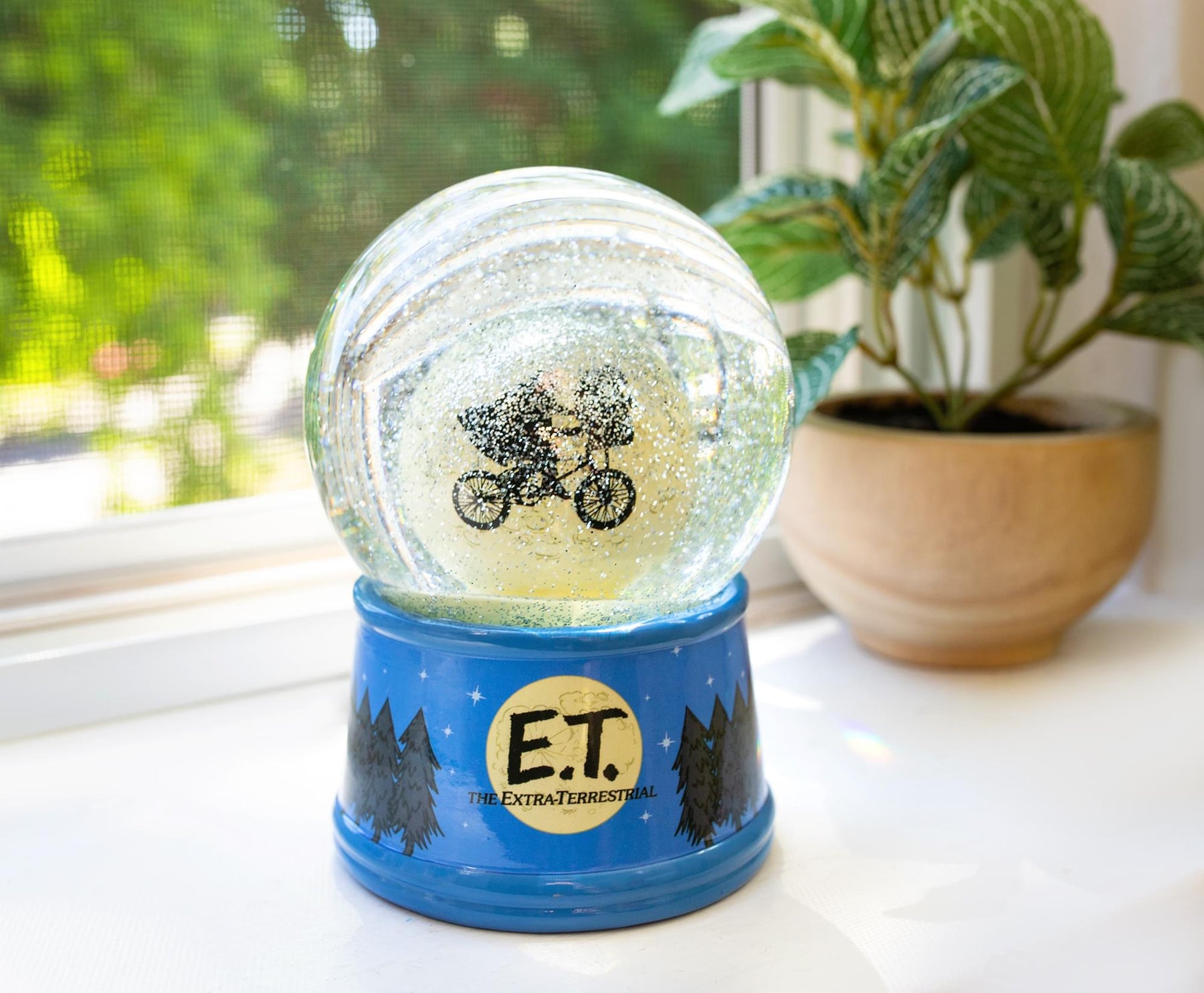 E.T. The Extra-Terrestrial Bike Moon Collectible Snow Globe | 6 Inches Tall
TO THE MOON AND BACK: Have your very own cosmic adventure on Earth with this exclusive snow globe collectible. Inspired by Steven Spielberg's classic sci-fi adventure E.T. the Extra-Terrestrial.
OUT OF THIS WORLD: Elliott and his alien pal E.T. fly on a bicycle in front of a full moon in this iconic miniaturized scene. The base features the movie logo with silhouettes of Elliot and his friends.
TURN YOUR FAVORITE MOVIE INTO A KEEPSAKE: The snow globe is crafted from heavy duty glass that comes filled with liquid and glitter. Sits atop a sturdy base that is made from high-quality ceramic.
IMPRESS YOUR VISITORS FROM ANOTHER PLANET: Snow globe measures 4 inches tall, including the base. Perfect for collecting and can be displayed on your desk, home bookshelf, or other Earthly space.
OFFICIAL E.T. COLLECTIBLE: Enjoy out-of-this-world adventures with this officially licensed snow globe from E.T. the Extra-Terrestrial. Makes a precious memento of your favorite intergalactic visitor.
E.T. PHONE HOME
The stars look just a little closer with this exclusive snow globe inspired by E.T. the Extra-Terrestrial.
Relive one of the most iconic scenes from Steven Spielberg's sci-fi classic as Elliot and his Brodo Asogian buddy take to the skies on a bike. Their silhouettes are printed on a full moon sculpt in this miniaturized version, recreating one of the most recognizable moments in cinematic history. The blue ceramic base also features the rest of Elliot's "accomplices" as they race to help their friendly alien visitor.
A PRECIOUS KEEPSAKE FROM YOUR HOME PLANET
Although E.T. may not be able to make this snow globe float using telekinesis, it does bring an otherworldly essence to your space. Wherever you call home — from the forest to the suburbs to another planet entirely — this nostalgic memento will take your imagination to new places. Fly onward to adventure with this officially licensed home decor collectible from E.T. The Extra-Terrestrial.
Read All About It on Our Blog
Trending Geek