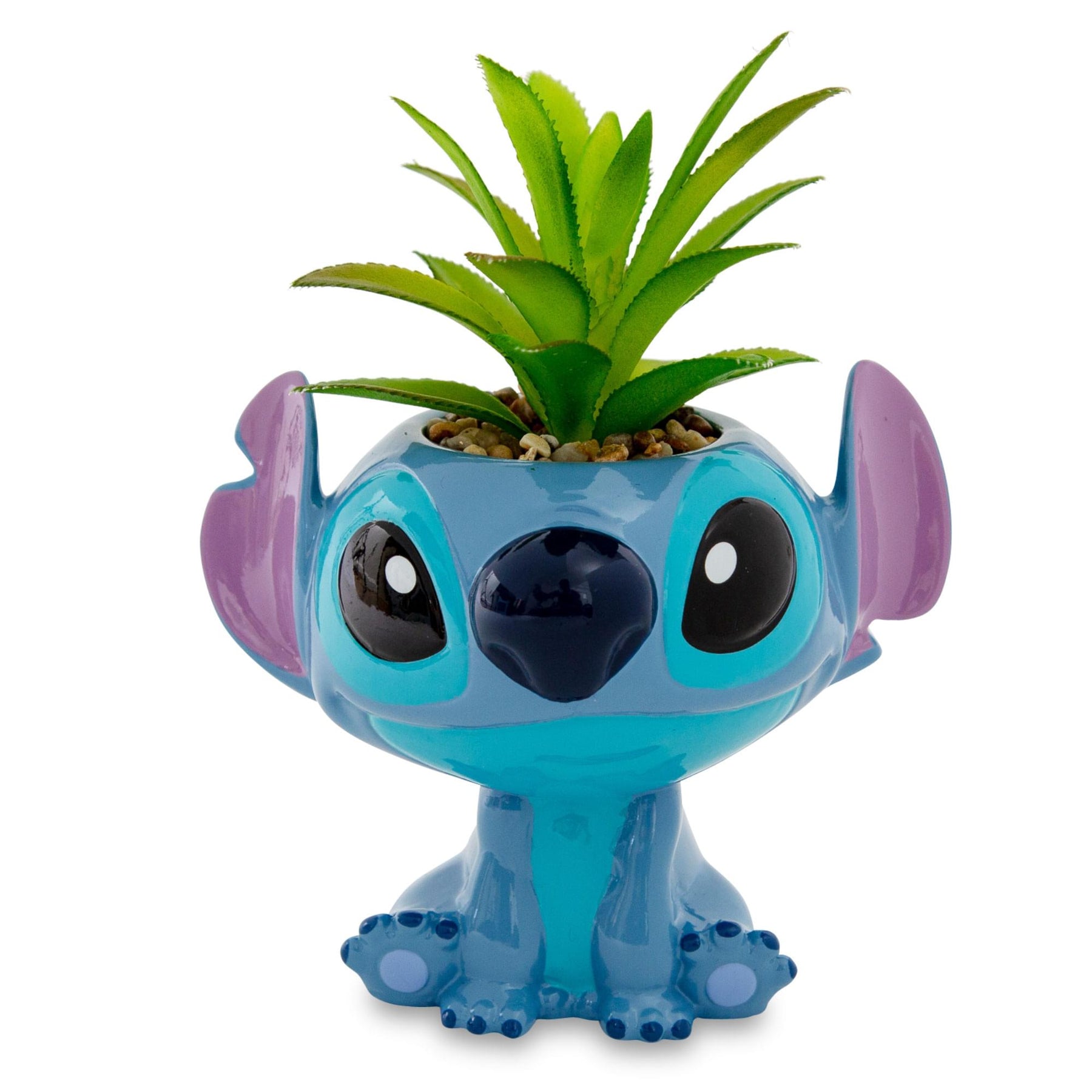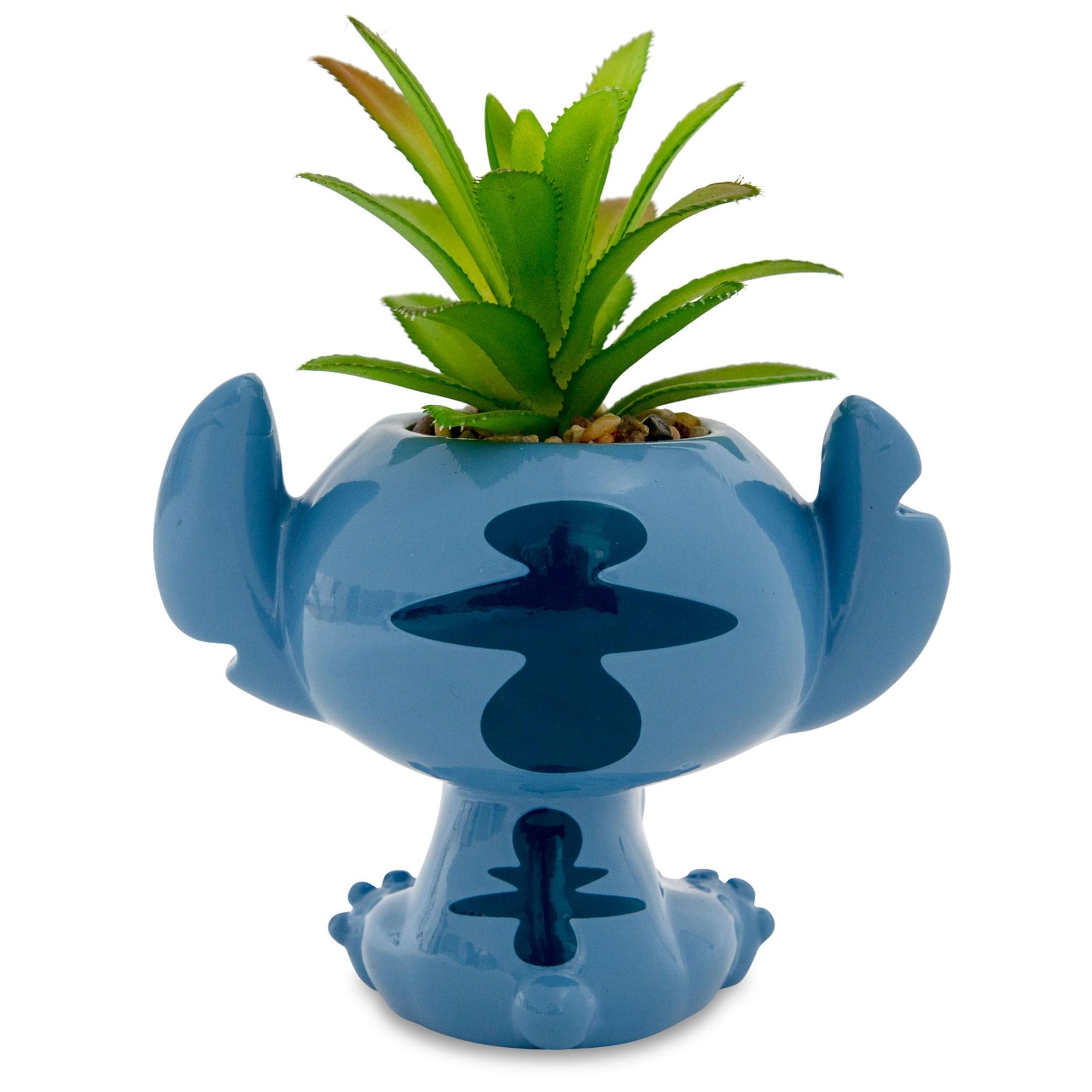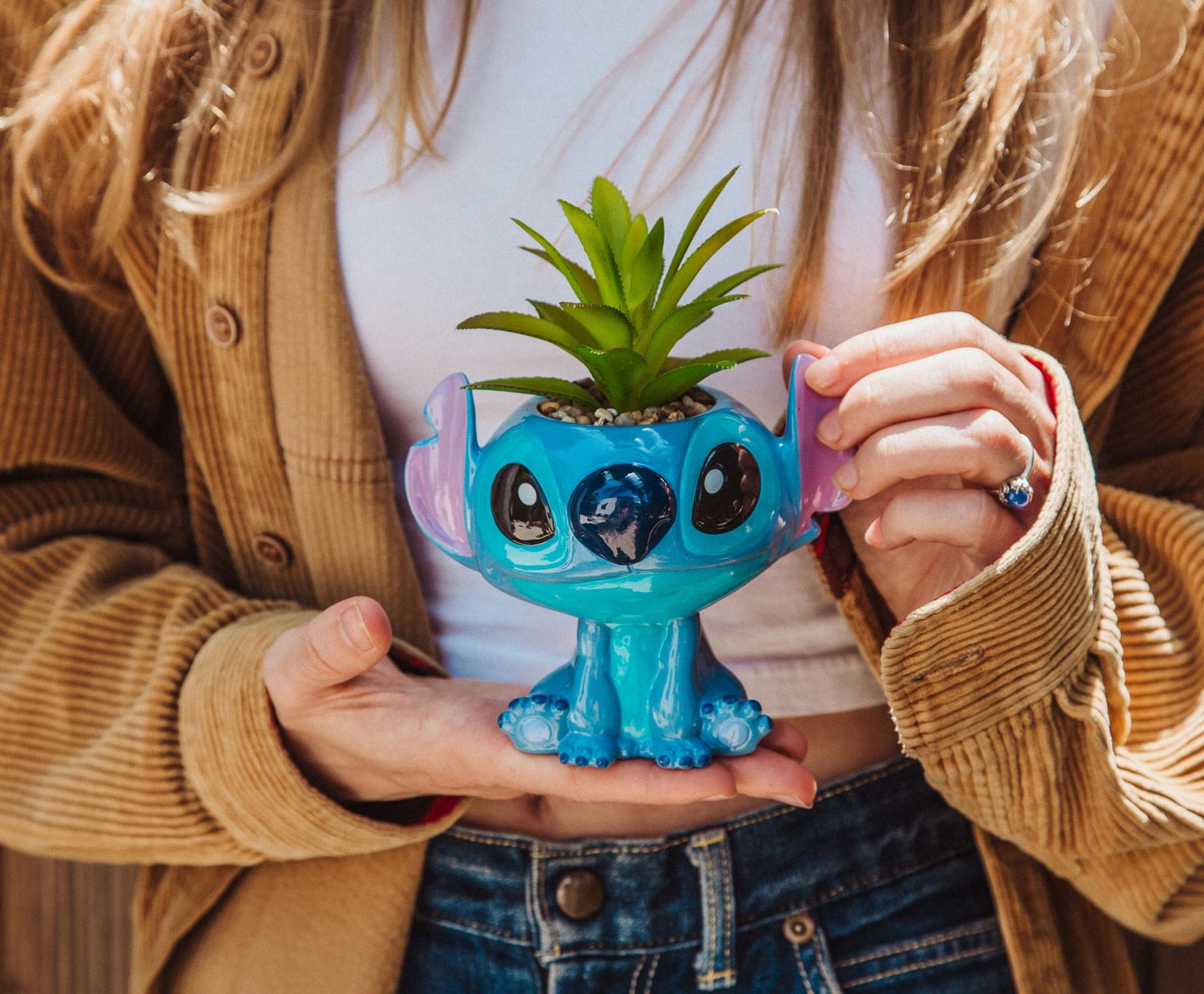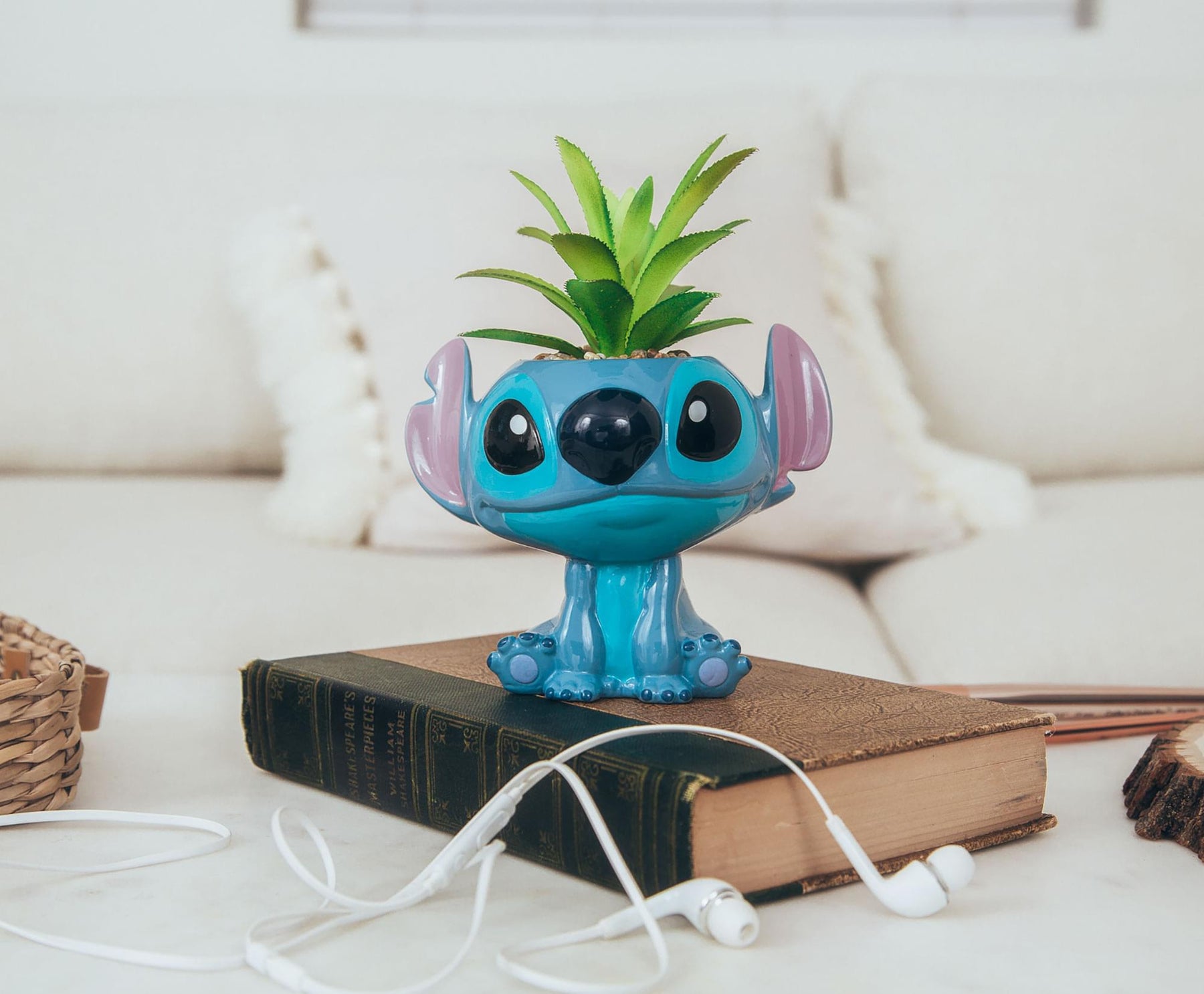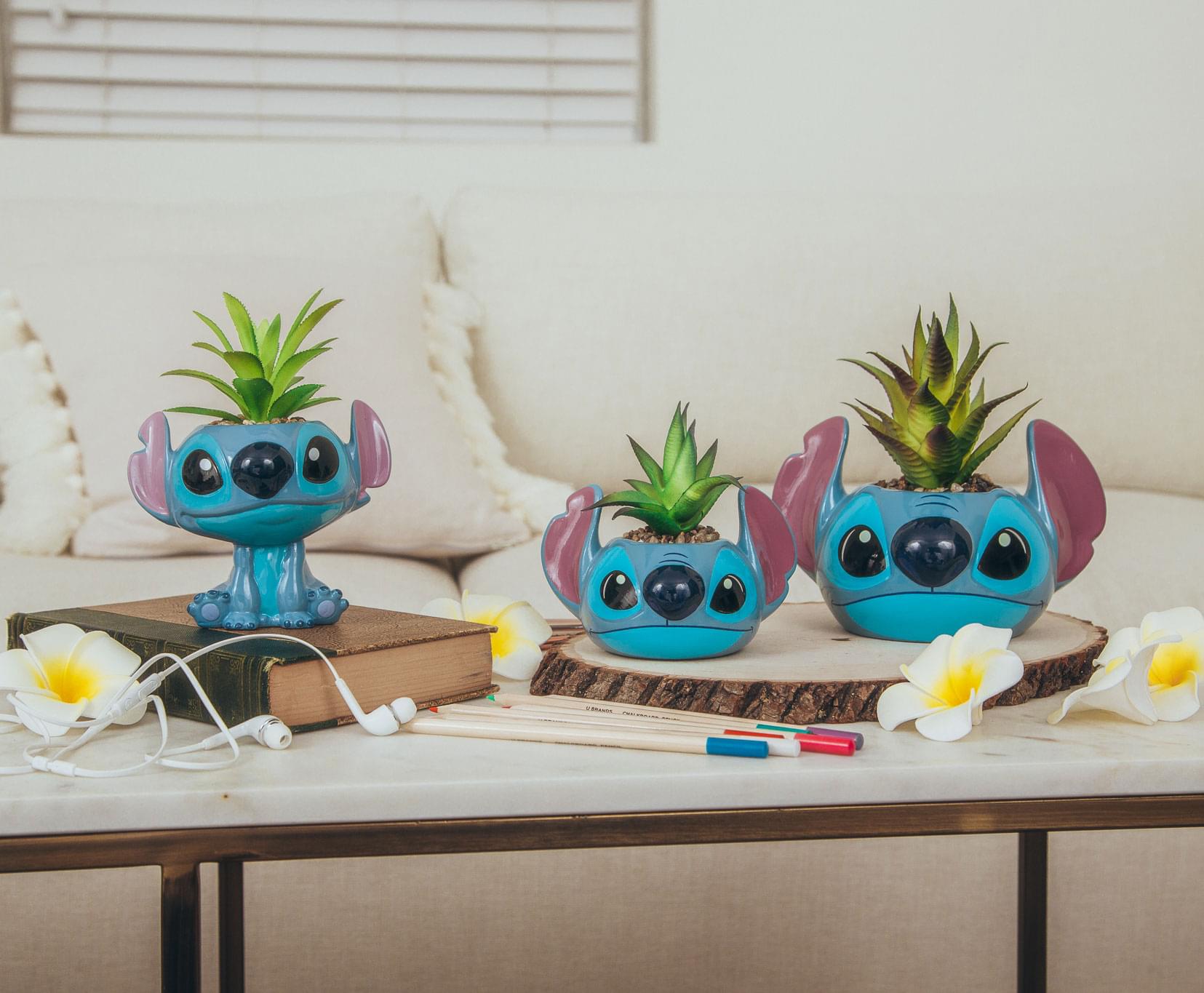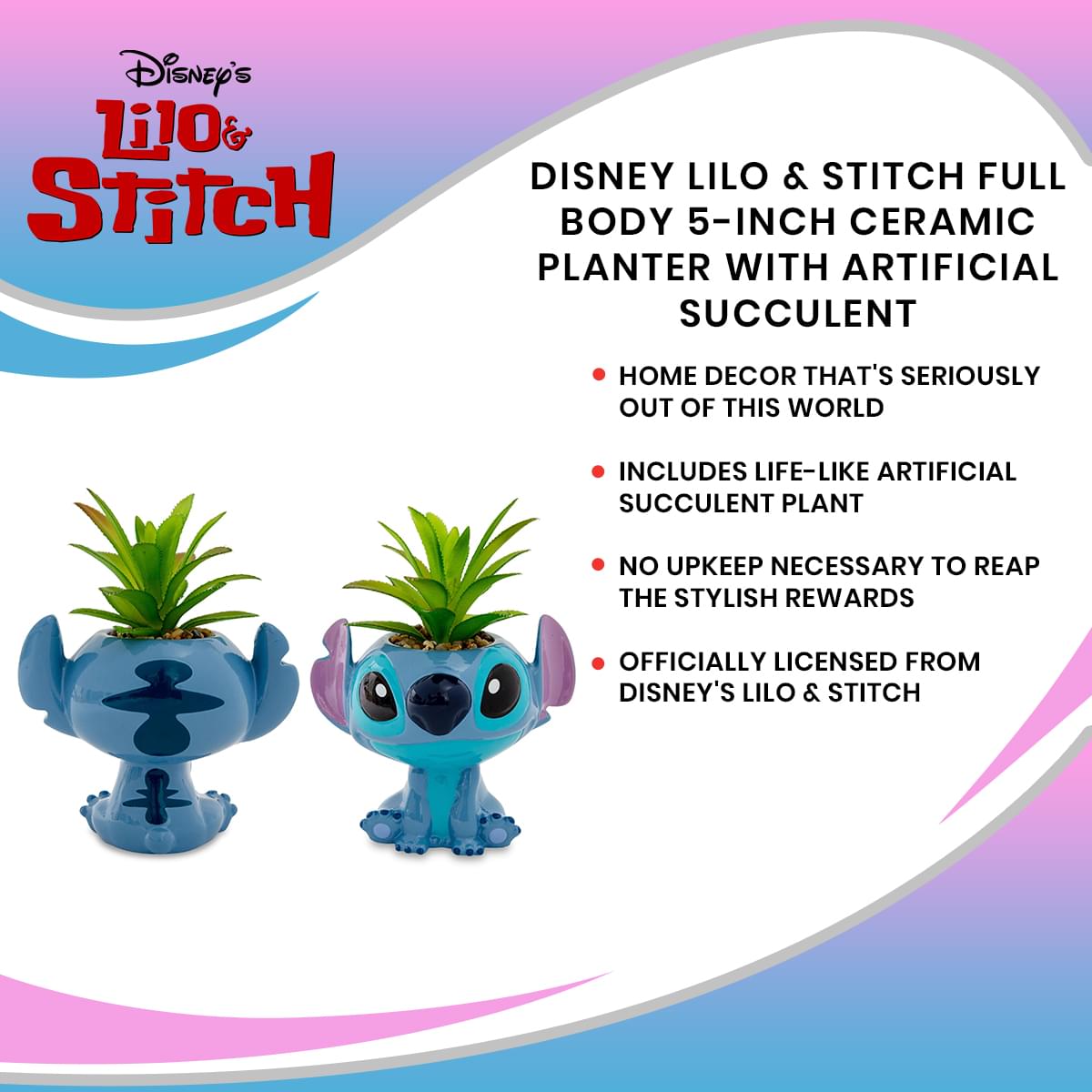 Disney Lilo & Stitch Full Body 5-Inch Ceramic Planter with Artificial Succulent
BRING HOME A PIECE OF THE COSMOS: The most-wanted extraterrestrial in the universe is crash-landing in your home. The illegal alien experiment has arrived in this form of this exclusive planter pot from Disney's Lilo and Stitch.
OUT OF THIS WORLD: A truly galactic design inspired by the little blue alien Stitch. The unique character mold is authentically sculpted to look like the troublemaker Experiment 626 with a realistic succulent sprouting from the top.
MEETS GALACTIC FEDERATION STANDARDS: Introduce some cosmic style to your home with this ceramic planter measuring approximately 5 x 5 x 3 inches. The faux plant features a special plastic design with detailed texture and coloring.
EASY NO FUSS DECOR: This decorative planter, complete with its artificial succulent, is a great way to brighten up any home, office, or tropical pad. Perfect for displaying with your Disney collectibles in an Earthly nook all your own.
OFFICIAL DISNEY COLLECTIBLE: Bring character to your space with this officially licensed planter pot from Disney's Lilo and Stitch. When you want to freshen up your humble abode, a little foliage goes a long way in any universe.
HOME DECOR THAT'S OUT OF THIS WORLD
What's blue, loves Elvis Presley, and has a penchant for trouble? You guessed it: Stitch!
Experiment 626 has escaped the lab again, and this time he's taken the form of our exclusive planter. The highly detailed ceramic sculpt is modeled after the chaotic alien Stitch, or as he is better known across the universe, Experiment 626. The figurine features a disproportionate, full-body sculpting of the little blue extraterrestrial.
WHERE DISNEY FANDOM MEETS DECORATIVE HOME DECOR
Stitch's destructive nature isn't exactly ideal for a plant parent, so we took the hassle out of tending to a house plant with an artificial succulent. Gives the same luscious effect without the danger of Stitch causing a mess. Comes embedded with rock soil details for an even more realistic look.
Bring the cosmic adventure right to your doorstep — or, perhaps more appropriately, right to your windowsill — with this officially licensed home decor collectible from Disney's Lilo and Stitch.