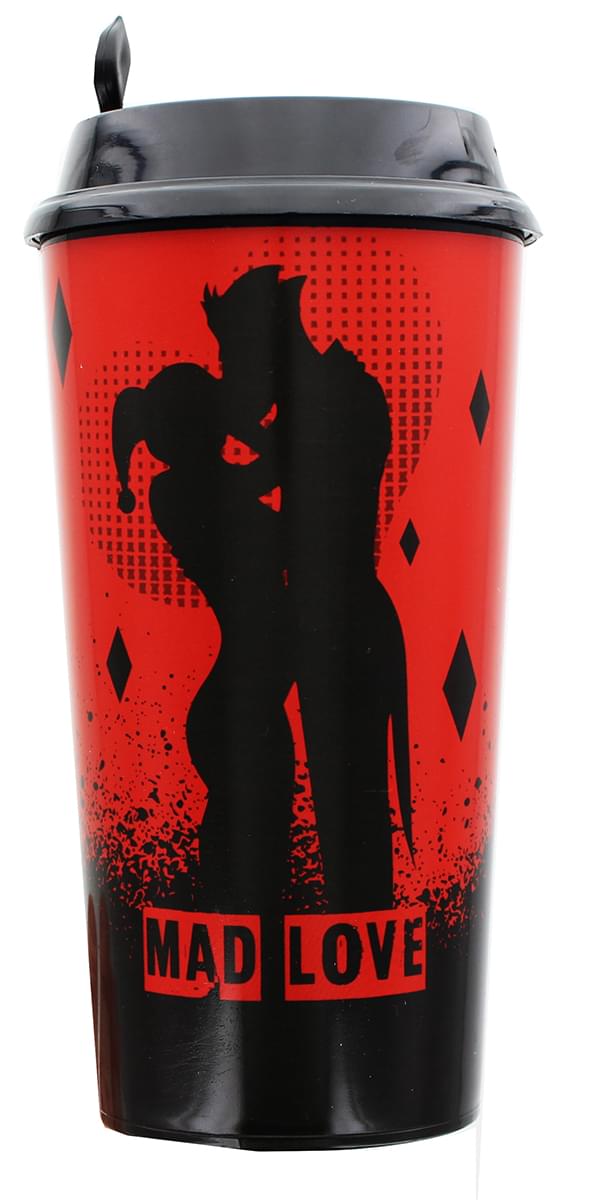 DC Comics "Mad Love" Harley Quinn and The Joker Travel Cup | Red
Villainous Drinkware: Take your fandom on the go with this collectible DC Comics travel cup. Inspired by the iconic Gotham City duo, Harley Quinn and the Joker are together forever on this stylish "Mad Love" drinkware.
Iconic Design: This must-have travel cup features cartoonish silhouettes of Harley Quinn and the Joker in a sweet embrace. The red and black design is offset with diamond shapes, along with text that reads, "Mad Love."
Generous Size: Ideal for when you're on the run from Batman, this travel cup can hold your favorite hot or cold beverages. Avoid being locked up in Arkham Asylum by taking your coffee or latte on the go.
Gotham Approved: Made from BPA-free plastic material, this tumbler cup features premium-quality construction. The travel-style design includes a secure leakproof lid to help you avoid unwanted spillage.
Makes A Great Gift: This officially licensed Harley and Joker travel cup is the perfect drinkware for Gotham City goers. Drink up your DC Comics fandom with this trendsetting tumbler cup.
THE KING AND QUEEN OF GOTHAM
Everyone's favorite troublemakers are back to wreak havoc on Gotham City. Fill up on the iconic (and deadly) duo with this officially licensed DC Comics Harley Quinn and Joker travel cup. (Warning: May cause uncontrollable, maniacal laughter.)
Inspired by Harley's signature jester outfit, the red and black design features a diamond pattern in the backdrop. Silhouettes of the villainous duo are depicted sharing a kiss, along with a half-tone gradient heart framing their romantic moment. The fitting phrase "Mad Love" is also featured at the bottom.
DRINK UP YOUR FANDOM
Take your drink on the go with this BPA-free plastic tumbler.
Complete with a leakproof lid to minimize spillage, this lightweight cup will keep your beverage contained. Designed for easy carrying, this travel cup will come in handy when you are trying to evade Jim Gordon's forces or the wrath of Batman.