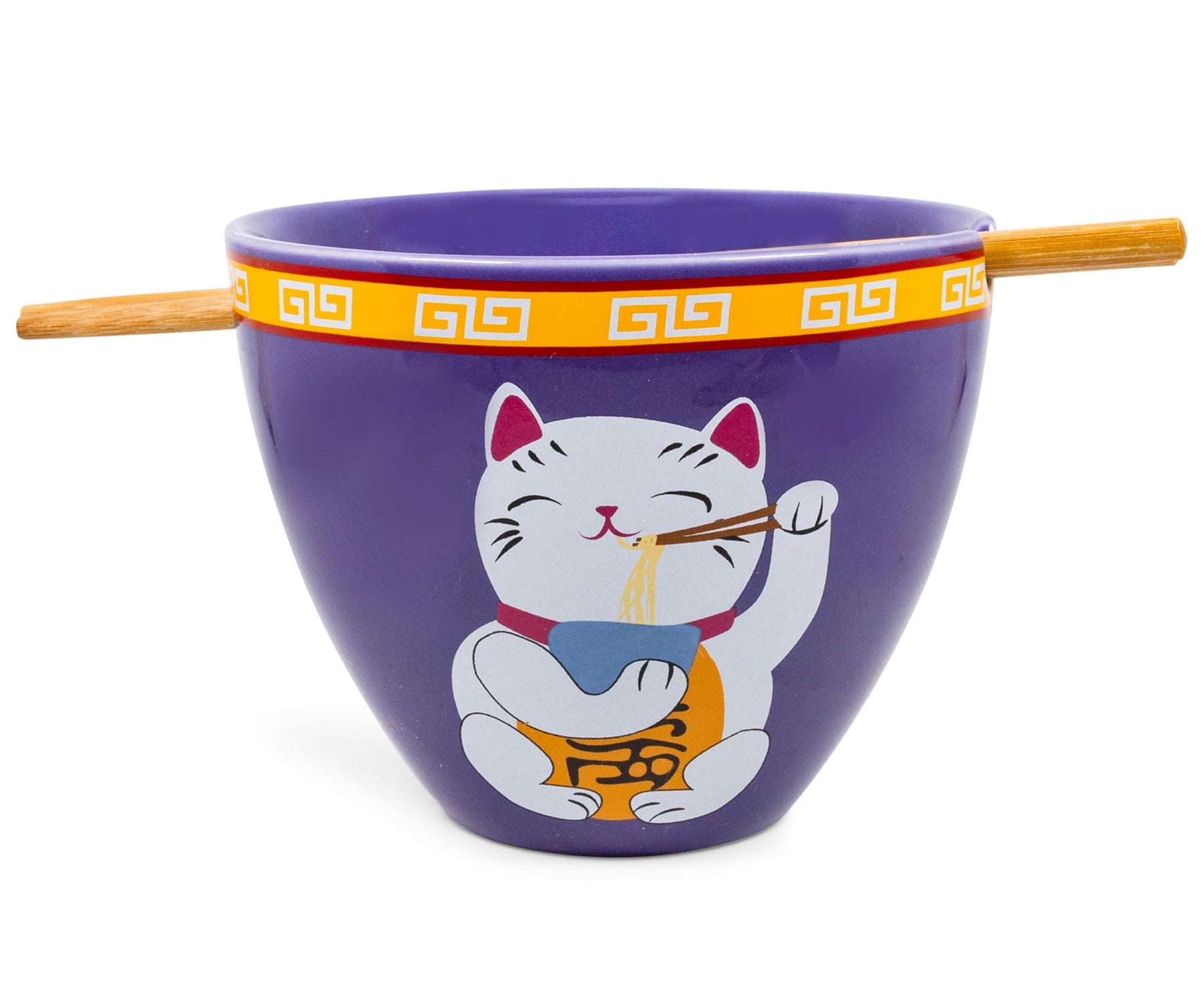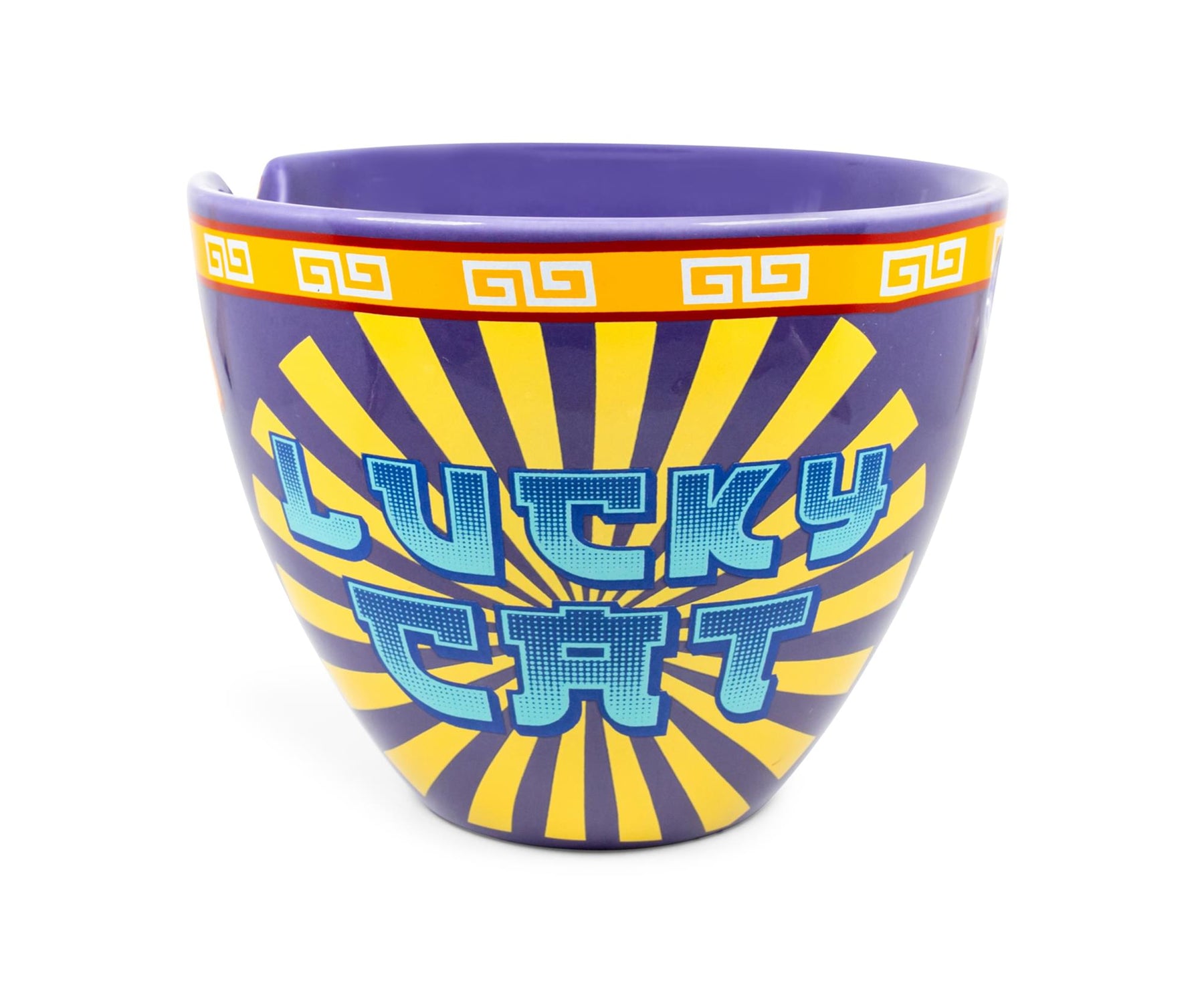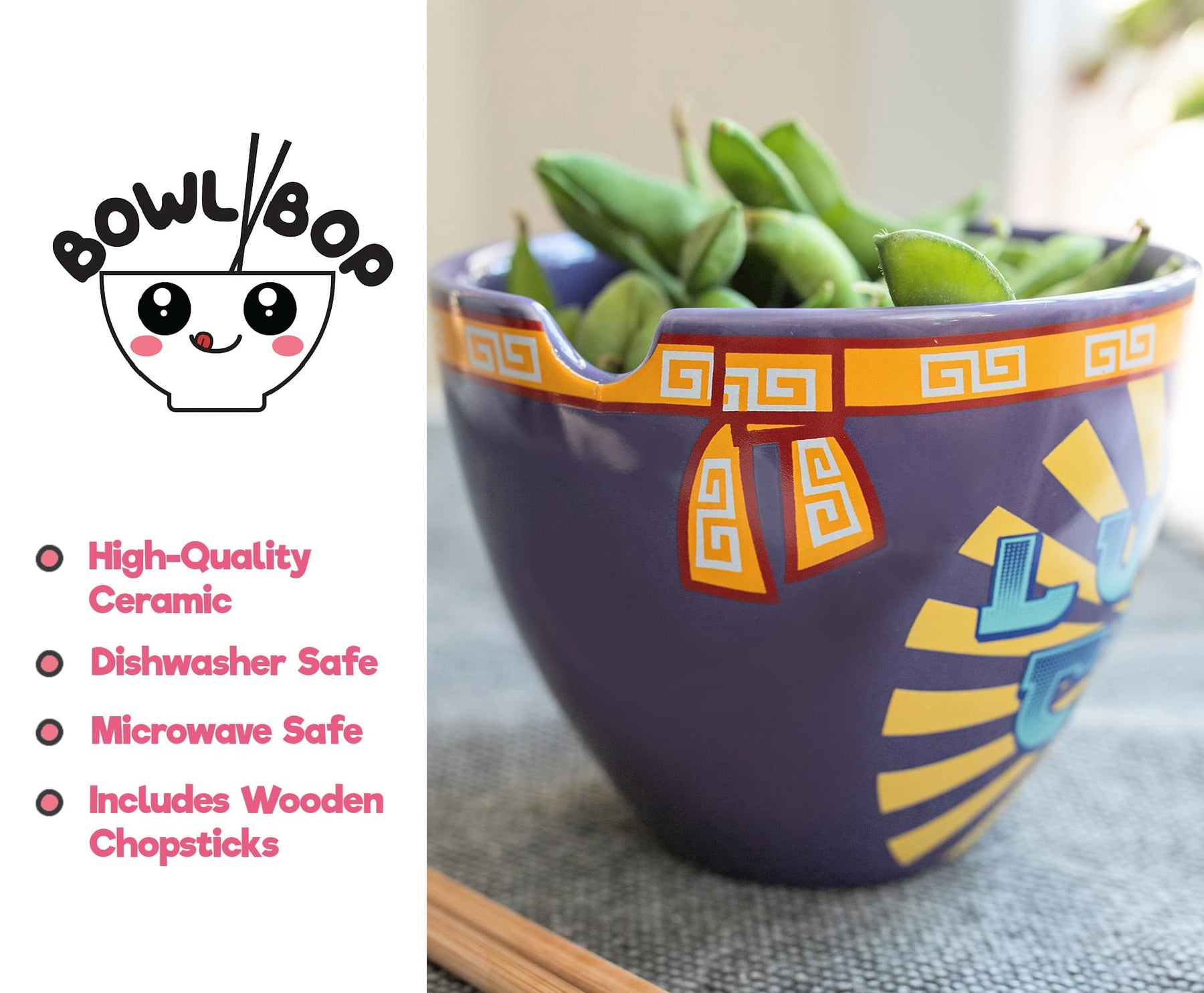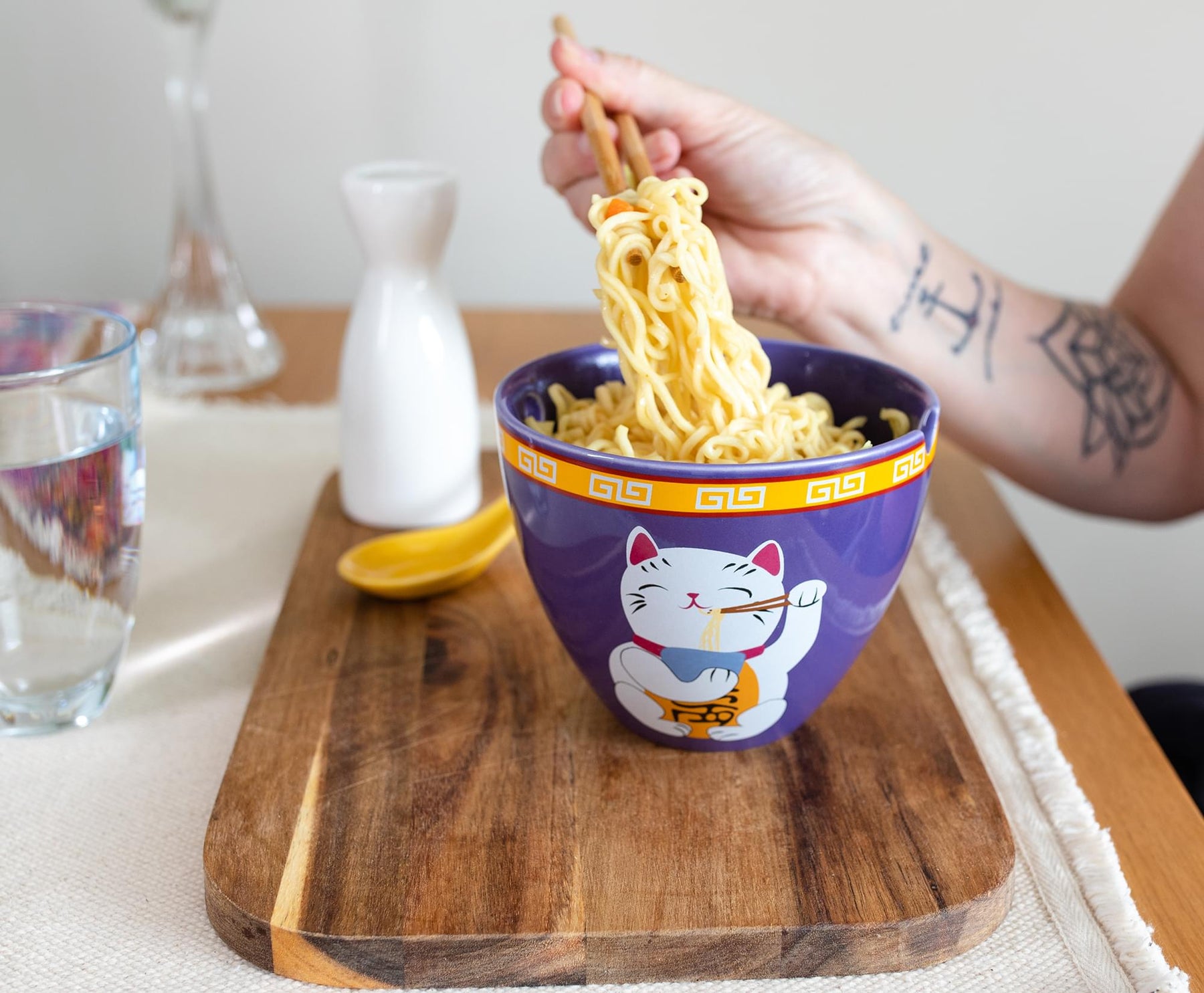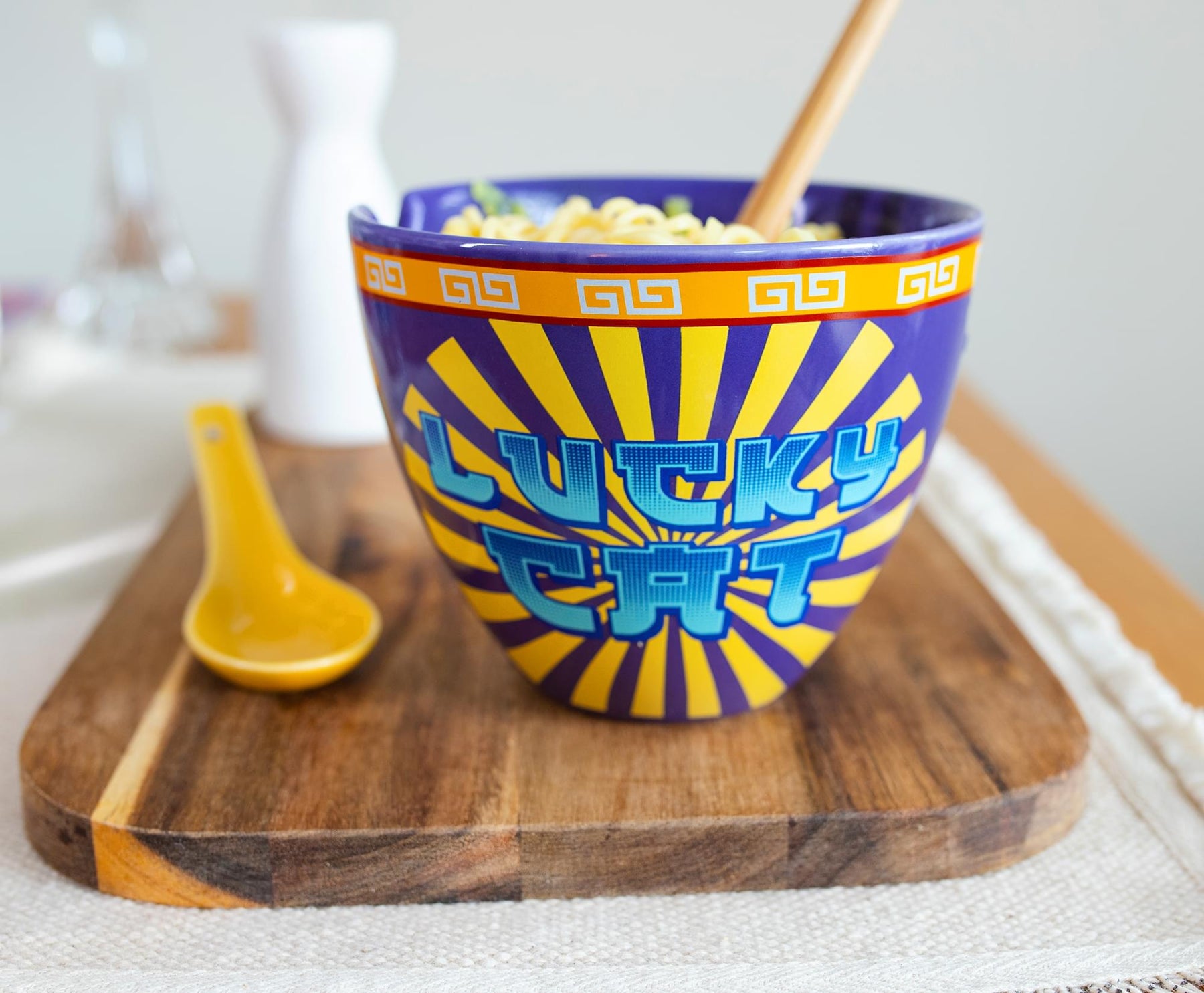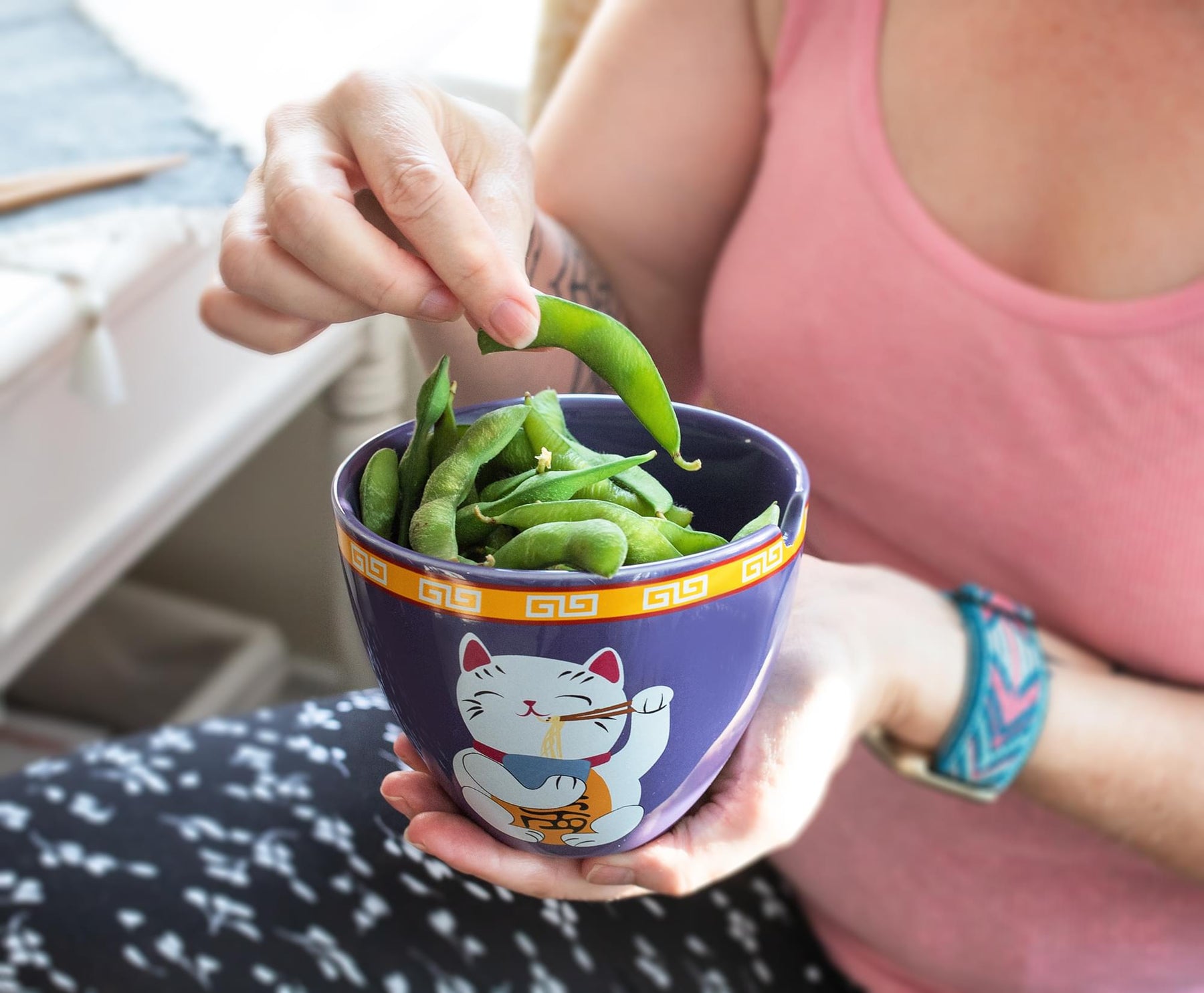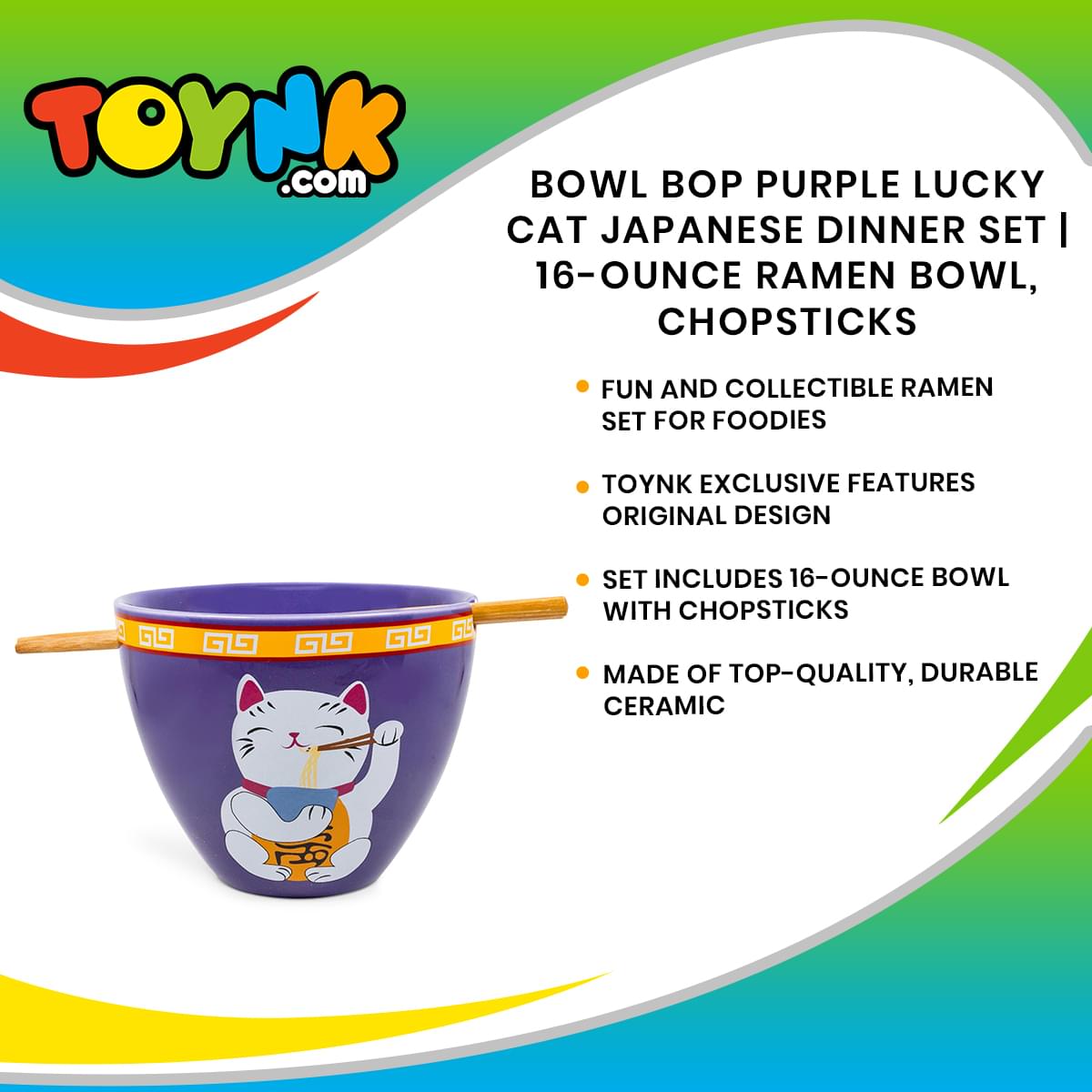 Bowl Bop Purple Lucky Cat Japanese Dinner Set | 16-Ounce Ramen Bowl, Chopsticks
Ramen Made Fun: Lucky Cat gives a paw of approval to slurp up some noodles with this adorable ramen dinnerware set. Inspired by traditional Japanese dining, this ramen set will bring some extra luck to your home kitchen collection.
Kawaii Design: This collectible ramen set is based on the traditional idol maneki neko, the waving lucky cat seen in Japanese culture. The purple ramen bowl features a cute graphic that depicts Lucky Cat enjoying a bowl of noodles.
Spacious Slurpin' Size: Ramen bowl holds approximately 16 ounces of your favorite soup or noodle dishes. Set comes complete with a pair of wooden chopsticks, which can be conveniently rested on the built-in notches of the ramen bowl.
Foodie Tools Of The Trade: Made of BPA-free ceramic (and some extra luck for good measure), this ramen dinnerware set is sturdy and perfect for everyday use. Easy to maintain, it's suitable for both microwave and top-rack dishwasher.
Fun And Collectible: Need a little more luck in your life? This exclusive Lucky Cat ramen dinnerware set is a must-have. The oversized ramen bowl can be used to enjoy a variety of dishes, including everything from noodles to ice cream.
A SLURPIN' GOOD TIME
Bring some good fortune to your next meal with this exclusive Lucky Cat ramen dinnerware set. How can you possibly improve a delicious meal of ramen noodle soup? By making the eating experience FUN. The kawaii art on this ramen set is sure to put a smile on your face next time you sit down to slurp.
Inspired by the Japanese idol maneki neko, the beckoning lucky cat adorns this colorful ramen bowl. The traditional lightning pattern of square swirls lines the top of the bowl.
HOME & KITCHEN COLLECTION
Enjoy ramen all day, everyday thanks to the durable, BPA-free ceramic construction. For added convivence, the ramen bowl features built-in notches for the included wooden chopsticks to rest on.
We're not kitten around! Give your home kitchen a lucky upgrade with this collectible Lucky Cat ramen dinnerware set.
CARE INSTRUCTIONS
Easy care
Microwave safe
Top-rack dishwasher safe
Read All About It on Our Blog
Trending Geek