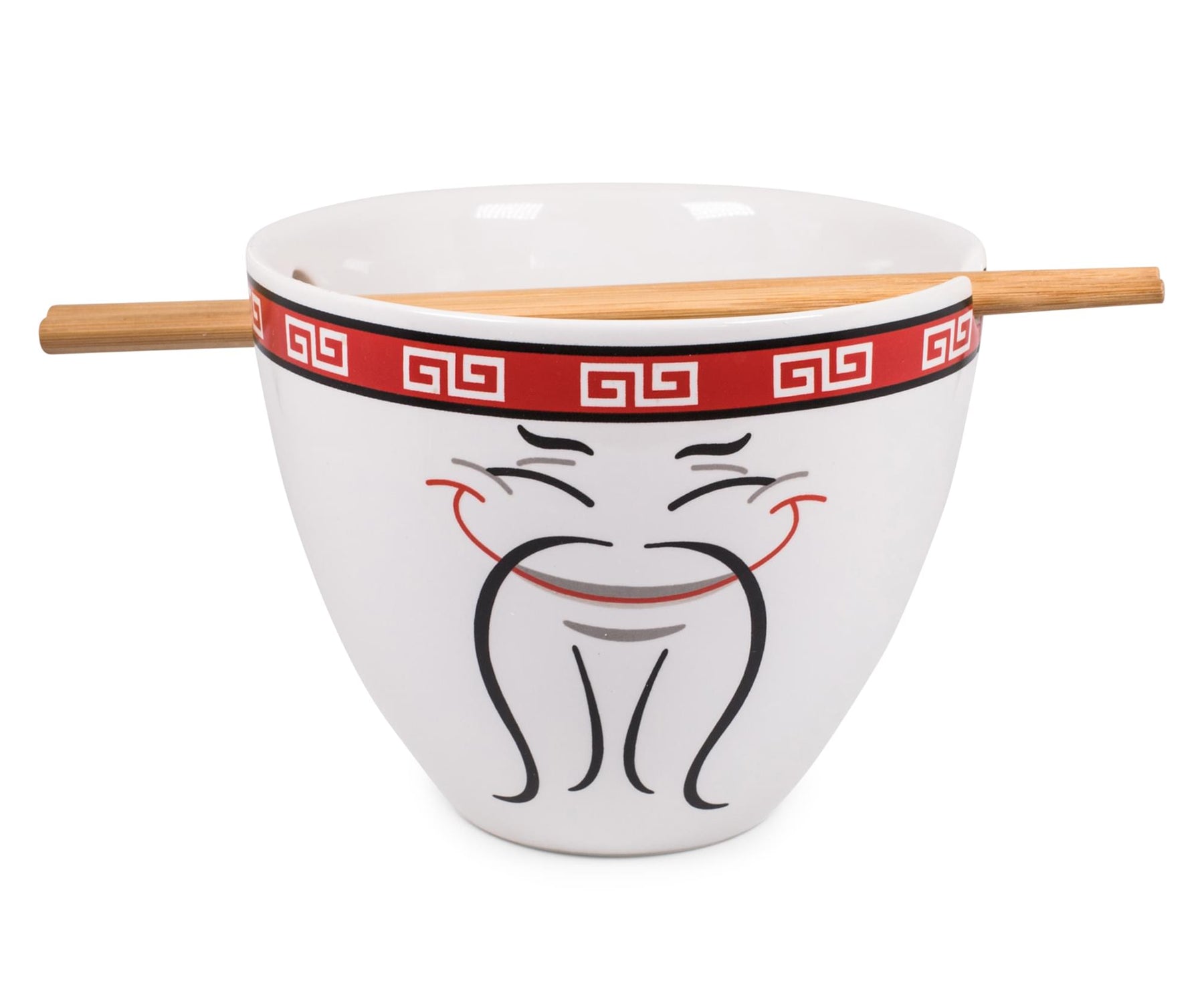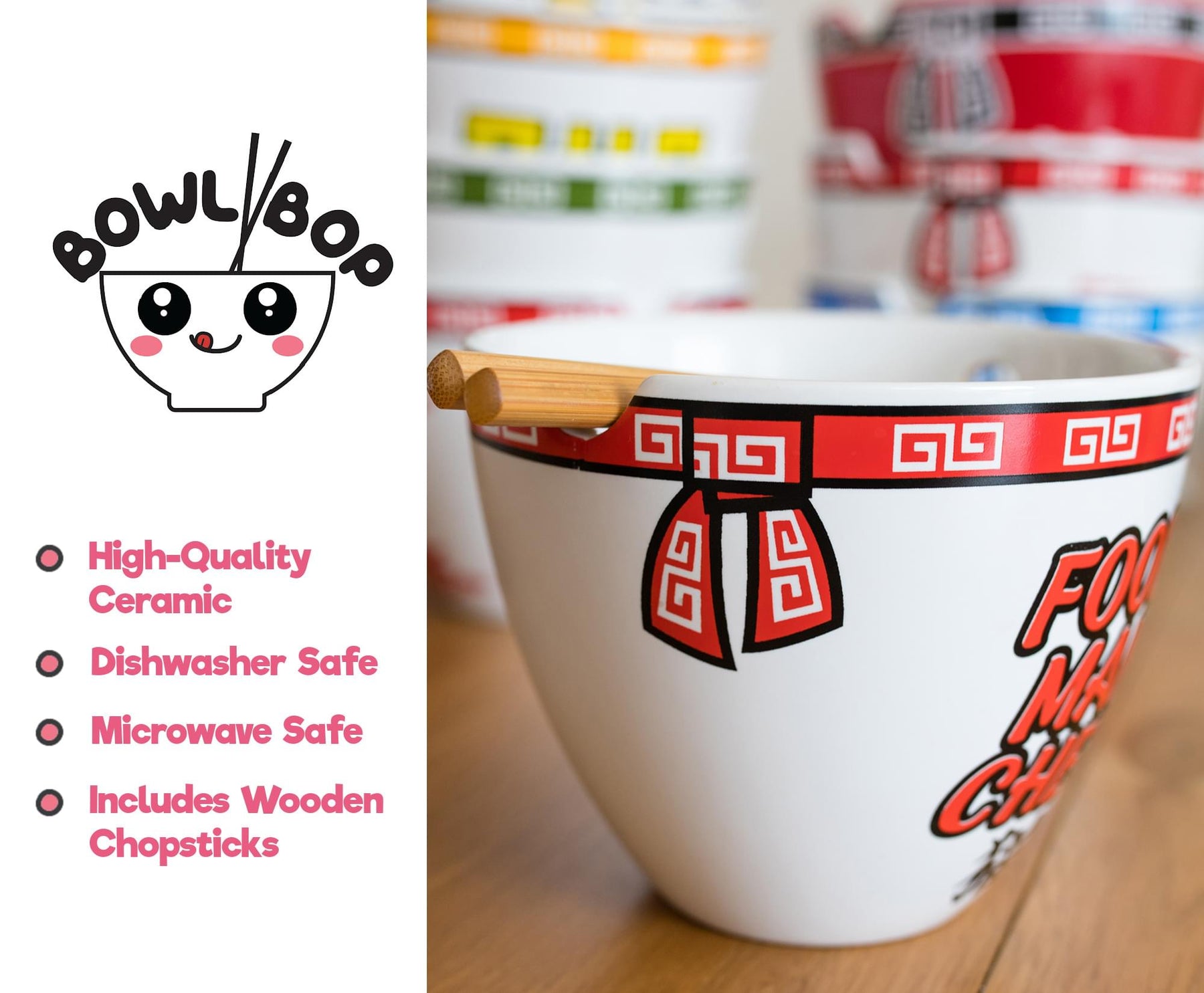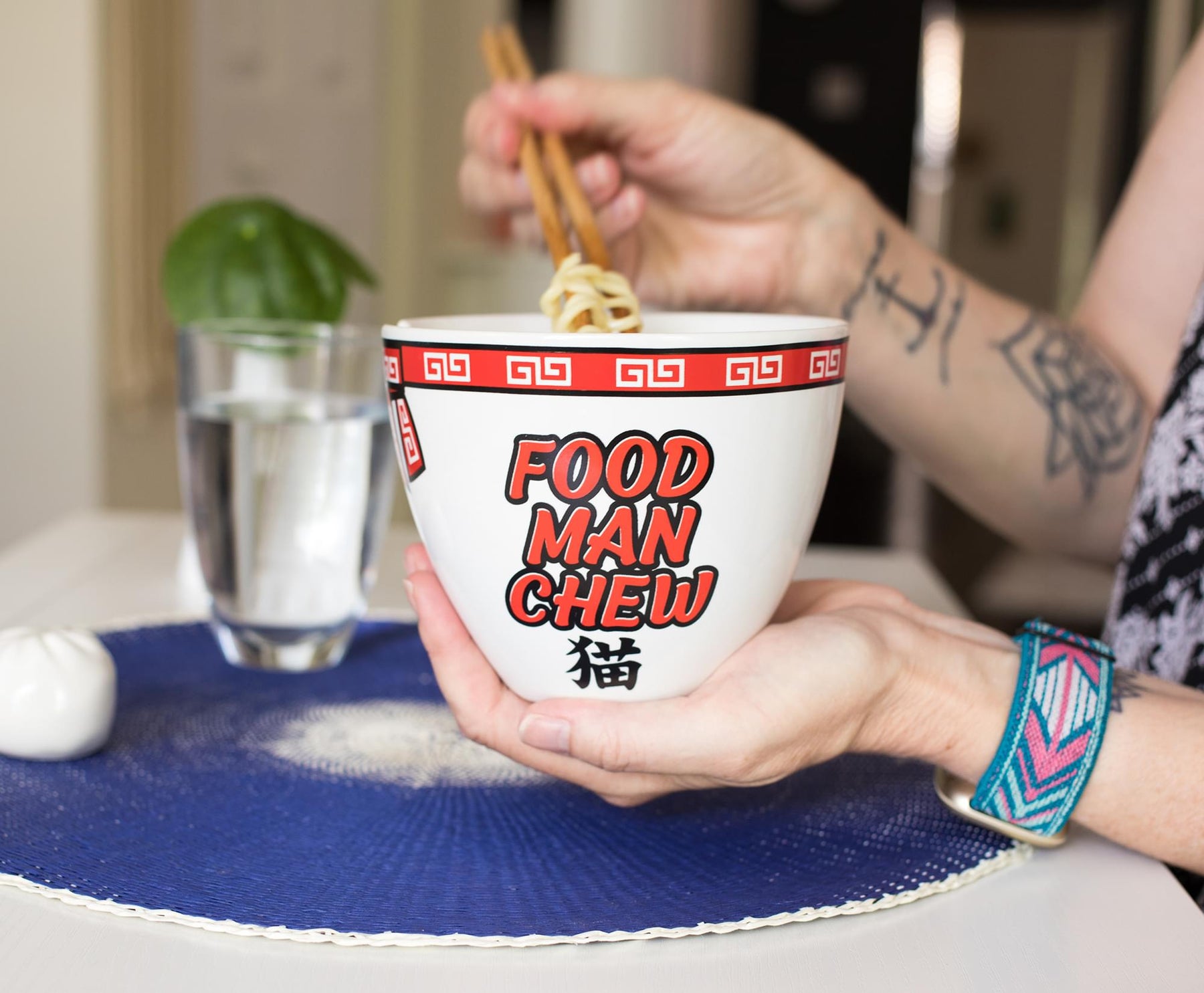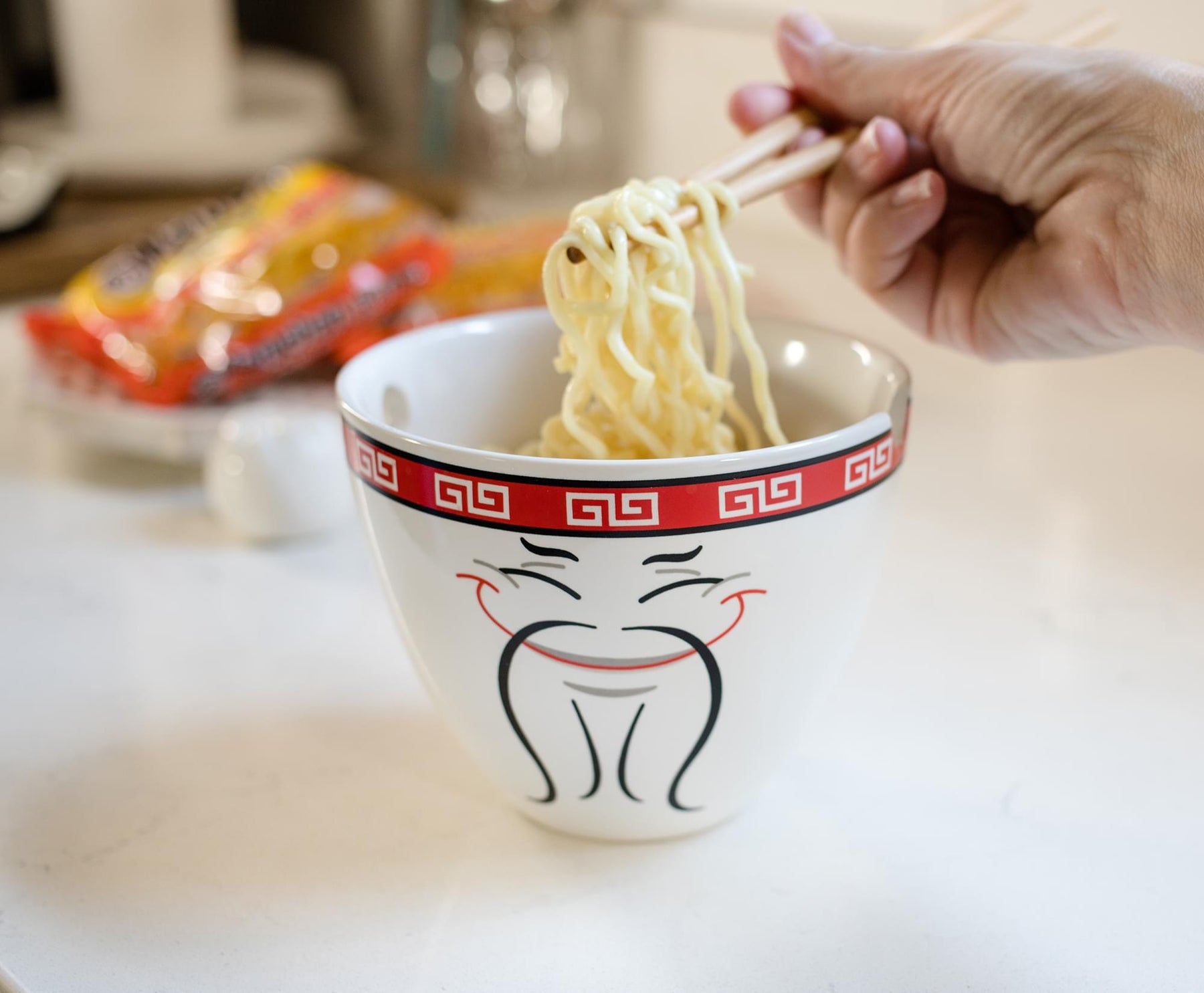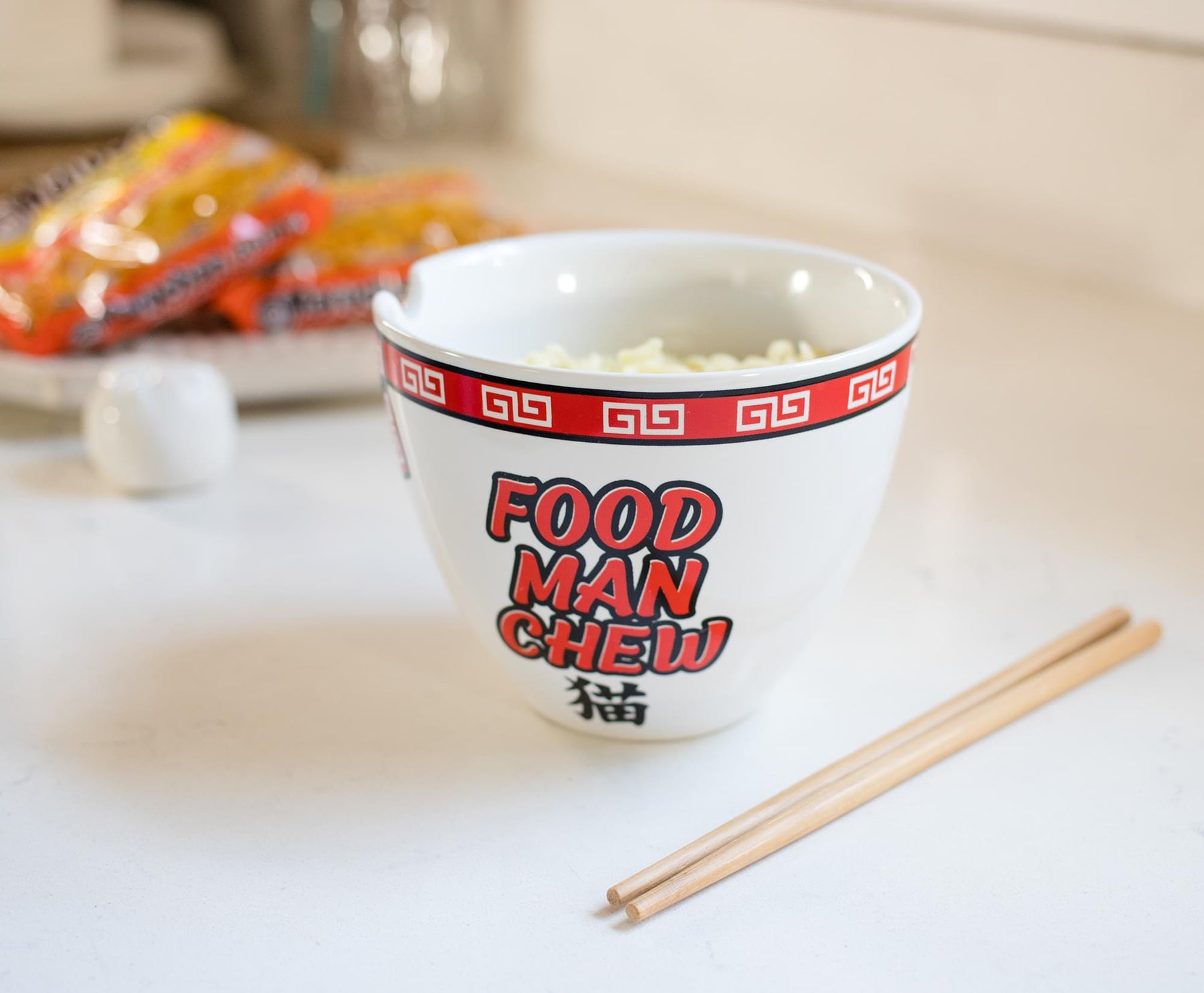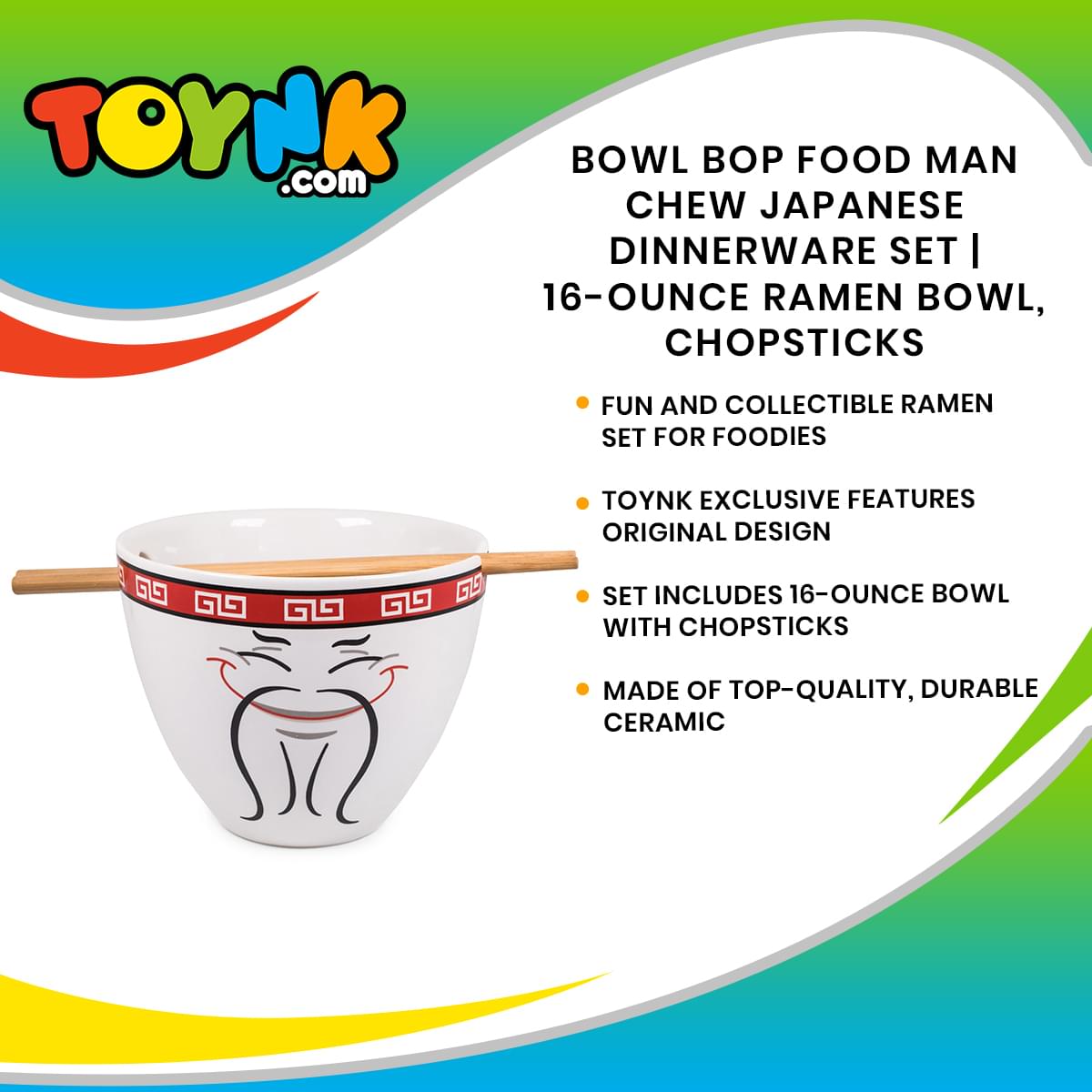 Bowl Bop Food Man Chew Japanese Dinnerware Set | 16-Ounce Ramen Bowl, Chopsticks
Ramen Made Fun: Enjoy a steaming bowl of noodles with this collectible ramen dinnerware set. You can have a traditional Japanese-style dining experience with this foodie-themed ramen bowl and chopstick combo.
Themed Design: Food Man Chew will inspire you to slurp up noodles in style with this fun ramen set. Made to bring flavor to your tabletop, the double-sided graphic features an original character design and printed text.
Spacious Slurpin' Size: The ramen bowl holds approximately 16 ounces of your favorite soup or noodle dishes. Set comes complete with a pair of wooden chopsticks, which can be rested on the notches of the ramen bowl.
Foodie Tools Of The Trade: The BPA-free ceramic ramen bowl is made for noodle-slurping action. Sturdy and practical for everyday use. Easy to maintain, the ramen set is suitable for microwave and top-rack dishwasher.
Fun And Collectible: Who's hungry? Get ready to eat up with this exclusive Food Man Chew Ramen Dinnerware Set. Food connoisseurs can enjoy chowing down on all their slurpin' faves with this must-have ramen set.
A SLURPIN' GOOD TIME
Chow down with this exclusive Food Man Chew Ramen Dinnerware Set. How can you possibly improve a delicious meal of ramen noodle soup? By making your dining experience fun!
This collectible ramen bowl and chopstick set gives your tabletop a flavorful upgrade. The "Food Man Chew" design features original character artwork and playful theming that makes mealtime entertaining. Completing the design is a traditional Japanese lightning pattern that borders the top in red.
RAMEN HOME & KITCHEN COLLECTION
Every meal is slurp-worthy with this collectible ramen set. Expertly crafted with pro-grade ceramic, the ramen bowl includes built-in notches to hold the included wooden chopsticks. Eat a full serving of your favorite noodles with the 16-ounce ramen bowl, then set the chopsticks down on the rest when finished.
Enjoy your next meal with this exclusive Food Man Chew Ramen Dinnerware Set.
CARE INSTRUCTIONS
Easy care
Microwave safe
Top-rack dishwasher safe