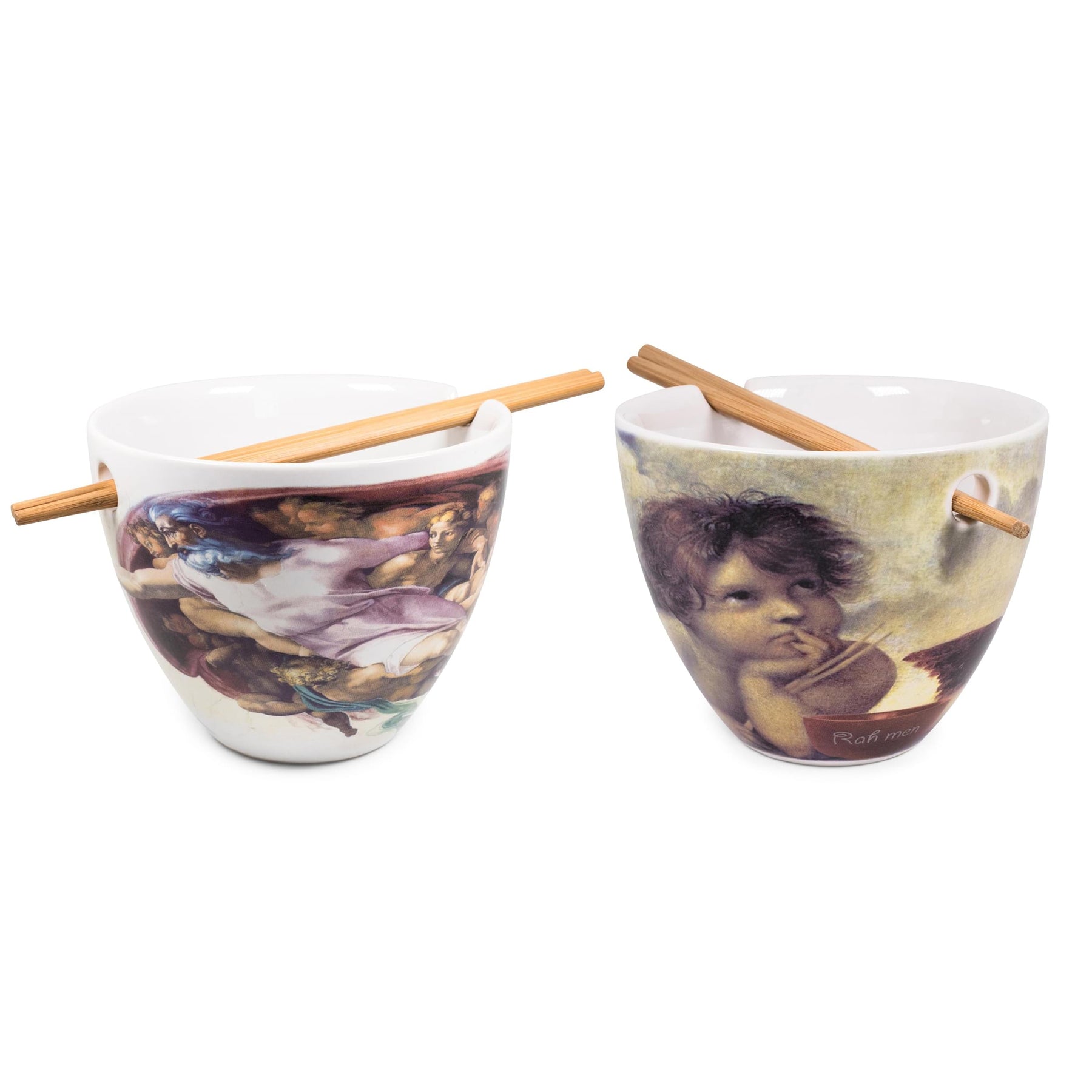 Bowl Bop 16oz Ramen Bowl Set w/ Chopsticks | Sistine Chapel & Cherub
HEAVENLY NOODLES: Slurp down some noodles in style with this fun ramen bowl set!
FUN DESIGN: One bowl features a playful take on Michelangelo's The Creation of Adam, while the other features a playful take on Raphael's masterpiece, Cherubs!
SPACIOUS SLURPIN' SIZE: Each ramen bowl holds approximately 16 ounces of your favorite soup or noodle dishes. Each bowl comes complete with a pair of wooden chopsticks, which can be rested on the notches of the ramen bowl.
FOODIE TOOLS OF THE TRADE: These BPA-free ceramic ramen bowls are made for noodle-slurping action. Sturdy and practical for everyday use. Easy to maintain, the ramen set is suitable for microwave and top-rack dishwasher.
FUN & COLLECTIBLE: Have a little faith! Slurp noodles in style with this exclusive Sistine Chapel and Cherub Ramen Dinnerware Set. You can enjoy all your favorite dishes with these hilariously themed ramen bowls.
How can you possibly improve a delicious meal of ramen noodle soup? By making the eating experience FUN! The whimsical noodle collage design on this ramen bowl set is sure to bring a smile to your face next time you sit down to slurp. Featuring durable ceramic construction, the bowl includes notches for the included chopsticks to rest on. The perfect gift for the ramen noodle lover in your life!