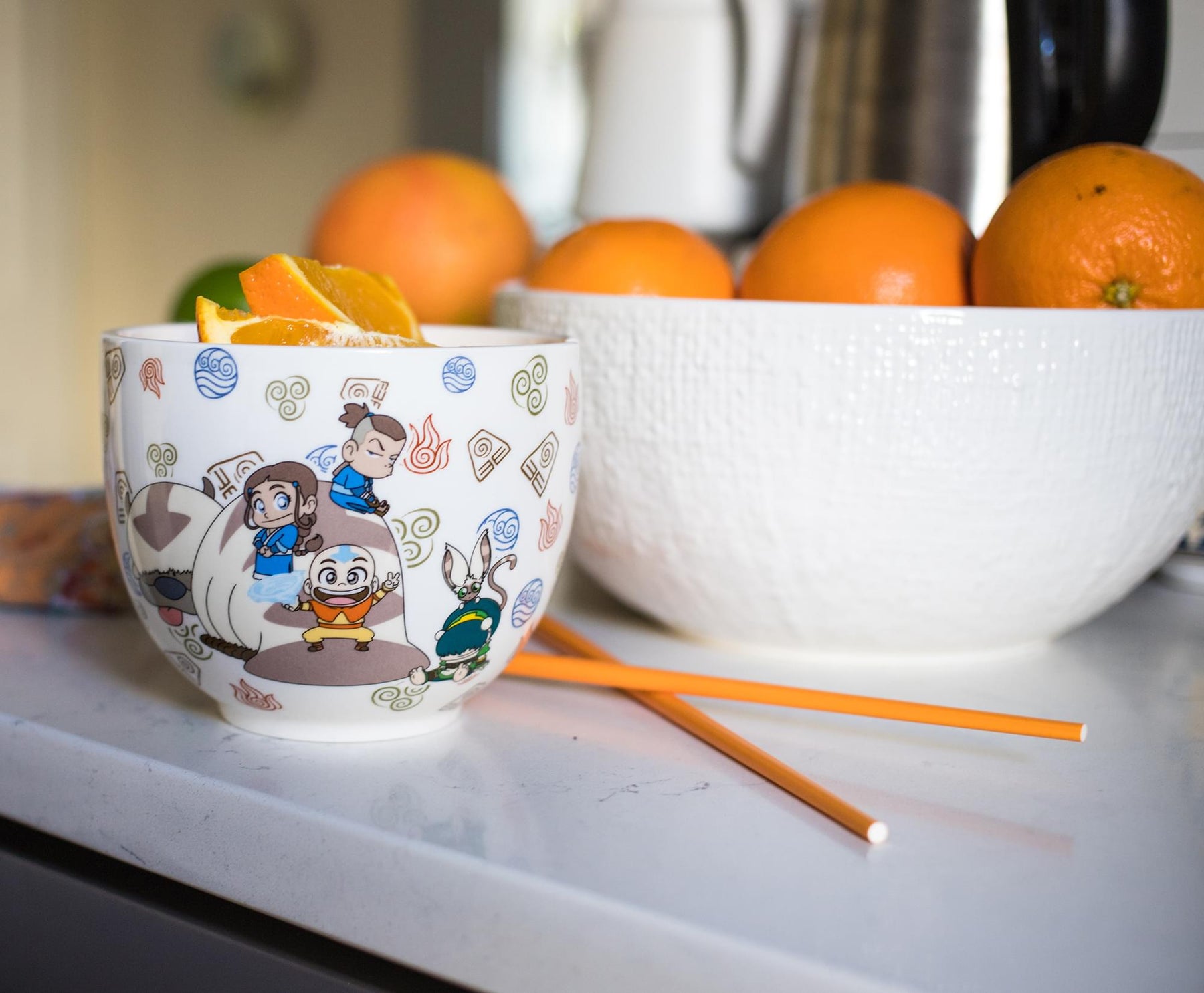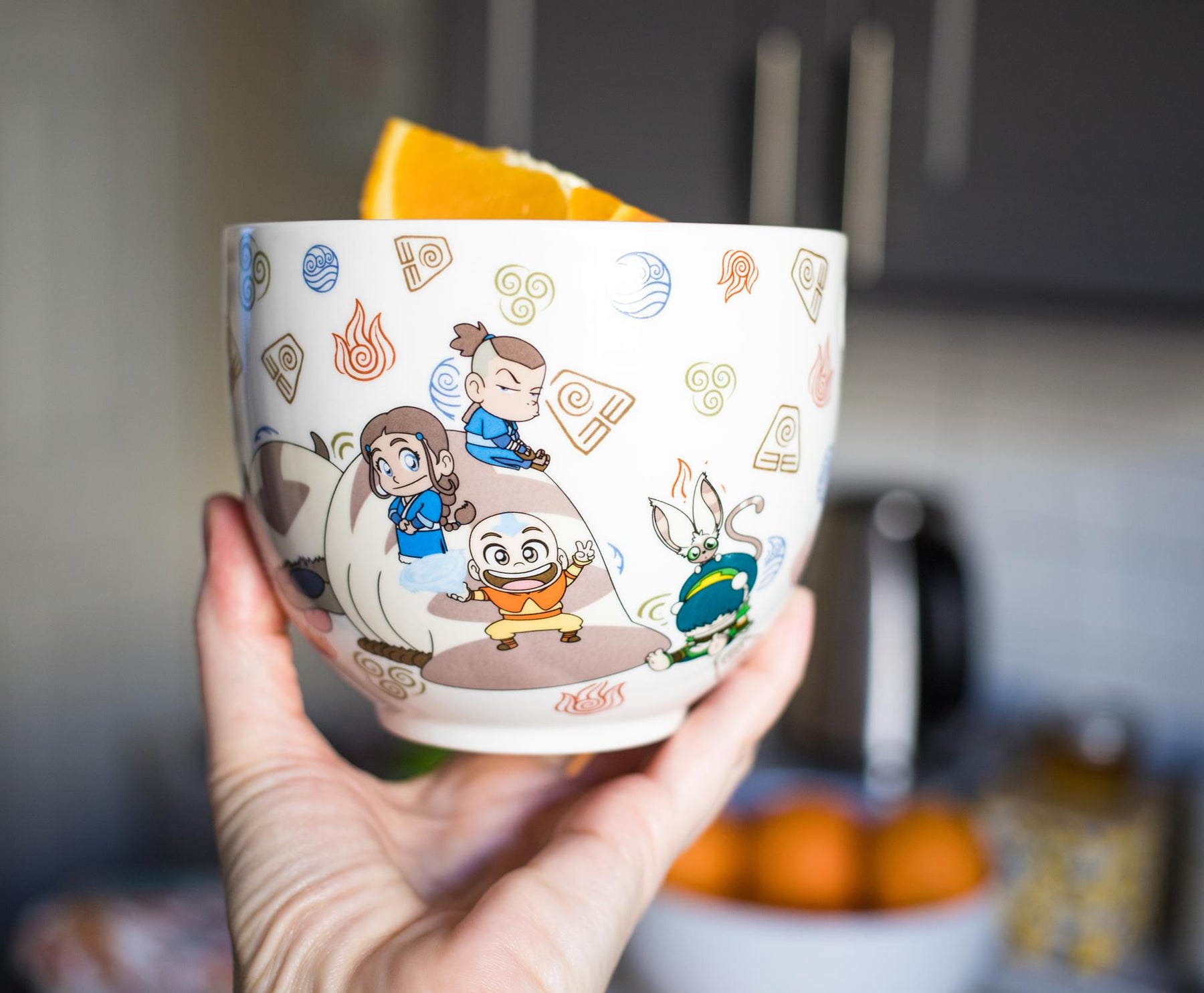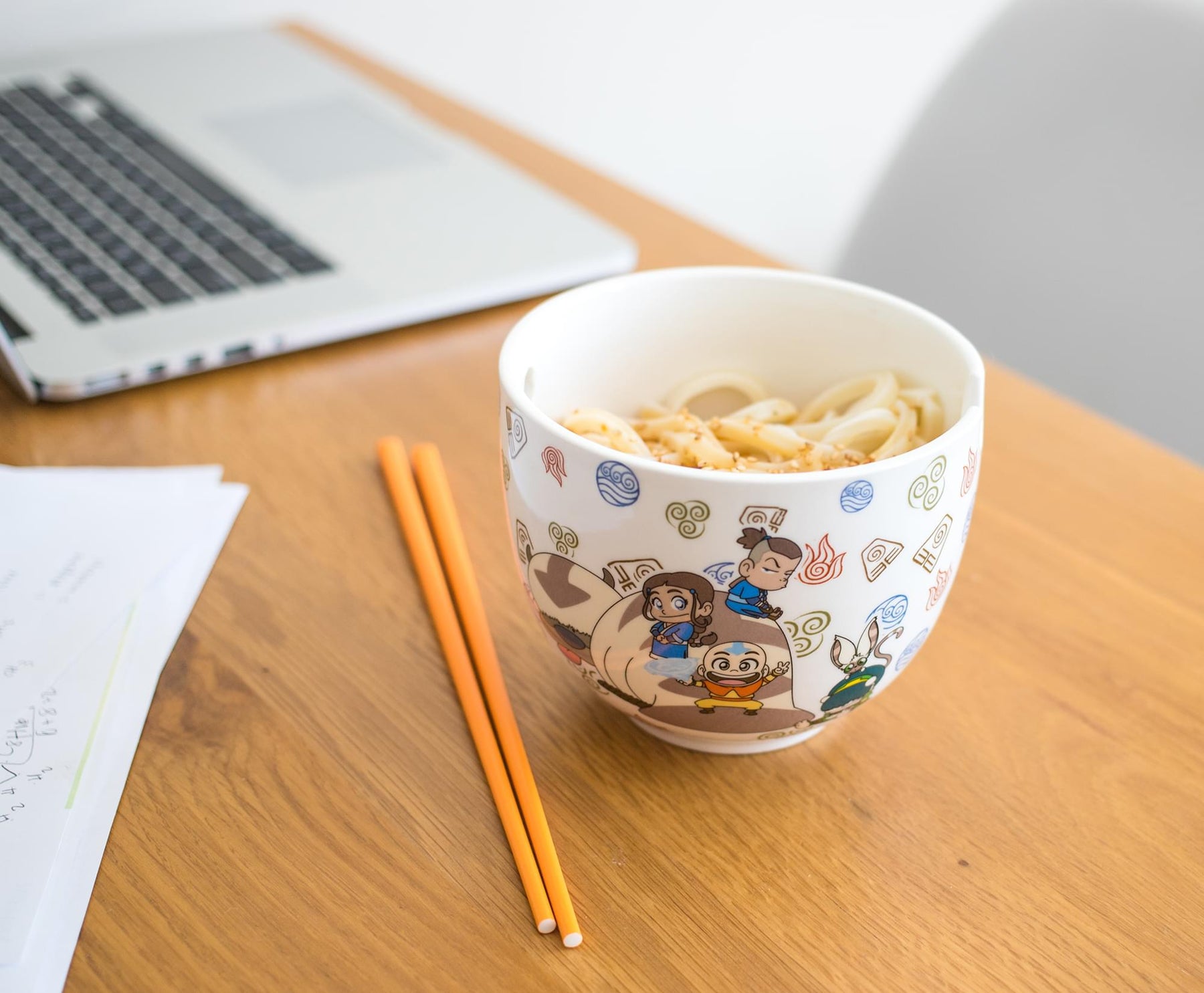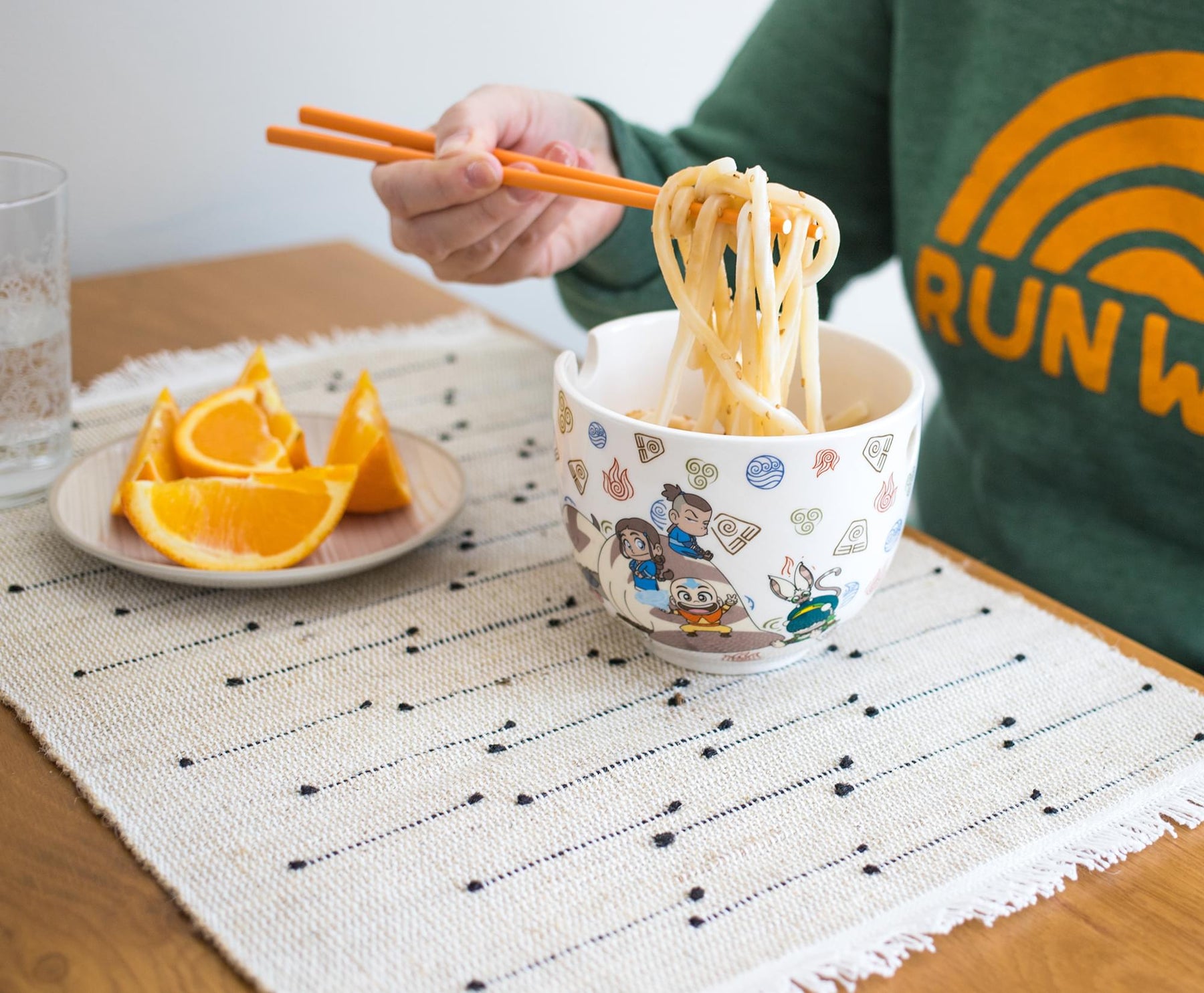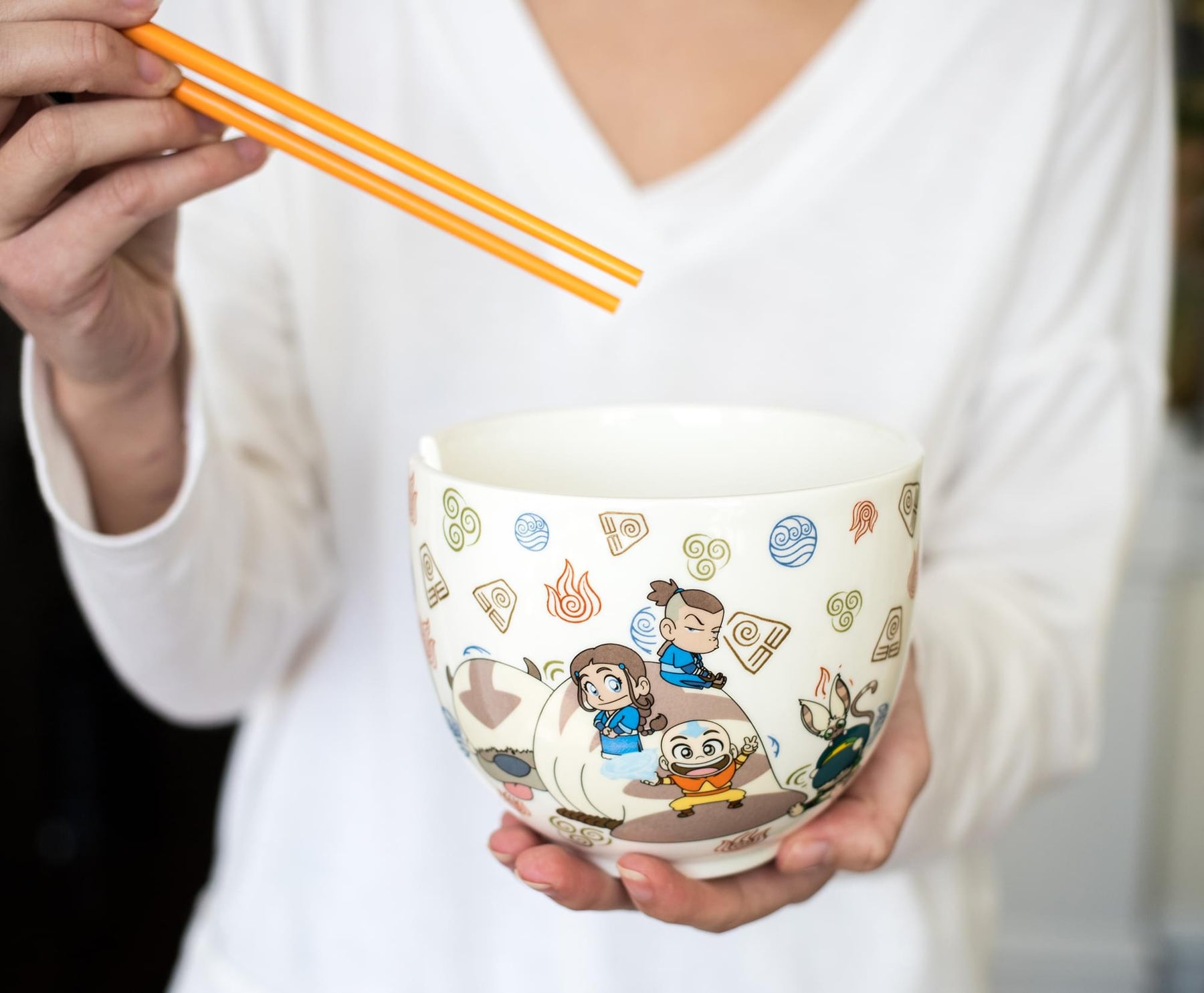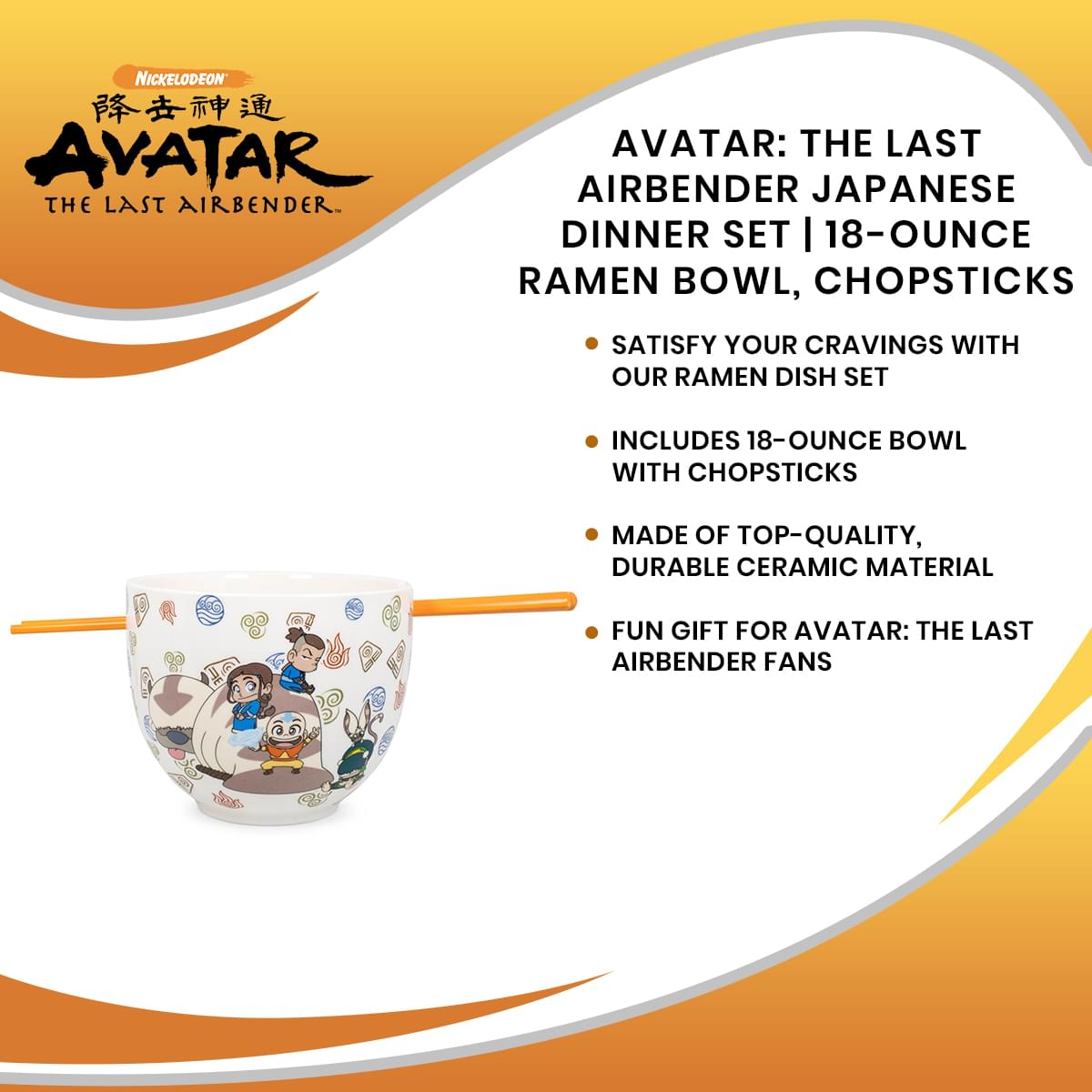 Avatar: The Last Airbender Japanese Dinner Set | 18-Ounce Ramen Bowl, Chopsticks
Eat Like An Avatar: Master all four elements with this ramen dinnerware set inspired by Avatar: The Last Airbender. Based on traditional Japanese dining, you can enjoy a generous portion of your favorite noodle dishes with this ramen bowl set.
Chibi Design: This white ramen bowl features colorful, chibi-style characters from the popular Nickelodeon series. The fun design includes Aang, Katara, Sokka, Toph, Appa, and Momo. The symbols of the four tribes are also represented.
What's Included: This 2-piece ramen dinnerware set comes with one complete place setting. The entire dish set includes an 18-ounce ramen bowl and pair of ceramic chopsticks. The bowl measures approximately 5 inches in diameter and 4 inches tall.
Premium Construction: Made of high-grade ceramic, this Avatar-inspired ramen dinnerware set is durable enough for all your noodle foodie needs. The ceramic bowl is suitable for dishwasher and microwave; the ceramic chopsticks are hand-wash only.
Makes A Great Gift: This ramen dinnerware set is specially designed with Avatar: The Last Airbender fans in mind, featuring fun chibi styling. Perfect for everyday use, this fandom-themed ramen set makes mealtime fun (and tasty).
MASTER ALL FOUR ELEMENTS

Share a meal with Team Avatar with this officially licensed Avatar: The Last Airbender Ramen Dinnerware Set.
Learning to bend all four elements can work up a big appetite — especially if your earthbending master is Toph Beifong. Fill up on all of your Asian cuisine favorites with this ramen set, which comes complete with an 18-ounce ramen bowl and a pair of ceramic chopsticks.
Now you don't have to worry about facing the Fire Lord on an empty stomach.
The ramen bowl features a glossy white finish with adorable chibi styling of "the Gaang," including Aang, Katara, Sokka, Toph, and their loyal animal companions, Appa and Momo. The wrap-around design also features colorful symbols that represent each of the Four Nations, including the Air Nation, Fire Nation, Earth Kingdom, and Water Tribe.
CARE INSTRUCTIONS
Ramen bowl is dishwasher and microwave safe
Chopsticks are hand-wash only
Read All About It on Our Blog
Trending Geek