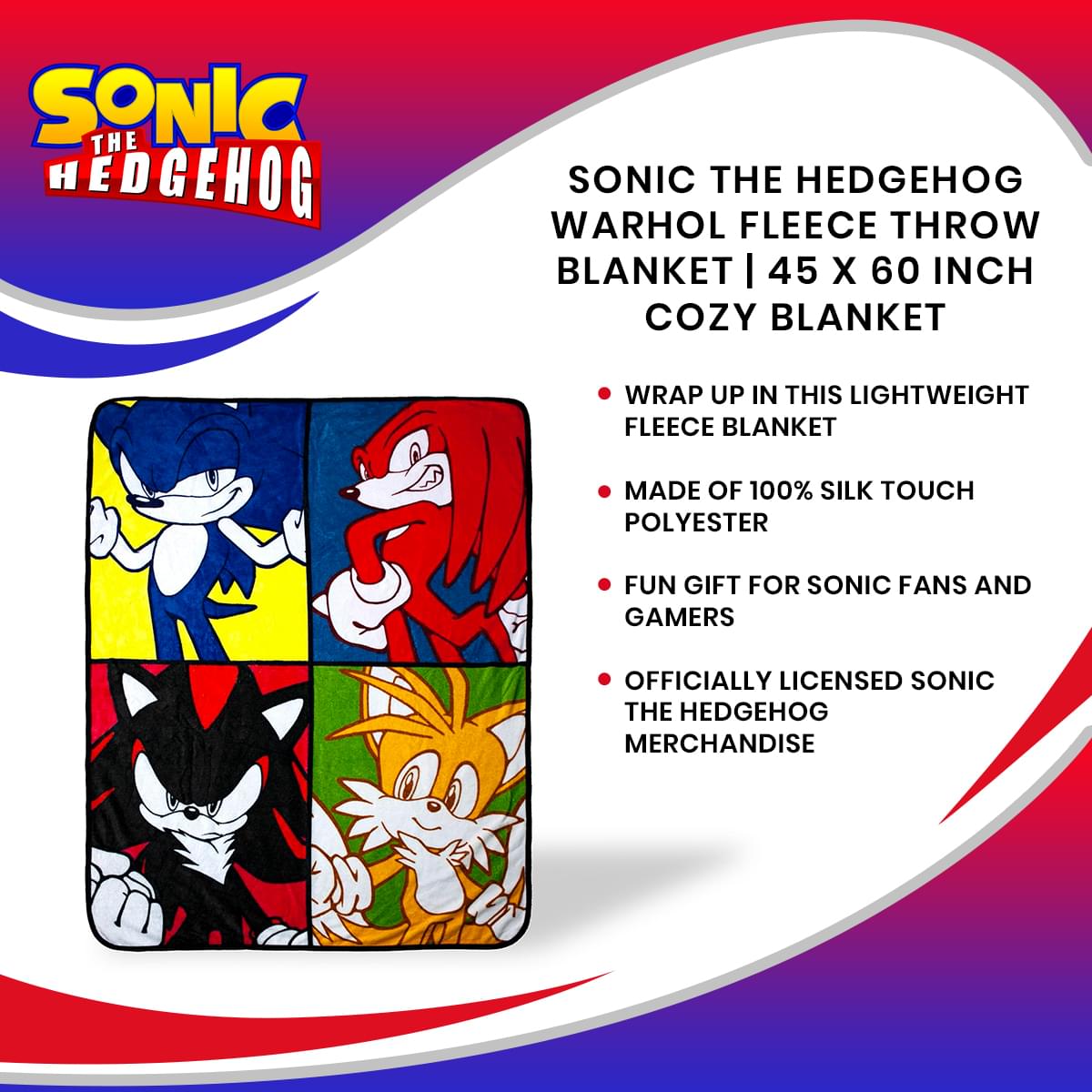 Sonic The Hedgehog Warhol Fleece Throw Blanket | 45 x 60 Inch Cozy Blanket
Snuggly and Warm: This Sonic The Hedgehog throw blanket is lightweight and extra soft to touch — perfect for a cozy night of playing your favorite video games.
Quality and Comfort: Made of 100% silk touch polyester, this Sonic The Hedgehog throw blanket is designed for the ultimate snuggle session. Measuring 45 x 60 inches, this lightweight blanket is a fun piece of gaming decor to enhance your space.
Official Merchandise: Our lightweight fleece blanket is an officially licensed Sonic The Hedgehog product. This fun throw blanket makes for a great home decor accessory and adds a geeky flair to any space.
Fun Design: Featuring a colorful Warhol-inspired look, this throw blanket depicts a four-panel design. Fan-favorite characters from the Sonic the Hedgehog video games are also featured on the blanket, including Sonic, Knuckles, Shadow and Tails.
Great Gift Idea: Purchase this comfy throw blanket for yourself or gift it the Sonic the Hedgehog fan in your life. This soft fleece blanket is sure to please gamers of all ages.
GET YOUR GEEK ON WITH GAMING DECOR
Calling all video game fans! Show off your love of Sonic the Hedgehog with this warm and cozy fleece blanket. Featuring Warhol-inspired artwork of popular characters from the video game, this lightweight blanket is specially designed with fans in mind. Find character inspo with this trendy throw blanket that depicts Sonic, Knuckles, Shadow and Tails in a colorful four-panel design.
WRAP YOURSELF UP IN YOUR FANDOM
This fleece blanket makes a perfect addition to any game room, so snuggle up and give your space a comfy upgrade. It is soft to the touch, made up of 100% polyester material and measures a roomy 45 x 60 inches. Accessorize with this fun piece of gaming decor and provide a geeky touch to any room.
This Sonic the Hedgehog fleece throw blanket is machine-washable and easy to clean. Machine wash with cold water is highly recommended.